L shape desk or a corner desk is an ideal design table in the shape of the letter L so that you can place it against the corner of your room to maximize the space use. In this competitive world, people always seek new creative idea to make their office a comfortable place to work more effectively. At the same time, to save space as well. That's how the L-shaped desk or corner desk come to play its role.
Unlike the traditional square or oval shaped desk, the L-shaped desk is a new design to maximize the corner of your room. At the same time, it gives you a lot of flexibility and surface area to keep your documents, books, laptop and even a tiny flower of your favorite. To introduce this unique kind of table to you, our team has spent the whole day to research and study the details of the products from various companies. And, we have compiled our best selections for you to pick from below. Check them out if you are in need of one for yourself.
List of the 12 Best L-Shaped Desks and Corner Desks in 2023
Product Reviews
12. Ameriwood Home Dakota L-Shaped Desk with Bookshelves | Black Corner Desk

Dakota L-shaped desk from Ameriwood Home is an ideal desk designed to consume small office space but provide you with plenty desktop for keeping your laptop, computer monitor, paperworks and other important materials. It also comes with a built-in two bookshelves like an extra cabinet for you to keep your files more properly and avoid the mess on your desk's surface. For your computer setup, the desk has two grommets built into it so you will get your computer and network wire organized neatly. In overall, this Ameriwood office L-shaped desk will fit well in the corner of your room or office.
What is this Dakota L-shaped desk best for? 
This desk is good for those who want to maximize an office space or home space for their work. It is designed to place at the corner, rather than in a normal wide space. Yet, if you are in the position which you can own a personal office room, this corner desk is also the best idea.
"Key
Available in five colors: black, grey, rustic, espresso & white
Dimensions & weight: 51.3″ x 53.6″ x 28.2″; 70 lbs
Material: Engineered Oak Wood
Received high reviews
One year limited warranty
11. GreenForest L-Shaped Corner Desk | Home Office Writing Workstation 3-Piece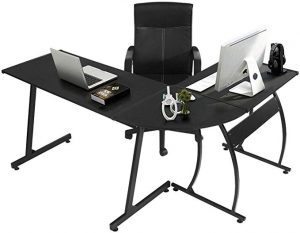 By GreenForest
This is an L shaped corner desk from GreenForest which is known for making from an eco-friendly MDF board. It is also among the most preferred corner desks on Amazon so far. Designed in three separated pieces, you can utilize it to the maximum advantage either placing at your room corner or in the middle of the room. The frame and legs of this GreenForest L Shaped table are made of strong and sturdy metal and can hold your PC monitor stably. If you want an elegant and stylish corner computer desk for yourself, get this GreenForest one.
What is this GreenForest Corner Computer Desk best for?
The GreenForest corner desk is suitable for both company's office and home office. It is also popular among the gamer who like to have different space for work and gaming activities all in one place. If you need even more space than this, you can turn it into a U Shaped Desk by getting an extra piece.
"Key
Available in four colors: black, walnut, dark walnut & oak
Dimensions & weight: 58.1″ x 44.3″ x 29.1″; 37.2 lbs
Material: Wood & Steel
Received high reviews
10. Bush Cabot L Shaped Desk | Bush Cabot L-shaped Computer Desk in Espresso Oak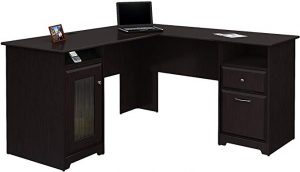 The Cabot corner computer desk from Bush Furniture is designed for a professional executive office. Either place in the middle of the room or again the wall, it will bring your working environment with an appealing traditional look and convenience. Asides from the plenty space on the desktop, you will also get two built-in hutches for keeping different documents and office supplies. If you have both PC and Laptop, you can manage them on one side each with efficient. The Bush cabot l-shaped desk has dimensions of 59.5 x 59.5 x 30.2 inches. So, you can measure it against your space when making your order.
What is this Bush Cabot L-shaped desk best for?
This Cabot is an L shaped desk with hutch. So, it is more for those who enjoy a traditional feature table and working environment. It's not really an ideal for a narrow home office but company's higher position employers. It goes well with one of these Lumbar Support Office Chairs if you are looking for a complete set.
"Key
Available in four colors
Dimensions & weight: 59.5″ x 59.5″ x 30.2″; 76 lbs
Material: Wood
One year manufacturer's warranty
9. RESPAWN 2010 Gaming Reversible L-shaped Desk | RESPAWN 2010 Gaming Computer Desk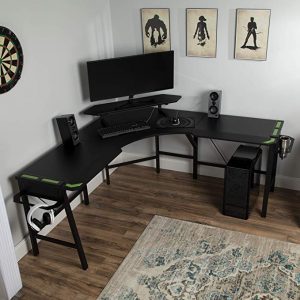 By RESPAWN
Taking a break from the professional one, let's check out the elegant L shaped gaming computer desk from Respawn. Known for producing wonderful gaming furnitures in the market, this reversible corner desk is built as a true legend for the gamer. So, we don't recommend this one for professional office use other than individual or gaming company.
The desk is durable, elegant and available in Gray and Green color with a spacious desktop space of  66.25″ x 66.25″. It comes with a complete set for a game loving person, ranging from a desktop holder, place for cup, hanger for earphones and footrest for your comfort. Place it against your room corner and rock it in the chair freely while enjoying your game competition. You can also get it along with the RESPAWN 110 Racing Style Gaming Chair for the best set. In a nutshell, the desk is strong, durable and elegant for those who like this feature style.
What is this RESPAWN 2010 Gaming Corner Desk best for? 
Short answer. It is for the legend gamer who likes rocking in their chair and desk while playing their fun computer game. Well, if you want to consider it for professional office, it won't reject you either. Your call!
"Key
Available in in Green & Gray
Dimensions & weight: 66″ x 66″ x 34.6″; 110.2 lbs
Heavy duty: holds up to 200 lbs
8. SHW L-Shape Corner Desk Glass on Top | a Corner Computer Desk for Office or Apartment Office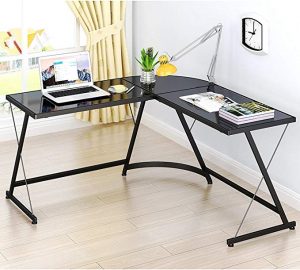 By Le Crozz
If you are looking for a glass surface desk, then this SHW L-Shape Desk is suitable for you. Made of a strong steel frame and powder coated finish, the desk stand elegant and fancy with its tempered-safe glass desktop. Coming in three pieces, the desk is easy to assemble. The desk also has bars for footrest and adjustable glides to stabilize and balance the table when place on the uneven floor. If you like a simple but fancy glass desk, then this L-Shaped glass computer desk is good for you.
What is this Le Crozz corner desk best for?
It is simply designed for a modern and fancy working environment. If you are living in an apartment or having an office in a fancy building, then this Le Crozz desk fits well in that atmosphere. Yet, this table has no hutch. So, you might get an additional file cabinet if you need it for your document records.
"Key
Available in black color
Dimensions & weight: 51″ x 51″ x 28.5″; 38 lbs
Material: steel & glass
Most popular among L Shaped glass desk
7. SHW L-Shaped Home Office Corner Computer Desk Wood Top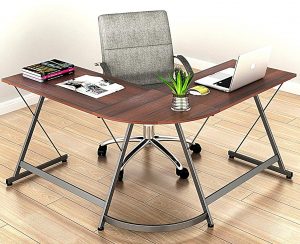 By Le Crozz
This is another Le Crozz desk but it is made with wood on top. The SHW L-Shaped wood on top desk is my favorite one as I just bought it for my own home office. It fits best in my home environment. The reason I chose it because it fits well with my narrow space in my room, yet it provides me with plenty of space to store my file, books and laptop. Sitting at the corner of my room making it like a good friend to my bed. Well, for a person who is working from home like me, having a desk in my room as a personal office is just an indescribable feeling. Anyway, the table's dimension is 51″ depth (W x 19″ D x 28.5″ H). This L-shaped desk is supported by strong metal legs and powder coated finish wood on top. If you like it as I do, just get it. Otherwise, you can go for the next one in the list.
Oh, along with this L-shaped desk, I also bought a Modway Articulate Mesh Office Chair with Lumbar Support and a 2-Drawer Office File Cabinet. They both completes all my needs to start my work comfortably from home. You can look at the lists of the best office chairs and file cabinets to find the right once for yourself as well.
"Key
Made of steel frame, powder coated finish and particle board
Comfortable foot rest bar
Leg glides are adjustable
Sturdy and stable desk
Overall dimension: W51″ x D19″ x H28.5″
6. Teraves Reversible L Shaped Desk with Shelves Round Corner

By Teraves
Teraves Modern L-shaped desk is the best working companion that give you a free and multi-function desktop. With its L shaped designed, the desk can be placed in the any corner of your room or office building, and it saves a lot of space in your room as well. Teraves L shaped desk comes with different colors to fit in various tones of your working environment.
Also check out: The 10 Best Wall Mounted Desks, Floating Desks in 2023
Teraves' L shaped desks are simple but modern and elegant. It's the best choice for office activities and home activities such as coding, writing, studying, gaming and more. This corner computer desk is also known for its durability and sturdiness, which you can do your work confidently on it.
"Key
Equipped with monitor mount hole and moveable panels
Two-tiers storage shelves
Balance adjustable leg pads and foot rest space
Dimensions: L68.90″ x D53.15″ x H29.53″
99.1lbs in new weight & 68.94lbs in gross
Thick board and safe material
Availble colors: black oak, Beige + White Frame, Dark Teak
5. Tribesigns Modern L-Shaped Desk Large Size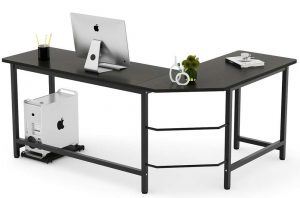 By Tribesigns
Tribesigns Merdern L-Shaped Desk is recognized as a simply modern, strong and space-saving one among the L shapped desks. This computer desk L shaped is made of steel legs and PS class particle board. With its large size design, the desk generates a wide desktop for your to place computer, documents, foods and drink and even other decoration materials. Below the desk, there is a storage for CUP, computer case for desktop computer and adjustable leg pads. It is stable and sturdy once you place it at the corner of your office.
"Key
Monitor mount hole and moveable panels.
Open two-tiers storage shelves.
Balance leg pads and foot rest bar.
Dimensions: 68.90″(L) x 53.15″(D) x 29.53″(H)
Holding capacity: 450lbs.
66.1lbs in new weight & 68.94lbs in gross.
Thick board and safe material.
Color available: black, Dark Walnut Brown, Light Walnut Brown, Light Brown, Mahogany Brown, Oak Brown, White, White & Black, White & Gold.
4. Soges L-Shaped Corner Desk for Home and Office Work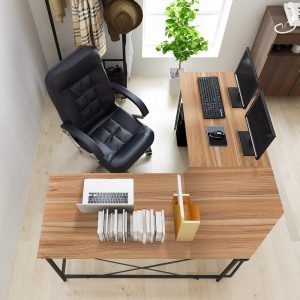 By Soges
The L shaped Corner Desk by Soges is the best table using for activities such as writing, studying, working, gaming and computer work. It is suitable for home and office space. This simple but modern L shaped desk is made of durable E1 grade solide particle wood and strong metal legs. The legs are equipped with adjustable pads to make the table stable even on the uneven floor. The desk is also suppored by X frame crossbar to make it more durable and sturdy. The ideal design is to improve the efficient use of the available space at your home and office.
"Key
Made of solid panel wood.
Metal legs with strong X frame corssbar.
Adjustable leg pads and foot rest bar.
Dimensions: 59 x 21.7 x 30 inches
Weight: 56.3lbs
Safe material.
Color available: Oak, Black, White Oak, White Oak, Black, Walnut
3. Tangkula L-shaped Desk Smooth Top Home Office Workstation Modern Study Laptop Desk with CPU Stand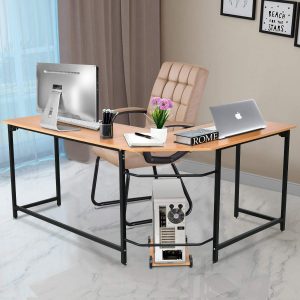 By Tangkula
The Tangkula computer desk L shapped is also simple in design but modern and elegant. The desk provides a wide desktop to place your desktop computer, laptop, book and even coffee cup. You can use one side for placing your computer and another side for writing and studying purpuse. The Tangkula L shaped desk is supported by steel frame, making it sturdy and reliable to use. It's among the top modern L-shaped desks of its kinds.
"Key
Made of rust-free metal frame and anti-scratch wood on top
M style buckle design to ease the assembly
CPU stand added and adjustable footpad for stability
Dimensions: 66″L×47.5″W×29″ H
Weight: 46lbs
Safe material
2. SHW L-Shaped Home Office Desk | Corner Computer Desk Wood Top, Espresso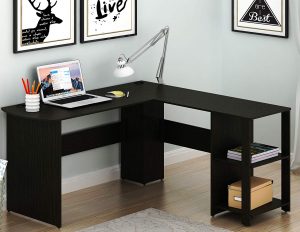 by SHW
This expresso L shaped desk is another great table for placing either again the corner or just again the wall in your office room. Made of wood with laminated particle board, the desk give you plenty of top space while its in-built cabinet shelves are very helpful for storying your other documents and materials. The desk is simple but have a fancy look, adding more beauty to your working environment.
"Key
Available in espresso & walnut color
Dimensions & weight: 51″ x 28.3″ x 51″; 7 ounces
Material: wood
1. Mr IRONSTONE L-Shaped Desk Vintage Corner for Study, Writing & Working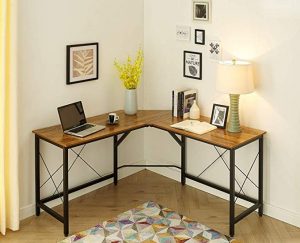 This vintage L shaped desk is designed for multi-purpose to maximize your room space. With its wide top space available, you can use it to keep your book, place your PC monitor and laptop, flower and even photo frames all in one table. The desk's frame are made of strong metal with extra X style legs to give the desk with extra stability. It's an ideal table to place at the corner rather than in the middle of the room.
"Key
Available in espresso & walnut color
Dimensions & weight: 59″ x 21.7″ x 30″; 58.4 lbs
Material: P2 Vintage MDF Board + Black Thicker Steel
I hope you found your love one! Curious how I built my own office? Check out my Three Simple Things To Setup My Own Office at Home. Also, to have your own office, I believe you might also need to consider the study tables, best chairs and desk lamps as well.
Key factors to consider before buying the corner desk or L shaped desk
L-shaped desks are made of different materials. It can be just one type of material or a combination of steel, rustless metal, powder coated wood, veneered wood, glass and marble. We have different favors. So, choose the one you love or just go for the one with steel/rustless metal frame and legs with powder coated wood on top. That's the one we love.
Although the desk in L shape is designed to save space, it comes with different dimension as well. So, look at the space in your room and see if your loved desk will fit in.
Functionality of the desk
Look at the desktop space, storage, foot rest bar, adjustability, and sturdiness to make sure it serves you well. These three key factors are good enough to help you choose the best desk for yourself. Let's go to the list.
---
How Our Team Select the Best Corner Desks
With honest, we cannot afford to buy these products and test by ourselves. Yet, we have our clear guideline and criteria to assess each product before we bring them to list on our site as we want to build trust with you. So, below are the key criteria we look at.
The purpose of the corner desks
This is what our team look at first. We ask ourselves what this desk is built for? We have learnt that the corner desks or L shaped desks are designed to serve two separate purposes. One is for professional use in the company's office. So, if you are looking for buy for the company, then you can go for the traditional look ones such as  Ameriwood Home Dakota Desk with Bookshelves or Bush Cabot L Shaped Desk or this Sauder Palladia L-Shaped Desk, Select Cherry finish.
The second purpose is the fancy corner desk which is designed to be used in the co-working space, home office and in the apartment. It has elegant and modern appearance which fits in the new lifestyle of the users. Most of these corner desks are made of metal or steel frame and legs with either glass or wood on top. From our list above, you can pick the one from GreenForest or from Le Crozz. So, we have picked up these two types of corner computer desks for our list as we see a lot of beneficials from them.
User experiences, comment and feedbacks on the product
We look at both the new released furnitures and the long existing ones. In each computer desk we picked, we read the user's feedbacks carefully and assess it to see how much per cent they like it and recommend it, what bad experience do they face in using the desk, and how reliable they are. We admit that, among the products listed above, not all users like it. Some got issues with the desks while some like it a lot. So, we don't take side. We choose based on the most positive results from the users. If the product received a lot of negative feedback, it won't be in our list.
Quality and durability of the desk
That's the most important part we cannot overlook. We want you to buy a computer desk which can sit in your corner as long as possible. So, our team assess carefully the materials used to build the table, the frame and the legs. How it is designed and how stable it is for the user. For instance, we know that the professional employees/employers won't behave aggressive like the gamers. So, we recommend the corner desk for the professional differently from our recommendation for the gaming players. The gamer need a more heavy duty and durable desk ask they rock and roll a lot with their fun activities.
FAQs about L Shaped Desk
Are L-shaped Desks or Corner Desks good?
L-shaped desks are good if you have narrow space in your room because it can be placed again your wall corner. It's an ideal desk to provide plenty of desktop in a narrow office or room. With its shape in L letter, you can place your computer or laptop on one side and leave another corner side for doing other tasks such as writing, drawing and studying conveniently. It also looks ver  modern and nice. With the metal sturdy leg and anti-scratched wood top, the L shaped desk is light weight but very durable and stable to use.
What is the best L shaped desk?
From the user experiences and feedback, the best L shape desk for professional works are the ones which are made of strong woods materials, where as the one made of metal frame and legs with glass on top are best for fancy working environment or personal office. You may also consider the corner desk with hutch if you want an all-in-one desk with filing cabinet. Otherwise, the metal frame and leg one is good enough.
To choose the best one for yourself, you can check our guide above. There is not just one best quality desk anyway. So, choose wisely for yourself.
Where can I buy a corner computer desk?
You can buy a corner desk from Amazon, Walmart or buy directly from the company's office which is near to you. All the computer desks we listed above are from Amazon only. So, if you don't want to ship from Amazon, you can check out the name of the company there and see if they have office near you or not. If they do, just buy directly from them as it will be more convenient for you to check out with your own eyes.
How to organize a corner desk?
The corner desk can be placed against the wall, corner or even in the middle of your room. It depends on which desk you buy anyway. Some desks are built more specifically for placing against the wall only. So, if you want an L shaped desk to place in the middle of your room, make sure to get the one is designed for that.
We hope you can get the best one for yourself. Enjoy your shopping!
Last update on 2023-10-04 / Affiliate links / Images from Amazon Product Advertising API