A sip of whiskey is just invigorating, intoxicating, and mind-blowing. But, if you're drinking it from a regular glass or any mug, you are literally downgrading the flavor as well as the importance of your whiskey drink. This is why if you want to enjoy your drink completely, consider buying a set of a whiskey glass. There are different types of and different sizes of whiskey glasses are available in the market. Hence,  here we have listed down the top 10 best whiskey glass sets for you. 
List of the 10 Best Whiskey Glass Set in 2020
10- Rock styled old-fashioned whiskey glasses by Bavel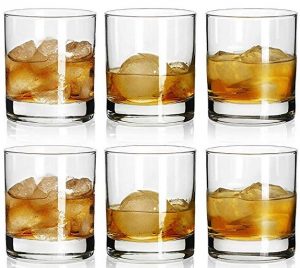 As the name suggests, Bavel whiskey glass set is classically designed and renders an elegant look. The set includes 6 pieces. Made of no-loaded crystal, the glasses can hold up to 11oz. Their traditional design in a modern shape makes them different from other whiskey glasses. In fact, the design is so versatile that you can use these glasses for your drink on any occasion. With the fact that glasses are made of high-quality crystal, they are break-resistant, durable, stable and dishwasher-safe. 
9- Premium whiskey glasses by Mofado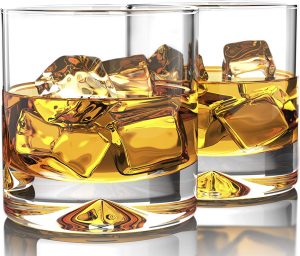 If you choose quality over design, Premium whiskey glasses by Mofado will allure you. Each glass of this set weighs nearly 1 pound. With the fact, you can assume the quality and durability of these glasses. The set includes 2 glasses and each of them has a holding capacity of 12oz.  Given that, these large glasses can hold big cubes of ice efficiently. Furthermore, they also fit in the hand seamlessly. If you're concerned about construction materials, it is crafted of high-class crystal. 
8- Italian made 7-piece decanter set by James Scott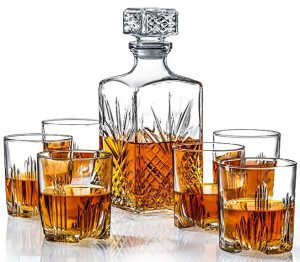 A modish design of whiskey glasses gives you a more enjoyable drinking experience.  Isn't it? Well, if you also think so, this alluring whiskey glass set is made for you. The glasses are designed in European design with a bold style that puts it apart from its competitors. Unlike other whiskey glass sets, this set includes a decanter with 33oz capacity along with 6 pieces of glass. The glasses are a bit small in size and each of them can hold up to 9.5oz. 
7- Venero Crystal Whiskey Glasses, set of 4 glasses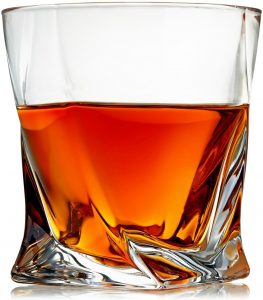 Striking Venero crystal whiskey glass set is truly an addition to your home bar. What makes these glasses unique is their twisted-designed bottom, which really looks exceptional and elegant. Furthermore, their thick sides also don't get easily broken and retains the temperature of your drink for a long time. Made of lead-free crystal, the glasses are solid, unbreakable, and dishwasher-safe. Given their luxurious design, these glasses can be used perfectly to serve water, juice, or any drink that you want.
6- Paksh Novelty 7-piece Italian crafted glass set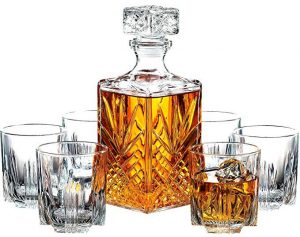 There are only a few brands that offer a big decanter along with a whiskey glass set and Paksh Novelty whiskey glass set is one of them. Yes, you'll get a big decanter of 33.75oz capacity with 6 pieces of tumbler glass-made glasses. Given their construction material, these glasses are ultra clean and superbly transparent. The glasses are shaped in an alluring diamond cut, which makes them perfect for all types of drinks including juice and water. With a holding capacity of 9.5oz, the glasses make sure to offer you enough drink at a time. 
5- Whiskoff whiskey glass set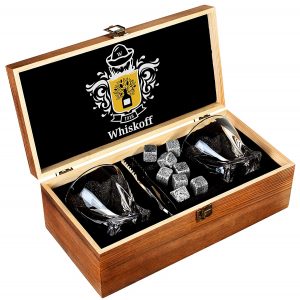 Whiskoff brand is a leading brand, particularly of whiskey glasses. With the fact, you can assume the quality and credibility of its glasses. There are 2 glasses in the set, each with a holding capacity of 11.15oz. Unlike other whiskey glass sets, it comes with 2 slate coasters, tongs, 8 granite rocks, and a velvet bag. In addition to that, the set also includes a wooden box to keep the glasses safe. The glasses are made of high-class glass, so they are not easily breakable. 
4- LEEBS Premium whiskey stones gift set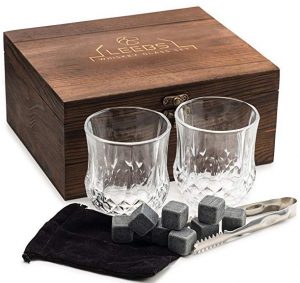 Another whiskey glass set that comes with a number of accessories including 8 whiskey stones, 2 tumbler & tongs, a velvet bag, 2 glasses, and a wooden box. The stones do their job perfectly and chill you drink quickly and effectively. The glasses have a holding capacity of 8.7oz and they are wide enough to hold a couple of ice cube together. Given the exquisite design of these glasses, various accessories, and the remarkable wooden box, this set is also a good option to give somebody as a gift. 
3- Personalized 5 pc whiskey decanter set by My Personal Memories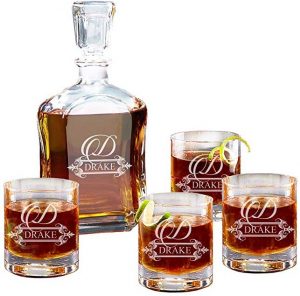 Get My Personal Memories whiskey glass set and create heaps of your personal memories with your friends, family, and loved ones. The set comes with 4 extra-wide glasses and a big decanter. The remarkable thing about these glasses is that they are masterfully crafted, elegantly engraved, and beautifully designed. Since glasses are really wide, you can add many ice cubes together to make your drink more chilled. The versatile design of glasses enables you to use them to serve any beverage.
2- Rocks Whiskey Chilling Stones gift set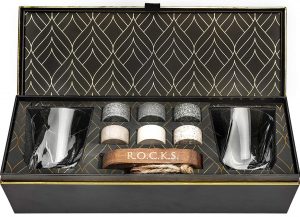 If you can afford spending reasonably much money on a whiskey glass set, get this incredibly luxurious and ultra modish whiskey glass set. It comes with complete accessories including 6 natural granite round-shaped stones, 2 wide glasses, 1 storage tray, and a complete manual, which will tell you how can you make your drink more flavorsome with this whiskey glass set. The glasses are made of superior crystal, so they are not easily breakable. Its remarkable functionality and beautiful packing also make it a perfect fit for the gift.
1- KANARS double old fashioned whiskey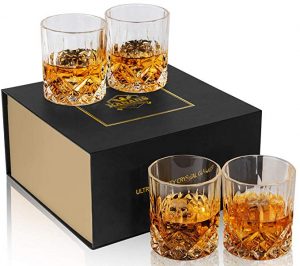 Elegance and awesomeness are the words that sum up this whiskey glass set. These glasses are not just glasses but fascinating pieces of artwork. Seriously, their design is exceptionally beautiful with an alluring diamond-shaped texture. The heavy base of glasses ensures reliable stability to the glasses. The glasses are made of lead-free crystal, so they are not only break-resistant but also highly durable. Given the overall functionality and mind-blowing design, KANARS whiskey glass set will surely give you an enjoyable whiskey drinking experience. 
Conclusion
So, these are the top 10 best and most stylish whiskey glass sets in the market right now. These glasses are made of high-quality material and atheistically designed. Get one of them and add an elegance and style to your home bar.