LED Desk Lamp is a newly stylish office lamp for a night owl people. Either you are a student or an employee or a self-employed, if you work throughout the night, then it's very important to have the right desk lamp that help you do your work effectively. There are many lamps in the market though. Yet, I would like to introduce you the latest invented lamps which are made with LED light and advanced technological control. By spending quite amount of time researching about the products, I have compiled the top 10 LED desk lamps to consider. I hope you will find your favorite one and spend less time on it. Check them out!
List of the Best LED Desk Lamps for Home and Office in 2023
LED Desk Lamp Reviews
10. TaoTronics LED Desk Lamp TT-DL16 Stylish Metal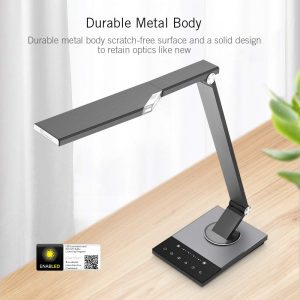 Designed with durability and flexibility, TaoTronics LED Desk Lamp stays on top of the best products of its kind. The body of the lamp is fully built from metal which makes it strong and lasts for long. Placing on your desk, the lamp can be adjustable with multiple angles of its head and arm. The light has 5 color modes with 6 levels of brightness which allow you to set it based on your need. It is not just the LED desk lamp but can also be used for the bedroom desk as well.
Key features:
Built with durable metal body & adjustable head and arm
5 modes of colors, 6 levels of brightness
Eye-friendly with light guiding panel transmission
Multi-functions to serve as the lamp for office desk, for bedroom desk and USB charging
9.

TaoTronics LED Desk Lamp with

Philips EnabLED Licensing Program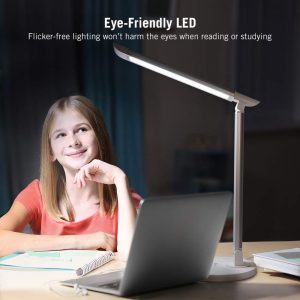 If you are looking for a simple but stylish design desk lamp, then the TaoTronics LED Desk Lamp fits you best. Made with an eye-caring technique, this desk lamp is licensing by Philips. You can either get one for your kid to study or have it for your own desk at home. Coming with 5 lighting modes and 7 levels of brightness adjustment, you can enjoy your work or study without the pain in your eyes. More importantly, it will not eat up much space of your desk or table as well.
Key features:
Designed to be gentle for your eyes
Customizable lights with 5 modes and 7 bright levels
Energy efficient and electricity saving and USB charging
Come with a 12-month warranty
8. LED Desk Lamp with USB Charging Port, Eye- Care Dimmable Lamp, Metal, Glare-Free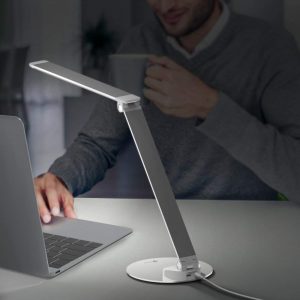 Simple as it looks, this LED Lamp desk from TaoTronics is very awesome! If you like a simple design but a premium product, then this desk lamp is the one. The body is made of metal, touching to control buttons and different colors and brightness adjustment levels. Without many things to describe, it's just simply an amazing lamp!
Key features:
Design with ultra-thin, USB charging and memory port
Come with 25 Light Modes and eye protection
Command and control with memory function and you can set accordingly
7. Philips EnabLED Licensing Program LED Desk Lamp with USB Charging Port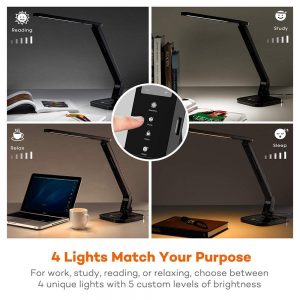 Here is another TaoTronics Desk Lamp which invented to serve the working purpose, studying, reading or relaxing. Come with four special lights and five levels of brightness adjustment, this office lamp is your best companion throughout the night.
Key features:
Come with USB charging port, memory and control touching function
Very flexible with its rotatable head and arm base to serve your need
Friendly with any vision type and designed for eye care
Modern and stylish with the latest technology control
6. Brightech Sky LED Torchiere Super Bright Floor Lamp – Tall Standing LED Desk Lamp
The Brightech Sky LED standing lamp is a bit different from all the above. It's designed to stand on the floor and save your desk space. For that, you can move it around and stand it anywhere you like such as near your bed, your table or desk or in the living room. It's a small office lamp but very efficient in lighting up your office and home.
Key features:
 Small but very capable of brighten up your office and room with its 30 WATT LED
Stylish appearance and elegant design with a powerful capacity
Energy-saving, secure and safe
3-year full warranty
5. Fugetek LED Desk Lamp FT-L798, Exclusive Model Office Lamp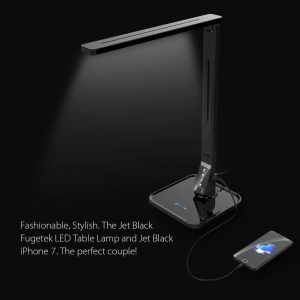 The Fugetek LED Desk Lamp is another best option. It's elegantly designed for long life lamp. The Fugetek office lamp is manufactured under standard license and quality assurance. What I like about it is the sleek design and its high capacity to handle the dark effectively.
Key features:
Long-life span LED Lamp
Multi-function of brightness and light levels
Timer feature and smartphone charging function
Sleek design to save space but powerful
4. TW Lighting IVY-40BK The IVY LED Desk Lamp with USB Port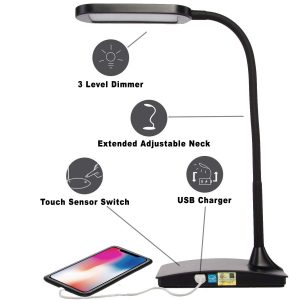 The IVY LED Desk Lamp is quite unique comparing to other lamp. Yet, it doesn't look as elegant as the above lamp. However, this light has its own speciality as well. It's design with 3 level dimmers and extended neck adjustable to your need. The switch is equipped with a touch sensor. So no button is needed. There is also a port for you to charge your phone, tablet, camera and more. It's more than just an office lamp anyway.
Key features:
Come with USB port for many device charging
Extendable neck for adjustment to meet your need
Hight rate for energy efficiency and funcitionality
3. LEPOWER Metal Desk Lamp, Adjustable Goose Neck Table Lamp, Eye-Caring Study Lamps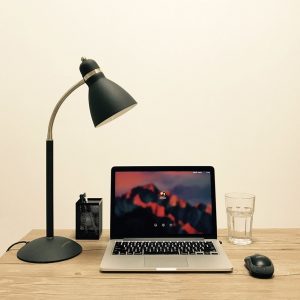 How does this desk lamp look to you? Yes, it's like an old-style, isn't it? However, if you like the classic desk lamp, then this one will fit you best. No complication needed for this office lamp. Just switch on and off as you wish. It's designed for simplicity and simple functionality. If you like an old way, let's go for it.
Key features:
Easy to use with just a switch on and off
Made of high quality metal and material
The neck can be adjusted for your like
One year warranty and 60-days money back
2. Tomons Swing Arm LED Desk Lamp, Wood Designer Table Lamp, Reading Lights for Living Room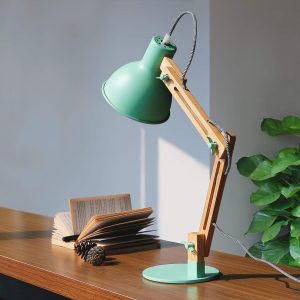 All the modern and stylish Desk Lamps are presented. How about the natural wooden one? Well, if you are the kind of person who loves nature, then this Tomons Swing Arm LED Desk Lamp is probably the best choice for you. Made of solid wood with adjustable body design, the lamp is just so classic to serve your reading mood. Nothing much to describe it anyway. The lamp already reveals itself.
Key features:
The frame is made of wood and chemical-free
Classic but in a modern style appearance
Portable, light and easy to move around
Simple to use
1. Stylish Metal LED Desk Lamp, Office Light Philips EnabLED Licensing Program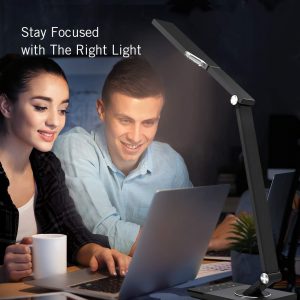 So what we have on our last list? It's the Stylish Metal LED Desk Lamp. As the name tells, it's a powerful LED Office Lamp designed for people who like to be fashion and elegant stuff. The lamp body is made of metal but adjustable at its arm and head. So, you can place it and adjust it to any direction you wish.
Key features:
Durable metal body with adjustable arm and head
5 modes of colors to choose and 6 levels of brightness
Eye friendly and glare-free lighting
Multiple touch functions
I hope you can find your favorite one from the list. You can also check out the office desk and office chair as well. Oh, I have just set up my own office at home. Wanna see how I do it? Well, check out my blog on the Three Simple Things To Setup My Own Office at Home!
Last update on 2023-10-04 / Affiliate links / Images from Amazon Product Advertising API