Toddler chair is one of the most important tool you can use to handle your kids. While the kids are growing and becoming more and more adorable, they are also very difficult to handle during this time of growing up. They are curious of everything and always create a lot of mess. Like my two kids, they like to climbing to sit on my lap when I'm reading or doing my work at home.
So, I came up with an idea to get them one toddler chair each, sit them and let them enjoy themselves near me. They love it. So, we are now getting along so well. I sit in my own chair and they sit in theirs and we do our own tasks. They still invade my space sometimes, but it helps put a lot of smiles on my face to observe them doing their their things in such an adorable toddler chairs. Therefore, I would recommend you to have one for your kid at home as well. I have compiled the list below if you may check out.
List of the 15 Selected Toddler Chairs for Your Kids in 2023
Product Reviews
15. Animal Adventure Pink Owl Toddler Chair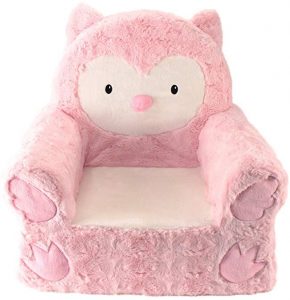 Buy on Amazon.com
Toddler chair by Animal Adventure is made of soft fabrics to provide ultra soft and comfortable to your kids to sit in. The seat has soft foam lining, which ensures a snug experience. Anima Adventure produces different types of toddler chairs which mimic different lovely animals and appearances; for instance, blue bear toddler chair, brown dog kid soft chair, monkey kid soft chair and more. 
These toddler chairs come with a cute cover as well. You can remove and wash it in a machine if you like. It won't be affected at all. The cover is equipped with a zipper, which is actually invisible when the cover is on. Trust me, this chair is really love by every kid!
Key Features
Comfortable chair for kid to read and play with their toys
Removable and washable cover
The weight is light and easy to move around
Size:

14″ in length, 19″ in width, 20″ in height

For 18 months old and above
14. The Lakeside Collection Kids Plush Animal Chair for Toddler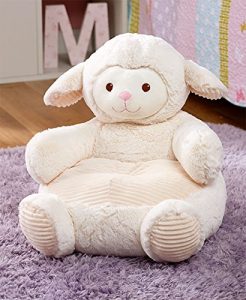 Your little kid will love this cute, chubby, and monkey-shaped toddler chair. Made of polyester with a mix polyfill, the Lakeside Kids chair is sturdy enough to hold the kids between the ages of 1-3 years old. This little piece of furniture is indeed the best thing you can get for your baby. On this chair, your baby can relax, play, or jump around. The best thing about this toddler chair is that it is well-cushioned and extremely cuddly. Believe me, you won't regret your purchase. 
Key features
Great chair for toddler to play with, sit and sleep in, and play their toys
Light weight: only 1.18lbs
Size: 16 inches long, 11 inches wide and 11 inches hight.
Soft and comfortable for kid from 1 to 3 years old.
13. Toddler Chair Wooden TAG F301 | Best Toy Chair for Toddler & Kid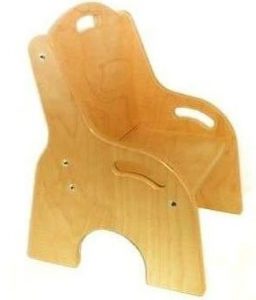 The TAG F301 Toddler Chair is a USA made with smooth and rounded corners and edges. It is also designed with an extra wide seat and backrest for your kid to sit and lean on. This toddler chair is durable, light weight, and has easy-grip tote handles allowing your kid to move it around by him/herself. You kid will have fun with this chair. This chair is suitable for any child from 2 to 3 years old. Yet, having one more activity table for your toddler will be a greater idea to booth their creativity. You can check out a compilation of the kid's table selection here.
Key features
The chair is suitable for kid to read, draw or watching their cartoon on smart devices
Dimension: 11.8″ x 12″ x 14.6″
Chair weight: 7 lbs
Suitable: 24 month – 3 years
12. ECR4Kids 8″ Stackable Wooden Chair for Toddlers | Sturdy Hardwood Seat for Daycare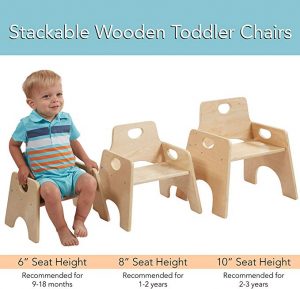 This is another wooden chair for toddler designed with three different seat heights, allowing flexibility for your adorable kid to use with different tables. The chair is suitable for using in classroom and at home. Your kid can sit on it enjoying their snack, reading their favoring comic book or picture book and drawing activities.
Talking about the design, the chair has a cut-out hole in the back and handles for the child to carry or move around by their own. It is also light weight and natural finish clean. It is also easy to assemble. Anyway, this chair is recommended for a toddler from 9 months old. If you think your kid is still too small, you may check out one of these Baby High Chairs instead. These high chair allows you to sit your baby properly while feeding them.
"Key
The chair is best for kid to study, read and write as well as drawing
Chair dimension: 15″ x 12.8″ x 15.8″
Weight: 12 lbs
Three seat heights: 6 inch seat, 8 inch seat & 10 inch seat
Child age: 9 months – 4 years
11. Kid-Century Modern Trendy Toddler Chair | Kids Furniture Set for Toddlers & Kids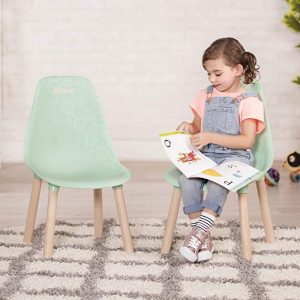 This is two-piece chairs are a kid-century modern trendy toddler chairs with simple design but stylish. It has solid Oak wood legs which makes the chair stable and strong, where as the seat platform is made of a fancy polypropylene. The chair is not just great for your kids to use but also giving a good decor to your living room or house. If you two kids, you can grab it along with the company's Craft Table which is a perfect set for their study, reading, drawing and other creative activities.
Key features
The chair is best for your kid to read their book, writing and drawing
Chair dimension: 14.6″ x 16.4″ x 26″
Chair weight: 7 lbs
Materials: Oak wood legs & polypropylene seat
Kid's age: 36 months – 12 years
10.  ECR4Kids Heavy-Duty Solid Oak Hardwood Kids Rocking Chair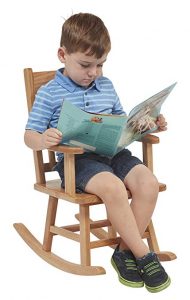 If you have chubby kid, then this heavy duty rocking chair is just right for them. Made from a strong sturdy Oak wood, this rocking toddler armchair is best for kids to use in library, classroom or in the yard. Your kid can sit and rock it while reading their comic book or picture book like a pro. This kid's chair is made to be a comfortable seating solution for a child up to 7 years old. It is an environment friendly certified product from North America.
Key Features
Good chair for kid to read books or watch cartoon on iPand & SmartPhone
Dimension: 26.4″ H x 24.2″ W x 15″ D
Made of solid Oak wood
Weight: 10 pounds
Child age: 3 to 7 years old
Also check out: The 10 Best Toddler Chair Desk Combos in 2023
9. Costzon Toddler Rocking Chair | Wooden Classic Porch Rocker | Double Slat Back Rocking Chair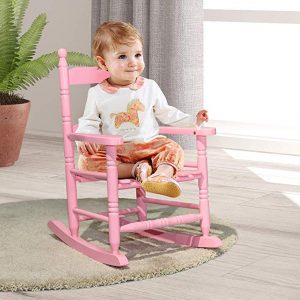 Talking about rocking seat, then why not this cute pick rocking chair for toddler? This toddler rocking chair from Costzon has a unique and modern look that makes your adorable baby look even more lovely when they sit in. I am sure your kid will love to have one in your house. The chair can be used a part of a compliment decoration to your living room as well.
Place your adorable kid in, and let him/her rock it with fund. Speaking of the construction material, it is made of a safe solid hardwood with hand crafted. It is also easy to assemble. A good one for the handmade lover. You may consider one of these baby swing to bring your little one for fresh air outdoor more often. For more option of rocker for kids, go here.
Key features
The chair is good for a toddler or child to play with
Chair dimension: 19″ x 14″ x 23″
Chair weight: 4lbs
Holding capacity: 80lbs
Suitable for toddler up to 4 years old.
8. Keet Roundy Kid's Chair Gingham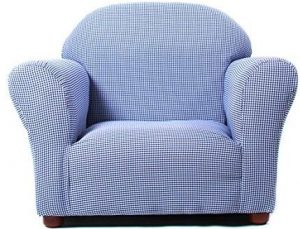 If your baby is above 3 years old, consider buying this toddler chair. The reason being, it is purposely made for the kids between the ages of 2 to 5. With that fact, it is solid-made and can hold up the wear and tear of kids really well. Unlike many other toddler chairs, it is designed with high-density foam, which ensures ultra comfort. The Gingham fabric completely coordinates with its sleek wooden legs and renders a classical look. In case, you want to clean it, use light dishwashing soap.
Key features
The chair is an ideal for your kid to sit in and read  or watch movie
Made of high density foam for comfort
Legs are made of strong wood.
Size: 24 x 17 x 18 inches
Weight: 12.7lbs
7. Marshmallow Furniture Minnie mouse chair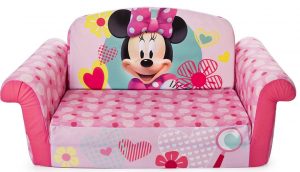 Want a toddler chair cum sofa? Well, get this one. It is a 2-in-1 chair, which you can use as a chair or an open sofa, or even as a lounger. Given its multi-functionality, it is a bit larger in size. So, you can't place it in a congested area. It is made from soft polyester foam. Given the fact, you can rely on its long durability. To add further, the cover of this toddler chair is easily washable in the washing machine. Just unzip it and you're all done.
Key features
Good chair for your little girls and boys to sit together and play together
Chair weight: 2.5 lbs.
Child age range: 1 to 4 years old.
Soft and durable sofa toddler chair style.
100% made of polyester and U foam.
6. Keet Roundy Microsuede Children's Chair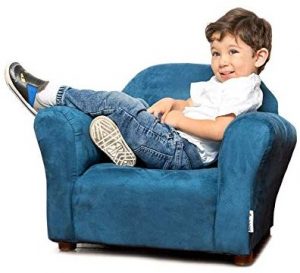 If you love traditional-styled toddler chairs, Keet Roundy Microsuede children's chair might impress you. Seriously, this upholstered toddler chair is a classical piece of furniture. With its beautiful microsuede fabric, high-density foam, and sturdy wooden legs & frame, this toddler chair ensures a cozy and relaxing experience. No matter how much movements your baby makes over the chair, it can't be unbalanced even slightly. The reason being, it low to the ground and holds up the weight really well.
"Key
It is a best choice for your kid to read or watch TV
Made of strong wood frame and legs.
Comfort density foam and poly cotton.
Size: 24 x 18 x 18 inches.
Weight: 13lbs, holding weight: 50lbs.
Age range: 2 to 5 years old.
5. Summer Infant Pop and Sit Portable booster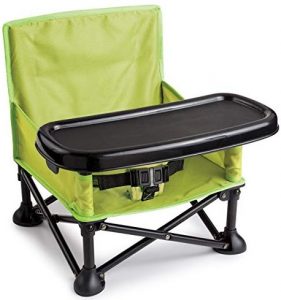 This set of toddler chair is far much ahead than others in style and versatility. Made of lightweight metal, it is extremely portable and can easily be used in indoors as well as outdoors. It is designed with a carrying case. So, just detach it in pieces and carry wherever you want. You can set it up again in seconds. The chair also features a safety harness, which will help you secure your baby in the seat without causing him any discomfort.
Key features
This toddler chair is good for sitting your toddler and feed them
Chair's weight: 4.5 lbs, holding capacity weight: 37lbs
Size: 15 x 14 x 15 inches
Made of: Polyster.
Portable and easy to bring anywhere.
4. Disney Minnie Mouse Toddler Bean Bag Sofa Chair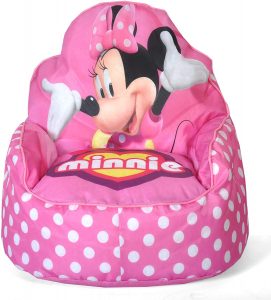 If you're looking for a famous Disney toddler chair, this is the best fit for you. However, it is a sand bag style chair but very comfortable for your toddler to sit and play in. Having this kid soft chair will put a big smile on your kid's face. It's like having a mickey mouse waiting to play with them everyday. The sand bag toddler chair is made of polifill and light weight. Grab one for your kid.
Key features
It is a sofa seat for little kid to enjoy their fun activity
Size: 18 x 18 x 21 inches.
Chair weight: 1.2 lbs
Polifill, soft and light.
3. Melissa & Doug Child's Armchair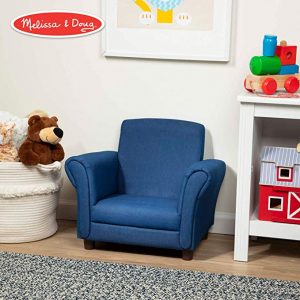 Here comes the first toddler armchair on this list that too from Melissa & Doug brand, which is a leading brand in the industry. Do you need any more reasons to buy this toddler chair? Okay, let me tell you more details. Made of top-quality denim mixed with other materials, this toddler chair is highly durable and ultra comfortable. Its robust construction with wooden legs is not easily broken. Even if your kid jumps over it, it will remain intact.
Key features
The chair is for a child to read, study or watch TV in living room
Size: H 18.3" x W 17.5" x L 23"
Chair weight: 11 lbs
Made of high-quality denim & other materials
For a child from 36 months to 5 years and above
2. Marshmallow Furniture Children's open foam sofa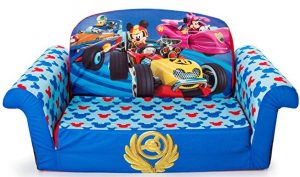 If you mind spending a chunk of money, get this 2-in-1 toddler chair by Marshmallow Furniture. It is actually an open sofa, which your baby can use for sitting, relaxing, reading, or even for sleeping. It is so versatile that you can flip it open and transform into a lounger or fold back into a sofa when in a congested space. Made of lightweight padded foam, it has a polyester fabric cover, which is removable and washable.
Key features
Size: 16″ x 29″ x 14.5″
Materials use: Polyester & fabric slipcover washable
Weight: 2.5″
For a child from 18 months to 4 years or above
1. Intex Beanless bag Club Chair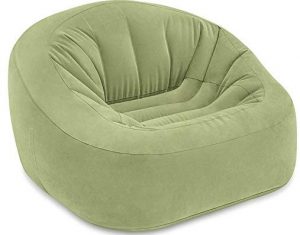 Forget all other toddler chairs and just clap your eyes on this one. It is the most lavish and elegant toddler chair on this list. It also beats the all when it comes to the stylish design. Let your baby snuggle in its soft flocking and spend some relaxing moments. This toddler chair is so flexible that you can flip it on or fold back as per your needs. Though it looks soft, it is well-built. Given its solid construction, this toddler chair can hold up a large amount of weight and can be used even for the adults. If you child is still little, you may check this  Infant Bean Bag Chairs instead.
Key features
It's like a bean bag chair for a kid to sit or lay in
Size: 42″ x 41″ x 27″
Chair weight: 5.4 lbs
Neutral color & corduroy texture
You may also check here the selection of bicycles and helmets for toddlers in 2023!
What to Consider before Buying Toddler Chair!
There are different kinds of chairs for toddlers. Yet before you make a buying decision, you can consider the follow factors.
Materials
Toddler chair is made of different materials such solid wood, plastic, metal, polyester or other strong materials. So, it depends on your favorite and the type. For toddler chair, you may consider the chair with wood frame and legs if you want a solid chair for your kid. Yet, just choose the floor soft toddler chair which is made of polyester and soft foam if your kids are just below 3 years old.
Dimension of the chair
How you want it? To be hight, small or large. For an adorable and a very young toddler around 1 year old, then you can choose a small cute soft chair. But if your kids are already 3 or 5 years old, then consider the larger and more solid foam toddler chair I would say. I hope you get an ideal chair for you kid from here.
Conclusion
Get one of these toddler chairs and let your kids enjoy reading, relaxing, snacking, crafting, watching TV and other such activities with all comfort. Believe us, these toddler chairs will surely be a great addition to your baby's room.
---
FYI Tip: How to Make a Toddler Chair Out of Wood
Some parents like to make toy for their toddler or little children by themselves rather than buying the ready made on the market. Doing so helps create the strong love and long lasting memory for their children. If you are such a kind of parent, then you can make a toddler chair out of wood by yourself by following this step by step guidance from the Instructables's manual or follow the video below:
DIY Video: Making Toddler's Chair by DIY Man
---
FAQ about Toddler Chair
What is the best toddler chair?
Toddlers are the young kids who have just learn to walk, and they are attracted to something colorful. Thus, you might looking into a colorful chair which is appealing to them to use. However, if you are looking for the best chair for your kid, first of all you need to define what purpose you want the chair for your child to use for. If you want the soft and cute designed chair for your child to climb in or sitting to brow their picture or cartoon book, then a soft fabric chair such as Anima Adventure Toddler Chair or The Lakeside Collection Kids Plush Animal Chair are suitable for them. These chairs are also comfortable for your little girl or boy to sit in and play their toys as well.
If your kids can walk properly already, then you may want a kid's chair which is made of solid wood for them to sit in and move around by themselves. For the reason being, you should consider a light weight wooden chair made of Oak wood such as Toddler Chair Wooden TAG F301 or the Stackable Wooden Chair for Toddlers. These wooden chairs made for your child to sit beside the table for their drawing, studying or playing their toys.
For little girl, I personally love this Modern Trendy Toddler Chair for her. It's just simply modern and stylish and fits well with our lovely girl to use. Anyway, if your kid is already 3 to 7 years old and like holding his book to read like a pro, get him or her a rocking chair. That will make him look maturely adorable.
What is the best toddler chair for reading?
We all have different preferences and flavors. Therefore, the best toddler chairs are also defined differently. It depends on how old your toddler is and what kind of chair he or she loves. Actually, any chair can be used for toddler to read. However, to give a comfort to them, you may consider a chair with a table. Getting a set of chair and table together will allow your children to do their reading or browsing their comic books more conveniently. It also creates a good habit for them as well. For recommendation, I think you can pick a set from this List of the Kids Table and Chair Set or google for more options.
What is the best toddler chair for living room?
Living room is a room in our house in which we use it for general purpose such as welcoming guests or family members gathering after dinner and so on. In the living room, we always want to have something more decorative to place in it so that it can create more attractive environment. For that reason, people like to place a sofa kind of chair because it provides both more comfortability for sitting and good look. So, if you want a chair for your toddler to place in a living room, get a sofa-like chair such as the
Keet Roundy Kid's Chair Gingham
or
Keet Roundy Microsuede Children's Chair
. These kinds of chairs are designed specifically for the living room environment.
Last update on 2023-10-04 / Affiliate links / Images from Amazon Product Advertising API