Though many new devices and gadgets are popping out every day in the market to maximize your music listening experience, over-ear headphones are still the first choice for some users. The reason is that they just look classy and offer you incredible sound quality blocking out all nonsense of the outside world. Given their huge demand, today, the market is flooded with a variety of these headphones. Considering that, buying the right headphone might be a bit challenging for you. However, you don't need to worry. Here, we have tailored the list of top 10 best over-ear headphones for you to easily pick from.
List of the 10 Best Over-ear Headphones for Your Pick in 2023
Also check: Top 10 Best Budget Microphones for Streaming & Ring Light for Photos and Video Live in 2023
10- COWIN E7 Active Noise Canceling Headphone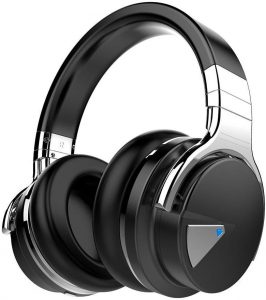 As the name suggests, COWIN E7 over-ear headphone is designed with an active noise-canceling technology, which prevents the outside noise and offers you smooth music listening experience even when you're traveling or working in a loud environment. Additionally, it is inbuilt with an NFC technology that helps you pair it quickly with your phone just with the voice prompt. To ensure crisp and remarkable sound quality, it is equipped with 40mm large-aperture drivers and deep bass. Furthermore, it also features a powerful battery of 600mAh that provides a long playtime of 30 hours.
9- Sony Noise-Canceling Over-Ear Headphones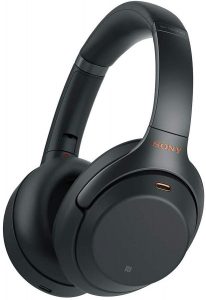 Sony is a leading brand in this industry. Given that, you can go for this Sony noise-canceling headphone even without a second thought. Unlike many other over-ear headphones, it is Alexa enabled and lets you do all functions just with your voice prompts. Thus, it provides you a hand-free experience. Furthermore, it is inbuilt with a smart listening function, which ensures you outstanding music sound adjusting the surrounding noise automatically. Moreover, you don't need to worry about battery backup with this over-ear headphone as it can last up to 30 hours after a single charge only. You might also like to check out Sony Active Noise Control EarBuds as well.
8- Bose QuietComfort 35 Wireless Bluetooth Headphone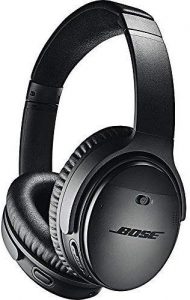 If you can invest in a high-budget over-ear headphone, just buy it and take your music world to a whole new level. To offer you a breathtaking music listening experience, it is inbuilt with 3 levels of noise cancellation. Furthermore, it also offers you incredible sound quality allowing you the freedom to raise the volume to your desired level. To enhance the functionality further, it is inbuilt with Alexa, which provides you voice access to music and lets you do most of the functions just in your voice command.
7- COWIN E7 pro Active Noise-canceling Headphones Over-Ear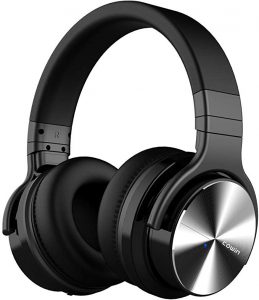 COWIN E7 Pro headphones are ergonomic headphones with a super crisp sound quality. What makes it so remarkable with its sound quality is its 45mm large-aperture drivers and deep bass. Being the pro version of COWIN, it is inbuilt with upgraded 4.0 Bluetooth, which provides a quick and stable connection with your mobile phone. With this set of over-ear headphones, you can enjoy continuous music up to 30 hours and the power won't go down as it is inbuilt with a powerful battery of 800mAh.
6- Mpow 059 Bluetooth Over-Ear Headphones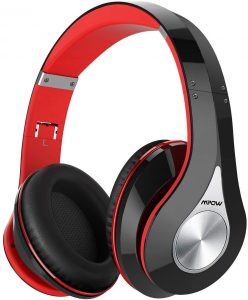 Mpow 059 Bluetooth headphones are a good fit for you if you're looking for affordable and decently good over-ear headphones. From a powerful sound driver of 40mm to passive noise-canceling technology and from comfortable design to long battery run, you'll get everything in these headphones. Though it is inbuilt with a powerful battery that can last up to 20 hrs, you can charge your headphones just for 10 minutes in the emergency and enjoy smooth music for long 2 hours. Interestingly, you can use this wireless headphone as a wired headphone too. Prior to that, you just need to switch it in wire mode.
5- Mpow H7 Bluetooth Headphone Over Ear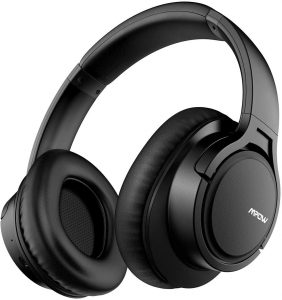 Mpow H7 over-ear headphone is a good-quality over-ear headphone at an affordable rate. Even after being low in price, it is remarkably high in features. Featuring 40mm drivers, it makes sure to offer you super crisp sound quality regardless of the outer environment. The battery is also powerful enough to last up to 18 hours. In case the battery runs out and you still want to resume with your music, just switch the headphone in wired mode and continue with your enjoyment. To make the accessibility easy for you, it is inbuilt with 3 buttons that provide you complete control over the music, phone calls, and FM.
4- iJoy Matte Finish Wireless Premium Rechargeable Headphones Over Ear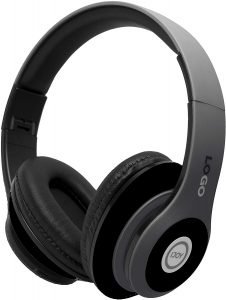 iJoy headphone is the loved choice of users. The reason being, it costs really low in price and offers you some incredible features, unlike other over-ear headphones. To begin with, it is equipped with 5 buttons that let you play, pause, volume up and down according to your needs and preferences. With the help of these buttons, you can also answer or hang up your phone call even without touching the phone. Furthermore, it is inbuilt with a radio receiver and in-line mic, which together enhance the overall music experience.
3- Sennheiser HD Wireless Noise-Canceling Over Ear Headphones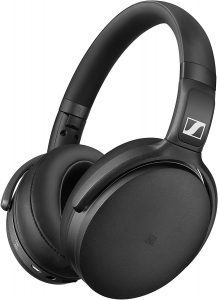 If you're not ready to compromise with the sound quality of your headset, turn your head to Sennheiser HD wireless headphone that produces incredibly clear and realistic sound. All thanks to its advanced features such as Bluetooth 4.0 and aptX technology that never fail to do their job. Additionally, it is equipped with a noise-canceling technology that blocks the ambient noise and further enhances your music listening experience. Its integrated microphone further lets you change the music track and answer the phone calls without any effort. Moreover, it is also super cozy to wear.
2- Bluetooth Over Ear Headphones by LETSCOM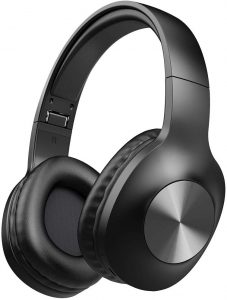 LETSCOM Bluetooth headphone is a perfect fit for those people who find it irritating to put their devices in charging in every few hours. The reason being, it is inbuilt with a powerful battery that can offer you a long playtime up to 100 hours. Moreover, it doesn't compromise with the sound quality either. Featuring large-aperture drivers of 40mm and deep bass, it provides superbly clear and crisp sound. To ensure you a smooth and uninterrupted music listening and phone calls experience, it is equipped with upgraded Bluetooth technology. Certainly, one of the best over-ear headphones out there.
1- Sennheiser PXC 550 Wireless Noise-Canceling Bluetooth Headphone

Sennheiser PXC 550 wireless Bluetooth headphone is a pricey over-ear headphone, but it is worth the price. From its stylish design to remarkable sound quality and soft ear cushions to advanced features, it is truly unbeatable. It ensures you stable and smooth connectivity as it is inbuilt with 4.2 Bluetooth wireless technology. Furthermore, it is designed with NoiseGard noise cancellation technology that provides you outstanding sound quality blocking out the outside noise. To offer you a hand-free experience, it is designed with auto on/off feature.
Key factors to consider when buying an over-ear headphone
Most probably, you'll be using your over-ear headphones daily, that too for long hours. So, make sure to buy a high-quality over-ear headphone. For that, you need to consider certain factors in mind while making the purchase. The factors are:
Start off your investigation with the sound quality of your prospective over-ear headphone. No matter how melodious a song is, if the sound quality of your over-ear headphone is not good, the song would seem just a piece of nonsense. Given that, pay close attention to this factor. If you have no idea how to gauge the superiority of sound, look for an over-ear headphone that is equipped with a radio receiver, large-aperture drivers, and other such sound-enhancing features.
Yet another significant factor that must be brought into notice while buying an over-ear headphone. Generally, people wear headphones for long hours. Nobody likes to put on and off them in every few minutes. So, if your headphones are not comfortable in wearing, they can be really annoying. Given the fact, buy the one that are designed with cozy ear cushions and fit snugly in your ears.
Not considering the battery life of a battery-powered device prior to its purchase is like buying a dress without considering the size. So, make sure you give close attention to the battery life of your over-ear headphone. However, the battery life of an over-ear headphone has nothing to do with its quality. You can get low-quality  headphones with long battery backup. On the contrary, some top-quality headphones have not-so-long battery life. So, it is completely a subjective choice. Go for the one that is most suitable for your needs. Generally, even the lowest quality of these headphones have a battery runtime of 7-8 hours.
In this chaotic world, if you want to enjoy smooth music without any interruption of the outside noise, make sure to buy an over-ear headphone that is equipped with a noise cancelation technology. This awesome technology seamlessly blocks out the ambient noise and ensures uninterrupted music listening experience. Not all over-ear headphones are inbuilt with this technology. You can get this remarkable feature only in top-notch ones.
Conclusion
Music and headphones have an inseparable relationship. You can intensify your music listening experience with a pair of cozy and snug over-ear headphones. So, get the one  and enjoy music regardless of where you're and what you're doing. Simply, put on your headphones and breathe in the tunes of your favorite songs.
Last update on 2023-10-04 / Affiliate links / Images from Amazon Product Advertising API