The invention of the light-emitting diode or LED technology brought about a revolutionary change in the world of electronics. With its powerful and potential, LED light has been integrated in various products such as LED Christmas lights, LED light bulb, Gloves with LED lights and many more products. However, today we would like to bring you to the more interesting but beautiful LED integrated electronic product call "LED Flame Speaker". Bluetooth speakers are commonplace nowadays. The new thing in the market is the Bluetooth speaker with flame dancing along the music. With this LED light, these flame speakers create the perfect atmosphere for a party not very different from a bonfire.
Flame speakers produce flame and music that set the tone just right for a perfect evening with friends and family. Moreover, they are environment-friendly, save wood and without any smoke. To help you bring the joy into your family or party, today we bring to you a list of top 10 flame speakers for your pick.
List of the 10 Best LED Flame Speakers in 2021
Reviews
1. Best Ambience: TikiTunes Bluetooth Flame Speaker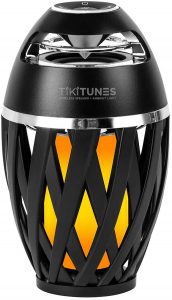 Brand: Limitless Innovations
Warranty: 1 year
Playtime: 6 hours
Good music and good company is the idea for a perfect evening. The addition of a bonfire will add to this evening's character and lift up the spirits of all around. TikiTunes' Portable Bluetooth Speaker by Limitless Innovations with LED flame is this idea if a perfect evening in a product. Its warm LED ambient light emits flickering flame that makes you drool over its music and enjoy yourself to the fullest.
It comes with a six-hour playtime and rechargeable battery to give you the experience without any disturbance. It is perfect for outdoors since it is water and dust resistant. It is compatible with all iPhones, iPods, and Androids. With this outdoor flame speaker, the brand Limitless Innovations makes another addition to its products, aiming to provide you with an experience of limitless life.
Key Features
Dual Sync Capabilities up to a distance of 30 feet
Ambient flickering, almost real LED flame
6-hour playtime with 2000 mAH rechargeable battery
Water and dust resistant
Best quality and one-year warranty
2. Best Overall: DIKAOU LED Flame Table Lamp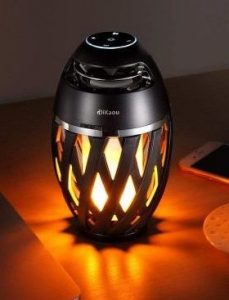 Brand: DiKaou
Warranty: Not mentioned
Playtime: 8 hours
It is rightly said that music holds power to transcend boundaries, both geographical and psychological. Music takes you to another world, a world that exists only in the space between the music and the mind. Keeping this in mind, DiKaou's best quality speaker/lamp has been designed and structured. This lightweight Bluetooth flame speaker is your perfect companion to inculcate romance in your life. Grab this and go on to spend some quality time and make memories with your loved ones or with yourself in solitude.
The Dikaou Bluetooth speaker's design brings color in your life, and its sound brings soothing feelings. This speaker is also a considerable choice for a gift to your close family and friends. You can use it outdoors on camping trips and long drives or indoors in your dorm rooms or a get-together.
Key Features
Extremely realistic and natural dancing LED flames
Best sound quality with powerful bass
Original Design makes your life colorful
Atmosphere enhancing light and sound
Lightweight and portable
3. Best Sound Quality: Margaritaville Sounds of Paradise Outdoor Speaker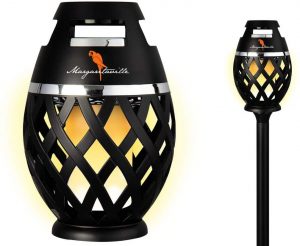 Brand: Margaritaville
Warranty: Not mentioned
Playtime: 7 hours
This pack of two Bluetooth flame speaker with pole by Margaritaville is very precisely named 'Sounds of Paradise.' The best sound quality gets enhanced with the option of multiple pairing up to a range of 33 feet. The design if the speaker is like that of a lantern and this adds to the aesthetics of the environment. This pair of beautiful speakers will play the part of your companion whenever, wherever, whatever you are doing.
Also check: Top 10 Best Wireless Bluetooth Speakers in 2021
Along with its visual appeal, the speaker's quality is fine-grade. It is sturdy, long-lasting, and made of the best quality material. Although it does not have a flame, its lights are ideal to set the tone for a perfect evening to meet, greet, exchanges and celebrations.
Key Features
Pair of two speakers allows multiple pairing
Great Wireless receptivity up to 33 feet
Beautifully designed to appeal to your style
Quality assurance with the usage of best quality material
Portable and sturdy
4. Most Stylish: Djtanak LED Bluetooth Speaker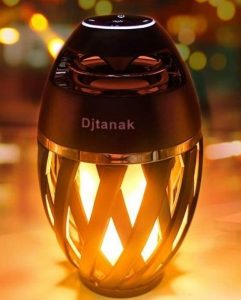 Brand: Djtanak
Warranty: 1 year
Playtime: 10 hours
Another pair of the best quality LED flame speakers is Djtanak's Outdoor Speakers. These come with a whopping 35000mA rechargeable battery, 20 meters wireless control, and intelligent pairing. The flame of this speaker is bright and powerful just like the sound. The combination of both these makes your evening, be it on a camping trip or indoors while doing your daily chores fun and special.
Moreover, these speakers are water, and dust resistant and, therefore, can be used to listen to music while showering. Its shock-resistant feature makes it perfect for outdoor activities. Djtanak's speakers hold the capability to make the vibe of any place festive and celebratory.
Key Features
Decorative flame styled LED lamp
Pleasantly surprising sound quality with full base
Waterproof, dustproof and shock-resistant
Portable and durable
One year warranty
True wireless stereo pairing
Unique design and lighting
5. Best Battery: AGIORNO Flame Lamp Speaker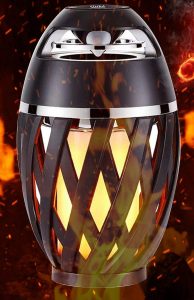 Brand: AGIORNO
Warranty: Not mentioned
Playtime: 10 hours
AGIORNO's combination of lamp and speaker comes with a number of LED bulbs that flicker warm yellow lights to form a stunning flame that looks almost like the real flame of a bonfire. Therefore, this speaker creates an atmosphere fit for dancing and having the time of your life. The long-lasting and rechargeable battery ensures that your good time lasts as long as you want it to.
Also check: Top 10 Best In-Wall Subwoofers for Home Theatre in 2021
The sound of this speaker if hi-fi stereo, and it has the latest Bluetooth technology that secures the connection and makes it stronger to produce the best quality music. The speaker is portable is great for both outdoor and indoor events.
Key Features
The romantic atmosphere produced by the best lights and sound
Latest Bluetooth technology ensures compatibility
Waterproof and dustproof
Great battery backup and fast recharging battery
Hi-fi stereo sound
Easily portable and perfect for outdoor evenings
6. Best Value for Money: SZGMJIA LED Flame Speaker | Flame Torch Atmosphere Speaker Bluetooth 4.2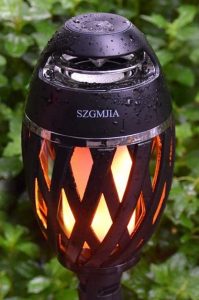 Brand: SZGMJIA
Warranty: Not mentioned
Playtime: 16 hours
If you are looking for an LED Flame Speaker with good playtime, this is the best pick for you. With a playtime of about 16 hours, you can trust this speaker to be your companion in times of bliss and gloom alike. This will accompany you in all your feels and enhance them with your favorite music numbers. Like in your solitude, you can trust this sparkler to be with you even in times when you are with friends. This speaker will make sure that your friends and family have a great experience in your company.
Its sound is stereo, loud and of the best quality. If you are worried about the sound quality ruining your favorite artists' songs, with this, you can relax. Just like its sound, its light will also lift your spirits and lighten your mood. It makes the atmosphere so pleasing that you can't help but smile at it.
Key Features
60 LEDs together give almost real-life flames
Loud voice and hi-fi stereo sounds
16-hour long playtime for you to have a long, happy time
Dimmable light design to adjust the brightness and ambiance accordingly
Portable and durable
The pairing of two speakers to enhance the sound
7. Best Under $ 30: Ksera Flame Lamp Speaker | Music Flame Atmosphere Table Lamp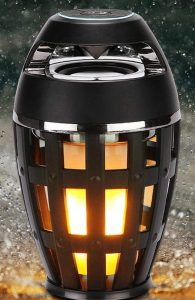 Brand: Ksera
Warranty: Not mentioned
Playtime: 8 hours
Light and sound are both powerful and influential aspects on their own. However, when they come together, they hold the power to change or alter completely the tone of the place. They can make it scary, romantic, intense, light or dark with the correct choice of music. Ksera's flame lamp speaker is based on this concept and works efficiently to change the tone of the place it is played in.
The LED flames successfully mimic the realistic bonfire flames, and the sound quality plays your favorite numbers to prepare the desired atmosphere. With playtime up to 8 hours and rechargeable battery, this speaker is a good pick within your budget.
Key Features
Fantastic Flame Atmosphere Speaker Lamp with 56 LEDs
Bluetooth technology 4.2 wireless speaker
Loud Voice and hi-fi stereo sound
Stylish design and visual appeal
35000mAh battery
100 percent customer satisfaction guarantee
8. Best Runner Up: DiKaou LED Flame Outdoor Table Lamp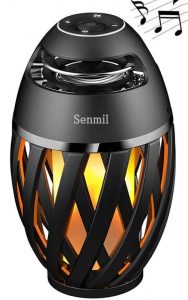 Brand: DiKaou
Warranty: 90 days
Playtime: 12 hours
DiKaou is a trusted name when it comes to sound appliances. The brand has been developing this reputation for some time now. Along with the best sound quality, the Dik also comes with the most stylish designs that go both with the interior and the exterior. Its mechanism and working have also been designed by experts to give the users the best experience with its products.
The flickering flame produced by the LED lamps along with this sound of music from the speakers make your evening romantic and one to cherish forever. We all know that everything is temporary, and ultimately what lasts by connecting the dots of time are the memories of moments. This speaker plays a part in making those beautiful memories.
Key Features
2 in 1 DiKaou flame outdoor table lamp with a unique design
The long-lasting battery and instant recharge feature
Effortless and strong connectivity
Comes with the best quality and lifetime guarantee
Compatible with all devices
9. Cheapest Among All: Benzzo LED Bluetooth Speaker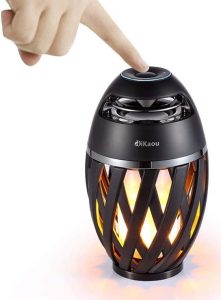 Brand: Benzzo
Warranty: 1 year
Colour: 8 hours
If you are wishing to purchase an LED flame speaker but don't want to spend a lot of money, this product is your savior. With all the standard features of an LED flame speaker, it is available in an affordable range. This can also be considered for gifting to your close family and friends.
This speaker will add character to your garden or house party or make your outdoor camping trip a memory that you will cherish forever. It comes with HD stereo sound and instant Bluetooth connection. The sound quality ensures clear audio with 360° surrounds the power base.
Key Features
Flickering LED flame with 96 LEDs
HD stereo sound that produces clear audio
Waterproof and dustproof
One year warranty
Pocket-friendly
Can gift to friends and family
10. Most Portable: Amomb Flame Speaker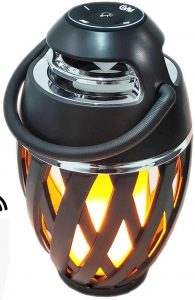 Brand: Amomb
Warranty: Not mentioned
Playtime: 8 hours
The Amomb flash speaker is your perfect shower speaker with powerful sound and 360° stereo effects. It comes with a wide connection range and is compatible with all kinds of devices. The long-lasting playtime and quick rechargeable battery allow you to continue using it for as long as you want. It is also stable and does not get heated up when used for a long time.
The size is extremely compact, making it easy to carry around in your bag anywhere you want. It is durable, portable and affordable. It is easy to use and does not have complicated functions.
Key Features
Bright flame due to a number of bulbs
The compact size makes it easy to carry around
Stable and can be used for long periods of time
Compatible with all devices
Loud and hi-fi stereo sound
Conclusion
Music is a unique way of representing life, emotions, thoughts, ideas, and feelings. It is so distinct yet so similar. It is said that music does not have a language, and everything can relate and connect through music on different levels. Your taste in music says a lot about you as a person. Today, we have an entire part of the electronics industry making millions of products to satiate this need for music in humanity. The flame speakers are another step taken in this direction. This list covers speakers from different price ranges and with different features. This will help you to find your musical companion
FAQs (Frequently Asked Questions)
Ques 1: Can more than two speakers be paired to one device?
Ans: The maximum number of speakers that can be paired to one device is two. It is done to increase the volume, the base, and hence the sound quality of the speakers. However, more than two speakers cannot be paired to one device.
Ques 2: Are the speakers steam proof?
Ans: Mostly, speakers are steam proof and are designed for being used in the showers. They're waterproof and dustproof so that they can be used outdoors. However, please check the specifications of the speakers separately.
Ques 3: Once the lights are spoilt, can they be replaced?
Ans: Most speakers come with a warranty period, and therefore, if their lights are spoilt within that period, they can be replaced and fixed for free. If they are spoilt after that, it depends on the problem that varies from speaker to speaker.
Last update on 2021-09-24 / Affiliate links / Images from Amazon Product Advertising API