Studying is not at all interesting. You agree with it or not but that's the never-told story of every student. So, how can you make your study interesting? No idea? Well, a study table can help you with that. It will not only help you keep your all study supplementary together in one place but will also provide you a desirable and optimal seating position keeping the body ace at bay. When you go out to buy a study table, you'll have ample choice in front of you. To help you to make the best purchase, here we put together the top 10 best study tables in 2019.
List of The 10 Best Study Tables in 2019
10- Tribesigns Computer desk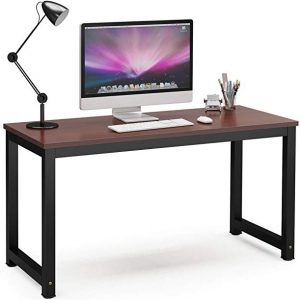 As the name suggests, Tribsigns Computer Desk is a study cum computer table. It is 23.6" wide and offers you enough space to keep lots of papers and studying stuff on the table without creating any problem. Made of thick particleboard with a sturdy powder-coated steel frame, the table is waterproof, durable, weather-resistant, and easy-to-clean. In addition to that, its adjustable leg pads make sure to keep the study tables on its place. The best thing is that you can set up this study table in minutes. 
9- Writing computer desk by Coavas
Coavas writing computer desk is one of the best study tables on this list. You know why? Well, because it is foldable and extremely portable, unlike other study tables. With the fact, you can fold it and put it in a corner when it is not in use. Given the versatility of this study table, it can be used for multi-purposes efficiently. Speaking of design, its brown-textured top surface with the black-colored legs renders a sleek look.
8- Tribesigns Vintage computer desk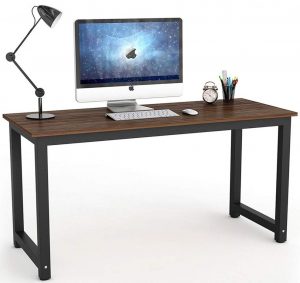 If the classic, vintage, and antique pieces of furniture attract you, you can't resist Tribesigns vintage computer desk. It is made of laminated fiber wood and features a powder-coated sturdy steel frame. Given the fact, the table is robust enough to withstand a heavyweight as well as unfavorable weather conditions. To ensure firm and reliable stability even on an uneven floor, the table is designed with adjustable leg pads. Even after being a large-sized table, it is easy to assemble. 
7-Cooper Mega Table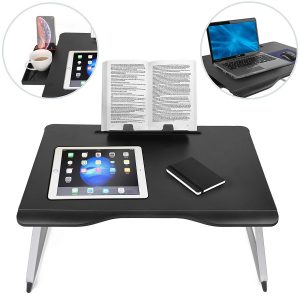 If your eyes are looking for a modish and versatile study table, turn to Cooper mega table, which has impressed the people with its alluring design and mind-blowing multi-functionality. The table is so beautifully designed that it can be used as a computer, writing, study or even as an eating desk. In addition to that, it is foldable and space-saving. It also features a side drawer in order to keep your study supplementary safe. Moreover, it is constructed of MDF wood and has an aluminum alloy frame. 
6- Computer desk 55" modern study office desk by Coleshome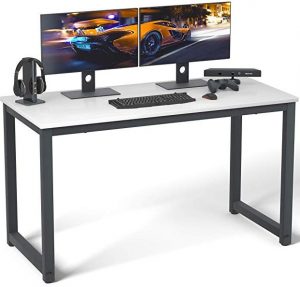 Simple and classic- these two words perfectly sum up this study table. Made of MDF wood and powder-coated steel frame, this table is one of the sturdy and best study tables on our list. The table is designed with leg pads, which don't only ensure firm stability but also prevent unwanted scratch on the floor. The leg pads are adjustable, so you can customize them as per your needs. Moreover, the table is waterproof, durable, scratch-resistant, and easy-to-clean. 
5- UNICOO- Crank adjustable height standing desk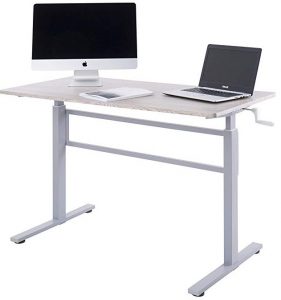 The list of best study table can't be complete without a mention of UNICOO Crank adjustable standing desk. The reason being, it is the blend of modish design, sturdy construction, and long-lasting durability. Unlike other study tables, it is designed with a smooth crank, which seamlessly switches the table between a standing table and a sitting one. You can install the crank on either of the sides according to your suitability. The table is made of robust steel and powder coated all through in order to provide a long durability. 
4- DYH Vintage computer desk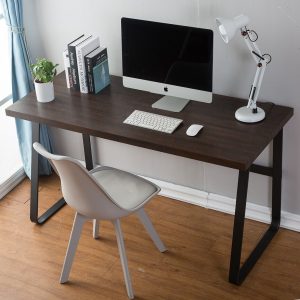 The elegant design of the DYH vintage computer desk will perfectly blend in with the decor of your room. The table is made of powder-coated metal and has a wood-grain top, which is not only sturdy but also renders an appealing look. Furthermore, it is designed with EVA pads at the bottom, which avoids unwanted scratches on the floor by hard metal legs. Being a large-sized computer desk provides you ample space to keep all essential things on the table and study. 
3- Yaheetech Modern Computer desk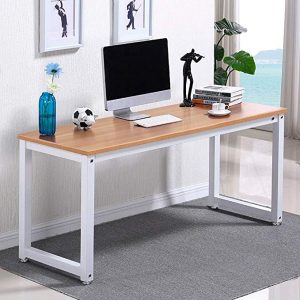 Yaheetech modern computer desk is a large and multi-purpose study table with a heavyweight capacity. Given the fact, it can hold up to 220lbs weight efficiently. What makes it capable of holding such a huge weight is its sturdy metal and MDF wood construction. Furthermore, it is designed with screw-in footpads, which don't only provide safety against the floor but also ensure reliable stability. Other than its unbeatable functionality, its chic design with white legs and brown top surface makes it more desirable. 
2- Home BI Computer Desk with shelves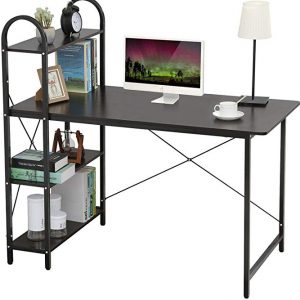 Home BI computer desk is a unique study table on this list. Unlike other study tables, it is designed with 4 open shelves, which provide you plenty of space to store things like books, documents, and such other stuff. The table features an iron-coated wooden top surface and a sturdy steel-made frame with a powder-coated finish. Given the fact, the table is durable and can withstand unpleasant weather conditions efficiently. Even after its big size, its assembly is hassle-free. 
1-  C-Hopetree computer desk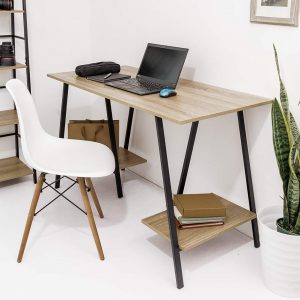 When it comes to stability and heavyweight capacity, no other study table can beat C-Hopetree. You know why? Well, because it is designed with 6 metal made sturdy legs, unlike other study tables. At the bottom, the table has two big open shelves, one on either side. Its wooden laminated tabletop is also wide and robust enough to hold up many books, documents, and stationery stuff together. Apart from its robust construction, its eye-catching design makes it a loved choice in the market. 
Conclusion
You simply can't run away from studying, better invest in one of these study tables and make your study exciting and enjoyable. These tables will not only create a comfortable and organized study space for you but will also clear up the messy clutter from your room.