Stair dolly or stair climbing dolly is an L-formed moving pushcart with handles toward one side, and wheels at the base with the platform edge to set the thing on. It is used to move heavy loads up and down the stairs. It is normally made of strong but light weight metal with plastic-covered handles, making it easy for people to lift and move the objects. If you always have to lift heavy things up and down the stairs at your home or your restaurant or factory, having a stair climbing dolly is greatly helpful.
Feel like you are in need one of them now? To help you get the best quality dolly, our team has spent times to research and compile the best products for you. The List of the Stair Climbing Dollies below has just been updated by our team for 2023, and we also added the Best Selling Electric Stair Climbing Hand Trucks at the end in case you need such an electric and battery powered tools to help reduce our supper heavy loads objects!
List of the 15 Most Useful Stair Dolly and Hand Trucks in 2023
Stair Dolly and Hand Truck Reviews
1. COSCO Shifter Multi-Position Heavy Duty 2 in 1 Folding Hand Truck and Dolly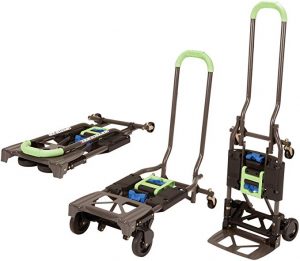 Cosco Shifter stair climbing dolly is very popular among users for now. It is a stair dolly and hand truck all-in-one tool, which is made of strong steel frame and can hold weight up to 300 pounds. With its flexible designed, you can use it either as a four-wheel dolly or two-wheel hand truck as you need. The four-wheel option creates a large platform allowing you to move large-size object from one place to another place; such as moving a big box or a huge package alone. When you need to move a tall heavy tall object, you can quickly convert the dolly into a two-wheel hand truck, then either use it to move your stuff on the ground or up and down the stair more easily. The dolly itself is only 15 pounds in weight, making it usable by any adult person.
This stair climbing dolly is also designed to be folded in flat after use, making it very easy to store in the garage, in a closet or keeping in your car's trunk in case you are in need of it anywhere else. Speaking of its constructed materials, this dolly is made of sturdy steel frame and powder-coated all around. Given the robust construction, it can easily withstand up to 300 lbs weight lifting either on the ground or up and down the stairs.
Pros
Multi-functions: either 4-wheel cart or 2-wheel hand truck
Light weight but can handle heavy weight lifting
Simple and easy to use
Folded flat easy for storing
Affordable price
Cons
May cause injury when collapsing cart. So don't put finger near the large wheel when doing it as some users already got injured from it.
Unfolding the COSCO Shifter Multi-Position Heavy Duty 2 in 1 Stair Dolly
Video by Stone Feng
2. BestEquip 330 lbs Capacity Stair Climber Dolly | Folding Stair Climbing Cart | Three-Wheel Chassis Portable Stair Climber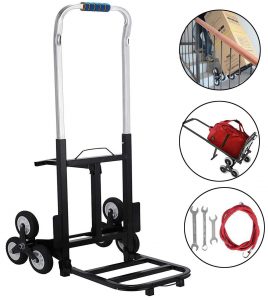 BestEquip Stair Climbing Dolly is a heavier weight lifter than the above one as it can lift up to 330 pounds. Designed with three-wheel cassis, the dolly can be used as both a stair climber dolly or hand truck to move various heavy object without the need from other person. You can use this stair cart for shopping and bring the groceries home or lifting a heavy cabinet up to your apartment floors. Talking about the construction, this portable stair dolly is made of stainless steel making it strong and durable in handling the objects.
At home or at work, this stair dolly will make things a lot simpler. Moving your machines or items to and from work destinations can also be made accessible. Due to its distinctive wheel structure, the off-road three-wheeled case is made to be a an expert stair climber compared to other its peers. The length of the cart is 46 inches with a frame of 15.7 inches and made up of carbon steel. The handles are adjustable which provide a fantastic firm grip. The good thing is that it is foldable. So, you can fold it and keep it in a corner when not in use. You can also adjust the height of the handle to your preferred level. Given its solid built structure and platform, it can easily carry groceries and other such big objects. Last but not least, the wheels are designed with double bearing to ensure a smooth movement.
Pros
Built with tripod thickened wheels, specifically for lifting heavy objects up and down the stairs
Can also be used for loaded shopping or moving groceries in store/restaurant
Durable and strong
Simple and easy to use
Foldable and easy to store
Cons
A bit heavier as it is built to handle heavy lifting
3. UpCart with Bag Bundle All-Terrain Stair Climbing Folding Cart | Lift up to 100 lbs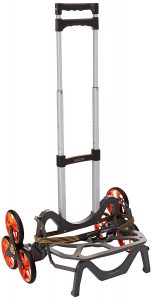 It is a three-wheeled sort of truck that makes going up a check or stairs a lot simpler. Regardless of its structure & design, it folds enough to take up very little space than the standard folding truck. It even handles uneven surfaces well. However, this stair climbing dolly has the ability to carry weight up to 125 lbs only. It is a lighter weight lifter with big three-wheels each side. The third wheel enables it to have footing and the capacity to move consistently since, by structure, two wheels on each side are continually contacting a surface. It is designed for fast moving and lifting any light large box and object. 
UpCart enhances stability, is fit for "strolling" over sporadic territory and dependably folds flat for occupying minimum space. It has an option to adjust the height of the handle up to three positions. The powder coated aluminum frame with cast aluminum platform makes it lift the heaviest of the products. Open dimensions of the cart are 43.9 x 23 x 19.5 inches, and folded dimensions are 21.2 x 24.3 x 4.4 inches and weigh 10.6 lbs.
Pros
Can move over curbs, stairs and uneven surface easily
Can attach with bag and carry up to 20 gallon
Very functional, flexible and stable
Light weight and fold flat easy for storing
Reduce effort up to 64% when lifting objects up and down the stairs
Cons
Not really stable when lifting object heavier than 100 lbs
Anyway, UpCart also has a heavier lifting version which is the UpCart Lift 200lbs Capacity Stair. If you want a lightweight stair climbing hand truck with heavy load capacity, this UpCart Lift stair climber dolly is the best fit for you. It itself weighs only 11.3 lbs but can hold up to 200 pounds. You can adjust the handles in 4 different positions. Just press the handle and customize it as per your needs. Made of premium Aluminium, this stairs climbing hand truck never fails to do its job. It is also designed with 4 wheels to make the accessibility easier.
4. Mecete Enhanced Stair Climbing Cart Portable Climbing Cart | Lift up to 460 lbs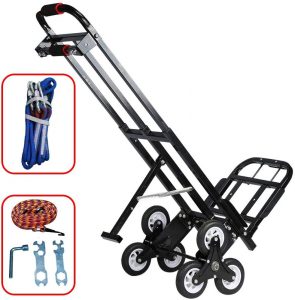 Let's move to a heavier duty stair climbing dolly. If you are in need to lift the heavy weight object up to 460 pounds, then look into this Mecete stair climber dolly. It is a high-end stair climbing hand truck with can handle heavy loaded stuff such as cabinet and heavy box. It is a bit more expensive than others but it's worth the price. With its advanced features, it will surely impress you. It is made of a very strong metal and features rubberized wheels. Given the fact, it can hold up to 460 lbs without any problem, either on the ground or lifting up and down the stairs. Furthermore, it also doesn't make any noise when it is in action. To help to pull the cart effectively, it comes with 1 pair of sturdy ropes too. However, if you love this sturdy brand, but don't need this heavy duty one, you can consider the Mecete Stair Climbing Cart 330 lbs instead.
Also check out: The 10 Best Graco Strollers in 2023 Along with a Buying Guide
Pros
Can lift up to 460 pounds
Strong and steady
Easy to assemble and use
Foldable and easy to store
Come with two climbing ropes helping hands for heavy cargo on stairs
Cons
A bit heavy to lift alone because it's made for lifting heavy object
5. Stair Climber Cart and Trolley from Dbest Products| Morrocan Tile Shopping Grocery Foldable Cart for Condo Apartment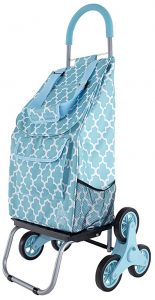 Let's take a break from the heavy lifter, and jump to this shopping stair cart from Dbest Products. The stair climbing cart is an incredible invention to transport things around while in a hurry, downtown, or the business. The cart has a large comfortable pad handle which decreases the stun when it is being pulled. The Stair Climber cart has 6 All-Terrain wheels that permit smooth moving on most surfaces and can climb and down stairs easily. You can take it anyplace for the lifting purposes. It is structured in a way that it can be folded effortlessly to cover less space when not being used. Wheels are made under the base, so they don't make obstacles for the containers when they are set up.

It can likewise be utilized for other needs such as a shopping basket, lifting grocery, utility or some additional requirements. The sack contains eight apartments including a drink holder and an umbrella holder. You can also detach the bag from it and use it as a trolley for any reason. It's an ideal design for shopping purpose.

Pros
Multiple purpose uses: as shopping cart, grocery cart, utility cart and more
Can lift up to 110 pounds
Convertible, stable and durable
Come with a detachable bag with 7 storage compartments
Come with different bag colors for you to choose
Cons
Has small platform. So can not be used to lift large box
6. Dbest Products Stair Climber Trolley Dolly 2, Red Shopping Grocery Foldable Cart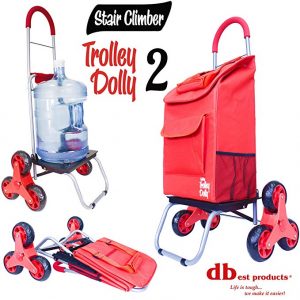 Stair Climber Cart Dolly 2 is the perfect multi-Purpose hand truck to enable you to convey your goods and different things up a trip of stair, checks, walkways and various territories. The Stairclimber truck is fold-able for minimized capacity, or it can turn into a simple gadget to utilize compact Dolly while in a hurry. Regardless of whether you are running errands, shopping, moving boxes of supplies, this dolly can enable you to transport everything! Our Trolley Dolly sack can all of your things in ONE LARGE BAG IN ONE TRIP.

Give our new completely functional 6-wheel a chance to do all the hard work for you. It can lift every one of your possessions upstairs, first floor, controls or uneven ways. The weatherproof material of the trolley packs keep substance dry from the rain, snow and other powers of nature; also incorporates delicate ergonomic pad handle which decreases the weight on the hands; ideal for mobile seniors or customers without vehicles. Wheels move smoother and are less demanding to go through and downstairs, as opposed to other jerky models with more spare wheels that have less thickness in the tires which can cause weight on your joints. No squeaky wheel here! Our bikes are quiet and don't make any commotion.
Pros
Can use as a cart for shopping, lifting grocery, and other utility
Can move up to 110 pounds
Simple, durable and easy to use
Come with a removable shopping bag
Has various bag colors to choose
Cons
Can not lift large box and heavy object more than 110 lbs
7. Stair Climber Mighty Max Personal Dolly, Red Handtruck Hardware Garden Utility Cart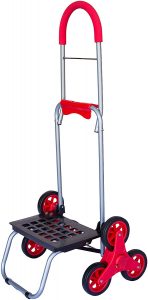 Dbest products stair climber is a remarkable stair climbing hand truck at an affordable rate. Unlike other climbing hand trucks, it weighs only 5 lbs. Even after such a low weight, it can hold up to 150 lbs efficiently.  The reason being it is made of sturdy metal. This multi-functional climbing truck can be used to carry garden supplies other than just transporting the luggage up and down the stairs. Adding more to that, it is easily collapsible and foldable too.
Having this Stair Climber Mighty Max Dolly indeed is anything but difficult to utilize. The wheels do the climbing, and that makes it such a great & more simple for you to bring the cases into your home. Furthermore, when this isn't being used, you can overlap it up and place it in your trunk of your vehicle, storage room for easy, safe storage. The dimensions are 16″ x 18″ x 38″ inches. The other thing that is so useful is the cushion handle.
Pros
Use for for shopping and lifting other utility
Can hold up to 150 lbs
Simple, durable and stronger than its family members
Foldable and easy to store in garage or car
Cons
Platform is too small to lift large box
8. VEVOR Stair Climbing Cart 45 Inches Portable Hand Truck | 2X Three-Wheel Hand Truck Stair Climber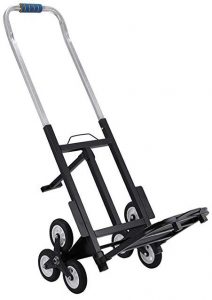 Want to reduce the efforts of lifting the boxes and heavy things and downstairs? Here you go! It is superbly capable of holding heavy items with ease as it can carry any weight up to 330 lbs. The distinctive structure of the cart makes it comfortable and easy to climb with loads. The handle of Vevor stair climbing cart is adjustable so you can easily set the height according to your need and ease. The size after folding the vehicle is just 30 inches. The thick tire jacket of 0.5 inches makes it strong enough to roll smoothly & make less noise. The dimensions are 30.9 x 18.2 x 8.2 inches, and it weighs 18.25.
VEVOR stair climbing cart is designed to be used in any terrain from sloppy areas to curvy stairs. What makes it such a versatile climbing cart is its sturdy construction and remarkable functionality. It is made of carbon steel, which is not only robust but also highly durable and weather-resistant. Furthermore, it features 3 sturdy rubberized wheels that provide a smooth rolling. To ensure the best experience, it also allows you the freedom to adjust the height of the handle.
Pros
Able to lift up to 330 lbs
Foldable and easy to store
Convertible without the pins or helping tools
Easy to move thing on the ground and up the stairs
9. Capacity Appliance Hand Truck StairClimber

The all-welded substantial measure steel outline on this hand truck handles difficult tasks without squeezing or bowing. A twofold sewed webbed tie keeps your freight immovably set up and the active 6 inches elastic wheels won't go flat. Try not to hazard stressing your back moving vast apparatuses! Give a chance to this hand truck do the lifting for you. It has a sturdy double-stitched buckle which does not let your things fall. The major plus point to this hand truck is that it has toe-plate which can be extended to avoid the big cartons to fall. It also has guaranteed stair climbers who help you take the truck on uneven surfaces or up and down stairs. The steel toe plate is 22 x 5.5 inches in dimensions.

Pros
Strong and stable
Easy to use
Unique design with solid rubber wheels
10. Magline 86006 C5 Stair Climber Kit for Standard Hand Truck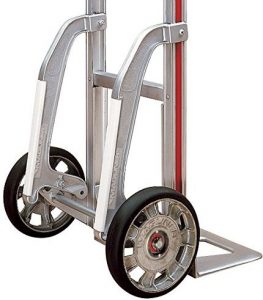 This pack incorporates two stair climbers and other vital equipment (guidelines included). Cast aluminum sliders with replaceable low contact polymer slip bars. It is extreme and calm & helps climb and plunge stairs with less exertion. Polymer float strips enhance the capacity to arrange checks, steps, and stairs while diminishing the potential for load harm or misfortune related with stairs and controls and they shield stairs from damage. The dimensions are 2 x 4 x 10 inches and weigh 0.16 ounces.
Pros
Made of tough aluminum sliders
Strong and quiet
Simple and easy to use
Cons
No mention about lifting weight capacity
---
Best Electric Stair Climbing Hand Trucks | Electric Stair Climbing Dolly in 2023
Electric stair climbing hand truck, or sometimes called electric stair climbing dolly, is an battery powered pushcart with handle which allows you to move heavy objects upstairs and downstairs easily with the help of electricity. There are various models and brands of this kind of electric stair climbing hand truck in the market. And today, we will introduce you to the top 10 best stair climbing dolly which is electricity and battery operated to help reduce your heavy loads work.
List of the Best Electric Stair Climbing Hand Truck | Electric Stair Climbing Dolly in 2023
11. Wesco StairKing Battery Powered Stair Climbing Dolly 850-lb Capacity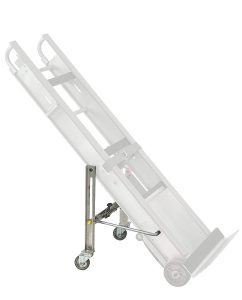 This Wesco kick-out wheel is a battery powered hand truck designed to help you transport heavy and bulky objects will almost no effort. It is best for commercial good delivery and distribution and help reduce human labor.
Key Features
It has a kick-out wheel attachment for stair-climbing
Can handle up to 850 lbs
Has two 3.5″ swivel casters for supporting
Made of reliable material under Wesco and Lexco brands
12. XH-Tool Electric Stair Climbing Cart | Portable Climbing Cart 240 kg
XH-Tool is a portable electric stair climbing cart which can lift heavy load item up to 240kg. With its 2 strong wheels, this cart dolly is equipped with DC Motor which is powered by a fast charging lithium battery. You can use this cart for both moving heavy items in the truck and deliver from place to another easily.
XH-Tool produces various model of electric climbing stair dolly carts. With these options, you can pick the right one that fit your need. It has the model which can hold from 200kg up.
---
Key Factors to Consider before Purchasing a Stair Dolly
Stair dollies come with different types, sizes and capacities. To choose a suitable one for yourself, you can consider the following factors:
Lifting weighing capacity
It is important to know how much weight can a stair dolly or a hand truck hold which you're going to purchase. Most of the hand trucks have a limited capacity to load weights according to their build. Carrying more weight to them can cause them to break or choke. So, don't forget to check it against the objects you need to lift.
Material used to make the dolly

Dollies are made up of different materials according to their needs. It should be chosen according to your need, either metal, aluminum or plastic.
Foldability and adjustability

There are folding dolly and adjustable hand dolly. Folding dolly is easy for your to keep in a narrow space, but not really necessary. So, you decided. Yet, the height of the handles to grip the truck is one of the most critical factors to be considered. It helps for handling the cart according to the height and load.
FAQ about Dolly
What is the best stair climbing dolly?
The best dolly is considered depending on our need. There are many kind of dollies such as shopping dolly, dolly for climbing stairs, hand truck dolly and all combined. However, you can choose a good dolly based on the materials used to make and its design. For instance, if you just need a small shopping dolly, then you consider going for a foldable light weight lifting dolly from Dbest Products. They have different beautiful design dolly or trolly cart for you. However, if you want to lift heavy object and a large box, I would recommend you to get to consider the either Cosco Shifter or BestEquip Heavy Duty Stair Climber Carts.
What are the benefits of using stair dolly?
The benefits of using stair climbing dolly is that it can help you to lift a large box or grocery up to your apartment by reducing a lot of your effort. Some dollies are known for cutting down your effort up to more than 60%. And if you go shopping and need to walk through stairs, then it's gonna be very helpful when you come back home with full of products. You can also use the stair dolly for moving other utilities on the ground as well, especially when you are alone, you're going to need it for moving a heavy thing.
What is the different between a hand truck and a dolly?
Normally, a dolly refers to a platform with four wheels and axles that you can use to move large and heavy objects from one location to another location. A hand truck is normally refers to a cart with a handle and a slide platform used to insert under the object and to live it up for moving. However, many companies now invented an all-in-one tool which is a combination of dolly and hand truck and even trolly, making it a multi-purpose tool for users.
Where can I rent the stair climbing dolly if I only need it occasionally?
Yes you should not buy the stair dolly if you only need it for occasional use only. There are many companies here renting out the stair climbing dollies, especially the heavy-duty one as people normally need it when they move their house, office or so. Go and look for their that fits your need and located near you the most.
Conclusion
Carrying a heavy weight up and down the stairs manually is not really possible. Even if you'll try to do, you might hurt yourself. Better, buy one of these high-quality stairs climbing hand trucks and get this strenuous job done without any efforts.
Last update on 2023-11-30 / Affiliate links / Images from Amazon Product Advertising API