Toddler desk is best studying and playing furniture for your adorable children. When it comes to kids, people always look for the best. They can compromise with anything but not with their kid's stuff. Isn't it? However, getting high-end furniture for them can be difficult sometimes due to unavailability in the market. This is why, today we're going to introduce you to the top 10 toddler desks, which our team has carefully selected and compiled from the market. These toddler's desks are highly promising in the quality. Let's check them out together.
List of the 10 Best Toddler Desks in 2021
Product Reviews
10- Delta Children Chair Desk with Storage Bin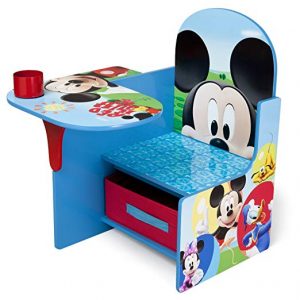 If your baby loves Disney cartoons, this toddler desk is made for you because Disney cartoons are printed all over the desk. It is made of engineered wood, so you can rest assured about its durability. With its fabric bottom, it allows easy access and also avoids scratches on the floor. This little child's desk can hold up to 50 lbs. Given the fact, it is suitable for the kids between the ages of 18 months to 5 years. Just under the seat, it features a fabric bin, where you can store the essential stuff.
9- Step 2 Deluxe art master kids desk | toddler table and chairs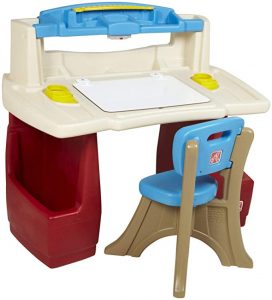 Get this amazing toddler desk and provide all the essentials what your kid needs for the work all together in one place. The desk features molded-in compartments and 4 large bins, which are meant to store coloring books, tablets, and other stuff. The top surface is secured with a hinge, which doesn't only make it more secure but also provides you the freedom to clean it easily. The best thing about this toddler desk is that it comes with a lovely chair for your kid too. What else you can ask for?
8- Delta Children Chair Desk with Storage bin by Nickelodeon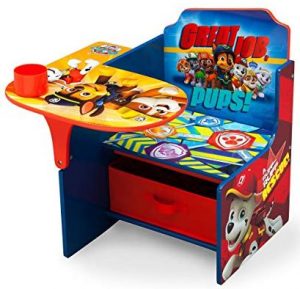 If your child is above 5 years and you need a desk with relatively more storage, turn to this toddler desk. With a holding capacity of 50 lbs, the desk is particularly made for the kids between the ages of 3-6. It features a removable cup holder and fabric storage case. Given the fact, cleaning the desk is really hassle-free. Just make sure to wipe it once with a dry cloth after cleaning with damp one. The bottom of the desk is made of fabric, so it is completely scratch-resistant.
7- VTech Touch and Learn Activity desk Deluxe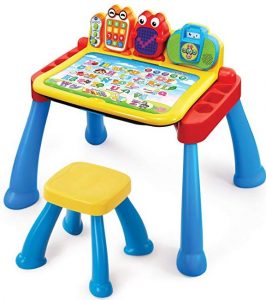 VTech Touch and Learn Activity desk Deluxe is a whole pack of creativity, seriously. The desk includes 5 colorful activity pages featuring over 100 vocabulary, 20+ activities, 20+ songs, and many more such things that your kids would love exploring. To sum it up, the desk is filled with engaging and interesting content useful for the kids. If you want to get more pages, you can buy its expansion pack separately. To ensure a hassle-free experience, the desk features specific storage for art supplies. Not only this, it comes with a little stool too.
Video: Touch and Learn Activity Desk Deluxe from VTech
6- Baby Relax Hunter 3 piece Kiddy table and chair set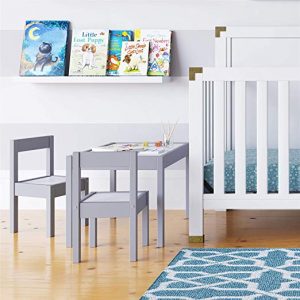 If you want a multi-purpose toddler desk and chair set, just look at baby relax Hunter 3 piece kiddy table and chair set. It is more than just a study table. Featuring 2 wood-constructed chairs and a desk, this set is an ideal fit for almost all types of kid activities starting from studying to the eating. You can tuck the chairs under the desk when not in use. The desk features a low border from all the side, which holds up the stuff very well on the table.
5- ECR4Kids Bentwood Multipurpose Kids Table and chair set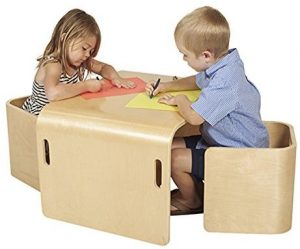 Getting a portable and compact piece of furniture is really difficult. But, ECR4Kids Bentwood Kids Table makes it easy for you. This toddler desk and chairs set is so lightweight that you can move it around without any trouble. The chairs and desk feature in-built handles, which help you carry the chairs easily. Made of durable birch bentwood, the set promises long durability and amazing service. It can easily withstand the wear and tear of kids. Given its versatile design, it can be used for many purposes.
4- Flash Furniture Kids colorful folding table and chair set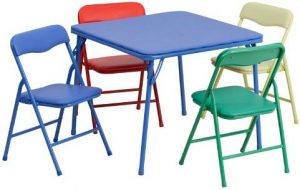 If you have more than 2 kids in your family, get this toddler's desk and chair set. With a set of 4 chairs and 1 desk, it would perfectly meet your needs. The interesting thing about this toddler desk and chair combo is that it is a multi-purpose desk. Your kid can use it for reading, working, making art & craft, or for the eating. The chairs have sponge foam padding and the frames are made of metal. Given the fact, this set of chairs and desk is robust and durable.
3- Delta Children Mickey Mouse kids wood desk and chair set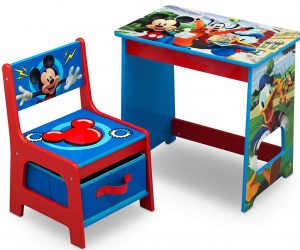 Work shouldn't be boring whether it is yours or your kids.  So, get this Mickey Mouse printed toddler chair and desk combo and make your baby's work interesting. Your baby would definitely love its colorful graphics. The set includes 1 chair and 1 desk. The chair is designed with a huge storage bin, where you can keep the art supplies, books, and all other essential items. You can tuck the chair under the desk. Both the items have scratch-resistant finish, so your kids can work freely.
2- Kids table and chair set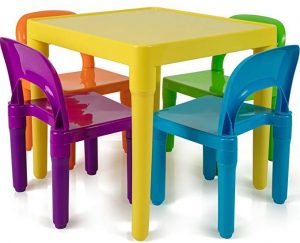 If your baby is above 3 years, consider buying this set of toddler desk and chair. The reason being, it is comparatively big in size. The set includes 4 chairs and 1 desk, which all can be assembled and disassembled as per your needs. Being storage-efficient, this set saves tons of space in your room. You can either tuck the chairs under the desk or stack them on top of each other. Made of solid plastic, the set is also durable and stylish-looking.
1- Tot Tutors kids 2-in-1 plastic building blocks-compatible activity  table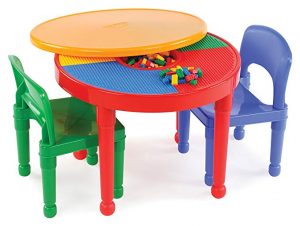 This toddler desk and chair set is completely different from others in design as well as functionality. It includes 2 chairs and 1desk. The round-shaped table is designed with building and duplo blocks. It also features a removable cover, which does not only protect it from dust but also renders a sleek look. The chairs can be easily tucked under the table or you can simply disassemble them when not in use. Don't worry, you can assemble it again when you need. Assembly process is really a breeze.
Conclusion
Just get one of these top-quality toddler desks and put a halt to your hunt for the same. These kids' desks will not only make your baby's work easier and more productive but also accentuate the décor of their room.