To work in a comfortable environment whether at home or office is what everyone seeks for. Even after renovating your study room or your bedroom, you still need a good table to accompany your work and studies. In the previous article, we introduce you to various best selling desks and tables which are ideals for both professional and personal use. Today, we are going to present you with another type – the U Shaped Desk which has not only elegant look but also provides you with almost three-time size of the desktop for keeping your stuff. The table is huge and spacious for both working and studying and even gaming. Let grab one for yourself!
List of the 10 Best U Shaped Desks in 2023
Product Reviews
10. BESTAR

U-Shaped Desk with Hutch and

Pedestal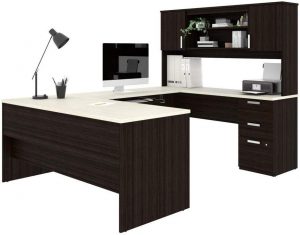 This U desk is solid and well-made. It is spacious and great for using at home or office. With its designed mimicking the shape of letter U, the desk provides you with 3 work surfaces and plenty of space. The desk is attached with a keyboard shelf underneath the three work surfaces. There are drawers with locks as well as a closed storage shelf. The product is produced to last for a long time since it is stain and scratch proof.
If you are an officer staff, this is the best U shaped office desk if you own a personal office room. Its attached filling cabinet and top shelves allow you to keep your documents properly, while the three desktop parts let you place computer, lamp, folders and space for a one-on-one meeting as well. You actually can do the same for your home office. This U desk is also sold along with the Ergonomic Chair in the purchase of the table or you can get here a separate office desk chairs that you love. This chair is comfortable and well-fitted with the desk. The armrests, backrest and seat are all adjustable. You would also get a 10 years warranty. If you are going to assemble the desk by yourself, you would need to do it with two people.
Its specialties:
9. Bush Business Furniture 

Series A U Shaped Desk Corner with Peninsula and Storage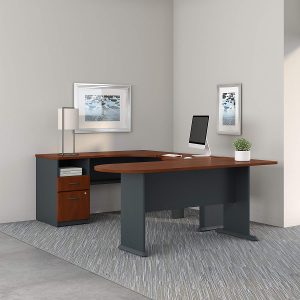 This U shaped desk product includes 2 drawers, corner desk and peninsula desk combined. The U desk is specially designed to fit with the corner in your room or office, yet provides enough space for storing and working comfortably. The desk is manufactured with wire management system which is a grommet that helps keep all your cables under control. The 2 drawers can be used as a storage box and as a file drawer. The drawers are also lockable for keeping your file safe. The design of the U shape desk allows plenty of legroom, and you will not need to worry about cramping your leg while working. This also includes a 10 years warranty.
Its specialities:
For your purchase, if you need additional file storage, you can check out the 3-drawer filing cabinets as they fit the desk best. Also, don't forget the chair as you are going to need one for sure. To me, this Modway Articulate Mesh Office Chair with Lumbar Support is best with it.
8. Bush Business Furniture 

Series A U Shaped Desk with Hutch, Peninsula and Storage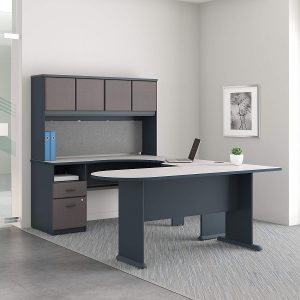 This is another U desk from Bush Business Furniture series A with the same design and function, yet this one is built with additional features to their product. The previous U shaped office desk does not have a hutch whereas this one has been added not one but four hutches. The design gives you plenty of desktop and file storage to fulfill your working need. The material is also become better in both quality and lifespan. The desk is durable and thick which can resist scratch or damage that might cause when you're working with the desk. The doors attached on the hutches are self-closing. The purchase comes with a 10 years warranty.
For its specialities, this Series A U Shape Desk is an ideal for those who are working on multiple projects. If you are that kind of person who need to spread out various documents on the desktop along with electronic devices such as computer, laptop, iPad and more, then this is the right office desk for you. You can also share the desk space with your colleague to work along with you as well. Sound great, right?
Its specialities:
Scratch resistant desktop
High quality materials made
Long lasting with 10-year warranty
Have you found the right U shape desk for yourself yet? In case you think the U Desk does not fit into your office space or style, you can consider the L shape desks below. It's also an ideal for modern and stylist working environment in the present time.
7.

Bush Business Series C Mocha Cherry Executive U-Shaped Desk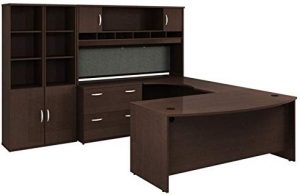 This U desk also comes with hutches and shelves for big and spacious storing. There are 2 fixed shelves and 3 adjustable shelves. But, what they have added to the desk is the bookcase shelves. The material is strong and durable suitable for office work. If you want many places to store your paper works or assignments, this is a good option for you. The product also has a 10 years warranty to it. The service for assembling the desk is free.
It is an ideal design for executive office, personal office and multiple projects work. If you get this U shaped office desk for personal use at home, we would recommend you to get along with this Furmax Leather Executive Desk Chair and probably this office lamp as well.
6.

BESTAR Connexion U-Shaped Workstation with Two Drawers, Slate/Sandstone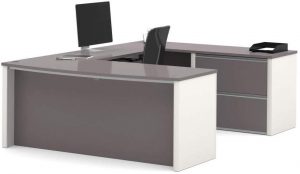 This Bestar connexion U Desk is built as to satisfy all your needs, regardless of you are an office staff or self-employed. The desk itself is stained and scratch free. There will be no sag or warp to the table. The panels are all recycled wood for saving the environment. With its bundle included with a chair that help support your body and allow you to work comfortably without hurting your back.
The armrest, backrest and chair seat are all adjustable. As for the drawers and keyboard drawers, they are made with ball-bearing slides that give more smooth and quiet operation. If you are a gamer, this U desk is the best ideal for you; it allows you to work and play game joyfully when you rest from your work. You can imagine by its look and feel!
5.

BESTAR U-Shaped Desk with Pedestal – Prestige Plus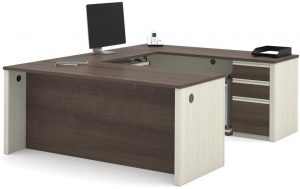 It is created to adapt in all kinds of environment you are going to use it in. the desk is constructed to be sturdy and long-lasting suitable for long-term use. The desk also comes with two-tone finish which gives off a modern and high-class style. They also attached grommets for easy control over the wire and cables under the desk. Every drawer has ball-bearing slides that give you a smooth and quiet operation. The drawers are also added with a lock that will secure your belongings. It is a 10-year warranty product. If you assemble the desk by yourself, then you will need a helping hand
4.

Studio C 72W x 36D U Shaped Desk with Mobile File Cabinet in White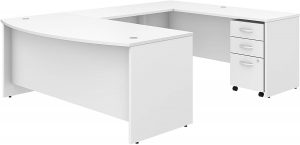 This desk allows you to work efficiently with any guest that will come to work with you. It is spacious for you and your partner to work together easily without feeling cramped. The material on the desk is also stained and scratch free. The desk is strong and sturdy which will assures a long lifespan. The drawers are attached with ball-bearing slides and lock for securing your documents.
There are 2 drawers that can be detached whenever you want. There are two finish options for you to choose from which are grey and white. The desk also comes with a 10 years warranty.
3.

Studio C 72W x 36D U Shaped Desk with Hutch and Mobile File Cabinet in White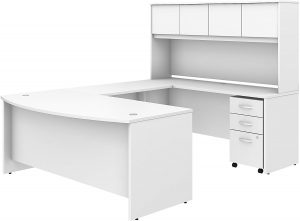 With more features added to the desk, you can enjoy more options. It has added a hutch that gives more space for storing. The material is high quality that will ensure that there will be no stain or scratch left on the drawer or desk. The mobile file cabinet allow you to roll anywhere and whenever you want. The hutch and drawers are attached with locks that secure all of your belongings in place. It is a classic and high-class furniture to have in your office or home. This set comes with a 10 years warranty.
2.

Bush Business Series C 4-Piece U-Shape Right Bow-Front Desk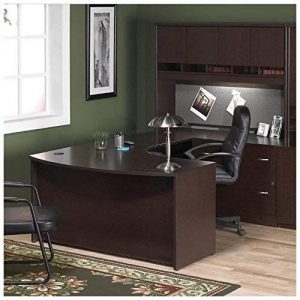 It is constructed to be solid and sturdy for business or office uses. The work surfaces are resistant to stains or scratches. The desk can be attached to either left or right side of the hutch. There are keyboard or pencil drawers installed below the work surfaces. There is a mobile file cabinet too. All the drawers are installed with ball-bearing slides. The set is guaranteed for 10 years.
1.

BESTAR U-Shaped Desk with Pedestal and Hutch – Ridgeley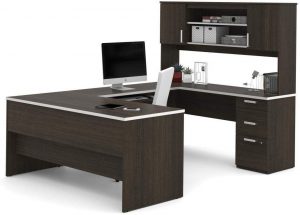 There are two-color options in this series. The desk is built to last and sturdy without any wobble actions while working on it. They also added keyboard shelf under the work surface. There are 1 file drawer with lock, 1 utility drawer and a closed storage shelf to help you be more organized. The hutch provides you with more space for storing stuff.
There is a grommet for better wire management. The desk is stained and scratch free. The set comes with a chair that is suited and comfortable to work with the desk. The product is warranted for 10 years.
Buying Guide
Above are the top 10 best u-shaped desks in 2023. After you have seen what are the best options you can have, now it is time for you to know some of the tip you should know before buying the product. These tips are features and quantity of drawers.
There are many features you can find from each individual desk. Some desks give you more space to work with more people. The others give you enough space for working on your own. For some, the drawers can be locked or moved to different places. Some drawers are attached to the desk. There may a hutch that gives you more space. Some desks work as a bridge between the other desks and the hutch. Some can be used not just as a working desk.
Some of the desks come with 2-3 different types of drawers. Some come with a hutch while some do not. If you want more space, you can get one with more drawers. For using at home, then you might consider buying a smaller one. The set sometimes comes with a chair that is the same style as the desk. You might get a mobile cabinet, too.
Although all desks are designed in u shape, they are designed with different sizes and appearance. So, you make sure to measure it against the space in your office or room. Getting the wrong size desk will bother you a lot. Yet, it won't consume you much time to check the dimension of each desk as it is provided in details in the product description. Just check it out before the purchase! Cheers!
Last update on 2023-06-02 / Affiliate links / Images from Amazon Product Advertising API