Watching movie or streaming concert on your mobile phone is way more convenient and colorful than doing the same on a TV. Nevertheless, sometimes you don't have the desired watching experience on mobile just because your mobile screen is small. Isn't it? Well, don't let anything come in between your enjoyment. Just get a phone screen magnifier and enlarge your phone screen to entertain yourself right in your bed or working desk. If you are a gamer, smartphone magnifier also allows you to play your game in mobile phone more conveniently. To help you get the best quality one, we have done the research and enlisted the top 15 phone screen magnifiers for you below.
List of the Latest Phone Screen Magnifiers in 2023
Also check: Top 10 Best Wearable Magnifying Glasses in 2023
15. Phone Screen Magnifier 12-inch For Smartphone Zoom by Dizaul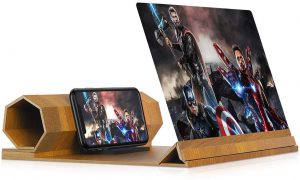 Dizaul 12" smartphone magnifier will offer you a mind-blowing movie watching experience and save you from the uncomfortable stare at your small phone screen. If you wonder how it offers you such a cool functionality, it is designed with HD zoom optical technology, which magnifies the screen two times and provides sharp video quality. To your surprise, you don't need any battery or electricity connection to run this amazing phone screen magnifier. Made of solid wood, it is compatible with all types of smartphones. You can use it to watch movies, concerts and even play game if you have a joystick connected to your phone.
Watch the below video to see how the the Dizaul Smartphone Magnifier works:
Dizaul smartphone magnifier is also helpful for students who need to read a lot from their phone. With the magnifier, you can lay down on your bed, do the reading from the large screen while doing your assignment. With this help, you don't need to sit for too long at the desk and look at your laptop screen all the time anymore. Sound more relaxing but productive, right? If you also want to consider a new smartphone along this device, visit our list of the Selected Smartphone Brands here.
Key features
Made of quality solid wood durable screen.
Non-battery.
Compatible with any types of iPhones and Android phones.
Flexible and comfortable to use.
14. Jteman 12" Curved Screen Mobile Phone Magnifier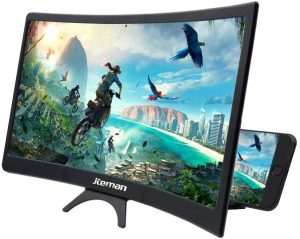 If you want to transform your mobile screen into a big TV set, no other smartphone magnifier can please you as much as the Jteman curved phone screen magnifier. What puts it different from others is its curvy design with a stand, which exactly looks like a TV. It is unbeatable in its functionality too. You can magnify your phone screen 3-4 times with this magnifier. Being a big-sized of 12 inches, this smartphone magnifier can fit in well with all types of phones you are using.
Key features
Unique design in curve
3d Magnifying Projection
Durable and not easily deformed
Suitable for iPhones and Android Phones
Foldable and easy to store
For those who has a higher budget, you can consider one of these Portable Monitors for Smartphones instead. These portable monitors are compatible with not only Smartphones but also laptops and PC, and provide an extended view in a more functional way.
13. Jteman 5-in-1 Bluetooth Speaker and Smartphone Magnifier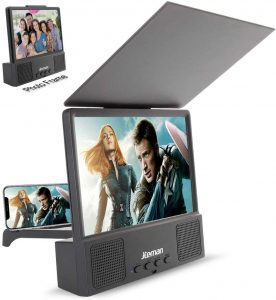 Nothing beats the fun of a 3D video. Isn't it? Well, if you also want to turn all your mobile videos into 3D videos, just look at Jteman 5-in-1 mobile phone magnifier. It magnifies the screen 2-3 times and provides a thrilling 3D screen. To further blow your mind, it is designed with a high-quality speaker, which offers remarkable volume and enhances your overall watching experience. Moreover, it is designed with a hands-free function that enables you to pick up the phone even without touching the phone.
Key features
Foldable design and light weight.
Battery operated with USB charger.
Speakers attached.
3D like display but not real 3D
Work with all types of phones.
Frankly speaking, the claim for these screen magnifier's capability is only within the boundary of products. It can't be compared with the real HD or LCD projector. If you really need a wider screen to stream your musics and movie for the whole family, then we recommend you to check out here the best quality TV screen with different sizes: 24-inch TVs, 32-inch & 32-inch LED TVs, and 55-inch LED TV, OLED TV, and QLED TV you can count on. Otherwise, let's continue to go down the list and find your favorite one.
12. Curve Screen Magnifier 12" 3D HD Screen Enlarger for Smartphone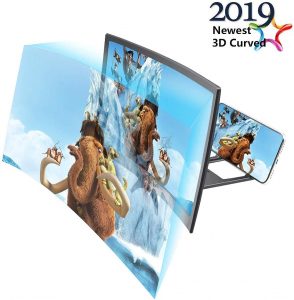 If you don't like the bulgy design of a phone screen magnifier, Curve screen magnifier 12" 3D HD screen enlarger is made for you. Its sleek design with a curved shape makes the display look bigger and more alluring. What makes it such a versatile smartphone magnifier is its HD zoom optical technology, which never fails to do its job. Speaking of its functionality, it amplifies the screen 2-4 times and provides you a large 3D visual. Furthermore, it protects your eyes against the radiation.
Key features
Get upgraded and compatible with all smartphone with screen size less than 8″
Provide clear visual and wide view angle in curve screen
Eye protection care
Strong pressure resistance
Foldable and easy to carry along
11. 3D Smartphone Magnifier 12" With Bluetooth Speaker, HD Portable Movies Amplifiers by WANTU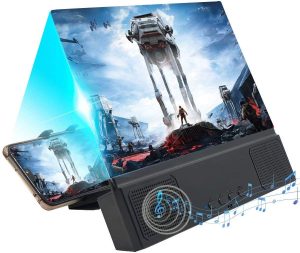 WANTU 3D screen magnifier is packed with a bunch of advanced features. Designed with an HD acrylic lens screen magnifier, it magnifies the screen 2-4 times and offers you a theatre-like experience by avoiding eye fatigue. Not only this, but it is also in-built with stereo sound, which doesn't only amplify the quality of sound, but also overall video watching experience. Unlike many other phone magnifiers, it is chargeable and supports 2 charging methods including USB charging and battery charging.
Key features
Work with all smartphones with screen size less than 8″
Charging or Battery operated
Inbuilt with microphone for good movie experience
Folding design and easy to bring anywhere in your bag
Also check: Top 10 Best Selfie Ring Light for Phone and Video Live in 2023
10. Ceaver 12″ Screen Magnifier for Smartphone – Mobile Phone 3D Magnifier Projector Screen for Movies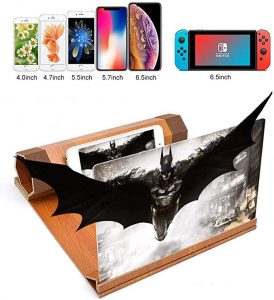 This magnifier form Ceaver is designed to provide a high definition view with 3D display. The screen magnifier's size is 12″ and it comes with adjustable phone stand, allowing you to place it on your desk or any surface. Its magnifying glass is made with new generation of HD blue-light fresnel lens, bringing to you a clearer and brighter zooming visual from your smartphones. The device can zoom 2 to 3 times the size of your phone screen with a high visibility. It fits with both iPhone and Android Smartphones. The magnifier is also foldable which make it easy for you to carry along or store.
Key features
Use at the distance of 20 to 40 inches away to protect your eye.
Wipe the magnifying glass clean to get a clear view.
Better use in a low light environment.
Position your phone to fit the distance you stay and then enjoy.
9. Apad 12 inch 3D Curve Screen Magnifier for Cell Phone, HD Amplifier Projector for Movies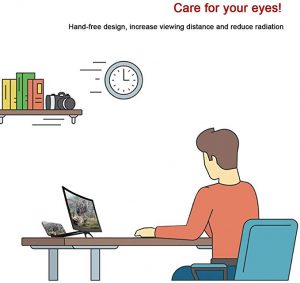 If you want to get a movie experience in a curing screen, then grab this Apad 12″ magnifier. This one is an upgraded from for the new year to provide 3D curve view experience to the users. I can enlarge your phone screen 3 to 4 times, making it good for you watching movie, playing game or even working if you have a separate Smarthone keyboard to work with. If you are interested to have one, you can look at this Geyes portable keyboard for smartphone and laptop. It works best with your smartphone and this magnifier.
Getting back to the Apad magnifier, it is one of the best curving magnifier among its kind. You can check its key features below:
Key features
Curved screen size is 12 inch
Compatible with all smartphones
Foldable with light and compact design.
Eye care and suitable for both kid and adult.
Note: better in low light environment and stay between 1 to 2 meters distance.
8. ORETECH Screen Magnifier, 12″ Foldable Smart Phone Screen Amplifier Projector for Movie & Video Enlarger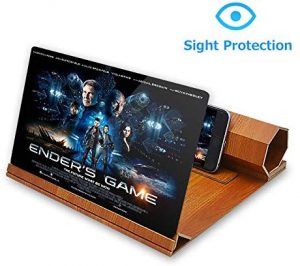 The screen magnifier 12 inch from Oretech is another simple but great phone magnifier for your pick. It can zoom your phone screen 3 to 4 times bigger with its HD optical technological glass. You can place it on the table or in bed while enjoying your movie. This portable magnifier is easy to use. It compatible with all smartphones. It is an ideal design for simplicity and eye care.
Key features
Made of anti UV glass to protect your eyes.
Made with Acrylic Fresnel lens to bring a good visual for users.
Light wight, foldable and easy to bring along to office, outdoor and camping.
7. Fanlory Screen Magnifier 12″ 3D HD Cell Phone Magnifying Projector, a Screen Accessories for Videos, Movies, and Games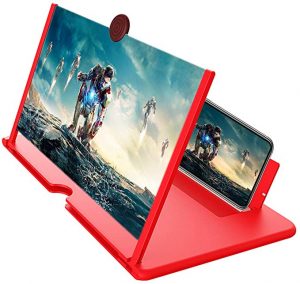 This magnifier from Fanlory is a fancy design one with HD zooming optical glass. It can enlarge your phone screen twice bigger and provide you with a great movie experience and gaming anywhere you want. It is compact and easy to keep in your bag or place on table. With its red color, the magnifier will be outstanding among other devices you have. For its benefit, you can use it for watching movie, playing game and working as well.
Key features
Made of durable magnifying screen and premium quality material.
No battery is needed.
Sight protection glass and workable with both iPhones and Android Smartphones.
Satisfaction guarantee and full refund program.
6. 3D Cell Phone Screen Magnifier by Apa-DADA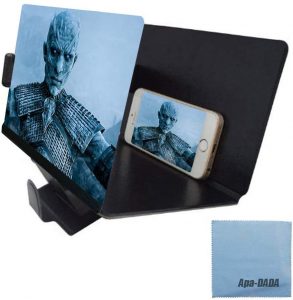 If you're looking for a budget-friendly option, Apa-DADA 3D screen magnifier is the best choice for you. Even after being low in price, it is no less than any feature-packed phone screen magnifier. With a screen amplifying capacity of 2-3 times, it makes sure to offer you a mind-blowing video experience on a big screen. The good thing about this phone screen magnifier is that it is foldable and lightweight. Given the fact, you can carry it along with you wherever you want.
5. Canyoze Screen Magnifier 3D Smart Mobile Phone Movies Amplifier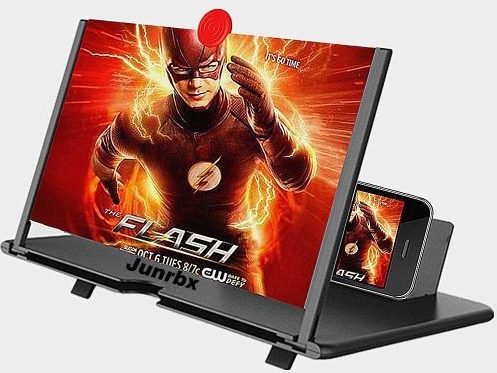 Canyoze screen magnifier is a pack of advanced technology in a simple design. Designed with HD zoom optical technology, it will help you to magnify your screen 3 times and enjoy your favorite video to the fullest. Interestingly, it doesn't need any battery, electricity connection, or anything to get operated. Given the fact, there is no chance of radiation. Speaking of its construction, it is made of ABS materials, so it is completely environment-friendly. It costs really decent to your surprise, too.
4. Big Picture Smartphone Magnification System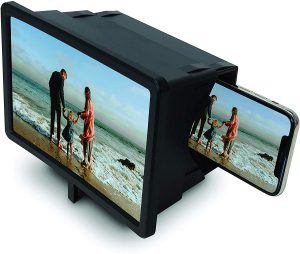 As the name suggests, Big Picture Smartphone magnification system is a whole system packed with many innovative features. Unlike many other phone screen magnifiers, it is packed from sides. Given the fact, there is no chance of mobile falling off on the floor when you're moving it around. There is a side hole, where you just have to slide in your phone. That's it. It will automatically double up your phone screen into a 3D display instantly. Given its mind-blowing design, it is easily foldable and super portable too.
3. Magnifier for Cell Phone Screen by Dizual Cell Phone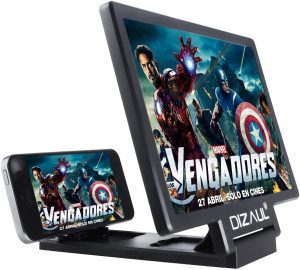 Another budget-friendly phone screen magnifier to intensify your video watching experience. From a high-definition vision to remarkable radiation protection, it is designed with all essential features. With its 3D-like display, it prevents visual fatigue. The magnifier is made of high-quality acrylic and ABS. In addition to that, it is designed in such a way that you can fold it and carry wherever you want. Another good thing about this phone screen magnifier is that is compatible with all Smartphones.
2. HD Phone Screen Magnifier 12 Inches by Daniell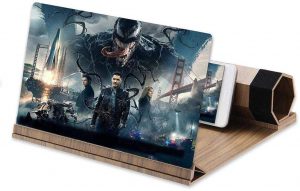 Get this Daniell 12" HD screen magnifier, and it relieves your eyes fatigue caused by constant stare on the small screen of your phone. Daniell screen magnifier utilizes HD zoom optical technology, which doubles up the visual screen and turns your phone into a big HD TV. Not only this, but it also takes your movie and gaming experience to the next level. Speaking of the production, it is made of pure high-quality wood. Given the fact, it is highly durable and completely environment-friendly. Furthermore, its simple design makes it incredibly portable too. It's an ideal for smartphone gamer and movie lovers!
Key features
Quality wood, 3D screen, optical-tech screen.
Non-battery needed.
Compatible with all types of iPhones and Android phones.
Foldable and convenient.
One notice for the gamer here – if you are already in the advanced level, then you may consider these gaming monitor instead because it's not going to be a good experience for you to go down level from large quality screen to magnifier screen. For the best option, you better go to one of these extra-wide gaming monitors for your upgrade.
1. Prime Zoom 12 inch Phone Screen Magnifier + 2 Bonus Light-Up LED Pocket Magnifiers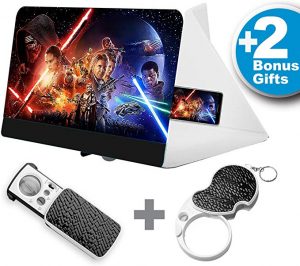 The PrimeZoom screen magnifier is designed for a life-style person. Its appearance is fancy to fit the stylish people. It can enlarge your phone screen 2 to 3 times, bringing you a new level of movie experience from your iPhone or Android phones. If you buy this magnifier, you will also get additional two stuff from the seller; a LED pocket magnifying glass and a pocket keychain magnifier.
Key features
Foldout stand and hand free magnifier.
Provides 3D visual with HD experience.
Sight protection and reduce eye fatigue.
Come with protective case and compatible with all smartphones.
Key Factors to Consider before Buying Smartphone Magnifier
Make sure the screen magnifier fits with your smartphones, either iPhone or Android phones.
The screen magnifying projectors come with different designs and functionalities. Some devices are operated with electricity, while some is not. So, make the selection that fulfill your need.
Check out what the screen magnifiers are made of to ensure its long lasting.
Frequently Asked Questions about Phone Screen Magnifier
How do I magnify my phone screen?
The process of using smartphone magnifier is simple and easy. First, you need to identify if the magnifier for the cell phone screen is battery operated or non-battery one. If it's a non-battery operated one, then just unfold the magnifier, and place your smartphone behind, adjust the position to fit the screen, then enjoy your movie or musics. If it is a battery operated one, then you might need to do the necessary set up such as BlueTooth connection and speakers setup. Each product comes with the instruction. So, check it and follow the step by step guide, and you will make it!
What is the best phone screen magnifier?
You can identify the best phone screen magnifier based on three criteria's; its durability, design and zooming quality. Most screen magnifiers cannot profide you with a real HD experience yet. Usually, it is recommended that you use it in a less light place to get good quality picture projected from your phone screen. For instance, some customers provided a good feedback on the products as they enjoy it, while some others are disappointed with it for their higher expectation. Therefore, please consider the one that fits your expectation to avoid any disappointment after the purchase.
Conclusion
Don't stress your eyes watching videos on the small screen of your phone. Just get one of these high-end phone screen magnifiers and enjoy your videos comfortably that too with more fun. They will relieve visual fatigue and intensify your video watching experience.
Bonus: If you want to explore other technology and electronic products, visit our dedicated page.
Last update on 2023-10-03 / Affiliate links / Images from Amazon Product Advertising API