Language translator earbuds are the latest innovation among the translation devices that have been used to break through language barriers. The translation earbuds can be used very conveniently when you travel abroad or work in an international work environment. If you are a traveler or international employer/employee, you should have them in your ears. They will help you a lot in your daily communications. To help you with selecting the best ones, today we're going to introduce you to the top 12 best language translator earbuds, which will help you to converse flawlessly in the language of your target person. Check out he list of the best earbuds for language translation below, and choose the right ones for yourself.
Key factors to consider before buying the translation earbuds:
Number of languages: make sure it covers the languages you target.
Compatible OS: Make sure the earbuds work with both iOS and Android so you can use them with either iPhone or Android phone.
Battery life: make sure it last long enough to serve you. Usually, the earbuds come with charing box. So, they might not cause any worry to you.
Note: As an Amazon Associate we earn from qualifying purchases. Yet, our views on all products are objective and independent! You can learn more here.
List of The 12 Best Language Translation Earbuds in 2019
12. Language Translator EarBuds by WT2, Support 40 Languages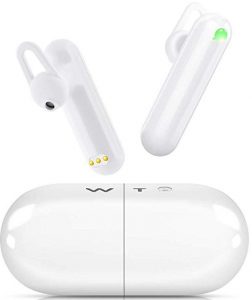 WT2 language translator earbuds allow you to converse in 40 languages and 88 accents. They are among the best earbuds to provide you a simultaneous two-way translation in multiple languages. As they are designed as real time translation earbuds, you'll get the target language translated into your ears instantly. To operate these WT2 earbuds properly, you need to install its app on your phone and then you're all done. You can set the device in three different modes namely auto mode, touch mode, and speaker mode according to your needs. To ensure the best possible results, the producer equipped the device with dual noise reducers as well. They are the best language translation earbuds to have in your ears while traveling or working in a multi-national working setting.
Key specifications/features:
Translate 40 languages in 88 accents simultaneourly.

AI technology with 3 modes and app.

95% in accuracy and timely manner when online.

Works with both iOS and Android phones

4 Lithium-ion batteries: last for 5-hour use.

24/7 customer support.
11. NIUJF Portable Bluetooth Voice Translation Headset 33 Languages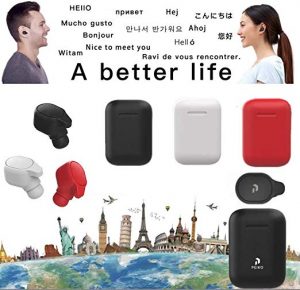 This portable voice translation headset is second in the list after WT2 earbud translator as they can translate only 33 languages. However, they are also among the best language translation earbuds which provide real-time intrepretation for you. They are built with long-life battery and compatible with both Android and iOS sytem. For fullly-charged, you can use these translation earbuds 4 hours continuously and 120 hours for standby. They also come with charging case so that you don't need to feel worried about running out of power. The headset can be used for translating, listening to music and phone call. They are just so convenient with its compact design fit into your ears.
Key specifications/features:
Long batter life up to 120-hour standby and 4-our continuous using.
Working with iOS and Android.
Paring and transmitting audio quicktly.
Utilizing bluetooth and wireless sytem.
Support 33 langues: English, China, Janpanase, Frence, Russian, Italian and more.
Click or tap function to translate, phone call and music.
1o. Frontier Real Time Translation Earbuds 35 Languages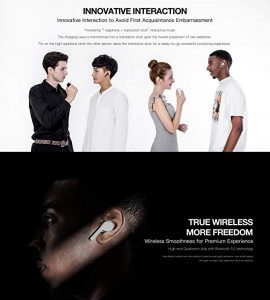 Frontier real time earbud translator is a very cold design with the capacity to translate more than 30 languages into your ears. It comes with Bluetooth connection and app named JOVETRANS which is compatible with both iOS and Android devices. The translating earbuds also play a role as a two-way interpreter by tapping on its button during the speak and translation. The headsets are also recognized for their accuracy and fast translation. You will get a charging box when buying it, so that you don't need to feel worried about the battery lifespan. You can use this earbud translator in the meeting, talking to people in the restaurant and also poeple on the street to ask for road direction. Very convenient and useful in-ear translating compenion.
Key specifications/features:
Work with iOS 8.o up and Android 6.0 up.
Support 35 languages.
Battery life: 6-hour for music, 5-hour for translating.
Bluetooth 5.o version.
Fast and accurate.
US based tech and support.
9. Language Translation with Apple Airpods and Airpod Pro Latest Model
If you are iPhone fan, then you don't need to look at other other headset to be your interpretor at all. With the latest Apple Airpods and Airpods Pro for iPhone, you can get different languages translated instantly from your phone into your ears. There are two ways you can use them; first option, you can ask Siri to be your interpretor. Second option which is better is to download Google Translate app, then use the app to translate voice or photo translation in more than 100 languages. The only limit is the accuracy of the Google Translate itself as the app are still in ongoing improvement for some some languagues. Anyway, it still sounds cool and easy set right? You can grab them below if you have iPhone but don't have the latest Airpods or Airpods Pro yet.
Apple's Airpods Pro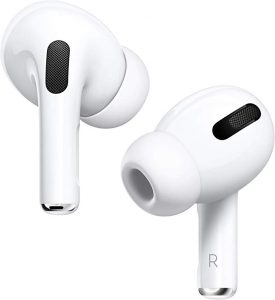 Apple's Airpods latest model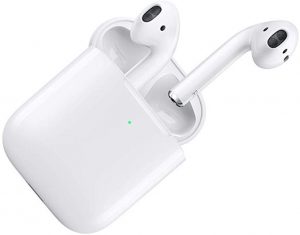 8. Real Time Translation Earbuds Device by ASHATA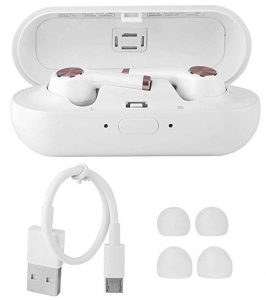 ASHTA language translation earbuds are the real time translator device whichare designed as an all-in-one pack. The earbuds offers you a quick and real-time translation in up to 19 languages. The earbuds can be used not only for language translation but also for phone call and listening to music as well. Starting from their in-ear detection function, the earbuds will work automatically or play music automatically when you put them into your ears. And the music will paused when you take the devices out from the ears. You can also use double-tab function to play or stop music and to answer or to hang up the phone call as well.
Equipped with the dual-mic noise reduction, the translation earbuds function smoothly and with a clear voice into your ears. More special of the device is that you can even use them to translate for you while you are charging them in the box. They have speakers for that! 
Key specifications/features:
Built with in-ear detection to work automatically.
Designed with tap function to operate.
Bluetooth and mobile app for operating with smartphone.
Supported languages:

Chinese, English, Arabic, German, Spanish, French, Italian, Japanese, Portuguese, Russian and more.
7. Fosa Translator Earbuds with Gift Charging Box, Black Color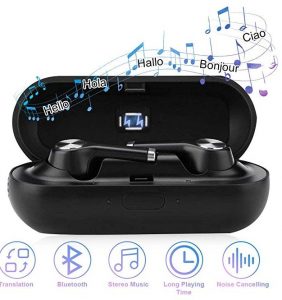 Fosa translator earbuds are a perfect combination of user-friendliness and high technology. They support up to 19 popular global languages. Similar to other language translation earbuds, they are Bluetooth headset and also has a mobile app. You can run the device with the help of any of them, which suits the best to you. To offer you more flexibility, they are equipped with an in-ear detection function, which starts doing its job as soon as you put the devices into the ears. Sound cool right? Get them if they fit you most!
Alongside the emergence of translation earbuds, you can also check out the best language translation devices if you would like the tool which is more handy and functional than the earbuds.
6. Smart Voice Translator Earbuds, 16 Languages Translation Device by Walfront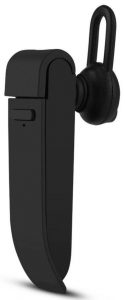 If you don't need to converse in many languages, this Walfront language translation earbuds would be a perfect fit for you. It supports 16 languages including the most-spoken languages of the world such as Chinese, English, Japanese, Korean, Russian, French, Thai, German, Italian, Arabic, Spanish…to name a few. It is Bluetooth connected and allows a quick and clear voice transmission. To ensure high-quality audio, it is designed with an 8mm moving coil speaker, which allows a top-notch audio effect and smooth voice. Its built-in battery lasts up to 8 hours for playing and almost 5 hours for talking.
Key specifications/features:
Translate up to 16 languages: Chinese, English, Japanese, Korean, Russian, e.t.c. 

Utilize Blutooth 4.1 version which can connect up to 10 meters.

High accuracty audio transmiation.

Built-in 90mAh lithium battery rechargeable, 5-8 hours playing time, 4.5-hours talking time.
5. DDSKY Smart Bluetooth Translator Earbuds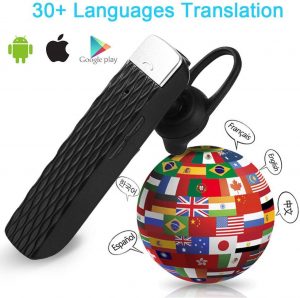 DDSKY smart Bluetooth translator earbuds are an affordable, yet high-quality language translation device. It supports up to 30+ languages and 2 modes with high-quality audio. You can also use this device as an earphone when you don't need to translate the languages. To offer the best quality audio results, it is inbuilt with an 8mm moving coil speaker, which does its job the best. With the fact that it is Bluetooth functional, it ensures fast and smooth voice transmission. 
4. Supreme Tech Portable Language Translator Earbuds Device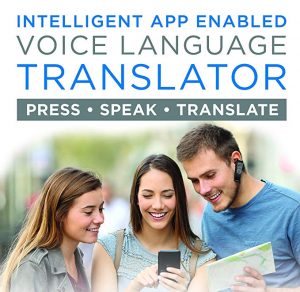 As the name suggests, the Supreme tech language translator earbuds device is one among the supreme pack of technology. It offers a real-time translation in a wide range of up to 30 languages and 5 different modes which are: face-to-face translation, group translation, instant translation, broadcast translation, and language tutor. From instant translation to broadcast translation and from face-to-face translation to group translation, it provides you with a convenient way to make your conversation and communication go smoothly. In addition to that, it is designed with a high-quality battery, which ensures a long endurance and lasts up to 5 hours. 
3. LayOPO Earbuds for Language Translation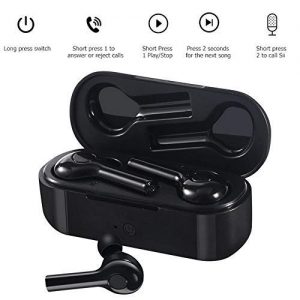 LayOPO translator earbuds are a 2-in-1 device, which offers you the functionality of wireless headphone and translation earbuds together. The device helps you in an effortless conversation of up to 33 languages. It works with the help of its mobile app and offers you everything at your fingertips. Being compact in design, it is easy and comfortable to wear. Other than language translator device, you can also use it as a headphone to listen to music or to answer your phone calls directly. 
2. TWS Wireless Bluetooth Earbuds by Eboxer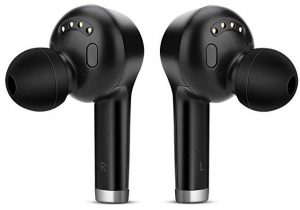 TWS Wireless Bluetooth earbuds by Eboxer is one of the most advanced and pricey language translations earbuds on this list. It offers real-time translation in up to 19 languages. To enhance the basic functionality, it is designed with tap function. With the help of that, you can directly operate some functions even without touching your mobile once the device is connected to its mobile app. The earbuds are inbuilt with Bluetooth 5.0 version. Given the fact, it provides a quick, stable, and smooth voice transmission. 
1. JIAN YA NA Smart Voice Translator Earbuds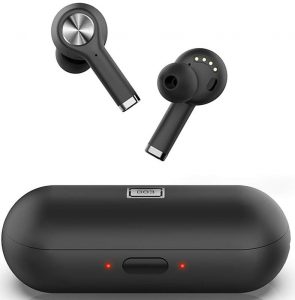 If you're looking for a really compact language translation earbud, turn to this one. Even after its small size, it doesn't compromise with the functionality. In fact, it is far ahead than other language translation earbuds. Offering real-time translation in 19 global languages, it is designed with the smart voice function, which ensures smooth, clear, and audible translation results in a moment. Furthermore, it allows you the freedom to use it as an earphone when not in use as a translator device.  
Conclusion
Language translation earbuds are tools innovated for an easy and quick conversation with a person who speaks other language than yours. So, get one of these excellent language translation earbuds and go beyond the language barriers that can affect your personal or professional relationship with someone.
What are the best language translation earbuds?
There are not many best translation earbuds in the market so far. However, the top and most bought translator earbuds from our list so far are:
Language Translator EarBuds by WT2, Support 36 Languages
NIUJF Portable Bluetooth Voice Translation Headset 33 Languages
Apple's Airdpods and Airpods Pro for iPhone users
Real Time Translation Earbuds Device by ASHATA
Updated about WT2 Tralsnator Earbuds, it is now the most solt device for its brand recognition, quality and continous improvement. With its recent updated software, WT2 earbuds are now capable of tanslating up to 40 languages and in 88 accents. The functionalities of the three earbud modes – Simul Mode, Touch Mode and Speaker Mode – are also working better. Most people find the Simul Mode function very helpful for them, especially when they hangout with a friend or have dinner meeting with a business partner from different nationalities. With the Simul Mode, you can share one earphone with another person, then you both can communicate instantly. It's confirmed to improve your conversation by 50% without the help from interpretor.
How language translation earbuds work?
The language translation earbuds are designed with software application to install on your smartphone. The application will transform your smartphone into a translation device and do the job instantly. The earbuds are also equipped with Bluetooth so that you can connect them with your smartphone to function. Some earbud translators, like WT2 and NIUJF, are designed with in-ear auto detection for auto function or users can use the tap feature on the earbud itself. Besides the translation role, you can also use them to listen to music and make phone call as well. They are simple and easy to use.
Can AirPods translate languages?
Idealy, Apple doesn't produce AirPods for translating language. The earbuds are used with iPhone for phone call, listen to musics and watch movie on iOS devices. However, with the Siri system and Google Translate app, you can actually use the AirPods to play the role as the interpretor: both voice translation and picture translation. For voice translation, you can talk to Siri. So, whatever language Siri can pick up, it will interprete for you in your ears. Anyway, I find Google Translate app plays a better role here. With the support of more than 100 languages worldwide, Google Translate app can turn your iPhone into a two-way voice translation device in minutes. That includes the photo translating functions in the app of course. But please note that Google Translate has not been able to translate some languages accurately yet.