Language translator earbuds are the latest innovation among the translation devices that have been used to breakthrough language barriers. The translation earbuds can be used very conveniently when you travel broad or work in an international work environment. If you are a traveller or an international employers/employees, why not have them in your ears? They will help you a lot in your daily communications. To help you on this, today we're going to introduce you to the top 10 best language translator earbuds, which will help you to converse flawlessly in the language of your target person. However, make sure to buy the high-quality one. If you have no idea where to look out for that, check out the below list and choose the ones for you. 
List of The 10 Best Language Translation Earbuds in 2019
10- Language Translator EarBuds by WT2, Support 36 Languages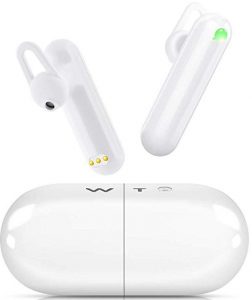 With WT2 language translator earbuds, you can converse in 36 languages and 84 accents. It provides simultaneously two-way translation in multiple languages. Given the fact, you'll get translation in target language instantly. To operate it properly, you need to install its app on your phone and then you're all done. You can set the device in three different modes namely auto mode, touch mode, and speaker mode according to your needs. To ensure the best possible results, the producer equipped the device with dual noise reducers too.
9- Smart Voice Translator Earbuds, 16 Languages Translation Device by Walfront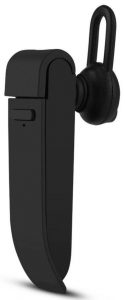 If you don't need to converse in many languages, this Walfront language translation earbuds would be a perfect fit for you. It supports 16 languages including the most-spoken languages of the world. It is Bluetooth connected and allows a quick and clear voice transmission. To ensure high-quality audio, it is designed with an 8mm moving coil speaker, which allows a top-notch audio effect and smooth voice. Unlike many other language translation earbuds, it is battery operated.
8- Fosa Translator Earbuds with Gift Charging Box, Black Color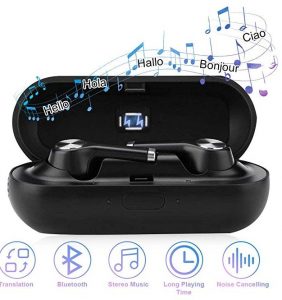 Fosa translator earbuds are a perfect combination of user-friendliness and high technology. It supports up to 19 global languages. Similar to other language translation earbuds, it has Bluetooth headset and also a mobile app. You can run the device with the help of any of them, which suits the best to you. To offer you more flexibility, it is equipped with an in-ear detection function, which starts doing its job as soon as you'll put the device into the ears. Sound cool right?
Alongside the emergence of translation earbuds, you can also check out the best language translation devices if you would like the tool which are more handy and functional than the earbuds.
7- Fosa Translator Earbuds with Charging Box, White Color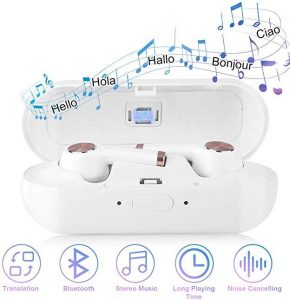 If you like white-colored devices, this Fosa translator earbuds are made for you. Supporting up to 19 languages, it translates into the language you want in a moment. Since it is Bluetooth and mobile app operated, it is easy to wear and manage. There is no hassle of long messy wires either. Another remarkable thing about this language translation earbud is that it is designed with 90mAh rechargeable lithium battery, which lasts up to 4.5 hours with continuous talking. 
6- Pinple Smart Bluetooth Translator Earbuds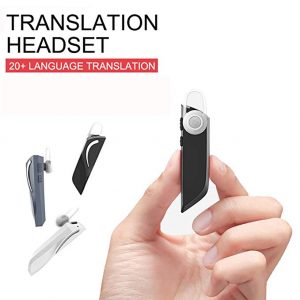 Pinple smart Bluetooth translator earbuds are an affordable and high-quality language translation device, which supports up to 20 languages and 2 modes. You can also use this device as an earphone when you don't need to translate the languages. To offer the best quality audio results, it is inbuilt with an 8mm moving coil speaker, which does its job the best. With the fact that it is Bluetooth functional, it ensures fast and smooth voice transmission. 
5- Supreme Tech Portable Language Translator Earbuds Device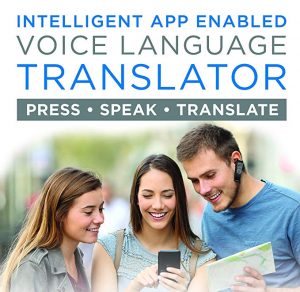 As the name suggests, Supreme tech language translator earbuds device is a supreme pack of technology. It offers a real-time translation in a wide range of up to 30 languages and 5 different modes.  From instant translation to broadcast translation and from face-to-face translation to group translation, it provides you many functions to choose from. In addition to that, it is designed with a high-quality battery, which ensures a long endurance and lasts up to 5 hours. 
4- LayOPO Translator Earbuds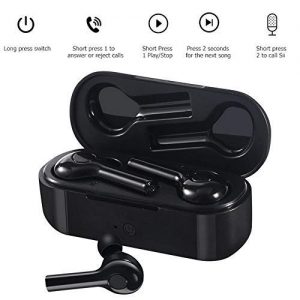 LayOPO translator earbuds are a 2-in-1 device, which offers you the functionality of wireless headphone and translation earbuds together. The device helps you in an effortless conversation up to 33 languages. It works with the help of its mobile app and offers you everything at your fingertip. Being compact in design, it is easy and comfortable to wear. Other than language translator device, you can also use it as a headphone to listen music or to answer your phone calls directly. 
3- TWS Wireless Bluetooth Earbuds by Eboxer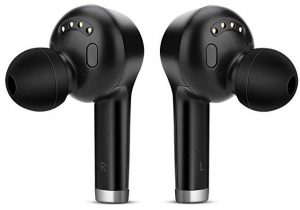 TWS Wireless Bluetooth earbuds by Eboxer is one of the most advanced and pricey language translations earbuds on this list. It offers real-time translation in up to 19 languages. To enhance the basic functionality, it is designed with tap function. With the help of that, you can directly operate some functions even without touching your mobile once the device is connected to its mobile app. The earbuds is inbuilt with Bluetooth 5.0 version. Given the fact, it provides a quick, stable, and smooth voice transmission. 
2- JIAN YA NA Smart Voice Translator Earbuds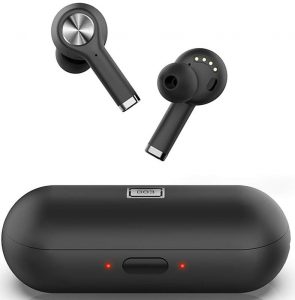 If you're looking for a really compact language translation earbud, turn to this one. Even after its small size, it doesn't compromise with the functionality. In fact, it is far ahead than other language translation earbuds. Offering real-time translation in 19 global languages, it is designed with the smart voice function, which ensures smooth, clear, and audible translation results in a moment. Furthermore, it allows you the freedom to use it as an earphone when not in use as a translator device.  
1- Instant Translator Earbuds Device by ASHATA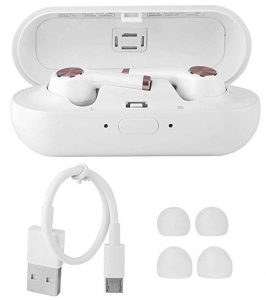 Instant translator earbuds by ASHTA topped the list because it is an all-in-one pack, which offers you a quick and real-time translation in up to 19 languages. From tap function to in-ear detection, the earbuds packed with a number of functionalities that you can use according to your needs. In addition to that, the designed dual-mic noise reduction allows the device to operate smoothly and with clear voice to your ears. Other than verbal results, the translation results can be achieved through the charging box too. For that, you just need to put the headset into the charging box. 
Conclusion
 Language translation earbuds are tool innovated for an easy and quick conversation even with the person who doesn't speak your language.  So, get one of these excellent language translation earbuds and go beyond the language barriers that can affect your personal or professional relationship with someone.