Advanced technology has connected people from all corners through internet and technological equipment such as laptops and smartphones. More interestingly, it allows a person like me to work from anywhere without the need to travel to the office. Who am I, anyway? Well, I'm not a God! I'm just an employee working in a marketing department for a corporate company, while at the same time exploring other opportunities in the corporate world after working for charity organizations for many years.
So, this is my short story! and this is my very new life journey! and this is my very first project to build my own business. Nothing to be hidden, SpaceMazing.com is an affiliate marketing website anyway. Yet, I am not trying to trick you to buy the products, instead, I am trying to provide useful information for you to make the right decision before making any purchase. To be more than just a product review website, I aim to offer you more by sharing the tips, ideas and lessons learned so that you can make a wise decision for your living and your work.
Now, let's go the points. Are you looking to set up your own office at home? Here is how I did a few months ago. I'm living in a small rental room anyway. So, setting my personal office in such a tiny room is a big challenge, yet not impossible. To make it possible, I consider three things. Three things only!
1. Choose the L-shaped Desk with Plenty Space
First of all, I put my consideration on the desk. I love the big desk actually as it gives me an arrogant look with a huge space to mess my files around. Because I'm a messy guy 😉 Yet, considering a small space in my room, I need to bite my tongue and reconsider the size carefully. The right desk size for me to place in my room corner is L-shaped computer desk!
So, I decided to buy this SHW L-Shaped Desk for Home/Office Corner with Wood Top. It works perfectly for me. By placing it at the corner of my room, I can save a lot of space while at the same time, I have plenty of volume for my documents as well.
This L-shaped desk is made from steel frames which make it stand strong. The board is also powder-coated finish makes it shiny and easy to clean. The desk is also designed with a footrest bar allowing you to sit comfortably doing your work.
The table size is 51″ (W x 19″ D x 28.5″ H). If the size fits your space, grab it. Otherwise, you can check out for more office l-shaped computer desk options.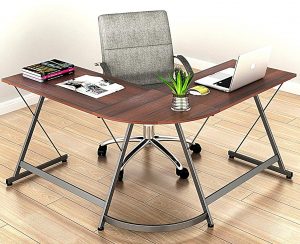 2. Choose the Leather Chair with Comfortable Seat
Well, I know it's gonna be a long-sitting day everyday for me. Then it's a must to choose the most comfortable chair for myself so that I can sit, bend and lay down for relaxing often while doing my work. I'm a bit picky though, but with my limited budget, I finally found my favorite one. It is a Furmax Office Leather Chair. The price is affordable for me, while at the same time it's very comfortable to use.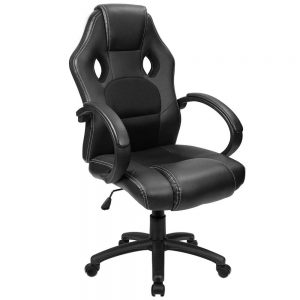 This high black office chair is made of leather and bucket seats along with armrests. The wheels are rolling smoothly, the perfect match for me as I like rolling back and forth while I was working. The design is best for relaxing as well. Honestly, I have slept on the chair several times already while doing my work throughout the night. It works excellently with the L-shaped desk above. Yet, if you think it doesn't fit you, you can check out these office chairs as well.
So what's the last thing to consider?
3. Choose the LED Desk Lamp or 
Office Lamp
Well, you might not need it if you are a day-time working guy! I'm not. I am a night owl guy, but I still have human eyes anyway 😉 Therefore, I need a proper office lamp to stand on my desk so that I can enjoy working throughout the night! So, what's the best office lamp for you? For me, I chose this LED Desk Lamp. LED office lamp doesn't really sound right. But I like fancy stuff. Also, I learn that this office lamp is designed for eye-charing, meaning that it will not affect your eyes. You can adjust the level of light for your need by just touching to control. Sound so techie, doesn't it? yes and I like it a lot so far. But if it's not your favorite, I have another list of office lamps for you to consider as well 🙂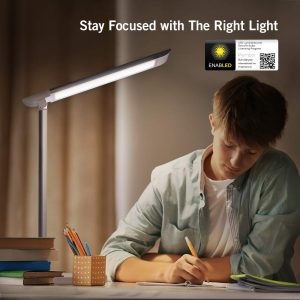 Now my office is set! You can also have an extra file cabinet to keep your documents organized as well if you would love to. It's time to have yours! I hope you like my idea design for a personal office at home. If you have your own, feel free to let me know. I would love to hear from you as well. Have a successful business in 2023, my friends 🙂