The traditional desk does not only consume a lot of space, but it can also be easily damaged, as you'll keep it moving from here to there. This is the reason why wall mounted desks are becoming more and more popular in recent years. Users can get it attached to the wall anywhere in the house, including study room and bedroom.
Therefore, after a detailed research, our team has come up with this article to introduce the top ten best wall mounted desks for consumers to preview and choose the most suitable one for the decoration of their home. At the end, there is also a buying guide section, which provides the main features to consider while purchasing one.
List of the 10 Best Wall Mounted Floating Desks in 2023
Product Reviews
10. Prepac Floating Desk with Storage | Wall Mounted Table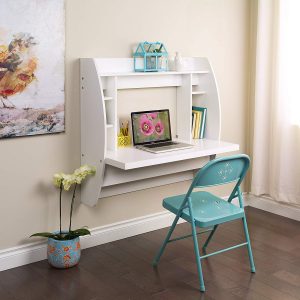 Available in three colors: black, espresso and white, this floating desk is directly attached to the wall. It is equipped with a unique rail system, which could strengthen the connection. While maintaining the function of the traditional desk, this wall desk consumes less space with a sturdy surface to use. It also comes with compartments and shelf for additional storage. You can choose their own heights to hang the desk in order to suit their preferences.
This Prepac wall desk is suited for use in sleeping room, living room, kitchen, office or entryway. The product is made in North America, and it comes with 5 years of warranty from the manufacturer. Therefore, you can try the desk with peace of mind.
The good things about this Prepac wall desk:
It is easily installed and mounted.
Modern and stylish design for attraction.
The desk's surface is sturdy with metal railing system.
5-year warranty from manufacturer.
Ready to assemble with guiding booklet or just watch the video below.
9. Prepac Kurv Floating Desk | Wall-Mounted Desk White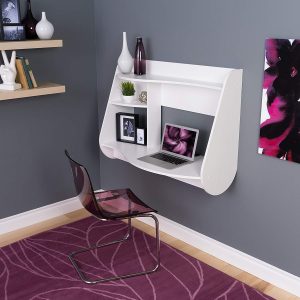 Similar to the model mentioned above, this wall desk is also available in three different colors, including white, black and espresso. The desk is not only designed with quality but also equipped with RTA system, also known as Ready-To-Assemble. It can be installed in any places, including office and bedroom. It is ultra-lightweight, which makes it easy for the installation.
The dimensions of the upper shelf measure at 12.5 x 7.5 x 9 inches, whereas the lower shelf has its dimensions at 12.5 x 12 inches. To guarantee the friendly environment, the desk is made of non-toxic composite woods. You can use the available compartments on the side and top of the desk to place your books, photo frame, binders and small plants for decoration. That will make your desk a fancy place to work on.
8. WLIVE Wall Mounted Desk with Storage Shelves, Computer Table for Home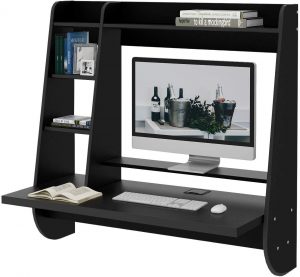 The desk comes in a classic and stylish appearance with compartments and shelves on the side and the top. The side shelves can be adjusted to suit the heights of books and photos to be stored inside. The right shelf is to store either bookcase or computer, while the left shelf works well with holding photos and books. There are also wire and cable management hidden inside to ensure the organization of the materials of the desk.
Its dimensions measures at 40.5 x 19.7 x 39.4 inches. It can hold a lot of items on the desk, up to 100 pounds of capacity. Users can mount the desk at their heights. It can be installed with easy and simple steps with instruction guides. If you need a wider desktop than these wall-mounted desks, then we would recommend you to get one of these L-Shaped Desks or U-Shaped Desks. They are the great alternatives from the standard office desk which are designed to occupy little room space but provide plenty of desktop for your work.
7. Southern Enterprises Willingham Wall Mount Laptop Desk – Fold Down Desk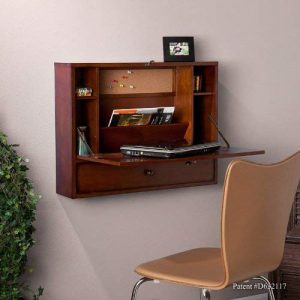 The desk comes with two choices in terms of color, including dark brown and white. To save more space for more purposes, the design of the desk aims to master the small space. It can be either used as a desk or a storage when the users stop using it. The board can be either put down for writing or folded up to prevent dust and mist from damaging the books and computers stored inside.
The desk features a paper organizer, 4 compartments and a drawer. It also comes with three sizes: large, medium and small. While its weight is only 25 pounds, it can hold up to 30 pounds.
6. FOF Industrial Rustic Wall-mounted Table, Dining Table Desk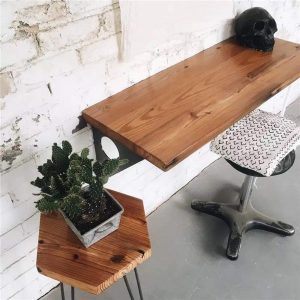 The FOF dinning floating table is constructed of high quality materials, including real wood and iron. The table has the overall dimensions measure at 40 x 14 x 12 inches, while its thickness is 1.2" that provides a sturdy and stable desk surface. The table can not only be used as a desk, but also a shelf, bench and TV stand to suit all the purposes of home and business use.  Installing it is also really hassle-free. It only requires easy and simple installations with detailed instructions provided by the manufacturer.
However, users should notice that once installed, it will stay still in the place. Users cannot fold it up after the usage. Last but not least, it can support up to 330 pounds of capacity. Users should be confident in storing the items on the board.
5. Haotian FWT18-SCH Drop-Leaf Table Desk, Wood Children Table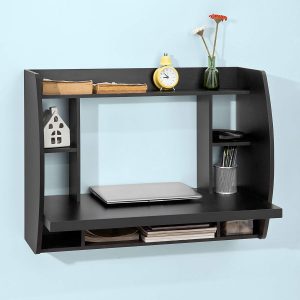 The desk has a classic look with three colors available, including black, white and espresso. It uses the robust structure for its design to maximize the capacity to load. With the dimensions measure at 32.28 x 8.66 x 23.62 inches, it has the capacity supporting up to 66.14 pounds. Made of MDF and chipboard, it features a strong structure with shelves on the top and side. It also includes 3 drawers to store books and documents. Moreover, it is equipped with cable and wire management which aims to organize the desk.
The only flaw is that it does not provide a perfect flat surface. The center of the main board can be somehow bowed. However, users can easily set up the desk themselves with the instructions provided by the manufacturer.
4. Haotian Folding Wall-Mounted Drop-Leaf, Kitchen Dining Table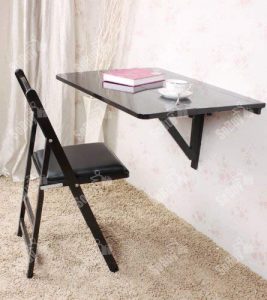 This model is a board attached to the wall to serve as a table. Its function is not limited to use with working, but users can also use it to serve as a dining table. It is made of wood, and it looks stylish in its black color. Its dimensions measure at 31.5 x 24.02 inches, while its thickness is 0.71 inch. The weight of this table is only 17.64 pounds, but it can support up to 55.12 pounds.
When it is not in use, users can fold it up easily to save space for storing other things. It is easy to install and clean which helps users to save a lot of time and effort from assembly to cleaning.
3. Walnut Floating Desk with Drawer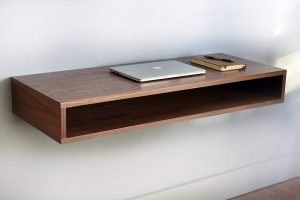 The desk comes in the walnut grain design. Its size is large enough to let the users work with comfort and confidence, while it is also small enough to be perfectly suitable for the roomy space. The desk is made of 100% of American wood and completed in low VOC on the surface. The package of the product includes all the necessary hardware for users to install easily, just attach the bar to the wall and let it slip on desk.
The only drawback of this product is that its interior space may not be completely cleaned, and therefore, users have to spend extra time on making it smooth.
2. Southern Enterprises Fold Out Convertible Desk 22″ Wide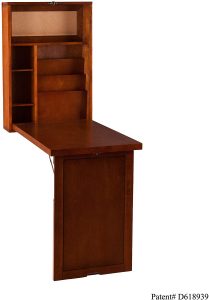 It is available in three beautiful and elegant colors: walnut, antique white and black. The desk includes many features for the maximum storage, including bill organizers, adjustable and fixed shelves and corkboard. It can fit in perfectly in any parts of the house, including working office and living room.
The storage area of the desk is constructed from MDF and veneer which do not demand the users to assemble it. Its overall dimensions measure at 22 x 36 x 58 inches when the users completely open it. Moreover, while it only weighs 16 pounds, it can hold up to 20 pounds of the entire storage.
For the cleaning, you can simply do it with dry cloth which is soft enough to maintain the quality of the surface.
1. Prepac Storage and Keyboard Tray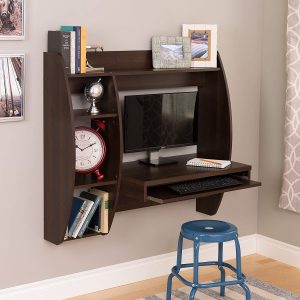 As the best wall mounted desk among the list, it is highly recommended by the consumers with 4.2 out of 5 star ratings. It is available in 2 color choices: white and espresso. Users can choose their own heights with this desk to suit their own preferences. It is equipped with a new hanging system supported by metal rail. Moreover, it features 2 shelves on the side, which are all adjustable to fit the heights of the items. The product's dimensions measure at 40 x 19 x 39.5 inches after the assembly. It is small to save for the room while it is also big to store a lot of items on it.
Frequently Asked Questions about wall-mounting desk |Wall-Mounted Desk
How to build a floating desk?
Building a wall-mount desk requires skill, tools and materials. To me, I would recommend you to buy a Ready-To-Assemble one to save your time and money from buying the tools for the production. However, if you are keen to make one by yourself, you can watch the video on how this guy made the one in this step by step guide below.
How much weight can a wall-mounted desk support?
Manufacturer builds wall-mounted desks with different sizes and holding capacities. Normally, it can support between 20 lbs to 100 lbs depending on the materials used and numbers of screws use. However, please don't sit on the desk and expect it to be as strong as a standard standing table. Its capacity is just enough for holding your laptop to work on and other working/study stuff only.
Why do we need a wall-mounted desk?
Wall-mounted desk is a great alternative to a standard desk as it is built to attach to your wall. The design of the desk allows people, who have a narrow room space, to get a proper table to place a laptop for their work and study. Some wall desks also come with different shelves, providing us with various spots to keep our book, flower vase, and other study materials.
If you have a kid, the wall desk is the best option for them to study, practice their writing and reading and do many other activities on it. Your child will love it to have one in their room.
What to Consider before Buying a Floating Desk, Wall-Mounted Desk
With the right wall-mounting desk, users can do a lot of jobs such as storing the items on the shelves with good protection, enjoying the writing time on the flat surface and using it for other purposes like dining and crafting. So, before buying the one, you should take notes of some features:
Size of the desk
Different sizes aim to fulfill different needs. If you need to do many things at the same time, you should consider a bigger opening dimension.
Holding capacity
The capacity varies between 20 and 100 pounds. If you have more items to store on the board, you should take a closer look at the maximum capacity to fit your needs. Yet, never expect to sit on it like a standard table.
Shelves
Some desks come with side and top shelves while others are not. If you need some shelves to put the books and photos, get the one with more shelves. Otherwise, just get a standard desk without the shelves.
Conclusion
Coming down to the end, we hope you have found the best desk for yourself or your kid. Our team has spent quite amount of time doing research and in-depth study on each of these wall desks because we want to make sure you get the good quality one. We hope you find the article useful for your buying decision. Cheers!
Last update on 2023-10-03 / Affiliate links / Images from Amazon Product Advertising API