Gloves, helmet, and waterproof shoes are not all you need for gardening. There is something else that makes the gardening smoother, easier, and more fun-filled for you and it is the 'kneeling pad for gardening and work'. They protect your knees from severe injuries that might happen while kneeling on the bumpy surface of the garden. Plus, they also ensure a smooth and comfortable gardening experience keeping your body balanced.
When you'll go out to buy a set of garden kneeler, you'll get different types of them varying in size, features, and quality. However, you don't need to get into this endless ocean of knee pads. We have already researched and brought together the top 10 gardening knee pads for you. Check the list out and grab the one for you.
List of the 10 Best Gardening Kneeling Pads in 2023
Kneeling Pad Reviews
10- Kneeling pad extra thick waterproof garden kneeler by PEP STEP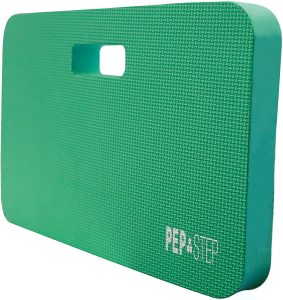 If you're looking for multi-purpose gardening knee pads, PEP STEP has something interesting in store for you. Made from 1.5 inches padded foam, the kneeler pad is super thick and can be effectively used as a bathing, plumbing, and carpeting pad, other than just as a garden kneeler. Moreover, it is also 18×11×1.5 inches large in size and offers you enough space to sit comfortably on the pad. Given the fact, you can use this awesome knee pad as an exercise pad, prayer mat, or baby's play mat. To provide you easy portability, the kneeler pad is built in with an easy-to-hold handle. Just hold it and take wherever you want. On top of everything, it is waterproof and weather-resistant. So, you can use it outdoors without any worries.
Key features
Padded foam construction
Size: 18×11×1.5 inches
Thickness: 1.5 inches
Multi-purpose
Waterproof and lightweight
9- NoCry Home & gardening knee pads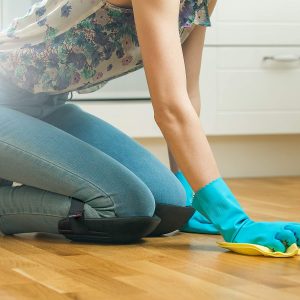 Are you tired of those knee pads that keep slipping down leaving your knees bare? Well, then, No Cry gardening knee pads will please you with their awesome features. Unlike others, these knee pads are equipped with 'hook n loop' straps, which let you fasten the pads in your knees tightly. No more slipping off and no more irritation.
To achieve the perfect fit, you can adjust the strap between 13-20 inches. Considering the fact, these knee pads can be used by men, women, teens, and even young kids. Owing to the design of the straps, you can quickly put on and off the pads without any problems. As for its construction materials, the pads are made of high-quality EVA foam that makes them cushioned, waterproof, weather-resistant, lightweight, and skin-friendly.
Key features
Features securing straps
Hook n loop straps
0.5 inches thick EVA foam construction
Adjustable size
Versatile and multi-purpose
8- Kneeling Pad for gardening by PEP STEP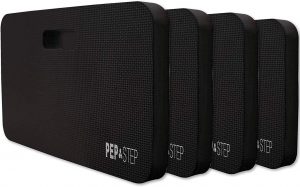 This kneeling pad for gardening by PEP STEP features 2 kneeler pads of 18×11×1.5 inches. You can use these pads for any type of activities including gardening, floor-cleaning, painting, plumbing, and carpeting among others. In addition, you can also use them as a yoga mat, prayer mat, and kids' play mat.
Moving on to the construction materials, the pads are constructed of high-quality foam of 1.5 inches. Given the fact, they protect your knees very well and provide them added support. The best thing about these pads is that they don't get compressed even after years of using and work like new ones for a long time. Furthermore, the pads are designed with a built-in handle that ensures easy portability and makes it convenient for you to move them around.
Key features
A set of 2 packs
Size: 18×11×1.5 inches
Thickness: 1.5 inches
High-density foam materials
Features built-in handle
7- NoCry Professional Knee Pads with Heavy Duty Foam Padding and Comfortable Gel Cushion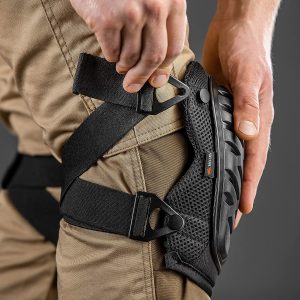 Want to know the secret of pro gardeners for gardening? Well, let us tell you. They actually have a pair of professional gardening knee pads like this one. What makes these NoCry knee pads professional pads is their innovative features, high-density construction materials, and remarkable user-friendliness. Made of high-quality EVA foam and having a soft gel core, the pads are so comfortable to wear that you won't feel any discomfort or strain in your knee even after wearing them for the whole day.
The top layer of the pads features a polyester shield that provides extra thickness under the knees and keeps them safe against the cuts and injuries. The unique feature of these kneeler knee pads is that they are designed with adjustable neoprene straps, which can be adjusted to the size of your knees.
Key features
Stylish design
Meant for pro gardeners
EVA foam construction materials
Adjustable rubber straps
Features a thick front shield
6- JYSW knee pads gardening & home knee protector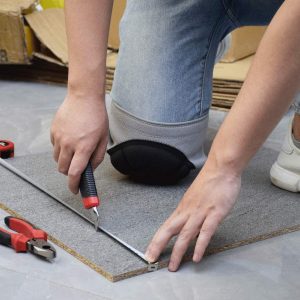 JYSW knee pads are a perfect blend of stylish design, high-quality construction materials, and flexible user-friendliness. Constructed of premium polyester fabric, these knee protectors are designed with EVA foam filling, which provides extra padding to your knees and protects them against cuts, bumps, and injuries.
To ensure a tight and secured grip, the knee protectors are equipped with adjustable straps featuring a Velcro fastening system. You can secure the Velcro according to the thickness of your knees and keep the knee pads tight and secured. Furthermore, it also features a non-slip silicone strip, which keeps the pads stable in their place and prevents them from slipping down. Given the fact, these pads can't move a single inch even if you indulge in intensive activities like playing and dancing.
Key features
Polyester fabric construction
EVA foam filling
Designed with Velcro fastening system
Extra cozy and secured
Features a non-slip silicone strip
5- BeGrit Gardening knee pads garden knee protectors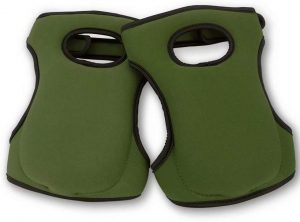 If you prioritize a sturdy and reliable construction, BeGrit gardening knee pads are the best choice for you. Unlike other gardening knee protectors, this pair of knee pads have double-stitching, which doesn't only avoid the tearing of the pads but also provide them reinforced support and makes them durable and long-lasting.
Made of premium-quality neoprene materials and having foam padding, the knee pads are super comfy, ultra-flexible, and sits securely on the knees. These knee pads are so adaptable that they automatically take the contour of your knee and ensure a tight grip. Adding more to its features, the knee protectors are equipped with extra-long anti-slip Velcro straps that let you adjust the size of knee pads and achieve a perfect fit.
Key features
EVA construction material
Foam padding
Double-stitching design
No-slip Velcro straps
Adjustable and durable
4- JYSW gardening knee pads, knee protectors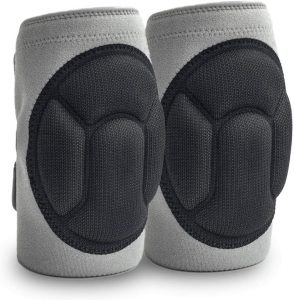 If you're looking for large-sized knee pads, JYSW gardening knee pads are made for you. The XL size of these knee pads makes them a perfect fit for the people with fat legs. Nevertheless, the gardening kneelers can be used by people of all ages and all sizes. All thanks to the non-slip design of the adjustable straps that secures the pads tightly on the knees. To ensure further stability, the pads are equipped with a non-slip silicone strip, which does its job without a fail.
Adding more to the awesomeness of the straps, they are equipped with a Velcro fastening system that makes it quick and hassle-free for you to put on and off the pad. Speaking of the construction materials, the pads are made of flexible polyester fabric and have a foam cushion.
Key features
Extra large size
EVA foam padding
Polyester fabric construction materials
Features a non-slip strip
Velcro fastening system
3- Knee Pads for work and gardening by ProJointz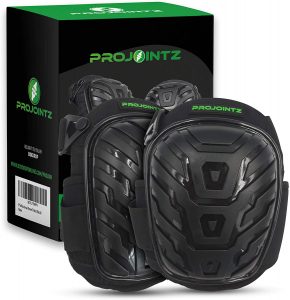 If you're a pro gardener and need a pair of advanced knee pads, leave all other knee pads and just have a look at this one. Designed with a front PVC shield, the knee pads provide you one extra layer of safety, unlike other knee pads. Owing to the construction materials and unique design, these knee pads can be used for different purposes from floor cleaning to laboring and gardening to farming.
To offer your knees maximum support and comfort, the pads are also designed with gel-coated foam that provides extra padding to the knees and protects them against injuries. In addition, the knee pads are equipped with Velcro and fit clips that allow you the flexibility to secure the pads tightly according to the size of the knee.
Key features
PVC-made front shield
Foam padding for knees
Velcro fastening system
Designed with a high-density gel
Multi-functional
2- Knee pads for work gardening best tool by Carib Gear Pro Safety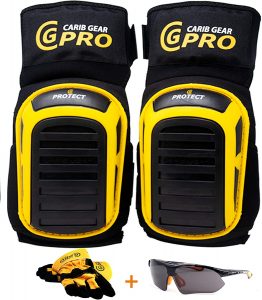 Carib Gear Pro Safety is a complete gardening gear for your safety. Unlike other gardening knee pads, this set of knee pads comes with an additional safety glasses and a pair of leather gloves. Thus, the kit lets you cover your essential body parts and enjoy a safe, comfortable, and smooth gardening experience.
Speaking of the construction materials, they are made of high-quality fabric and feature extra cushioned foam padding that allows you comfortable experience even if you have to wear the pads for the whole day. Furthermore, it is also designed with foam encased gel core that adds another layer of safety and comfort to the pads. To let you secure the pads comfortably on your knees, they are equipped with 10 inches large adjustable straps. Plus, they also have a non-slip design.
Key features
A kit featuring 3 tools
Lightweight and durable knee pads
Cushioned foam padding
10-inches large straps
Non-slip design
1. Knee pads for work and garden by REXBETI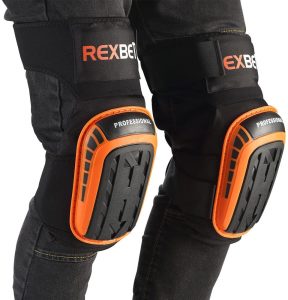 If you're in a hunt of large-sized knee pads with wide coverage, your hunt will definitely end at these knee pads. As compared to other gardening knee pads, this one is large in size and designed with extra thick gel and foam padding. Given the fact, it provides full coverage to the knees and protects them completely.
With their foam padding, thick gel, and PVC shell, the knee pads provide 3-layer safety to your knees and ensure a smooth kneeling experience. These pads are so comfortable that you won't feel any discomfort or fatigue in your legs even if you have been wearing the pads for the whole. Their flexible and stretchable straps secure the pads tightly in their place and reinforce not just the knees but also the thighs.
Key features
High-density foam padding
Non-slip design
PVC front shell
Adjustable straps
Reinforced stitching
Video: Demo Garden Knee Pads
by Emerald Bren
Key factors to consider while buying gardening knee pads
Gardening kneeling pads are meant for your safety. This is why be conscious and make the purchase only after considering the below factors.
Construction materials
Without beating around the bush, come to the main point directly. The construction materials of the knee pads will determine the functionality, durability, and overall quality of the pads. So, check it carefully and make sure your knee pads are made of high-density PVC polyester and have foam padding.
Securing straps
After investigating the construction materials, move your eyes to the straps of the knee pads. The straps of your pads must be adjustable and made of soft materials. In general, rubber-made straps with Velcro fastening system are considered the best, as they fit snugly on the body and ensure a comfortable yet secured grip.
Comfort level
No matter how pricey and well-built your gardening knee pads are, they are completely useless if they are causing discomfort to your body. This is why make sure your knee pads offer a comfortable and snug experience even after hours of wearing. Also, ensure that they have a non-slip design.
Versatility
Good-quality gardening kneelers are not meant just for the gardening. Instead, you can use them for different purposes from cleaning the floor to playing the game. So, check this thing carefully and go for versatile knee pads.
Conclusion
Indulging in gardening actively without keeling down is not practically possible. You're most likely to end up with injured knees while doing this if you're not equipped with knee pads. Buy one of these gardening knee pads and protect your knees while making the gardening more comfortable and convenient for you.
Last update on 2023-11-30 / Affiliate links / Images from Amazon Product Advertising API