A lot of hard work goes into making a beautiful garden, or in the success of a good harvest. With the huge development in the agriculture and farming industry, innovative tools have been made to make the taxing work easier and labor efficient. One such tool, without whose usage, the production will definitely fail is the sprayer. They are used to spray herbicides, pesticides, insecticides, and fertilizers to kill unwanted production and make your crops and your land healthy and productive, respectively.
The latest development in theses sprayers has led to them being battery-powered, thus reducing human labor and designing them like a backpack, making spraying comfortable and easy. Given below is a list of the best battery powered backpack sprayers to help you buy the correct product.
List of the 9 Best Battery Powered Backpack Sprayers in 2023
Product Reviews
1. Most Long-Lasting: Field King Professional Battery Powered Backpack Sprayer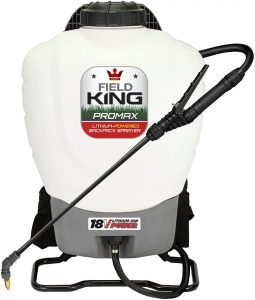 Brand: Field King
Spray Duration: 4 hours
Color: White
When dealing with chemicals, it is extremely necessary to use the right materials, materials that do not corrode in these chemicals. Field King's Battery Powered Backpack Sprayer comes with a powder-coated steel frame; they serve a dual purpose. Firstly, and most importantly, it makes the sprayer chemical resistant, and therefore, it does not corrode on using any chemical. Secondly, it increases the durability and lifetime of the product.
Besides, it has a triple filtration system that prevents clogging during usage and enables pump longevity. Also, the fully padded harness makes spraying larger areas of land quick and less tiring. This sprayer will be your companion in easily spraying your fields for a long time.
Key Features
2.1Ah 18V battery
Full padded harness for all day long comfort
Professional shut-off to reduce hand fatigue
Adjustable Shoulder Straps
4 adjustable brass nozzles for versatility
No pumping required with liquids and water-soluble solutions
2. Most Spray Time: Hudson Never Pump Battery Operated Sprayer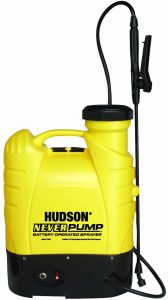 Brand: Never Pump
Spray Time: 10 hours
Color: Yellow
The Never Pump Battery Operated sprayer from Hudson has impressive battery life. The package includes an AC charger that completely recharges the battery within 9 hours. Once fully charged, the battery is capable of spraying for 10 hours in a single go. With this long time, you can easily and quickly cover a large area of land without having to replace and recharge batteries.
Also check: Top 10 Best Water Dispenser Pumps in 2023 | Water Bottle Pump Reviews
Its tank is made of tough, translucent material that is sturdy and durable. It also has a wide-mouthed opening for easily refilling the liquid to be sprayed. The sprayer can be easily operated through the thumb only, and it allows 4 different spray settings for different kinds of materials. This versatile tank is a good and long-lasting option​ and small farming land. If you have a huge farming land area, it's a better idea to try these new invented agriculture spraying drones. They are effective and save you a lot of time.
Key Features
Premium shut-off feature for continuous spraying
Adjustable padded shoulder straps for comfort and support
Wide mouth opening for easy refill
4 nozzle system
Tough and sturdy
3. Most Widely Used: M4 MY4SONS Battery Powered Backpack Sprayer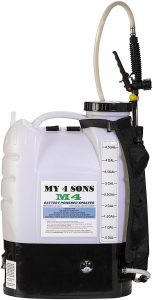 Brand: M4
Spray Time: 6-8 hours
Color: White and Black
MY4SONS is an automatic backpack sprayer by M4 that can be used for any job that requires spraying. Ranging from spraying pesticides and herbicides to the concrete sealer and deck stains, it will make all jobs easier. Its wise adaptability is its special feature. Other than this, it holds the capacity to spray 200 gallons of solution at once. Its battery lasts up to 6 hours, and because of its automatic functioning, you don't have to worry about pumping.
The tank can be easily both refilled and cleaned because of its wide mouth lids. It also contains multiple filters to avoid unwanted things being sprayed along with the chemicals or causing hindrance in the spraying process. With all its features, this sprayer will reduce your work time by 50%.
Key Features
Automatic Backpack Sprayer
Long-battery life and quick recharging battery
Durable and long-lasting
Wide-mouthed opening for easy cleaning and refill
Includes both stainless steel and active bleach wand for wide usage
4. Best Among All: Petra Powered Backpack Sprayer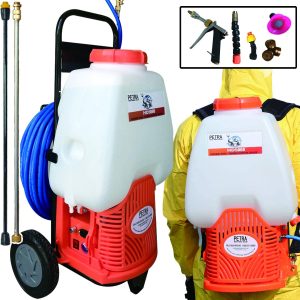 Brand: Petra
Spray Time: 6-8 hours
Color: Orange and White
If the spraying has to be done on a large commercial level, there have to be certain required features in the sprayer to make the work perfect and effective. Petra sprayer is one such product. The sprayer comes with a custom-fitted cart and a 100-foot commercial quality hose. Both these features are the ones that make it special and a perfect fit for professional spraying. The cart makes covering large areas of land easier, and the long hose can be used to spray to faraway areas.
Your package includes battery and charger that charges the battery in 8 hours. This ensures that your work will not stop with the quickly chargeable battery. Also, to enhance your trust with the company, the company gives you a one-year warranty. This is the sprayer you need if you have to commercially spray a large area of land.
Key Features
Quickly recharged
Powerful Engine
Ergonomic tube-mounted lever helps to control the speed
Comfortable Backpack
1-year Warranty
Also check: 15 Best Honey Extractors for Small and Large Honey Farms in 2023
5. Best Design: VIVOSUN Battery Powered Backpack Sprayer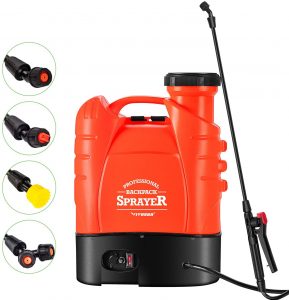 Brand: VIVOSUN
Spray Time: 8 hours
Color: Orange and Black
The structure of this backpack sprayer has been designed with unique construction and a smooth streamline for comfortable carrying. The design has been made to mirror the structure of your back by introducing smooth contours. This makes carrying the weight around much easier and comfortable.
The material used for making the body of the sprayer is thick and ensures durability and strength. The new plastic used does not fracture when dropped. Also, it has a mirror to check the water level, and saves your time by not having to open the lid time and again. It also has built-in filtration to automatically isolate unwanted particles. Overall, this sprayer with a one-year warranty will make your spraying less tiring and more efficient.
Key Features
12V/10Ah battery
Lightweight and compact
Unique design that promises more comfort
Use of new plastic that makes the product durable
One-year warranty
6. Most Compatible: Happybuy Battery Powered Backpack Sprayer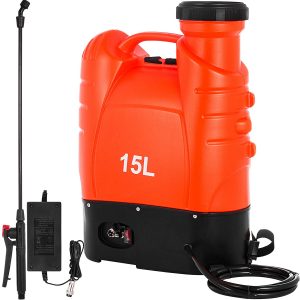 Brand: Happybuy
Spray Time: 10 hours
Color: Orange and Black
Just like the name of the brand suggests, purchasing this backpack sprayer will leave you happy and satisfied. With all the standard features of a battery-powered backpack sprayer, it comes with four different nozzles for varied spraying. The cone nozzle sprays on target to reduce waste, the shower nozzle sprays a fine mist and is useful to spray at high places and penetrate gravel or bark, the dual cone is ideal for quicker coverage of large areas and the fan sprays flat surfaces with less drift. This range of nozzles makes the sprayer more efficient and widely applicable.
Other than this, it has an impressive spray time of 10 hours, and the charger can fully charge the battery within 4 hours. The high-quality material makes it water-resistant and durable. In other words, this backpack sprayer is a complete package of all the desirable features.
Key Features
Made of high-quality material
4 different nozzles for wide application
Wide mouth screen filter
Comfortable wide strap
7. Cheapest Among All: Roundup Backpack Sprayer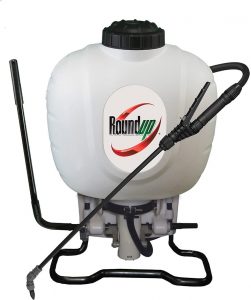 Brand: Roundup
Spray Time: Not mentioned
Color: White
If you have just stepped into farming and agriculture, it is not only understandable but also wise not to spend a huge amount of your investment in a sprayer. To maintain the balance in your expenditure, this battery-powered backpack sprayer is a great option for you. It has all the standard features that you will require in a sprayer and comes at a very affordable cost. Also, it is made of a chemically resistant material that is also durable and long-lasting.
It comes with a comfortable strap and 3 different nozzles for comfort and adaptability, respectively. Overall, this sprayer is a steal for an affordable price, and you shouldn't miss this golden opportunity.
Key Features
Pocket-friendly
3 different nozzles
Chemical-resistant and durable material
Adjustable padded straps for support
Integrated carrying handle and end storage
8. Best Under $100: Solo Professional Piston Backpack Sprayer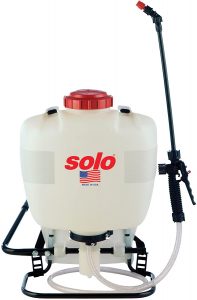 Brand: Solo
Spray Time: Not mentioned
Color: White
The size of this backpack sprayer is it's a most distinct feature. Not always will you require a sprayer with a large capacity. If you want to professionally maintain a small piece of land and do not require a sprayer with a large capacity, this is the best option for you. You can easily lock the on/off position using the shut-off valve. These features decrease the work that you have to do and minimize your fatigue.
Thoughtfully designed, it has a large tank opening that makes it easy to refill and clean quickly. With this sprayer, thus, you can very conveniently spray liquid disinfectants, fertilizers, herbicides, and pesticides for the protection of your dear plants and trees.
Key Features
Compact and thoughtful design
Large opening for refilling and clean tank
Comes with a commercial shut-off valve
Four changeable nozzle sprays
Long service and durability
9. Best Value for Money: Scotts Battery Powered Pump Zero Technology Sprayer

Brand: Scotts
Spray Time: 12 full tanks per charge
Color: White
The backpack sprayer by Scotts is designed in a way to prioritize your safety above all. Its thoughtful teardrop-shaped tank adds stability by lowering the center of gravity. Also, its built-in nozzle enhances storage and protection. It also has a special pressure release valve that allows you to safely remove all the internal pressure prior to opening the sprayer. The material that it is made of ensures long resistance to all chemicals and makes the product long-lasting and durable.
The battery reaches quickly and, once fully recharged, has a lifetime to spray 12 full tanks at once. Basically, this battery-powered backpack sprayer with all the desirable features is one that offers the best value for money performance.
Key Features
Rechargeable lithium-ion power
Premium commercial grade shut-off
Special teardrop-shaped tank
3 in 1 nozzle with three settings
Video Reviews: Field King Backpack Sprayer
by DIY Reid
FAQs (Frequently Asked Questions)
Ques 1: How Is The Backpack Sprayer Supposed To Be Cleaned?
Ans: In many cases, there might be different sprayers for spraying different chemicals. Cleaning the sprayer again and again, in this case, is not very necessary. However, whenever this is not the case, the sprayer should be thoroughly cleaned before using a different chemical. If this is not done, the chemicals may react with each other and cause harm to your crops and plants. Cleaning can be simply done by running at least a gallon of water to make sure that it is clean.
Ques 2: How Far Can A Backpack Sprayer Spray?
Ans: The answer to this question is different for different products. Maintaining the travel speed and distance is not easy for any sprayer. However, talking about a general, standard speed, most sprayers can spray up to a distance of 30-35 feet. Rest depends on the way you handle the machine. Wind also plays an important part in determining this distance.
Ques 3: Is It Possible To Use Weedkiller And Insecticide In The Same Sprayer?
Ans: These are two different kinds of chemicals, and to use them both together even in small proportions could be risky and harmful for your plants. Some chemical reactions might occur, and the resultant chemical might be dangerous to your plants. Therefore, washing the gallon before switching the chemicals is advisable in all cases.
Conclusion
Gardening and farming, along with being an extremely taxing work, is also one of great responsibility. The lives at stake are not only yours but of those that consume your produce. To be able to live up to this responsibility is a huge but difficult accomplishment. The above list is one of the backpack sprayers that will help you in keeping unwanted weeds and pests away from your produce. Your farms and crops will be happy and healthy and will fill the stomachs of many. The list is a comprehensive one and explains the features of all the mentioned products. You can choose one that will satisfy your needs.
Last update on 2023-11-30 / Affiliate links / Images from Amazon Product Advertising API