You simply can't resist the captivation of a house featuring an appealing hanging garden. It literally seems out of the world. A hanging garden doesn't only double up the outlook of the house but also makes it a more serene and graceful place for you. The interesting thing is that you can doll up your home with a hanging garden without investing much effort and money. For that, all you need to do is to buy a "hanging planter". Get the best hanging planter will help you to make the decoration of your home, restaurant or office beautifully. To help you with the purchase, let us introduce you to the top 10 best hanging planters of the year so that you can buy the best one for yourself.
List of the 10 Best Hanging Planters in 2023
Product Reviews
10- Amagabeli 4 pack metal hanging planter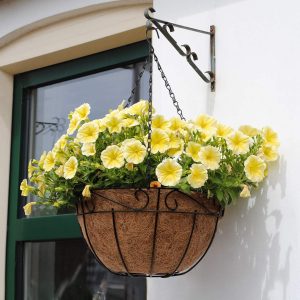 Amagabeli metal hanging planter is a set of 4 hanging baskets. Each basket is 7 inches deep and the diameter is 14 inches. Given the fact, you can grow plenty of plants in these baskets. Speaking of the construction materials, the baskets are made of sturdy steel and they feature a 16.5 inches long metal chain and a robust metal hook. Furthermore, the set also comes with 4 coconut liners that are meant to be kept inside the steel baskets. Provided that, the baskets remain securely in its place and hold up the weight effectively too. Not to forget, all parts of the basket have a vinyl coating all through that makes them rustproof, corrosion-resistant, and ultra-durable.
Key features
A set of 4 baskets
Steel construction
Features 16.5 inches large metal chain
Equipped with robust hook
Rustproof and waterproof
9- Foraineam round basket hanging planter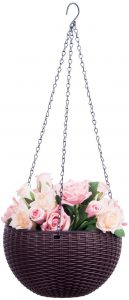 If you love vintage-style items, Foraineam hanging plant basket will surely sweep you off your feet. The classical design of this basket will add a touch of lush elegance to your sophisticated home decor. Made of heavy-duty PP materials, the basket has a woven-like outer texture that renders a beautiful look to the basket. Unlike many other hanging plant ports, this basket has a dual-pot design. The inner pot is designed with a drainer, while the outer pot is equipped with a drainer plug. Thus, the excess water drained out from the inner pot gets stored in the outer pot and keeps your plants moisturized for days. Moving on to the size, the basket is 6.1 inches high and its diameter is 10.2 inches. Besides that, it also features a 17.7 inches long triple-chain hanger.
Key features
Dual-pot design of the basket
Features 17.7 inches triple-chain iron hanger
6.1 inches high basket
Constructed of PP materials
Inbuilt with a sturdy hook
8- Umbra Trigg hanging planter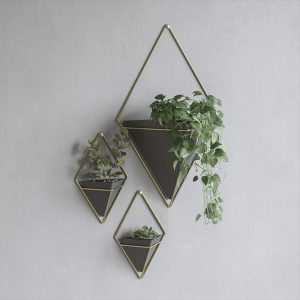 Want a hanging plant basket to decorate the walls of your room? Well, then go for this one. Unlike others, Umbra Trigg hanging plant basket is purposely designed for wall decoration. Given that, you can install it on the wall without any problem. The set includes 2 planters, each measuring 4.75×2.5×7.5 inches. The best thing about owning this planter is that you can use these baskets to store your accessories, stationery supplies, and makeup items other than just the plants. Yes, you can. The unique design of baskets makes them versatile. Having a diamond-shaped design, the planter adds a dynamic charm to indoor space. Moving on to the construction materials, the baskets are made of glittering ceramic and framed by a sturdy wire from all around that makes it durable and easily mountable.
Key features
Meant for wall mounting
Unique diamond-shaped design
A set of 2 planters
Ceramic construction with wireframe
Versatile
7- Keter Resin set of 2 round hanging planter baskets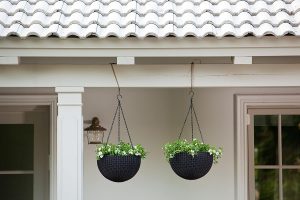 Keter Resin hanging plant pot is the best fit for you if you love the rattan design of the basket. Its appealing rattan design with a real-like woven texture puts it apart from others. Speaking of the construction materials, the basket is made of premium-quality polypropylene resin that is free from rusting, denting, peeling, and color fading. Plus, it won't be affected by the water either. Given the fact, this planter can be used outdoors without any worries. The set includes 2 baskets and each basket is 13.78" wide× 13.78" deep×8.66" high. Even after being bulgy in size and holding a large number of plants, the baskets don't move from their place even slightly. All thanks to their triple-chain iron hanger and the hook that make it possible.
Key features
Features 2 baskets
Rattan-designed baskets
Baskets equipped with drainage plug
Features triple-chain iron hanger
Polypropylene construction material
6- Hanging planters for outdoor plants by La Jolie Muse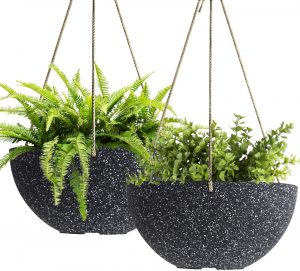 As the name says clearly, La Jolie Muse hanging plant basket is made for outdoor purposes. Nevertheless, it can be effectively used indoors too. The set includes 2 baskets and each one measures 10" diameter×4" depth ×4.7" high. The thing that makes these baskets an ideal fit for outdoors is their construction materials of plastic and natural stone powder that make it durable, waterproof, and rustproof. Not only this but the baskets are also incredibly lightweight and portable.
The outer layer of the baskets has a concrete-like design that renders the pot a completely natural look. To ensure you reliable and secured hanging, these baskets are equipped with a triple-rope hanger. The great thing about this planter is that you can adjust the height of the hanger according to your needs.
Key features
Set of 2 baskets
Basket size: 10×4×4.7 inches
Construction materials: plastic and stone powder
Adjustable rope hanger
Lightweight and portable
5- Sungmor pack of 2 hanging planter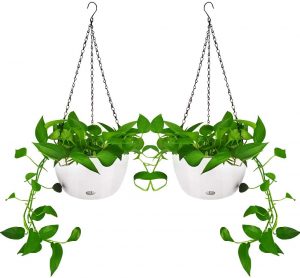 Sungmor hanging planter is an unmatched blend of modish design and sturdy construction. Made of robust resin materials, the planter is waterproof, rustproof, corrosion-resistant, and can hold the weight of plants efficiently. There is no chance of basket getting peeled, faded out, and cracked no matter you're hanging it indoors or outdoors. From a patio to the porch and balcony to your room, you can use this planter anywhere. Plus, it is also completely eco-friendly.
The set includes 2 baskets of 9.44" diameter× 5.3 height. Each basket is equipped with a sturdy triple-chain hanger and a hook that together provide reliable hanging and keep the basket stable in their place. On top of everything, these baskets are designed with a water-controlling device that ensures easy watering and protects the roots of the plants from damage.
Key features
Features 2 baskets
Sturdy resin construction materials
Eco-friendly and versatile
Steel made hanger and hook
Equipped with a water-controlling device
4- Umbra Bolo hanging planter

The unique design of Umbra Bolo hanging planter makes it a head-turner in the market. Unlike its competitors, it has a completely different design that will surely take the natural display and sophisticated décor of your home to the next level. The basket of this planter is relatively small. Still, it can seamlessly hold the weight up to 6lbs. Speaking of the size, the diameter is 6 inches, while the height is 43 inches including the rope holder.
Made of high-quality ceramic, the basket is durable, stylish, and can be used outdoors without any worries. Above all, this planter can be mounted and hanged anywhere from walls to ceiling and balcony to the patio. Don't worry about the installation. The set comes with all essential mounting hardware and instructions.
Key features
Unique design
Ceramic constructed basket
Can hold up to 6lbs
Wall-mountable
Size: 6" diameter× 43" high
3- Sungmor bowl-shaped garden hanging planter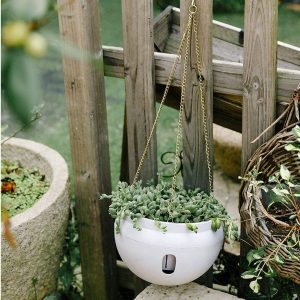 The bowl-shaped design of this hanging plant basket never fails to grab the attention of people like you who're looking for a stylish and high-quality hanging plant basket. Seriously, it is one-of-a-kind from its voguish design to impressive features. Made of heavy-duty PP materials, the basket isn't only durable and sturdy but also incredibly lightweight and completely eco-friendly. What to say more, it is even free from rust, color-fading, peeling, and cracking.
The size of the planter is 23.2L×23.2W×15.7H cm and it can seamlessly hold the soil up to 2.5lbs weight. On top of all, the basket has a dual-pot design and water-storing capability. Given the fact, the basket can seamlessly supply the water needs of plants for a couple of days when you're unable to water them.
Key features
Bowl-shaped dual-pot design
Equipped with triple-chain hanger
Features a hook
Self-watering system
PP construction material
2- Bloem Terra cotta hanging garden planter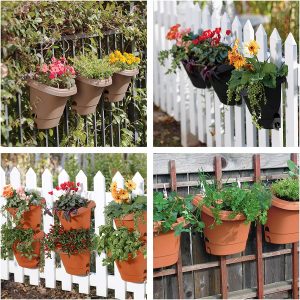 If your patio or balcony has literally no space and that is why you're looking for a space-saving hanging basket planter, look no further than Bloem Terra hanging garden planter. Its compact design lets you hang it even in low-space areas. Just because it has a space-saving design, it doesn't mean it is small in size and doesn't have a good holding capacity. No! The hanging plant pot is not lesser than its competitors when it comes to features, quality, and holding capacity.
It is its design that makes it unique. Unlike others, it doesn't feature a hanging holder. Instead, it comes with steel fasteners that enable you to install the planter easily anywhere. The set features 3 baskets and they can be hanged in different styles. Each basket is designed with a self-watering grid, which allows the basket to store the water and keep the plants moisturized for long hours.
Key features
Space-saving design
Doesn't features any hanger
Comes with steel fasteners
A set of 3 baskets
Baskets equipped with a self-watering grid
1. TABOR TOOLS self-watering hanging planter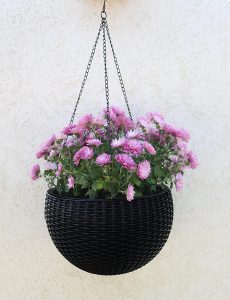 The long list of happy customers under the name of Tabor TOOLS hanger planter makes it a top hanging basket planter in the market. With its awesome features and awe-inspiring design, it never fails to impress the people. The basket has a modish rattan design that is truly appealing and irresistible. Speaking of the features, the planter features dual pots that enable the self-watering functionality of the basket and protect your plants from over as well as under-watering. The basket even features a water level indicator that lets you know when the basket needs to be refilled. Made of high-duty plastic materials, the basket is 7 inches high and the diameter is 10 inches. Not to forget, it also features a long triple-chain hanger.
Key features
Stylish rattan design
Features triple-chain hanger
Plastic construction
Designed with water level indicator
15kg holding capacity
Video: How to Hang the Planter
by Harli G
Key factors to consider while buying a hanging planter
Since a hanging planter can affect the whole display and decor of your house, you need to buy the most suitable one and you'll able to do that only if you keep the below-mentioned factors in mind while buying it.
Size and holding capacity
Begin with the size. Here, you don't have to check the overall size of the planter. Just pay attention to the size of the basket and make sure it is large enough to hold at least 2-3lbs of soil efficiently. At the minimum, the basket should have a diameter of 10 inches and a height of 6 inches.
Design
One of the main purposes of buying a hanging plant basket is to add charm to your home. Isn't it? This is why make sure your planter has an appealing design and it accentuates your home décor. From rattan-design to vintage-style, you can get various types of hanging plant pots in the market. Go for the one that can blend in with your home décor seamlessly.
Construction materials
This is the most significant factor that you need to consider while picking your hanging basket planter. Investigate carefully the construction material of the basket as well as the hanging holder. In general, the top-quality hanging planters are designed with a heavy-duty PP basket, a triple-chain metal hanger, and a hook.
Additional features
You're not done yet. In the end, take a quick look at the additional feature of the planter. Check whether it is equipped with advanced functions such as self-watering system, water-level indicator, and over & underwater controllability or not. Also, pay attention to the versatility, portability, durability, and user-friendliness of the planter.
Conclusion
Get one these hanging planters and infuse your home with the blended charm of natural beauty and sophisticated décor. These enthralling planters will definitely boost the allure of your home by providing it a unique, distinctive, appealing, and aesthetic look.
Last update on 2023-10-03 / Affiliate links / Images from Amazon Product Advertising API