There can't be anything more annoying and hectic than searching for an important paper when your room is all cluttered. Literally, you'll find everything except for that particular paper. Does it happen to you too?  If yes, you should consider buying a filing cabinet. File cabinets are available in different color and shape in the market, but if you want a classical one, go for a white filing cabinet. The below list will help you to get the best white filing cabinet.
List of the 10 Best White Filing Cabinets in 2020
Product Reviews
10- Winsome 10519 Halifax Storage/organization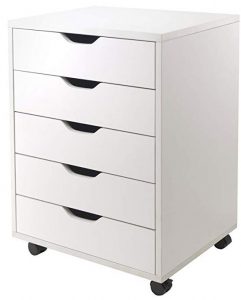 Getting a large yet portable filing cabinet is really difficult. But, Winsome 10519 Halifax filing cabinet makes it easy for you. Yes, it is large in size and can be easily moved around. To offer you easy portability, this filing cabinet is designed with 4 wheels including 2 locking wheels. The filing cabinet features 5 sliding drawers, which all have cutout handles. The drawers hold even big files effectively. The assembly process is also hassle-free.
9- SystemBuild 7368401 PCOM Kendall 3 drawer base cabinet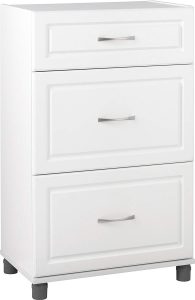 SystemBuild 7368401 PCOM Kendall is a 3-drawer filing cabinet. Out of 3 drawers, the bottom 2 are large while the top drawer is small. The filing cabinet is built with ArmorCoat surface, which not only makes it robust but also protects it from water, stains, and scratches. Furthermore, it is designed with adjustable feet, so you can adjust them as per your needs. It also comes with a wall anchor kit, which can be used to prevent it from tipping and tilting.
8- Devaise Locking File cabinet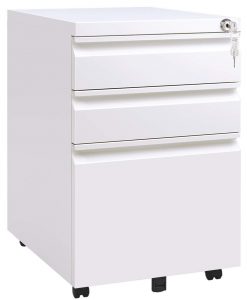 If you're attracted to the stylish design and fancy looks, you'll fall for this white filing cabinet. With two stationery drawers and one filing drawer, it has a huge holding capacity. In fact, you can keep legal size, letter size, and A4 hanging files in this file cabinet. As compared to other white filing cabinets, this one is small in size. Given the fact, it can fit under most of the desks. It features 5 casters including one center caster, which prevent tipping. The front 2 casters are lockable.
7- Z-Line designs 2-drawer White Lateral file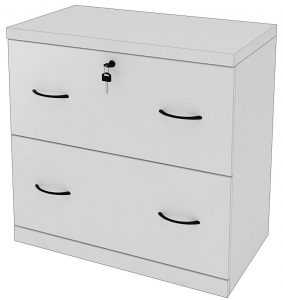 If you want the rare combo of style and durability, turn to this white filing cabinet. The cabinet features 4 lockable drawers and they all are designed with the stylish handles and the smooth glides. To add more to it, the glides are fully extendable and do their job flawlessly. With its white finish combined with black accent, this file cabinet allures the people. Speaking of its holding capacity, it can accommodate letter and legal size files. The drawers are secured with metal rails for the easy lifting of files.
6- Z-Line Designs 2-drawer white vertical file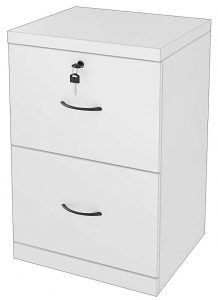 Another white filing cabinet with white finish and black accent. If you're looking for a small white filing cabinet, this will perfectly fit in your needs.  Though it is small in size and has only 2 drawers, it can still accommodate a large number of files. The drawers are meant to hold letter and legal size files. However, it won't create any hassle for other types of files too because the drawers are built with metal rails, which provide extra support for the files. Needles to mention, the drawers are lockable.
5- SystemBuild Kendall wall cabinet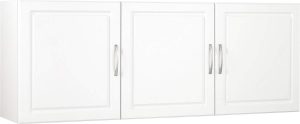 SystemBuild Kendall wall cabinet is different from other white filing cabinets. Do you know why? Well, because you can install this white filing cabinet on the wall. Given the fact, it doesn't only save space in your room but also utilizes your unused wall space. However, its assembly process is a bit complex. Made of laminated MDF and particleboard, it is completely water-resistant and can be cleaned with a damp cloth without any worries. The cabinet has 2 shelves, where you can store piles of your files.
4- SystemBuild 7369401PCOM Kendall stackable storage cabinet
If you want an advanced white filing cabinet, consider buying this one. Seriously, it is a head-turner in the market when it comes to advancement and stylish design. Unlike many other white filing cabinets, this one is a stackable storage cabinet. With that said, you can stack its shelves on the top of one another. This way, it doesn't only customize the space but also makes your room look clutter-free. Sounds cool, no? Well, then go for it. you'll definitely love its amazing versatility, stackable design, and reliable durability.
3- Hirsh 20 in deep 2-drawer mobile file cabinet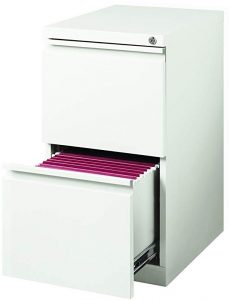 If the solid construction of a cabinet is your priority, you should buy Hirsh drawer file cabinet. Made of stainless steel, it is ultra solid and highly durable. The file cabinet has fully welded construction. Given the fact, it will last for years without any damage. Both of its drawers are fully extendable and designed with ball-bearing suspension, which allows a smooth and flawless drawer operation. Furthermore, its hidden casters render a clean, sleek, and clutter-free look. However, it can hold only letter-size files.
2- DEVAISE 3-drawer mobile file cabinet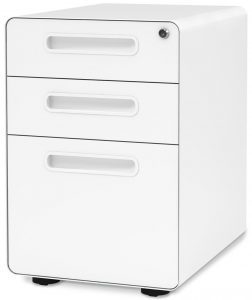 Get DEVAISE 3-drawer mobile file cabinet and take your home décor to the next level. Seriously, it is just classic. Owing to its compact design, the file cabinet is easily portable and can be fit under most of the desks. The cabinet features 3 drawers. Out of them, two are stationery drawers and one is a hanging-file drawer. The stationery drawers are designed with stationary trays, which provide you additional space for your small items. The cabinet is also designed with anti-tilt mechanism, which prevents the cabinet from tipping and allows only one drawer open at a time.
1- Calico Designs Parent Mobile Lock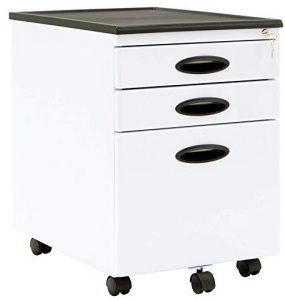 After looking at this file cabinet, you won't wonder why it is ranked top on the list. From its ultra classical design to solid construction, and from easy portability to reliable durability, Calico Designs parent mobile lock filing cabinet is just unbeatable. Top 2 drawers are small in size while the bottom one is large, so keep your files accordingly. You can keep letter and legal size files in this cabinet. To ensure firm stability, the file cabinet is designed with 5 casters including a center caster.
Conclusion
So, these are the top 10 best white filing cabinets in the market right now. Get one of them and keep your files organized. A white filing cabinet will not only save tons of your time but also increase your work productivity