Digging deep and narrow post holes manually for fencing, planting, and any such purposes is not an easy job. It is really tiresome and requires lots of time and effort. So, why not to take the shelter of electronic machines? Yes, there is an awesome tool called 'electric post hole digger' that will simplify this process for you. With the help of it, you can instantly drill precise holes on any surface and install the posts in no time. With so many options available in the market, buying the right one can be a little challenging for you. This is why we have researched and pulled together the top 10 electric post hole diggers for you. Take a peek around the list and get the one.
List of the 10 Best Electric Post Hole Diggers in 2023
Electric Post Hole Digger Reviews
10- Landworks earth auger post hole digging set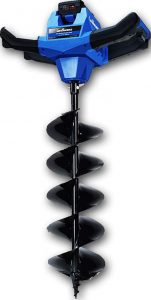 Let's start with a Landwork post hole digging set that is known for its remarkable drilling operation. Built in with a brushless motor and a 2Ah Li-ion battery, the digger works at a high speed of 320 RPM and provides instant drilling. Moving on, the auger is designed with a 3-planetary gear mechanism that ensures high transmission efficiency.
To offer you full safety while using the tool, it is also equipped with an overload protector, which protects it from overheating no matter how long you have been using it for. Furthermore, it also features a stop button. With the help of that, you can stop the operation instantly in an emergency. Speaking of the design, its handles feature a silicone grip that provides a smooth and tight grasp while drilling.
Key features
Speed: 320 RPM
Battery: 2Ah Li-on
Features overload protector
Max wattage: 1400W
3-gear planetary brushless motor
9- Xtremepower US 1500W industrial post hole digger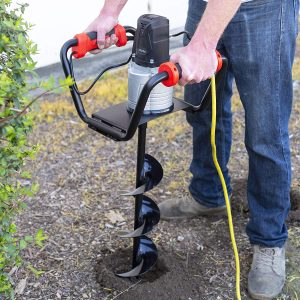 Xtremepower US industrial post hole digger is a sturdy hole digger with a powerful motor. Made of manganese steel, it is super robust and can resist rust, corrosion, and rain efficiently. To ensure further durability, it is also coated with black paint all through. As for design, the digger has a stylish design and it features 2 handles that provide a smooth and tight grip while holding the tool.
Furthermore, this electric post hole digger features a 6-inch long auger bit that dives into the ground and drills a deep hole. Moving on to the specifications, the driller is designed with a powerful motor of 1500W that uses the electric current of 10.9 amps and yields a high torque of 90 ft/lb. To ensure secure operation, it is also equipped with a safety lock function.
Key features
Sturdy steel construction
A powerful motor of 1500W
6 inches long auger
Maximum torque: 90ft/lb
Features 2 gripped anti-skid handles
8- Auger drill bit garden plant drill fence post hole digger by TCBWFY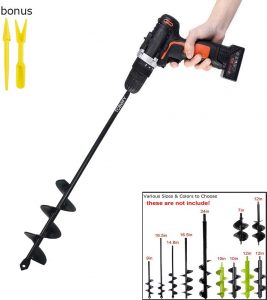 If you want a lightweight, small-sized, and affordable electric post hole digger, no other digger can be better than this for you. Even after being low in price and small in size, the post hole driller doesn't stand behind the other hole diggers when it comes to functionality. It is constructed of premium steel and has a black finish, which makes it more durable and weather-resistant.
Featuring the steel shaft of 0.3inch and a hex drive of the same size, the digger drills the holes up to 14.6 inches deep and 1.8 inches wide. Owing to its drilling capacity, the digger can easily go through any type of surface, be it the clay soil or loamy field. On top of all, it has a handheld design, which ensures easier, smoother, and quicker operation.
Key features
Compact and handheld design
Steel construction
Drilling depth: 14.6 inches
Drilling width: 1.8 inches
Multi-purpose
7- SuperHandy earth auger drilling & post hole digging set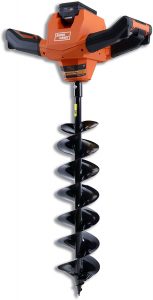 True to its name, SuperHandy post hole digging set is super handy and provides you smooth and hassle-free operation. Featuring a 6-inch large auger and a compact-sized powerhead, the digger is easy to hold in hands. All thanks to its silicone cushioned handles that provide a tight and comfortable grip.
Moving on to the specifications, the digger is built in with a heavy-duty motor of 1425W and a powerful battery of 2Ah Li-ion Adding further, it is designed with a 3-planetary gear mechanism that provides higher transmission efficiency. Given the fact, it doesn't come as a surprise that this digger can work at a high speed of 325 RPM. In fact, it is so quick and effective that it can dig up to 30 holes just on a single charge of the battery.
Key features
6 inches large auger
Steel construction
Speed: 325 RPM
A powerful motor of 1425W
2Ah Li-ion battery
6- Southland SEA438 earth auger full crankshaft engine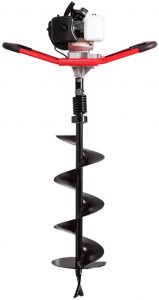 The first gas-powered post hole driller on this list. Featuring a powerful 2-cycle engine of 43cc, this post hole driller delivers efficient results not just for drilling but also for cutting, edging, tilling, and even for trimming. All thanks to its sharp, sturdy, and steel-made 8-inch large auger that makes it versatile. The auger dives deep into the soil up to 2.5ft inches and drills precise holes for you.
Furthermore, the operating speed of the driller is 316 RPM, which enables the driller to dig holes even on tough and rocky terrain instantly. Speaking of the design, the driller features 2 removable butterfly handles that can be attached or detached depending on your needs. Moreover, it also features an on/off switch that ensures one-touch functionality.
Key features
Gas-powered
2-cycle engine of 43cc
Speed: 316RPM
Drilling depth: up to 2.5 inches
8 inches large auger
5- Hermes Land Auger drill post hole digger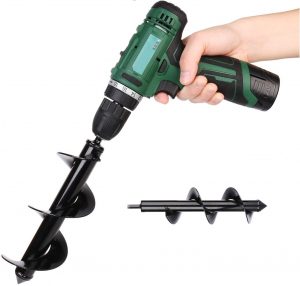 Another pocket-friendly and compact-sized post hole digging machine for you if you don't need a bulky and pricey one. Its handheld design ensures easy and convenient drilling operation. Featuring a long auger and a non-slip hex-drive of 3/8 inches, the digger can help you dig the hole for various purposes including planting, seedling, and, of course, for installing a post.
The best thing about this digging machine is that it doesn't feature any complex functions, unlike its competitors. Just press a single button and the tool will be all set to go. Speaking of the construction materials, it is made heavy-duty iron that makes it robust and hardwearing. Plus, it also has a paint coating that protects it from rain and water ensuring long durability.
Key features
Handheld design
Hex drive of 3/8 inches
Multi-purpose
Iron construction
Touch-button functionality
4-Hiltex 10525 electric earth auger with powerhead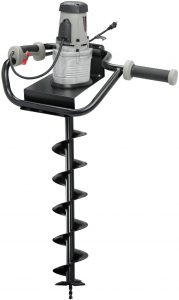 Hiltex 10525 electric hole digger is a perfect combo of robust construction and advanced features. Equipped with a heavy-duty motor of 1200W, the digger requires an electrical power of 11 amps to yield a high torque of 90ft/ lbs and offer you efficient digging operation. In addition, the working speed of the digger is 200 RPM and the length of the auger is 4 inches.
Moving on to its design, the digger is designed with 2 padded non-slip handles, which provide maximum leverage and comfort during the operation. Plus, they also reduce hand fatigue and let you indulge in drilling for hours without causing any discomfort. Besides that, the driller also features a safety lock button that protects you from the mishaps of accidental triggering.
Key features
A powerful motor of 1200W
Speed: 200 RPM
2 non-skid rubberized handles
Torque: 90ft/lb
Features a safety lock button
3- Xtremepower US 1200Welcetric post hole digger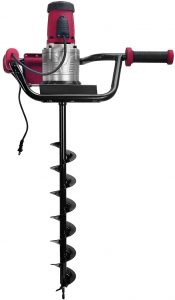 If you're in a hunt of versatile post hole digger that can be used for fencing, planting, seedling, water aeration, and many other such functions, this Xtremepower US post hole driller is worth a shot. Featuring a 4-inch long auger, the driller is capable enough to dig the holes for a variety of purposes.
Speaking of the specifications, it features a powerful motor of 1200W that provides a torque of up to 90ft/lb at a high speed of 200 RPM. If you're concerned about its safety measures, worry not. It is equipped with a safety lock function that will save you from accidental triggering. To offer you a safe and comfortable experience, the digger machine also features 2 non-skid and vibration-proof padded handles that do their job flawlessly.
Key features
4-inches long auger
Steel construction
2 non-skid gripped handles
A powerful motor of 1200W
Speed: 200 RPM
2- Pumplus gas powered post hole digger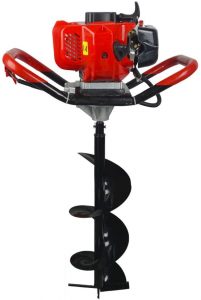 Another gas-powered post hole digger on this list. This one is a perfect fit for you if you're looking for a high-capacity post hole digging machine. It is designed with a powerful 2-cycle motor of 52cc and a large auger of 10 inches. Given the fact, it can be used to dig holes for fence posts, tree planting, decks, and many other purposes.
Made of sturdy steel, the auger features a wide shaft of ¾ inches that enables it to dig through even the hard surface and provide you maximum digging efficiency. Furthermore, it is built in with a large translucent fuel tank of 1.2L that can be easily refilled whenever needed. Speaking of the construction materials, the digger is made of premium steel and can be used outdoors without any worries.
Key features
2-cycle motor of 52cc
10 inches large auger
Steel construction
1.2L fuel tank capacity
Versatile
1. ECO LLC 52cc 2.4HP gas powered post hole digger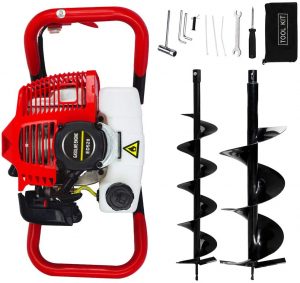 This gas-powered post hole digger is perfectly combined with the efficiency of electric diggers and the user-friendliness of gas-powered ones. Built in with a mighty 2-cycle engine of 52cc 2.5HP, the digger is capable enough to dig multiple holes in quick succession.
The unique thing about this hole digger is that it comes with 2 different augers of 6 and 10 inches. You can insert any of them according to your needs. Owing to its different sizes of augers, the digger can be used to drill the holes for various purposes including fencing, planting, and installing the post. Even if the digger is big in size, it is easy to hold and operate. All thanks to its wide handles that ensure a firm grip and let you work with ease.
Key features
Gas-powered
2-cycle 52cc motor
2 sizes of augers
Features wide handles
Shaft size: ¾ inches
Video: Assembling and Testing of Eco Post Hole Digger
by hpiguys Workshop
Key factors to consider while buying a post hole digger
A post hole digging machine is not a low-budget tool that can be replaced with the new one anytime after being damaged. It is a big investment. This is why make sure to consider the significant factors and buy a long-lasting one. Here are those factors.
Design
Before diving into features, check the design of your post hole driller. Usually, there are two types of hole diggers, the handheld ones and the bulky ones. The handheld diggers are meant for micro-drilling operations, while the other ones are used for the heavy digging purposes. So, be clear with your needs and go for the one that suits you the best.
Construction materials
After deciding the design, get into the construction material of the digger. Post hole digging machines are meant to be used outdoors, so they must be made of such material that is waterproof, rust-free, and weather-resistant. Usually, the post hole drillers made of robust steel are the best choice.
Capacity of motor
Here comes the most significant factor that you need to consider while buying your digger machine. If the motor of the drilling tool is not powerful, it can never deliver efficient results. So, make sure your post hole digger is equipped with a powerful motor of at least 1200W.
Additional features
At last, pay attention to those minor yet vital features that put a high-quality digger apart from the low-quality ones. These features include operating speed, length of the auger, drilling depth, comfort level of handles, safety lock button, versatility, and the torque range. Be sure to check these features before your purchase.
Conclusion
Digging the hole for installing post, fence, or other lawn applications is no more a hassle with these top-quality electric post hole diggers. They will do it just in a blink of the eyes. So, buy the one and get your job done instantly, that too without putting much efforts.
Last update on 2023-10-04 / Affiliate links / Images from Amazon Product Advertising API