For a lush and verdant garden, the first thing you need to have is the fine and pulverized soil. If the soil is hard, the plants can never be healthy and flourishing no matter how much fertilizer and water you provide them. This is why make sure to till the garden soil before you kick off with the gardening. But, how you'll do that? Tilling your extensive garden manually is obviously pretty much tedious. Isn't it? Well, to get this job done easily, smoothly, and quickly, you can take the help of an electric tiller, which will dig deep into the hard soil and make it a perfect seedbed in just no time. Already convinced to buy this awesome tool? Okay, pick the one out from our customized list of top 10 best electric tillers for gardening and farming.
List of the 10 Best Electric Tillers for Gardening and Farming in 2023
Electric Tiller Reviews
10- TACKLIFE electric tiller-TGTL02A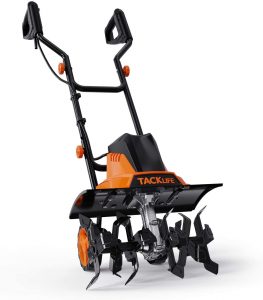 TACKLIFE is known for its top-of-the-line gardening tool and this electric tiller is one of them. Designed with a powerful motor of 12 amp, the tiller works at a high speed of 400RPM and provides hassle-free operation. Owing to its motor capacity and working speed, it can be efficiently used for tilling big gardens such as vegetable fields, orchards meadows, and farmhouses.
Featuring 6 sharp steel blades, the electric tilling tool offers the tilling width of 16 inches and the height of 8 inches. To your surprise, using the tool is also incredibly easy. Just press the on/off button according to your needs and you're done. Moreover, it has a foldable design. You can fold it into a tiny size of 22.6×17×14.5 inches and put in a corner.
Key features
12 amp motor
Folded size: 22.6×17×14.5 inches
Working speed: 400RPM
Foldable handle
6 steel blades
9- Earthwise TC70016 corded electric tiller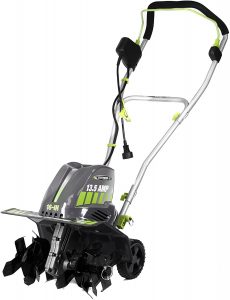 Earthwise TC70016 electric tiller has garnered plenty of happy customers who speak out the awesomeness of this tiller. So, if you believe the words of people, this tiller definitely deserves a place in your garden. Designed with a potent motor of 13.5 amp and 6 sharp tines, the tiller ensures an effortless, stable, and smooth operation no matter how hard the soil is. It goes deep up to 8 inches into the ground and makes it a perfect planting field grinding the soil finely.
At a single cut, the tiller covers the width from 11 to 16 inches. To offer you a pain-free and flawless tilling operation, it is designed with a gripped handle and 2 smooth-rolling wheels. To get this tiller in action, simply press the start button. That's it.
Key features
13,5 amp motor
8 inches cultivation depth
11-16 inches cultivation width
6 sturdy blades
One-touch operation
8- Sun Joe TJ603E 16-inches electric tiller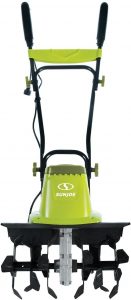 Sun Joe TJ603E electric tiller is a loved choice of users and it has its own set of reasons to justify its popularity. To begin with, it is inbuilt with a high-functional motor of 12amp and works at a speed of 340 RPM. Furthermore, the tiller offers a cultivation depth of 8 inches and a width of 16 inches.
Moving on, it features 6 sturdy blades that seamlessly do their job and turn the clumsy soil into a fine planting bed. On top of everything, the tool has a collapsible design. You can fold its long handle to store the tiller easily and conveniently. Not just the handle, but the wheels of the tiller are also adjustable. You can set them in 3 different positions depending on your needs.
Key features
12 amp motor
Operating speed 340RPM
Cultivation width: 16 inches
Depth:8 inches
6 steel blades
7- Mantis 3550 electric tiller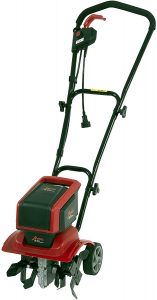 Mantis 3550 electric tilling tool is known for its remarkable user-friendliness, flawless operation, and various mind-blowing features. Unlike others, it is designed with dual-speed functionality. The high speed is meant for tilling, while the low speed is for cultivating. Just set the speed mode according to your need and enjoy a smooth tilling operation without putting any effort. To make the operation easy and convenient, it is designed with multi-directional wheels and an easy-to-hold handle.
Speaking of its specifications, the tiller is designed with a powerful motor of 9 amp and robust steel tines that pulverize the hard soil and prepare a perfect planting land for you in just minutes. Interestingly, it is lightweight, compact, and has a foldable design too.
Key features
Dual speed function
Sturdy steel tines
9 amp motor
Multi-directional wheels
Compact design
6- Earthwise TC70025 electric tiller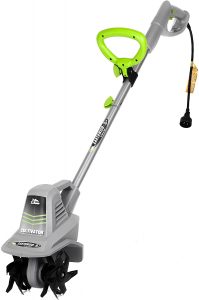 If you're looking for a decently good electric-powered tiller at an affordable rate, no other electric tilling machine can be better than this for you. The tiller is incredibly low in price, yet it gives the top-notch electric tillers a good run for their money. Designed with a motor of 2.5 amp, the tiller makes the tilling operation quick and efficient.
Furthermore, is inbuilt with 4 steel tines, which dive deep up to 6 inches into the soil and delivers impressive digging results. Owing to its capacity, this electric tilling tool is the perfect fit for small to mid-sized gardens. As opposed to its competitors, this tilling machine is equipped with an adjustable support handle that ensures maximum comfort during the operation. Speaking of its design, it has a compact, ergonomic, and lightweight design.
Key features
2.5 amp motor
Cultivation depth: 6 inches
Cultivation width: 7.5 inches
4 steel tines
Adjustable support handle
5- Greenworks corded tiller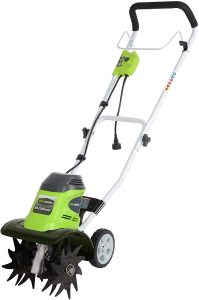 Greenworks corded tiller is one of the best electric corded tillers for gardening out there. All thanks to its ergonomic design and unusual features that make it stand apart from the crowd. Inbuilt with a strong motor of 8-amp, the tiller flawlessly grinds the soil and offers you hassle-free operation. Furthermore, the tiller has one-touch functionality. Just press the button and wait a minute to see your seedbed.
The best thing you would love about this tiller is that it doesn't make the annoying noise during the operation. Featuring four 8-inches forward rotating tines, the tiller offers a cut depth of 5 inches and a width of 8.25-10 inches. Besides that, it is also equipped with a foldable handle that ensures easy storage as well as hassle-free portability.
Key features
8 amp motor
4 sturdy tines
Cut depth: 5 inches
Cut width: 8.25-10 inches
Low-noise operation
4- AAVIX AGT307electric tiller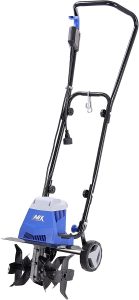 Another pocket-friendly option for you if you're not willing to spend much on an electric tiller for gardening. Despite being low in price, AAVIX AGT307 offers you mind-blowing features. Designed with a powerful motor of 10-amp, it provides a smooth and efficient operation without requiring any manual effort.
Furthermore, the tiller is equipped with four 8-inches steel tines, which are sharp and sturdy enough to bust through even a rock-like surface. In just minutes, these tines turn that rocky soil into fine a planting land. Moreover, the tiller provides larger depth and width cuts as compared to its competitors. Unlike others, it provides 8.7 inches cut depth and 12.6 inches cut width. To ensure easy portability, the tiller also features two 6-inches wheels.
Key features
10amp motor
8.7 inches cut depth
12.6 inches width cut
6 inches 2 wheels
4 steel tines
3- Sun Joe TJ600E 14-inch electric tiller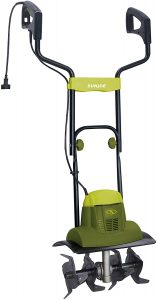 Sun Joe TJ600E 14-inches electric-powered tiller is a perfect combo of smooth performance and mind-blowing user-friendliness. Inbuilt with an efficient motor of 6.5 amp, it is ideally meant for small to mid-sized gardens. Nevertheless, you can efficiently use it for large gardens and meadows too. Having a tilling depth of 7 inches and a width of 14 inches, it never fails to pulverize even big grounds.
What makes it such a versatile and capable tiller is its 4 sturdy steel blades that do their job seamlessly. Despite its advanced functions, using this tiller is easy as pie. You just need to press the button to get it in the action. Above all, it is super quiet and doesn't make the irritating sound during the operation, as the noise level of the machine is just 93dB.
Key features
6.5 amp motor
7 inches tilling depth
14 inches tilling depth
4 sturdy blades
Noise level: 93dB
2- TACKLIFE electric tiller, TGTL01A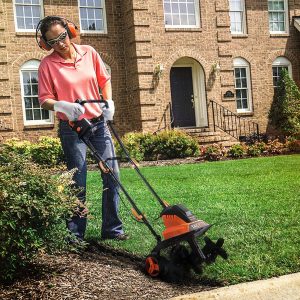 If you're looking for a customizable electric tiller for gardening, hands down, this TACKLIFE tiller is made for you. Unlike others, it is completely customizable and lets you adjust the number of blades and positions of the wheels. What to say more, it even offers you the flexibility to customize the cut width between 12.5 to 18 inches.
Moving on to its motor capacity, the tilling tool is inbuilt with a mighty motor of 13.5 amp and offers you the digging operation at a high speed of 380 RPM. The interesting thing is that this advanced tiller is unbelievably easy to use. Just plug it in and turn the button on. That's it. You're ready to go. To enjoy a smooth operating experience, you can adjust the position of the wheels as per your needs.
Key features
13.5amp motor
Tilling depth: 8 inches
Tilling width: 12.5-18 inches
Adjustable wheels
Speed: 380 RPM
1. Scotts outdoor power tools TC70105S tiller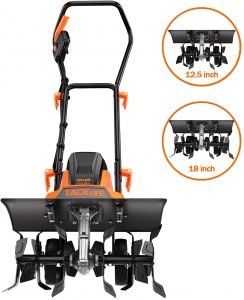 Scotts outdoor power tools TC70105S tiller is a one-of-a-kind product. Unlike others, it combines the efficiency of an electric tiller and the user-friendliness of a battery-powered tiller. Designed with a powerful motor of 10.5-amp, the tiller ensures quick, efficient, and smooth tilling operation. Furthermore, it features 4 sturdy steel tines that go deep up to 8 inches in the ground and crush the soil finely making it perfect for the gardening.
To till the soil according to your needs, you can adjust the tilling width between 7 to 11 inches. Adding more to its features, it is equipped with two 6-inches flip-up wheels that make it easy for you to move the tiller around. To ensure a tight and comfortable grip, the tiller is equipped with an easy-to-hold handle.
Key features
10.5 amp
4 sturdy tempered tines
Tilling depth: 8 inches
Tilling width: 7-11 inches
2 flip-up wheels
Video: Demonstration of Electric Tiller
by Arnold Solof
Key factors to consider while buying an electric tiller for gardening
To help you make a well-informed and thought-out decision, we have also pulled together the significant factors that you should keep in mind while buying an electric tilling tool. Here, check them out.
Capacity of motor
Motor is the backbone of an electric tiller. This is why look into its capacity, first of all. Needless to mention, the more powerful the motor is, the more efficient operation it will provide. So, if you want your tilling machine to be proficient and quick, go for the one that is equipped with a powerful motor of at least 10-amp.
Tilling depth and width
Checking just the capacity of the motor is not enough to determine the overall capacity of the tiller. To figure it out comprehensively, you need to inquire into the cut depth and width of the machine too. At the minimum, your electric tilling machine should have the cut depth of 8 inches and width of 10-16 inches if you're really after a good-quality one.
Operational speed
Yet another significant factor that determines the quality of an electric tilling tool. So, check this thing carefully and make sure to buy the one that works at the speed of 280-300 RPM at the minimum. That's possibly the lowest speed range you can find in the good-quality electric tiller. This is why don't go below this in any case.
Additional features
You're not done yet. There is still a lot more to be checked like the number & construction of the tines, design of the handle, ease of accessibility, adjustability of wheels, safety measures, operating noise level, and the portability of the machine. Make the purchase only after considering these minor yet important features.
Conclusion
Tilling the bumpy, dry, and hard soil of your garden without the help of a tool is almost impossible. And, if you dare to make it possible, you have to sweat out a lot. This is why just forget about that and buy one of these electric tillers that will do this hectic work for you in minutes.
Last update on 2023-11-30 / Affiliate links / Images from Amazon Product Advertising API