Working the whole day in the garden to make it look beautiful and then leaving it all dark at night is like studying for the whole year but not taking the exam. Seriously, it's the nights only when the beauty of gardens can be seen on a whole different level. So, get a set of lights and don't miss the chance to treat your eyes with the never-before-seen beauty of your garden. Among various types of garden lights available in the market, the solar ones are the go-to choice of people, as they are eco-friendly, cost-effective, and easy-to-use. Plus, they also don't need any electricity to get operated. The sunlight is all they require to sprinkle their magic. Before you head out for the purchase, let us introduce you to the top 10 best solar garden lights of the year.
List of the 10 Best Solar Garden Lights in 2021
Product Reviews
Video by How To with Doc
10- Garden solar lights by WOHOME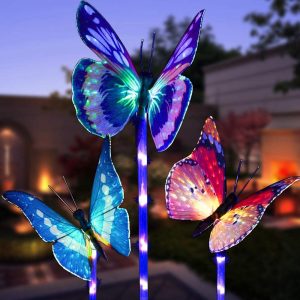 These stylish solar garden lights are made for the people who love butterflies. Having a butterfly-shaped design, the lights literally imitate the real butterflies. The pack includes 3 lights that can be used anywhere from the garden to the patio and walkway to the courtyard. Furthermore, these lights are designed with the auto color-changing patterns that enable the lights to flash in 7 different colors and fill the ambiance with colorful lights.
To get them in action, you don't need to do anything. They will be automatically on as soon as they will detect the darkness. Designed with a powerful solar battery of 600mAh, the lights have a long runtime of 6-8 hours at night. On top of everything, the lights are completely waterproof.
Key features
Butterfly design
Set of 3 lights
Waterproof
600mAh battery
7 different colors
9- WOSPORTS solar lights outdoor garden stake flower lights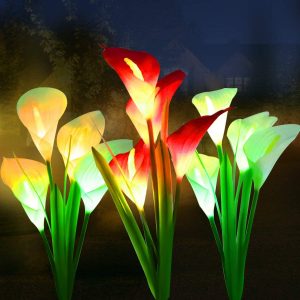 Accentuate the charm of your garden with this pack of 3 flower lights. The lights have lily flower design and they look really breathtaking when illuminating at their all glory. To render them a completely real look, they are even designed with the same color effects as the real ones. Speaking of the light patterns, the light sparkles in 7 different colors and create a vibrant atmosphere.
Furthermore, the solar garden light is equipped with a powerful battery of 600mAh that can keep the lights illuminating throughout the night. Even after being lit the whole night, its LED bulbs don't produce any heat and they are safe-to-touch. Adding further, the lights are also waterproof and don't require you to take your garden decoration off during the rainy and snowy days. Just leave them on and let the romance sing the songs of love for you in this soul-stirring setting.
Key features
Lily flowers design
Features 3 lights
Heat-resistant LED bulbs
600 mAh battery
7 color patterns
8- MYGOTO solar garden stake lights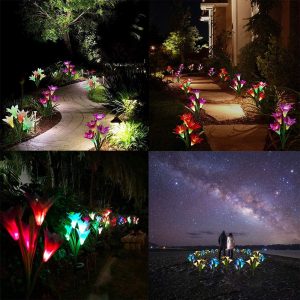 MYGOTO solar garden stake light is a pocket-friendly option for you to adorn your garden vibrantly. The set includes 2 flowers, one white and one purple. These flowers light up in 7 different colors emulating the real lily flowers and add an enchanting magnetism to your garden.
Owing to their design, it is incredibly easy to install the lights. Just stake them into the ground and they are all set to go. Just make sure to turn the lights on during the installation so that they can be automatically on at the night. Made of plastic and featuring LEDs, the lights are waterproof and can be used in rainy and frosty days without any worries. Furthermore, the solar garden light features a powerful battery of 600mAh, which is capable enough to keep the lights illuminating the whole night.
Key features
600mAh battery
Lily flower design
7 color transformation
Automatic operation
Waterproof
7- Desert Steel- Daisy flower outdoor solar garden light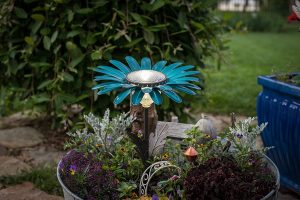 The dazzling light of this solar garden light can eclipse even the indoor décor of your home. Designed with 20 lumens of LEDs, it emits 15 times brighter illumination than that of others. Given the fact, it can spice up the décor of not just your garden but also the patio, porch, courtyard, walkway, fence, or any other widespread place.
Other than its gleaming lights and long runtime of 10 hours, it is also known for its sturdy construction and stylish design. The light has a little plant-like design and it is made of robust steel. To add further durability, it is coated with a glossy teal finish. Owing to the fact, this solar light can seamlessly resist the water, rust, and corrosion and illuminate your garden with all glory for years.
Key features
Charge time: 6 hours
Runtime: 10 hours
Steel construction
15× brighter illumination
Auto operation
6- Homeimpro outdoor solar light garden light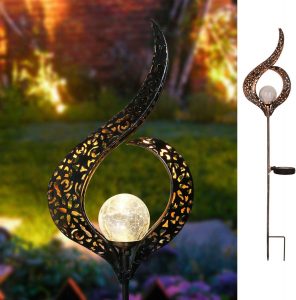 Homeimpro outdoor solar light is here to improve your outdoor home décor with its modish design and glittering light. What distinguishes this garden light from its competitors is its moon staff design that looks really surreal when the light is lit up. At the center, it features a large LED bulb, which shines in warm white color and sprinkles an appealing charm with a touch of elegance.
The capacity of the battery is 600mAh and it can keep the light illuminating for up to 6 hours. Furthermore, the charge time of the battery is 10 hours. This is why make sure to keep this solar garden light in such a place where it can get sunlight the whole day. Made of sturdy steel and shiny glass, the garden light is also waterproof and long-lasting.
Key features
600mAh battery
White-colored LED bulb
Moon staff design
Sturdy steel construction
6 hours long runtime
5-Outdoor solar lights garden lights by SUNNEST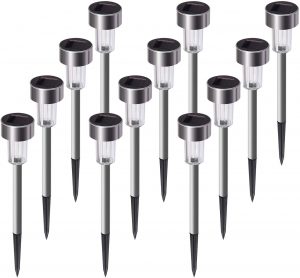 If you want a bunch of solar lights without investing much money, this outdoor solar light by SUNNEST deserves your attention. Unlike other solar garden light sets that offer only 2-3 lights, this one offers you as many as 12 pieces of lights. Given the fact, you can use this set of light to decorate a wide area. Even if there are so many bulbs, you can install the lights in just minutes. Just stake them into the soil and you're done.
Absorbing the sunlight, these lights charge themselves during the daytime and then illuminate dazzlingly at night. Its white-colored bulbs create a cozy and romantic atmosphere with its warm white sparkle. The charge and runtime of lights are nearly 6-8 hours.
Key features
A set of 12 pieces of lights
Stainless steel construction
6-8 hours charging
6-8 hours runtime
Waterproof
4- Solar Lights outdoor garden lights by TONYLAX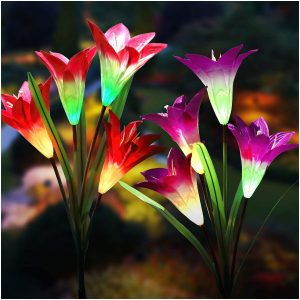 Take your garden decoration to a whole new level with this lily flower-shaped light that exactly resembles the real lily flower. In fact, its 7 different color patterns make it more appealing and enthralling. The set features 2 lights of purple and red colors. These lights automatically change their color and create a vivid aura.
Moving on, its big leaves and stems are beautifully crafted and secured by iron wire. Given the fact, the flower lights are very flexible. You can change the angle and style of the leaves and stems anytime. Above all, the garden lights ensure easy accessibility. Just install them in your garden and turn the button on once. That's it. It will be automatically on as the darkness enters.
Key features
A set of 2 bulbs
7 different color patterns
Adjustable leaves
Automatic operation
Lily flower design
3- Soplex 8 pack solar pathway lights outdoor solar powered garden lights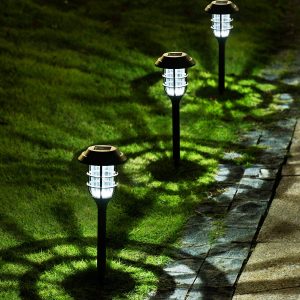 Get this pack of 8 solar lights and brighten up your garden, yard, pathway, patio, or any other extensive outdoor place. Having an alluring double ring design, the lights emit a shiny white-colored illumination in a snowflake-like pattern and turn your garden into a surreal wonderland. The average runtime of the lights is almost 8 hours. Built in with the polysilicon solar panel, the lights absorb the sunlight and charge themselves quickly.
On top of all, these solar garden lights are super energy-saving. They turn themselves automatically off during the daytime and get back again into the action at night. Made of ABS plastic and featuring waterproof bulbs, these solar lights can efficiently resist the rain, frost, and snow.
Key features
A set of 8 bulbs
Double-ring design
Emits snowflake-like illumination
Runtime: 8 hours
Automatic operation
2- Signature Garden 6 pack solar garden lights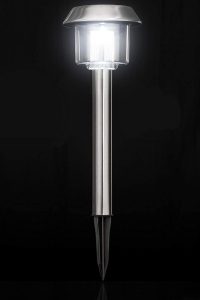 Signature Garden solar lights will impart a signature charm to your garden with their elegant white-colored illumination. The set features 6 LEDs that emit a glittery illumination of 15 lumens. Given the fact, this set of gleaming lights can be used to illuminate any spacious area including garden, patio, pathway, and porch. Made of robust steel and heavy-duty plastic, the lights are super durable and completely waterproof. You can use them outdoors without any worries of rain, sleet, and snow.
Furthermore, the lights are designed with an auto on/off feature that enables them to turn themselves on automatically at night and off at the dawn. Above everything, it ensures you easy installation. Having a ground-staking design, the lights can be easily inserted into the ground without the help of any tool.
Key features
A set of 6 LEDs
15 lumens bright light
Ground-staking design
Waterproof
Easy installation
1. Take Me solar pathway garden lights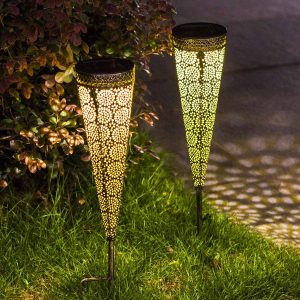 As the dusk enters, Take Me solar lights come to life and sparkle at their all glory. Designed with auto on/off function, these lights turn themselves on automatically at night. Featuring a powerful battery of 600mAh, the lights have a long runtime of up to 8 hours. If you want to keep the lights on for the whole night, make sure to charge it the entire day. So, install the lights in such a place where they can get sunlight throughout the day and charge themselves fully.
Moving on, the set features 2 candle-shaped white-colored lights that discharge 7-lumens warm illumination and render your garden an aesthetics fascination. Made of sturdy metal, these solar garden lights are waterproof and can withstand every weather condition effectively.
Key features
600mAh battery
Runtime up to 8 hours
A set of 3 lights
Metal construction
Waterproof
Video: Solar Flower Lights Installation
Key factors to consider while buying a solar garden light
Any purchase without the prior consideration of significant factors can never be worthwhile. This is why make sure to bear these vital factors in mind before buying your solar garden light.
Design and number of bulbs
Just don't buy any random solar-powered garden light. Try to get the one that can seamlessly blend in with the décor of your garden. In the market, you can get different styles of garden lights from butterfly to flower design and snow flickering to candle-like design. Other than design, also check the number of bulbs in your solar light set. Usually, a set of 2-3 lights is preferred, as it can illuminate a wide area.
Battery capacity
Considering the battery of your solar lawn light is important because it's the battery only that will determine the overall capacity of the light. So, look into this carefully and make sure to buy the one that is equipped with at least 600-mAh battery.
Charge time and runtime
This is the most significant factor that you need to consider while buying your solar garden decorative light. Investigate the charge as well as runtime of the light and make sure it is 8-10 hours. Usually, the charge and runtime of solar garden lights are the same. The longer time they take to charge themselves, the loner the runtime they provide.
Weather resistance
You'll be using the garden lights in your garden. This is why they have to be weather-resistant. To determine this thing, inquire into its construction materials. Generally, the solar lights made of steel or heavy-duty plastic are considered the best, as they can resist the rain, snow, and other weather conditions efficiently.
Conclusion
Don't limit the decoration of your home just to the indoors. Get one of these dazzling solar garden lights and let your garden take over the entire ambiance with its surreal lighting decoration. These lights will literally breathe life into your garden and make your life more colorful.
Last update on 2021-07-30 / Affiliate links / Images from Amazon Product Advertising API