In our previous articles, we introduce you to the top innovative language translator devices, translation earbuds, and translation smartwatches which can help you break through the language barrier in your communication with other nationalities. However, if you don't want to spend more money on those professional translator devices, there is another option for you; it's a language translator app which you can just download and install in your smartphone, and you will be able to use it to translate various languages. Getting a good language translator app on your phone will be of great help for you in many circumstances, particularly when you travel abroad. The mobile applications we are going to introduce you will be able to assist you in conversing, reading and understanding many languages instantly. Let's kick off with the two giant companies' apps.
List of the 10 Best Language Translator Apps for Android and iOS in 2023
1. Google Translate – Free Language Translator Apps for Android and iOS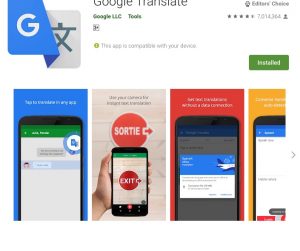 Download here for Android & iOS
Google Translate is a free language translation app developed and offered by Google. You can use it to translate one language to another including text, website, photo image, and voice translate. The app has been used by over 500 million people everyday. They app is claimed to be very useful for many users. But it is not 100 per cent accurate yet. Therefore, it can be used for understanding and communicating only. For professional translation, you might still need a human interpreter or get one of these professional translation devices or translator earbuds instead.
Key features: 
Translate up to 109 languages for typing
Can translate up to 59 offline languages but need to be pre-downloaded
Instant camera translation up to 38 languages
Take picture translation is up to 37 languages
Two-way instant voice translation is up to 32 languages
Handwriting translation is up to 93 languages
Can note Star & save the translations for future reference in any language
2. Microsoft Translator Apps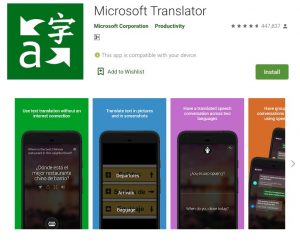 Download from here Android | iOS
We all know Microsoft has already been dominated our PC world. Then we should not ignore it's translation mobile app as well. Like Google Translate, Microsoft also offers its translation app for free. Yet, the app can translates up to 60 languages only, still less than than Google's translation app. However, 60 languages are already more than our needs I would say. You can use Microsoft translator to translate text, photo camera, image, voice and conversation. It is also available for online and offline which is very helpful when you travel to the remote areas or in a place where internet connection is poor or not available. But don't forget to pre-download those languages in advance.
Key features:
Online and offline text translate for more than 60 languages
Camera translates from photos or screenshot to text
Voice to speech translate and two-way translation for bilingual
Has multi-person conversation function
Available phrasebooks and pronunciation guides
Enable translation sharing with other apps
And more.
Related: Best AI Writer Softwares To Change Content Creation Industry in 2023
3. SayHi Translate Apps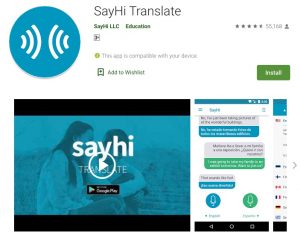 Download here for Amazon, Android & iOS
SayHi translate is a free translator app which is available for both Android smartphones and iPhones. It allows you to translate up to 90 languages and dialects. You can find the list of available languages here. For translation speech, you can use choose from various male and female voices as you like. The apps also allows you to adjust the speed of the translation from fast to slow level as you wish. It is simple and quick as the app is built to help you conversing in foreign languages. It's good for learning new languages, conversation and text translation.
Key features:
Text and speech translations available in 90 languages
Camera translation but limited with some Asian characters
Translate and share translations across apps
Can choose between female and male voice for translation
Speed adjustment of voice translation
4. iTranslate Translator and Dictionary app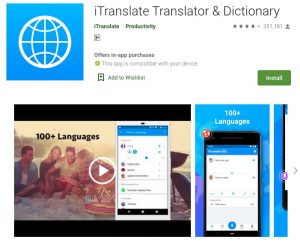 Download here for Android & iOS
iTranslate, unlike the Apple's owned iOS Translate app,  is a paid app but you can get a free version though it's limited. Getting an app, you can not only use it for conversing but also as a dictionary as well. The app is downloaded more than 70 million times and received over 120,000 reviews on Google Play store. iTranslate can be used to translate text and voice conversing in more than 100 most used languages worldwide. For its offline mode, it can translate up to 40 languages. However, it seems that you need to pay for it to use the app in full potential which include photo translation, voice translation and offline translation function. You can only use the basic feature for the free version, unless you upgrade to Pro.
Key features:
Can translate over 100 most used languages
Various male and female voice options
Dictionaries and synonym
Camera instant translation
Offline and online translation
Web and voice translation
Popular among Apple's fan; iPhone, iPad, iWatch e.t.c.
5. TripLingo app translator apps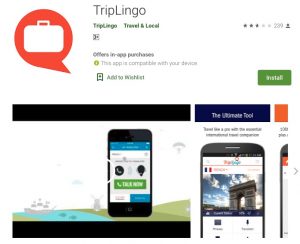 Download here for Android | iOS
TripLingo is an award wining app for "2012 Business Travel Innovation of the Year" by Fast Company. It is built specifically for international travelers to learn from its phrasebook apps with more than 2,000 most used phrases in 13 languages. However, you will need to upgrade to the premium subscription to use all the full functions which include instant voice translation, live human interpreter (with additional charge), and more. I live the live human translation option. That sounds very interesting to me when human and tech work together 🙂 Oh there is a funny part to me. The company offers a 100% money back guarantee for 200 years. Come on guys! Let's grab it haha. I also find the founder's story interesting as he came up with an idea in my neighbour country!
Key feature:
Available more than 2,000 language phrases/13 languages
Over 30,000 recorded professional audio files
19 languages for instant voice translation
Live human translator available but additional charge
Offline dictionary for more than  10,000 words
An calculator & currency converter with intelligent tips
Learn from inbuilt flashcards and quiz mode
Get familiar with local customs and etiquette with a "culture crash course"
Can call any U.S. phone number with "Wi-fi Dialer"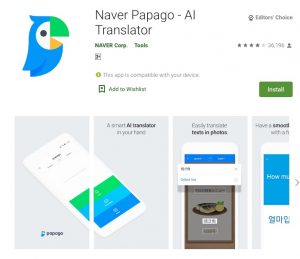 Download here for Android & iOS
Naver Papago is an AI translator app which is built to help you for your oversea holiday trip or business trip. Among all the birds, we know parrot is one kind which can be trained to speak human languages right? Well, this seems to be the concept for the Papago as it comes with a parrot icon. That's my assumption only 😉 Anyway, Papago translator app does has its special ability to translate up to 13 languages : Korean, English, Japanese, Chinese (Simplified/Traditional), Spanish, French, Vietnamese, Thai, Indonesian, Russian, German and Italian. Why do we need so many languages in one app anyway? With its focus on these several languages, I think Naver Papago app does its job very well. You can use it to translate voice, text, image, web and even offline functions. If your business are within these scope of 13 languages, then this one is the best option I would recommend.
Key feature:
Text, voice, handwriting, web and image translations
Real time translation option
Translate from voice into text
Simultaneous translation for your conversation
7. Easy Language Translator Apps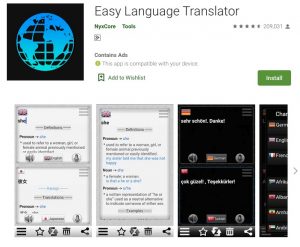 Download from here for Android & No available in iOS
How does it sound "Easy language translator"? Well that's what the purpose of this translating app; to make the translation of various languages easy for you. So they focus on only two functions; Text and Voice translate. If you want more, try other apps above. Also, they don't have it on iOS. So, I'm sorry for iPhone users. You can't try it out. Anyway, the Easy language translator app is recognized for its easy to use and fast speed. It can translates more than 100 languages; and again it's for text and voice translate only. However, you can save the translation voice as MP3 and share it with others as well.
Key feature:
Accurate, fast and easy to use
Specifically focus on voice and text translation
Can save voice audio as MP3 and share with peers
That's it! Simple and easy!
8. TextGrabber Offline Scan & Translate Photo to Text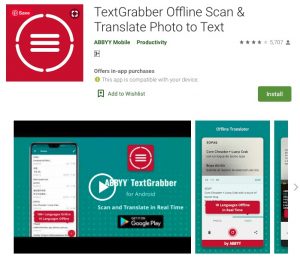 Download from here for Android & iOS
As the name of the app tells, the TexGrabber is a translation app which utilizes Camera to scan through the texts on menu, book, image and so on, and then translate it into digital text for you. It has the ability to grab and translate of more than 100 languages with internet, and 10 languages without the internet. It's available in both Android and iOS. Well, it is not only good for translation, but also good for extracting text for you if you are lazy to write, anyway.
Key features:
Real time camera translate
Available both online and offline modes
Recognize link of website, email, address, maps and more
QR coder reader
Tex to speech feature
Good text grabber
9. All Language Translator Free App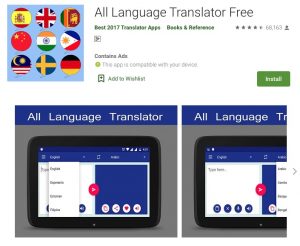 Download from here for Android
All Language Translator App is a free dictionary app which can help you translate so many languages. It is simple and easy to use. If you are a kind of person who like to have everything in on place, then this translator app might be your choice. It has a simple interface and user-friendly. You can translate text and voice. Just press the button on the go.
Key features:
Simple and easy to use
Translate voice and text
Best for learning new languages
Easy to copy and share the translation with others
10. Translate Box App for Language Translation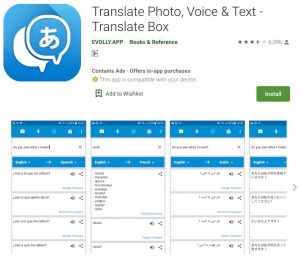 Download here for Android & iOS
Translate Box is a language translation app developed by Evolly, aiming to bring all the other translation apps into one place for users. As it mentioned, the app brings together Google Translate, Microsoft Translate, Yandex Translate, Baidu Translate and Naver Papago Translate together for you. The features available are tex, voice, photo, pronunciation and dictionary.
Conclusion
There are actually thousands of language translator apps out there in the App Store and Play Store. So, the above 10 apps are just my selections while other might have different opinions. I just hope the list of the best language translation apps above will be of any help for you anyway. Cheers!