When traveling to foreign countries, language becomes a major issue. Without understanding the local language of that country, you can't converse with anyone. Without communication, you obviously can't do anything much. In such cases, we all need to hire a human interpreter to help us. That's been a practice for hundreds of years right? However, in this technological advanced world, we don't always need human translator anymore because we now have electronic gadgets to help us instead. If you are always with us, you probably remember that we have already introduce you to the Language Translator Devices and Translator Earbuds which can help you converse instantly in more than 100 languages. And today, we bring more gadget to you which is the "Language Translator Smartwatch".
A language translator smartwatch has emerged after the two devices above but it's more convenient to have it on your wrist all the time. These translator smartwatch also provides you real-time translation instantly in multiple languages. You just need to speak in your language and it will translate it in the target language in just no time. In the market, different types of and different models of translator smartwatches are available. Because of that, choosing the best one can be a bit difficult for you. That's why we are trying to reduce your burden here, by compiling the list of top language translator smartwatches for you. Here you go!
List of the 6 Best Language Translator Smartwatches in 2023
6. Lingmo Time2tranlate lifestyle smartwatch translator, IBM AI Technology 2-Way A.I Voice & Text Language Translation, 29 Langauges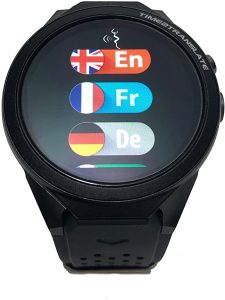 Let's start off the list with this remarkable language translator smartwatch by Lingmo International that has already garnered huge attention for its remarkable features. Powered by IBM Watson Artificial Intelligence (AI), this smartwatch can help you translate in 27 languages in real-time. The smartwatch is operated via a SIM card that you need to insert into it for online functioning. Once the sim is ready, just wear the watch and you're all set to go.
Speaking of the features, this smartwatch translator is designed with the advanced technology to recognize human voice and translating it into the target language instantly. The awesome thing about this smartwatch is that it automatically detects the slangs, nuances, and dialects of the language and ensure up to 98% accuracy. It doesn't only help you translate the language but also make phone calls, download apps, mail or message someone, listen to music, track GPS, monitor heart rate, and operate many other such advanced functions. It's not easy to lose like other devices as you wear it on your wrist tightly.
Key features
Real-time translation in 27 languages
Multi-functional
48 hours battery standby
Built-in 4GBmemory
Wi-Fi and Bluetooth compatible
Watch video to see how the smartwatch translate the languages for you
5. Time2Translate Executive Smartwatch translator, 27-Language Real-Time Translation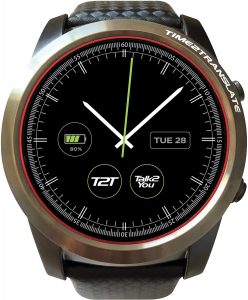 If you're looking for an advanced language translator smartwatch with an elegant look, Time2Translate Executive smartwatch translator is made for you. Inbuilt with 2-way translation compatibility, the smartwatch offers real-time translation in 27 different languages. The accuracy of the translation is over 85%. In some languages, it ensures accuracy even up to 98%. Moving on to its advanced features, it is designed with an intelligent voice recognition technology that enables the watch to recognize the nuances, dialects, and slangs and offer you accurate translation.
Made of stainless steel, the translation smartwatch is inbuilt with an 8 GB memory card. Featuring a powerful battery, it provides a long standby runtime of 72 hours and active use of 16 hours without the need of power bank. Adding further, the display resolution is 400×400 pixels. The smart feature of this smartwatch translator is the free voice-message translation technology that enhances the functionality of the watch and makes it versatile.
Key features
Steel construction
8GB inbuilt memory card
72 hours of battery standby time
Supports 27 global languages
400×400 pixel display resolution
Related: Best AI Writer Softwares To Change Content Creation Industry in 2023
4. WMWHALE smart translation watch, Support 137 Languages, Smartwatch Translator for Learning languages, Traveling, Shopping & Business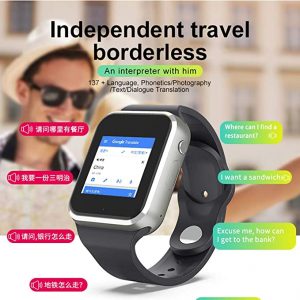 WMWHALE smart translation watch is made for you if you want a budget-friendly translator smartwatch with the capability of translating over 100 languages. Unlike its competitors, it is low in budget yet supports more than 137 global languages. To your surprise, the watch is designed with a 720 high-definition camera that supports 5p all-glass lens. The best thing about this smartwatch is that it is made of steel. Given that, you don't need to worry about sweating or raining. It can't be affected by these factors.
Speaking of its functionality, the smartwatch translator doesn't only translate the voice but also photos and texts. Furthermore, the smartwatch also supports the android smart app and offers you accurate GPRS positioning. The unique feature of this wearing watch is that it is inbuilt with some reminders like it will remind you to drink water and pay attention to your health.
Key features
Supports over 137 languages
Features 720 high-definition camera
Inbuilt with smart sedentary remainders
Waterproof
Easy-to-use interface
3. GGPUS translator Smartwatch, Mini AI Translator Device with Intelligent Translation Machine & Bluetooth WiFi Translation Watch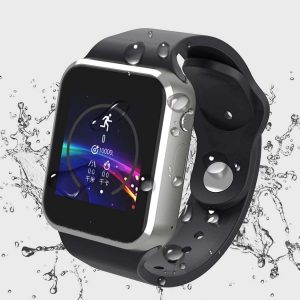 GGPUS translator watch is an advanced smartwatch that will offer you the translation in more than 137 languages. The interesting thing is that it doesn't only support voice translation but also the camera, pictures, text, and dialogue translation. Inbuilt with a powerful polymer battery of 600mAh, the smartwatch has a long run time. Furthermore, the watch is Bluetooth-enabled and offers you full flexibility to pick up/ reject a call, listen to music, and perform many other such functions.
Also check: Top 10 Best Language Translator Apps for Your Smartphones in 2023
Not to forget, it is also Wi-Fi compatible. Furthermore, it features a 720 HD camera that is inbuilt with automatic filtering stray light. Above all, it is waterproof, sweat-proof, and dust-proof. Given the fact, you can wear this smartwatch even in rain without any worries of getting it damaged. All thanks to its steel construction material that makes it weather-resistant. Having this language translator smartwatch on your wrist will give you enormous benefit beyond timing.
Key features
Steel construction
Supports over 137 languages
Wi-Fi enabled
Multi-functional
Features 720 HD camera
2. for LEMFO LEM T- android 7.1 4G screen smartwatch by Yuege, Language translator smartwatch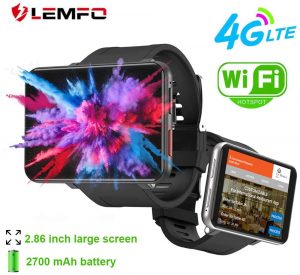 Yuege screen smartwatch is probably the most advanced smartwatch on this list. Unlike others, it is designed with 4G compatibility, which enables the watch to provide faster data transmission and many other smart features.
The smartwatch translator supports numerous languages including English, Chinese, Spanish, German, and many more. Adding further to its features, it is inbuilt with 3GB RAM, 32GB ROM, and a powerful battery of 2700 mAh. Not only this, but the smartwatch is equipped with a stylish LCD screen of 2.86 inches. The display resolution is 480×640. Furthermore, it also features a 5.0 MP camera that provides you a mind-blowing picture-clicking experience.
Moving to the advanced features of the smartwatch, it is designed with the functionality of pedometer, heart rate measurement, music, message, alarm, weather, map, app store, sound recorder, calendar, and voice search. Given the fact, it can meet all your daily entertainment needs.
Key features
2700mAh polymer battery
Features 5.0 MP camera
Waterproof
2.86 LCD display
4G compatible network
1. DJG smartwatch translator, color 2.03 inch | Wearable language translator smartwatch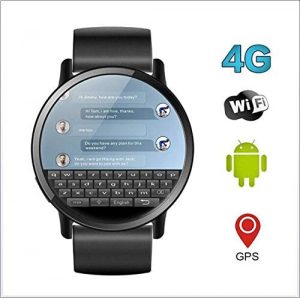 DJG translator smartwatch is an advanced and innovative watch that is compatible with 4G and Wi-Fi. Given the fact, it translates the languages instantly and ensures faster results. Unlike its competitors, it is equipped with a round big screen, which makes it easier and convenient for you to operate the device.
The size of the screen is 2.03 inches and it is also equipped with an 8MP camera. Furthermore, it is inbuilt with a powerful lithium battery of 900mAh that can last for hours without any problem. Coming to its advanced features, the smartwatch translator is designed with GPS function, heart rate sensors, music compatibility, and multiple sports modes.
The device supports a nano sim card and allows you to make a call with the watch itself. The translating function of the watch is super easy. You just speak in your language and it will instantly translate it into the target language.
Key features
900mAh battery
2.03 inches large display
Features 8MP camera
4G network compatible
Equipped with heart rate sensors
Key factors to consider while buying your language translator smartwatch
You're buying a very crucial device. This is why be careful with your purchase. Make sure to consider the below-mentioned factors and buy the one that is the most ideal for you.
Size of display
You would be wearing your translator smartwatch in your wrist. Given the fact, the display of the smartwatch must be this much large that it doesn't look oversized in your wrist. Ideally, the LCD watch display of 2-3 inches looks good on the hands of adults. Nevertheless, it is a personal choice and you can go for any size of translator smartwatch.
Numbers of many languages
This is the most significant factor that you need to consider while buying your language translator smartwatch. Investigate carefully how many languages your prospective smartwatch can translate. Also, make sure to check that it offers the language that you need because translator smartwatches don't offer all languages. This is why be sure your prospective smartwatch offers your required language. In general, good-quality language smartwatches offer real-time translations of more than 100 languages.
Advanced features
Once the languages of the smartwatch are checked, move on and inquire into the advanced features of the device. Generally, all top-notch translator smartwatches are inbuilt with high-tech features such as music compatibility, high-quality camera, GPS function, heart rate sensors, the flexibility to make calls and many more. These features boost the overall functionality of the smartwatch. So, make sure to buy the one that is equipped with all of them.
Battery runtime
Yet another significant feature that must be brought into notice while buying a language translation smartwatch. Usually, all language translation smartwatches are battery-powered. Here, the thing you have to check is the type and the capacity of the battery. Generally, the language smartwatches equipped with 2500-2700mAh polymer battery are considered the best, as they provide long run-time.
Ease of use
At last, make sure your smartwatch translator has an easy-to-use interface so that you can operate it without any problem. Also, ensure that it is waterproof, dustproof, and sweat-proof.
Conclusion
You're going abroad whether for business meets or social events, conversing in the local language is not a problem. You can do it easily with the help of a language translator smartwatch. Besides translating the language, you can also enjoy many other features in a translator smartwatch. So, buy the one and explore the world beyond language boundaries.
Last update on 2023-10-04 / Affiliate links / Images from Amazon Product Advertising API