Language translator device is a new inventing tool which breaks the language barrier in our communication with people from different nationalities and who speak other languages. In the past, you will need an interpreter or a translator when you are traveling or on business meeting abroad. That's sometimes frustrating and also costly. Now, you don't need to worry about those situation anymore. All thanks to electronic language translator device that will make your work of communicating with local people much easier. Such advanced technology invention of voice translators help reduce a lot of communication barrier in our daily interaction. You can also use this device for learning new languages, order food in restaurant, and even for business meeting as well.
As technology is developing and improving so fast, we has just updated the list of our best language translator devices and add on the Latest Translator Devices which Have Offline Translation Functions at the end. You better check them out in case it's more useful for you in your situation.
Key Factors to Consider for the Electronic Language Translators
Make sure the device can translate your targeted languages. Most of the devices below can translate around 100 international languages already. So, you might not be worried about it.
The electronic translation device is conceptually built for voice translation. However, most devices now are equipped with photo translation as well. Thus, go for the one with both voice translation and photo translation if you might need to talk to the road sign and restaurant menu by yourself. Otherwise, just voice translation is enough.
Online and offline translation modes
If you're traveling to the countries which have limited access to the internet, you have two options: choose the device with offline function or the one with a built-in global internet data. Make a wise choice for yourself.
List of the Latest Electronic Language Translator Devices in 2023 | Updated
TRANSLATION DEVICE REVIEWS
1. CM Smart Instant Language Translator Device | Real-Time 2-Way Translations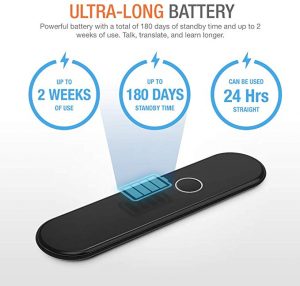 CM translator is so far the most sold device on Amazon's translation product list. Based on users' experiences, it is the most simple two-way real time translator among its kind and people love it for the following reasons. First of all, it is a pocket portable device with a superior ultra-long performance battery; 108 days for standby time and 24 hours for using continuously. This high capacity battery makes it the most convenient electronic language translator for traveling or business trip.
Second, CM translating device can performance a real time two-way translations within 42 most used languages; such as English, Spanish, Japanese, Chinese, Thai, Korean and more. 42 languages sound not much comparing to other peers below which support up to 100+ languages. Yet, CM is a simple, quick and accurate travel language translator device loved by many suers. Also, its is compatible using with both iPhone and Android phones.
Last but not least, it is a CM translator instant language translation device that utilized the cloud based AI technology same as in AI-Writer software, making this small device a powerful and advancing instant translator. If you like a small and simple but powerful device, this CM translator is the best one for you. Otherwise, go further the list for more sophisticated options.
Key features:
Two-way and real time translation
Support up to 42 most worldwide used languages
Utilize advanced cloud-based AI technology
Small, simple and easy to use with a press & hold button
Has powerful battery: 18 days standby time, 2 weeks for use
It has multi-functions: either 4-wheel cart or 2-wheel hand truck
Compatible with both Android and iOS
2. Langogo Pocket AI Translator Device with Global WiFi Hotspot for Travel |105 Languages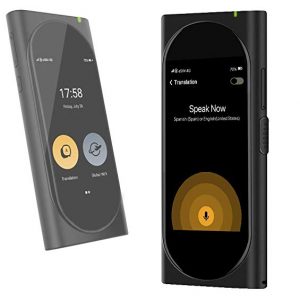 If you are looking for an instant electronic translator on Amazon, I have just added this Langogo Pocket AI electronic voice translator into my top list for its deployment of awesome AI technology. This translator handheld device provides a two-way translation of 105 languages. With just a click of the button, you will understand different languages instantly. This electronic translator also utilizes the latest cutting-edge Retina screen technology, eSIM embedded and powered by the 24 world-leading translation engines, making it capable of understanding different language accents almost perfectly.
It is really the best translation device for travelers of the present, and also recognized as an accurate Chinese translator device two way as you can see its performance in video below. So, if you are planning a trip to China and beyond, this is going to be your best travel language translator device to place in your pocket.
Key Features:
Support 105 online languages translation, 4 offline languages
Have Mobile Hotspot function and allow connection for up to 5 devices
3.1 Retina display screen with smooth-touch and control
Voice record up to 25 hours with transcribe service
Dual speaker and noise-canceling function
Continuous update service which you will never be out of date
Recognized by business traveller and tourists
Use Lithium-ion battery
Watch the video on how the Langogo AI Translator Device helps this guy on his trip in China
3. TESIYI Mini AI Language Translator Device with Camera Translation Function & Noise-Cancelling (106 Languages)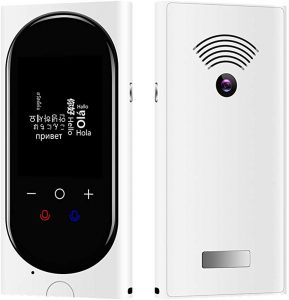 Tesiyi Mini language translator is another latest invented instant two-way translation devices which also utilizes artificial intelligent or AI algorithms. It is built with three main functions. First of all, the photo translation mood which you can use to translate menus or billboard signs by just taking the photo. Second is the instant two-way translation function which is very helpful for you to communicate with people from different countries or you can use it to learn different languages by yourself. Third is Bluetooth built-in mode which you can connect the translation device to a Bluetooth headset or headphone for real-time translation of any scene.
What's more special about this mini-language translation device is that it can translate up to 106 languages and 44 languages for photo translation as of August 2023. It's not done here. Its software is continuously updated to add more new languages for you in the future as well. For now, the most popular languages it supports are Japanese, Chinese, English, Korean, French, Russian, Finnish, Interlingual, Greek, German, Czech, Vietnamese, Ukrainian, Turkish, Filipino, Swedish, Spanish, Roman, Portuguese, and more.
How to use it? It's simple. Just connect to wifi or hotspot, then start using it! No need to install any application on your phone at all.
Key features:
Utilize AI technology with a continuous software upgrade and noise-canceling function.
Support 106 languages and 44 languages for photo translation.
5 million pixels built-in with character recognition (OCR) camera.
Bluetooth connection to use with headphone or headset.
Battery's capacity: 1200 mAh, 2-hour charging and 10-hours working time.
30-day money-back guarantee and one-year limited warranty.
Recognized by business traveller and tourists.
Anyway, in case you don't want something handy and love to have a translator ear device instead, you can check here the Translation Earbuds which are also emerging in the market now. The translator ear device is also becoming more popular among many youngsters.
Also check: The smartwatches which can also translate various languages in 2023
4. Buoth T9 Real-Time Translation Device 106 Languages with

Camera Translation Function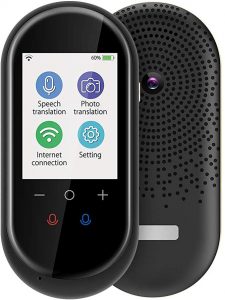 This real-time translation device by Buoth is another advanced two-way translator which is capable of translating 106 languages instantly. It is built simply for two main functions: voice translation or speech translation and photo translation. Therefore, you can use it as your real-time translator when traveling to other countries or working with people from different nationalities. Just set between your language and other target language, then use it.
The photo translation camera built in the device is also work like magic. You can use it to read the menu in the restaurant, brochure, flyer and even book. Take a snapshot of the part, and you will get it translated into your language on the screen. Anyway, you need to connect the device to wifi or hotspot to function. Expert teams from Vbestlist, who has done a lot of reviews on tech and electronic devices, has also recommended this translator for their customers.
Key features:
Two-way real-time translator of 106 worldwide languages, 44-languages photo translation.
OCR camera with 5-million pixels on a 2.4-inch touch screen.
Utilize the latest tech: HD recording, noise-canceling & fast recognition.
Warranty: 12 months.
Recognized by business traveller and tourists.
5. Birgus Language Translator Device AI Upgrade | Support 106 Languages| 8 Offline Languages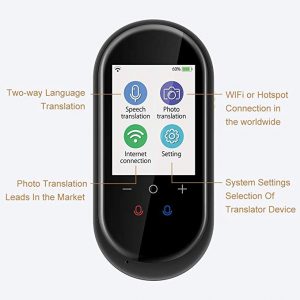 Birgus translation device is a well-recognized professional language translator brand, and this upgraded one can support up to 106 languages when the device is connected to internet and 8 languages for offline translation. This version also comes along with photo translation camera to help you understand the billboard, posters and menus in other languages than yours.
The Birgus brand has been very popular in the list of real-time translation device products. But this upgraded one provides even more awesome functionality and more accuracy as high as 98%. If you don't need excessive use, you can consider another smart voice translator by Birgus below for a cheaper price, yet quality remains. I only recommend this one if you are a kind of person who likes the latest release of the product and is in need of more functions. Otherwise, go for a lower price of Birgus translator further down the list.
Key features:
Upgrade design and capability: support 106 most prominent-use languages
Support
Equipped with OCR Camera for photo translation of 44 languages.
Added 8 offline languages translation functions.
The accuracy rate increases by up to 98%.
Recording function for translation with AI technology.
Support wifi or hotspot.
One-year warranty.
6. Birgus Smart Voice Translator Device with High Definition Toch Screen Support (Upgraded)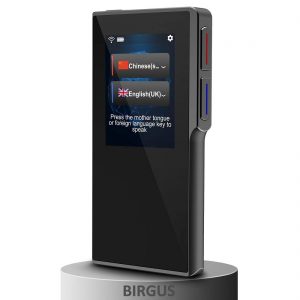 This is a Birgus smart voice translator device with 2.4 inch high definition touch screen. It is a cheaper version than the above one but also a multiple-language translator. It is a translator handheld device that is built with HD color touch screen of 2.4 inches in size. The translator has the capacity to translate 70 languages with clear voice pronunciation. The device's translation speaker is also loud enough to use even in the open space.
Having this Birgus voice translator device with you is like having a personal interpreter who can speak many languages. Yet, the device needs to connect to wifi or the internet to function. You can use this smart electronic language translator for traveling, learning Chinese and other new languages on your own, making friends from different cultures, and practice your pronunciation smoothly. Last, it comes with a one year warranty. So, you will be worry-free using it.
Key features:
It can translate multiple languages clearly and smoothly.
It's a touch-screen with clear visual and sensitive function as well as text on-screen display.
It translates instantly like a personal interpreter
Recording sound with hi-def quality
It's a 12-month warranty.
7. Pocketalk Language Translator Device | Portable Two-Way Voice Interpreter | Best English Japanese Translator Device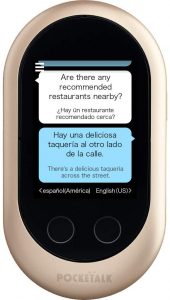 Pocketalk electronic translator is recognized as the best English Japanese translator device and number-one selling product in Japan. Yet, it doesn't only translate between the two languages. It is a kind of foreign language translator device real time which can help you travel confidently in 128 countries across the world. This handheld and portable translator utilizes cloud-based translation engine to provide the most-to-date accuracy function. It also comes with a two-year internet data plan built-in so you don't need to sign up with other mobile carrier or running around for wifi hotspot.
Pocketalk translator is also built with powerful dual speakers along with noise-cancelling function to provide accuracy for your communication in the busiest street or in the crowded restaurants. It is simple to use with its big screen to display the text for you to read as well. You can select or switch between languages in few taps only.
Key features:
Mobile date plan built-in for two years & wifi
Support 74 prominently-used languages and translate between them instantly
Portable and easy to carry
7-hour battery life for full usage, and 10 days when in sleep mode
IFA 2018 Innovation Award for Mobile Computing Category in Germany
8. SSK Smart Language Translator Devices | The best English Japanese translator device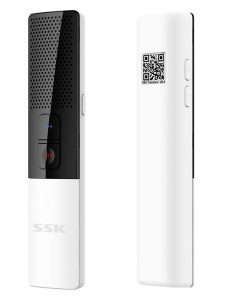 SSK Smart language translator is also one among the most popular electronic translators in Japanese market. It is extremely budget-friendly and offers some impressive features. From easy access to reliable accuracy and from long battery runtime to a remarkable service, SSK smart language translator has amazed the people. Unlike other electronic translator, it supports up to 86 languages. It also has a photo recognition translation feature. So, just snap a picture and get the real-time translation in seconds.  For easy accessibility, you can operate it from your Android device too.
Key features:
Easy to operation

Known for accuracy and instantaneous translation

2-way voice translator

Long-time battery capability: 3 to 4 hours for continuous use and up to 120 hours for standby.
9. MORTENTR Electronic Translator Device | Smart Voice Translator
Mortentr Electronic Translator is an awesome device which also can support 70 languages and designed for two-way translation. Just connect to the wifi or 4G, the device can translate for you accurately and instantly. Its 2.4 touch is large enough for you to read and touch to command its functions conveniently. You can use it anywhere and anytime. It supports 70 languages which include from English to Spanish, Japanese, and Chinese and more It comes with a 12-month warranty. So, you can give it the best try!
Key features:
High-speed and accuracy translation

2-way voice & versatility translator

High recognition capacity

Connect to WiFi or 4G Internet

12-month warranty
10. iFLYTEK Smart Electronic Voice Language Translator Device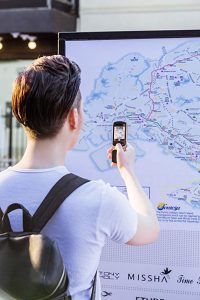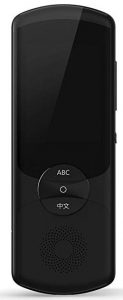 If you are looking for an offline language translator device, then iFLYTEK Smart language translator is the right one. This electronic language translator actually provides both Offline and Online translation functions which are extremely helpful for all travelers. Its amazing Offline translation function is currently available as follows: Chinese-English & English-Chinese, Chinese-Russian & Russian-Chinese, Chinese-Japanese & Japanese-Chinese, Chinese-Korean & Korean-Chinese. From easy access to reliable accuracy and from long battery runtime to remarkable service, iFLYTEK electronic translator also has a photo recognition translation feature. So, just snap a picture and get the real-time translation in seconds; ranging from a road sign, menus in the restaurants, labels on the products, and many more. Most importantly, it fully supports Wifi and 4G internet sim card as well as a virtual card that provides convenience to you when you travel. It's amazing, right?
If you don't mind spending a big chunk of money, no other language translator devices can be better than this for you. You know why? Its offline translation feature is designed with NMT offline engine which is as fast and accurate as online translating. So, if you're traveling to a place where you can't access your Internet, forget not to carry iFLYTEK Easy language translator device along with you. From Chinese to Russian, it offers the vice-versa translation of 33 languages.
Key features:
Dialect translating capacity.
It has both Offline and Online translation function.
Wifi and 4G internet sim card support.
Multi-language translation.
Photo text recognition translation.
11. Smart Voice Language Translator Device | Instant Voice Language Translator Device
If iFLYTEK Smart language translator isn't advanced enough to meet your needs, give a try to Smart voice language translator device by Birgus. It is a two-way voice translator and supports the vice-versa translations of a wide range of 70 languages. The device is designed with so high-accuracy features that it can hear you clearly even in a noisy environment. Just connect to 4G Internet or Wi-Fi, and you're all set to go with confidence.
Key features:
Support 70 languages with 98% accuracy.
2.4 inch HD touch screen and real-time voice translation with display text.
Built with a noise-reducing microphone.
More than 8-hour battery life and 7-day long for standby.
12-month warranty within 24-hour customer support.
12. TT Easy Trans Smart Language Translator Device

If you love high-featured gadgets, TT Easy Trans smart language translator device can amaze you with its advanced functionalities. Supporting 52 languages, it is a voice translator. You need to speak clearly what you want to get translated. You'll get the translation result in audio as well text. You can use it even as a wireless Bluetooth speaker. Given its features, it's a wonderful electronic language translator.  Not only a basic communication but it can even help you to learn a foreign language to some extent.
Key features:
Mini design for the pocket with Bluetooth connection to speakers.
Support 52 languages.
Available in 3 modes: single machine, manual dural machine, and automatic dual machine mode.
13. Smart Voice Language Translator Salange Sogou pro, Smart AI 42 Kinds Language Mutual Translator 3.1
Salange Sogou pro is a leading brand in this industry. Maybe, this is why it is a loved choice among the users. Speaking of this electronic language translator, it is a two-way translator supporting 64 kinds of languages online. The translation result is presented in the text as well as audio. In case, you want to hear the result again, you can replay it. The electronic translator is designed with the ultra-high accuracy, so you can rely on the results blindly. It is a good electronic voice translator at a pretty decent price! It also has the ability to translate language on the picture as well. It's an amazing one, isn't it?
Key features:
Support both voice and photo translation.
3.1-inch multi-touch screen display.
Twice-time noise reduction microphones built-in.
7-day standby battery life.
14. Instant Electronic Voice Translator | Best Electronic Translator by Birgus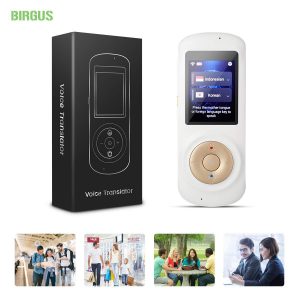 Do you want an interpreter beside you all the time? Well, get this electronic voice translator. It is no less than a human interpreter. Supporting two-way translations in 52 languages, it is one of its kind in the market. Though it is a bit pricey, you won't regret spending money on it. It offers an accurate translation in a fraction of the moment. Just speak in your language and the translation is there. Unlike other electronic language translators, it has a powerful battery of 1200 mAh.
15. Aibecy Smart Language Translator | Multi-speech Text Translation Device

Aibecy has designed this two-way translator device for the people who want good quality at an affordable rate. After looking at its features and services, you'll go for this electronic voice translator even without a second thought. It supports more than 30 languages.  You can get your desired result either through audio or text. The thing that makes this electronic voice translator different from other devices is its easy accessibility. It has its own android/IOS app. With the help of that, you can operate it even from your mobile.
16. OXSII Handheld Pocket Smart Electronic Voice Translator

Yes, you read it right. It is a pocket translator device. Generally, all electronic translator devices are portable but this one can fit in your pocket easily. Other than its amazing portability, it is famous for its easy accessibility too. You can operate this smart translating device from your Android phone. Given these two features, it is probably the best electronic voice translator for traveling. It will help you to translate more than 33 languages and easy to put in the pocket.
17. Weikin Portable Language Translator Devices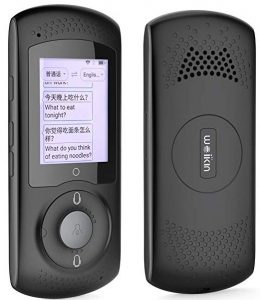 If the low battery of your devices irritates you, consider buying this language translator device because it has a long standby time of 5-8 days. With its powerful battery of 1200 mAh, it can serve you continuously for almost 10 hours. To impress you more, it works as a wi-fi hotspot for your other electronic devices. You just need to insert a 4G SIM in this translator device. It also has a recording feature. What else you can ask for?
---
Best Offline Language Translator Devices in 2023
Offline language translator device is the latest development in electronic translation technology which allows the device to function without the need of wifi or the internet. As technology is advancing from day to day, tech engineers have also been able to make many impossible things become possible. Evolving from human translator/interpreter to an online language translator device, now a language translator without wifi or the internet is also emerged progressively. We keep an eye closely on this development, and today we would like to introduce the….. best offline language translators for you. We will continuously update our list once there is a latest emerged device.
List of the Best Offline Language Translator Devices in 2023
18. Jarvisen Instant Selected Offline Translation | Real Time Two Way Voice Translator 60 Languages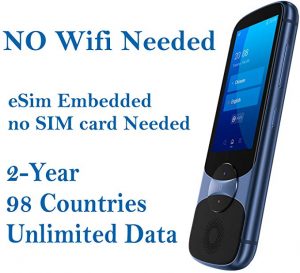 Jarvisen offline translator device is a very advanced one but also a bit expensive among other devices. For its offline function, it can perform a two-way translation between English-Chinese, Japanese-Chinese, Korean-Chinese, and Russian-Chinese with the need for internet connection. The manufacturer has also claimed that more languages will be added further in the future. Besides from offline mode, this device is also built with embedded eSim and also offer 2-year global data coverage for 98 countries and regions. Not limited from here, you also have 4 more options for internet connections such as wifi, mobile hotspot, nano sim card and any eSim integration. That is amazing for such a small device.
With internet connection, the Jarvisen translator can perform two-way and real-time voice translation between 60 most used languages. It has the most advanced technology of 4-mic far field array, smart noice reduction and fast process processor. It is recommended for not only traveling, but also for professional work in health care sector, IT, finance, sport, legal and more. Most to remember, you will get 30-day money back guarantee and lifetime support without charge. That allows you to get the device to test for a month and decide if it's useful for you or not.
19. Buoth's Language Translator Device Supports with Offline Translation Assistance | 106 Languages Two Way Translation for Online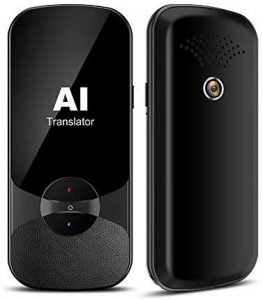 This language translator from Buoth is built with offline translation assistance, and it can translate up to 8 languages without the connection to internet. That will be very helpful in case of internet connection lost in some situation or when you travel to an area in which data there is wifi or hotspot. However, you need to identify which 8 languages you need for offline use and then pre-download them into the device in advance.
Aside from the offline translation function, the device is working accurately between 106 most used languages worldwide. Not to mention about its AI technology, if internet is working smoothly, you can get it to translate for you in 0.1 second speed. Other special features for this powerful device includes voice record for translation, camera translation and noice reduction mic as well as ultra battery capacity. It is most recommended for business trip and trip to the remote country side in other countries.
20. Offline Language Translator Device by MORTENTR | Two Way Instant Voice Translator Support 106 Languages with Internet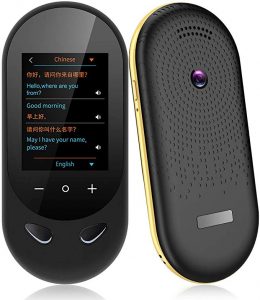 Based on the producer, this device can perform offline translations up to 8 languages such as traditional Chinese, English, Japanese, Korean, French, Germany, Spanish and Russian. To get it work, you need to select the Offline translation function mode, and the scroll the select the list of languages available. However, you need to download those 8 languages into your device in advance. So, make sure you do so, otherwise once you unpacked your device.
Like the above one, this device is also more powerful when it's connected to internet. When it's online, you it can translated up to 106 languages simultaneously, and with 98% accuracy. It is considered as one of the ultra-high accurate translators in the category. The rest functions include: translation of real-time voice and text, photo, voice record and smart AI technology.
21. Language Translator Device Portable | Offline Voice Translator Support WiFi/Hotspot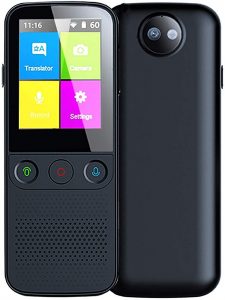 This offline electronic translator by SUPPPER is able to translate, without the internet connection, languages up 11 languages such as English, Chinese, Japanese, Korean, German, Spanish, French, Italian, Dutch, Portuguese, and Russian. Yet, you also need to download those languages in advance as well. As it's for emergency purpose only, there is also limitation to it. So, it mostly works for some basic conversation. However, it will function in full capacity when it's connected to wifi or hotspot.
Like other advanced translator device, this SUPPPER also has function to translate voice, text, and photo as well. It also come with 1 year warranty. What make it more special than the above offline translators is its compact design for easy storing in pocket and handheld. Very convenient to bring along anywhere you want to.
Conclusion
Speaking a foreign language is really fun. We know it's difficult at some point. But, don't worry about it because these top-notch language translator devices are there to help you. Just grab the one and speak like the locals.
The brief invention of translation device
Language translator or sometimes called a mobile translator is an electronic device with software application installation which can provide audio translation in many languages. It was invented in the form of a handheld electronic tool. However, with the advance of technology, the software application can be installed on your phone and used with earphones or earbuds as well. Some devices are already utilized AI technology to ease the translation process even smarter and faster. So, now you can get the translator assistant available in the translation device, in your mobile and in your earbuds. Maybe it will be available in your glasses or watch next? Who knows what will emerge next in this beautiful world of technology?
---
FAQ About Translation Device!
What is the best translation device?
From customers' buying experience and record, below are the most popular translation devices among others in our list.
Langogo Pocket AI Translator Device with Global WiFi Hotspot for Travel
TESIYI Mini AI Language Translator Device with Camera Translation Function & Noise-Cancelling (106 Languages)
Buoth T9 Real Time Translation Device 106 languages with Camera Translation Function
Birgus Language Translator Device Upgrade to Support 106 Languages, Camera Translation & 8 Offline Languages
Birgus Smart Voice Translator Device with High Definition Toch Screen Support
Pocketalk Language Translator Device for Portable Two-Way Voice Interpreter, Most Popular in Japan
SSK Smart Language Translator Devices
How does a language translator work?
It depends on the devices. Mostly the language translator device functions as a two-way voice interpreter which help you to understand another language instantly. Yet, I would categorize them into three types: offline translator, online translator and photo/image translator. This means that some translator device can provide you with language translation without connecting to the internet, where as the online one require wifi or hotspot connection to work. And for photo translator, it helps you to translate languages on any menu, poster and other sign by just taking photo.
While some translator device comes with single function, some advanced devices such as the latest Birgust Translator and TESIFY Mini AI Translator are built with multiple functions. Therefore, choose the one that fit your need. It's not always necessary to buy the latest or the most advanced one. The one that fits your need is always your best companion!
What is real-time translation?
When a translation device is described as a real-time translator, it means that the device is working like a human interpreter. First you set your language and target language. Then, you just press a record button and speak, and the device will translate to your target language and vice versa. It works the same for photo translation. You take photo of the menu for instance. The device will scan the text on the image and translate for your immediately. That's the beauty of the technology, and you can now travel to anywhere with confidence.
Is there a translator app that doesn't require Internet?
If you are looking for a translator app which can be used without the internet, then we would recommend to use Google Translate app or explore one of these translator smartphone applications. With the latest update, Google Translate allows both Android and iOS users to pre-download more than 50 worldwide use languages for offline translation support. Therefore, if you want to use your Smartphone instead of translator device, then you first need to connect your phone to internet, then download Google Translate app in to your phone. After that, you need to download app's setting to select Offline Translation, then start downloading the languages that you need to use without internet. That's it. For the moment, there seems no other apps which support offline translation besides the app for specific offline translator devices mentioned above yet.
Bonus: If you want to explore other technology and electronic products, visit our dedicated page.
Last update on 2023-10-03 / Affiliate links / Images from Amazon Product Advertising API