Traveling aboard! This is actually a dream that everybody cherishes somewhere deep at the heart. But, when this dream comes true, it comes with some problems. Among all, the biggest problem is a language barrier. But you don't need to worry at all. All thanks to language translator device that will make your work of communicating with local people much easier. Such advanced technology invention of voice translators help reduce a lot of communication barrier in human daily interaction. So, are you ready to speak a foreign language in just a few minutes? Well, have a look at the names of top 12 best language translator devices as follows:
List of The 12 Best Language Translator Devices in 2019
12. Langogo Pocket AI Translator Device with Global WiFi Hotspot for Travel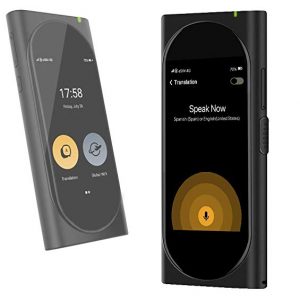 I just add this Langogo Pocket AI language translator device into my top list as it is the latest invention with the deployment of AI technology. The device provides a two-way translation of 105 languages. With just a lick of the button, you will understand different languages instantly. This translation device utilizes the latest cutting-edge Retina screen technology, eSIM embedded and powered by the 24 world-leading translation engines, making it capable of understanding different language accents almost perfectly. It is really the best translation device of the present!
Key functions/features:
Support 105 languages.
Have Mobile Hotspot function and allow connection for up to 5 devices.
3.1 Retina display screen with smooth touch and control.
Dual speaker.
Continuous update service which you will never be out of date.
11. Birgus Smart Voice Translator Device with High Definition Toch Screen Support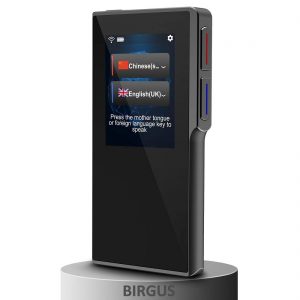 Birgus Smart Voice Translator Device is a multiple language translator which is built with HD color touch screen of 2.4 inch in size. It has the capacity to translate 70 languages with clear voice pronunciation. It is also loud enough to use even in the open space. Having this Birgus translator device with you is like having a personal interpreter who can speak many languages. Yet, the device needs to connect to wifi or internet  to function. You can use this smart language translator device for traveling, learning new languages by your own, making friends from different cultures, and practice your pronunciation smoothly. Last, the device comes with a one year warrantee. So, you will be worry free using it.
Key functions/features:
It can translate multiple languages clearly and smoothly.
It's touch-screen with clear visual and sensitive function as well as text on screen display.
It translates instantly like a personal interpreter
Recording sound with hi-def quality
It's 12-month warranty.
10. iFLYTEK Smart Electronic Voice Language Translator Device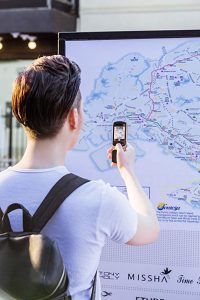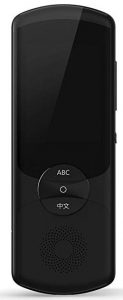 If you are looking for an offline language translator device, then iFLYTEK Smart language translator is the right one. This translator device actually provides both Offline and Online translation functions which is extremely helpful for all travelers. Its amazing Offline translation function is currently available as follows: Chinese-English & English-Chinese, Chinese-Russian & Russian-Chinese, Chinese-Japanese & Japanese-Chinese, Chinese-Korean & Korean-Chinese. From easy accessibility to reliable accuracy and from long battery runtime to a remarkable service, iFLYTEK translator device also has photo recognition translation feature. So, just snap a picture and get the real-time translation in seconds; ranging from road sign, menus in the restaurants, labels on the products, and many more. Most importantly, it fully supports Wifi and 4G internet sim card as well as virtual card which provide convenient to you when you travel. It's amazing, right?
If you don't mind spending a big chunk of money, no other language translator devices can be better than this for you. You know why? Its offline translation feature is designed with NMT offline engine which is as fast and accurate as online translating. So, if you're traveling to a place where you can't access your Internet, forget not to carry iFLYTEK Easy language translator devices along with you. From Chinese to Russian, it offers the vice-versa translation of 33 languages.
Key functions/features:
Dialect translating capacity.
It has both Offline and Online translation function.
Wifi and 4G internet sim card support.
Multi-language translation.
Photo text recognition translation.
9. Smart Voice Language Translator Device | Instant Voice Language Translator Device
If iFLYTEK Smart language translator isn't advanced enough to meet your needs, give a try to Smart voice language translator device by Birgus. It is a two-way voice translator and supports the vice-versa translations of a wide range of 70 languages. The device is designed with so high-accuracy features that it can hear you clearly even in a noisy environment. Just connect to 4G Internet or Wi-Fi, and you're all set to go with confidence.
Key functions/features:
Support 70 languages with 98% accuracy.
2.4 inch HD touch screen and real time voice translation with display text.
Built with noise-reducing microphone.
More than 8-hour battery life and 7-day long for standby.
12-month warranty with within 24-hour customer support.
Anyway, in case you don't want something handy and love to have earpieces instead, translation earbuds are also emerging in the market now. Check out Top 10 Best Language Translation Earbuds in 2019
8. TT Easy Trans Smart Language Translator Device

If you love high-featured gadgets, TT Easy Trans smart language translator device can amaze you with its advanced functionalities. Supporting 52 languages, it is a voice translator. You need to speak clearly what you want to get translated. You'll get the translation result in audio as well text. You can use it even as a wireless Bluetooth speaker. Given its features, it's a wonderful language translator device.  Not only a basic communication but it can even help you to learn a foreign language to some extent.
Key functions/features:
Mini design for pocket with bluetooth connection to speakers.
Support 52 languages.
Available in 3 modes: single machine, manual dural machine, and automatic dual machine mode.
7. Smart Voice Language Translator Salange Sogou pro, Smart AI 42 Kinds Language Mutual Translator 3.1 
Salange Sogou pro is a leading brand in this industry. Maybe, this is why it is a loved choice among the users. Speaking of this language translator device, it is a two-way translator supporting 64 kinds of languages online. The translation result is presented in the text as well as audio. In case, you want to hear the result again, you can replay it. The translator device is designed with the ultra-high accuracy, so you can rely on the results blindly. A good language translator device at a pretty decent price! It also has the ability to translate language on the picture as well. It's an amazing one, isn't it?
Key functions/features:
Support both voice and photo translation.
3.1 inch multi-touch screen display.
Twice-time noise reduction microphones built-in.
7-day standby battery life.
6. Instant Voice Language Translator Device by Birgus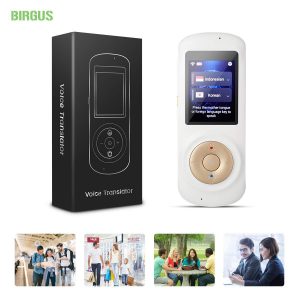 Do you want an interpreter beside you all the time? Well, get this language translator device. It is no less than a human interpreter. Supporting two-way translations in 52 languages, it is one of its kind in the market. Though it is a bit pricey, you won't regret spending money on it. It offers an accurate translation in a fraction of moment. Just speak in your language and the translation is there. Unlike other language translator devices, it has a powerful battery of 1200 mAh.
5. Aibecy Smart Language Translator Multi-speech Text Translation Device

Aibecy has designed this two-way translator device for the people who want good quality in an affordable rate. After looking at its features and services, you'll go for this translator device even without a second thought. It supports more than 30 languages.  You can get your desired result either through audio or text. The thing that makes this translator device different from others is its easy accessibility. It has its own android/IOS app. With the help of that, you can operate it even from your mobile.
4. OXSII Handheld Pocket Smart Voice Translator Device

Yes, you read it right. It is a pocket translator device. Generally, all translator devices are portable but this one can fit in your pocket easily. Other than its amazing portability, it is famous for its easy accessibility too. You can operate this smart translating device from your Android phone. Given these two features, it is probably the best language translator device for traveling. It will help you translating in more than 33 languages.
3. Weikin Portable Language Translator Devices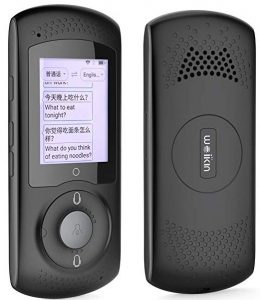 If the low battery of your devices irritates you, consider buying this language translator device because it has a long standby time of 5-8 days. With its powerful battery of 1200 mAh, it can serve you continuously for almost 10 hours. To impress you more, it works as a wi-fi hotspot for your other electronic devices. You just need to insert a 4G SIM in this translator device. It also has the recording feature. What else you can ask for?
2. SSK Smart Language Translator Devices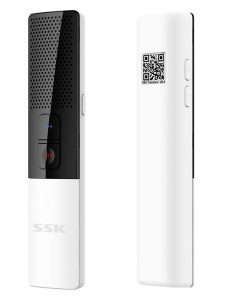 SSK Smart language translator device is one of its kind in the market. It is extremely budget-friendly and offers some impressive features. From easy accessibility to reliable accuracy and from long battery runtime to a remarkable service, SSK smart language translator device has amazed the people. Unlike other translator devices, it supports up to 86 languages. It also has photo recognition translation feature. So, just snap a picture and get the real-time translation in seconds.  For an easy accessibility, you can operate it from your Android device too.
1. MORTENTR Translator Device Smart Voice Translator 
Mortentr Transltor is an awesome device which also can support 70 languages and designed to be two-way translation. Just connect to the wifi or 4G, the device can translate for you accurately and instantly. Its 2.4 touch is large enough for your to read and touch to command its functions conveniently. You can use it anywhere and anytime. It supports 70 languages which include from English to Spanish, Japanese, and Chinese and more It comes with 12-month warranty. So, you can give it the best try!
Conclusion
Speaking a foreign language is really fun. I know it's difficult at some point. But, don't worry about it because these top-notch language translator devices are there to help you. Just grab the one and speak like the locals.