If you're like me, then you enjoy spending time outdoors camping and hiking. But there's one thing that can really spoiling the experience: not being able to cook our own food. That's where portable stoves come in – they let you easily cook up a meal while out in nature, no matter what the conditions are like. In this post, I'll share with you my top picks for the best portable stoves on the market today.
List of the Top 10 Best Portable Stoves in 2023
1- Best Overall: Outland Firebowl Portable Stove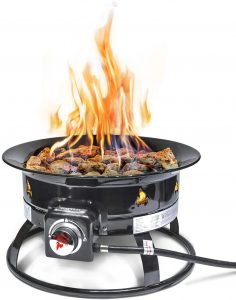 Outland Firebowl is known for its durable and high-quality steel body. To give it a shiny gloss, it has been given a protective powder layer and an enamel finishing. This means it's not only durable but also great to look at. It has a stainless steel burner and can support a canister of 5-gallon propane.
Portable stoves are meant to be put to rough use, but who says they need to look bad? The valve and shiny exterior give off a striking look and function smoothly. To enhance your camping experience, it comes with a set of 4.4lbs of lava rocks to glorify the flickering flames.
Key Features
Supreme quality steel construction
Stylish chrome knob
Lightweight and portable
Includes carry & cover kit
Comes with a 10-inch hose
2- Best Runner-Up: Ohuhu Camping Stove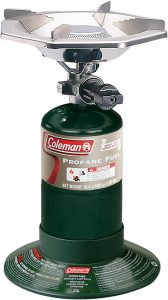 Do you love grilled food while camping? If yes, then this portable stove was made for you. It comes with a grill tray and doesn't require you to carry a gas canister. This works on wood and is geared with a 3-arm supporting base. No matter how uneven the ground is, it will act as your table-top.
You can also put pinecones and small branches for burning. As long as they are completely dry, it will burn just fine. This comes with a mesh bag, so you don't need to spend extra on a carry case! The stainless steel body is sturdy, but the lightweight makes it easy to carry.
Key Features
Burns on dried twigs, pines and branches
3-arm supporting base
Comes with a mesh bag
Small and lightweight
Environment friendly and durable
3- Best Under 30 Dollars: Gasone Propane Stove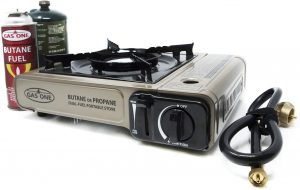 What happens when you run out of gas for your stove and can't find it anywhere? This portable stove can work on both propane and butane! It also comes with a propane regulator-converter and a carry bag, saving you from additional purchases.
What makes it unique is that it has an automatic safety shutdown system. This means, if the flame went out at some point or became irregular, then it'll shut it off automatically. So there's no chance of an accident! Thanks to the piezo-electric ignition, you don't need matchsticks or a lighter. If you want something safe and affordable, then this is your perfect option!
Key Features
Works with both butane and propane
Comes with a regulator and carry bag
Automatic safety shutdown system
No need for lighter or matches
Easy to carry
4- Best Value For Money: Coleman Portable Stove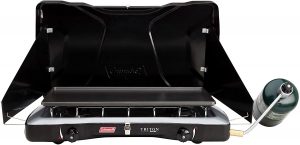 Cooking outside can be tedious as the wind will definitely trouble the flame. This portable stove has sturdy panels to block out the wind. The panel is large enough to hold a 12-inch pan, another 10-inch pan, and additional room for a griddle. With two adjustable burner valves, you can cook up to 22,000 BTU of power without any trouble.
The perfect flow & heat technology keeps the flames even and cooks your food properly. Once you are done with this, you can just remove the grate to clean it up. In short, it's low-maintenance. The lid has a lock that will keep it safe until you open it again. If you want a sturdy stove for outdoor purposes, then check this out.
Key Features
Heavy-duty latch
Plenty of surface for griddle and pans
Low-maintenance and portable
Comes with wind-blocking panels
Two adjustable valves
5- Cheapest Amongst All: Canway Backpacking Stove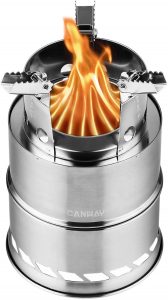 If you love backpacking and camping, then a Canway backpacking portable stove is a great option for you. It's lightweight but not flimsy! The structure is made entirely from double-walled, stainless steel with zero flex. With a diameter of 5.25 inches, it can support big pots without any problem.
Once lit, it's ready to be used within 3 minutes and emits no smoke. The flames are even and strong to give you that authentic camping experience. It also comes with a nylon bag, so you don't need to search for a carry case. Since it burns on twigs, cotton, and pines, you can light it up easily.
Key Features
Comes with a nylon carry bag
Runs on wood & twigs
Diameter is of 5.25 inches
Double-walled, stainless steel body
Emits no smoke
6- Best For Outdoors: Coleman Bottletop Portable Stove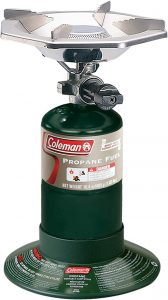 This Coleman bottle top portable stove is made especially for outdoor cooking and camping in the woods. It has an 8-inch burner bowl that can be used with a propane tank. The adjustable valve gives you full control over the flame. You can bring to a full boil or a low simmer with just a slight turn of the knob.
The perfect flow technology ensures the flame is stable even in high altitudes and windy places. It has a cooking power of 10,000 BTU and comes with a pressure regulator. This stove comes with a limited warranty of three years, and the customer care is friendly and co-operative. If you receive a faulty piece, just mail them the pictures, and they will send a replacement.
Key Features
Limited warranty of 3 years
Cooking power is 10,000 BTU
Portable and easy to use
Has a pressure regulator
Affordable and durable
7- Best For Camping & Barbeque: Coleman Classic Propane Stove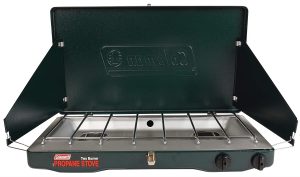 Breakfast, lunch, grilling, name it, and this stove can do it. This stove has two burners that have 20,000 BTU of grilling power altogether. Even in extreme conditions, it can perform perfectly as it comes with adjustable wind-blocking panels. The pressure regulator ensures that the flame is stable at all times.
Even if the weather is cold or you are low on fuel, the flame will be stable. The large windshields cover the burner from all sides to protect it. If you want to go camping or to set-up a barbecue for yourself in your yard, then this portable stove is perfect. This also comes with a three-year warranty!
Key Features
20,000 BTUs of cooking power
Two burners and a pressure regulator
Three-years of the limited warranty
Easy to use and portable
Can perform in extreme environments
8- The Most Durable One: Coleman Portable Stove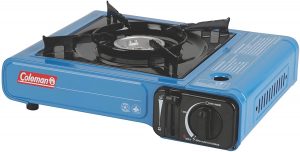 Do you like to go camping frequently but can't seem to find a sturdy stove? Coleman's butane portable stove is here to your rescue! This is especially for those who like to cook outside or camp frequently. It can support a 10-inch pan and 8.8 Oz of butane canister easily.
What makes it the most durable is its sturdy steel body, automatic ignition, and 7,650 BTU of power. The porcelain-coated grate is easy to clean, and the carry case is perfect for your trips. It has an aluminum burner that won't rust even after years of usage. Get it today to make your outdoor recreations easier!
Key Features
Aluminum burner won't rust easily
7,650 BTU of cooking power
Sturdy structure and easy to clean
Automatic knob ignition
Comes with a durable carry case
9- The Most Stylish One: Camplux Dual Portable Stove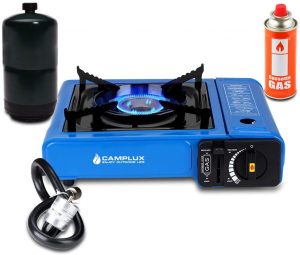 Want something durable but don't want to compromise on the looks? Camplux dual fuel portable stove has got you covered. The shiny black steel exterior is a steal deal! Weighing only 3.51 pounds, this is easy to carry and comes with a carry case. The dual-fuel option makes it more convenient for you to get fuel if it runs out while camping.
The easy to clean surface, black body, carry case, and dual fuel option make it an enticing package. With a heat power of 7200 BTU/hour, your meal will be ready in no time. There's a lock option for the valve too, so no freak accidents. Say goodbye to all your camp cooking struggles!
Key Features
7200 BTU per hour
Includes a carry case
Lockable valve knob
Supports butane and propane
Is low-maintenance
10- The Foldable One: Tomshoo Foldable Stove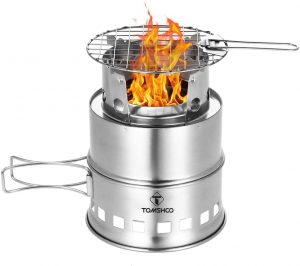 If you love hiking, then you would want a lightweight & nun-bulky stove, right? The Tomshoo foldable stove is the smallest and lightest in the range. The base has an anti-slip cross stand, and the body is made from sturdy, double-walled stainless steel. All it needs is some dried twigs and leaves to start a steady fire!
The bottom part has vents that help in air circulation. It also helps the fire to burn clean and emit no smoke. The stove comes with a mesh carry bag and grill for your barbeques. With its 1 pound weight and foldable structure, it's a must-have for hikers.
Key Features
Comes with a mesh bag and grill
Weighs only 1lbs and is foldable
Sturdy body and affordable
Burns on twigs and leaves
Air vents help the fire burn clean
FAQs (Frequently Asked Questions)
Ques.1 Can I Use My Portable Stove Indoors?
Ans– Manufacturers always provide a time for which the stove can be lit. After that, they should be turned off. If you have enough ventilation indoors and adequate space, then you could use it indoors. But portable stoves are meant to be used outdoors, not indoors. Even then, always remember the time limit of your particular stove.
Ques.2 What Is The Purpose Of A Portable Stove?
Ans– A portable stove is basically meant for outside cooking and barbeques. They usually run either on propane or wood. For wood stoves, apply a little Vaseline on a cotton ball and place it on top of the twigs and leaves. That way, it will catch fire quicker than usual.
Ques.3 How Long Will A Canister Last?
Ans– A butane canister will last for 2 hours at high speed and 4 hours at slow/medium speed. Propane will last for an hour at high speed and two hours at medium. But eventually, it will always depend on how much heat is needed and what you are cooking.
Conclusion
If you are looking for a portable stove that can help you cook anywhere, these portable stoves are worth considering. They have an easy-to-use design with plenty of functions to make your cooking experience as enjoyable as possible. You won't have to worry about being stranded in the woods because this stove will work just fine on any surface and it's lightweight enough to take camping or hiking without adding much weight! This compact cooker provides reliable heat for all types of meals so if you don't want anything fancy but need something that works, give this one a try! Have a happy cooking!
Last update on 2023-10-04 / Affiliate links / Images from Amazon Product Advertising API