Are you looking for the noise cancelling earbuds to bear yourself from hearing something that you don't want to hear? It happens mostly on your road trips, where you have to take buses or airplane to reach to your destination. Or another case, you're studying at a coffee shop and people keep bugging you by their loud voices. You might either hear those loud laughs or the sound of a crying baby that bother your focus. That's frustrating and annoying right? And yes, I'm sure you all have experienced this just like me.
That's why this article is here to solve all of your worries with the introduction of the best noise cancelling earbuds you can choose from. These products are designed to eliminate background noises or the external noise that you don't want to hear as they are compact, easy to set up and useful as well. Not only it helps omit all the noises, but they are also good at playing your favorite tracks, which they are mostly wireless and resistant. If you are ready, let's go the the top noise cancelling earbuds based on their special features and performances below.
List of the Best Noise Cancelling Earbuds & Buying Guide 2023
11. Sony WF-1000XM4 Industry Leading Noise Canceling Earbud with Headphones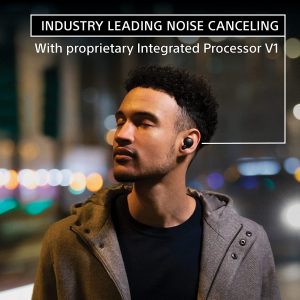 Sony just announced the release of its WF-1000XM4 Earbuds which is claimed as the leading noise canceling wireless earbuds in the industry. The earbuds have a ver compact design, making it look even more elegant than the AirPids pro. Sony is well recognized for its noise canceling technology in headset. And this WF-1000XM4 is exceptional. The earbuds is inbuilt with the integrated processor V1 to provide good sound quality. The processor is also effective in filtering the noise when you make a call or listening to music outdoor or in noisy environment.
The earbuds are in a good shape to fit in your ears. They don't look bulky like other earbuds. The microphone function and speaker function are claimed to be well-integrated. The battery is quite extraordinary, lasting up to 8 hours. It is water resistance, meaning you can even place the in your ears while you walk or jog in the rain. You can use the earbuds with both Android phone and iPhone, unless you like your iPhone with AirPods better. You can use the WF-1000XM4 to command the Google Assistant and Alexa, but might not Siri. We have AirPods below for your option. So, you choose!
You Can Watch Video Unboxing and Reviewed by Flossy Carter below
10. Apple AirPods Pro Noise Cancelling Earbuds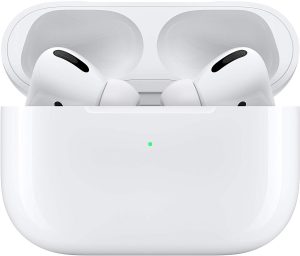 Coming off to the very first product of the review which is the queen to everyone's heart; it is the Apple's Airpds Pro Noise Cancelling Earbuds. As most of you know, this Airpods model has just been released in the market and it is considered as one of the best noise-cancelling earbuds among iPhone users. Not to mention much about the brand, this Airpods Pro model can lock all of the external noises that you don't want to hear. It is attached with a transparency mode for you to click on, if you want to interact with others. Moreover, since it comes with silicone tips instead of normal iPhone earphones, the Airpods is deserved a Pro device in its family.
The Airpods Pro Noise Cancelling Earbuds are designed to have 3 various silicone tip sizes to fit it in your ears comfortably. Thanks to the H1 chip that is included to this buddy to add a powerful and one of the best sounds too. The best part about it is that it endures to various types of conditions such as sweat and water resistance. Thus, you don't have to worry; if you get sweaty easily or water spills on them. The Airpods Pro is powerful and has a long battery life up to 24 hours. I'm sure, getting this won't be a disappointment for you. Yet, Apple still isolates itself from others, and it allows the Airpods Pro to  only work with its devices such as iPhones, iPads, or MacBooks. If you are an Apple fan, here you go!
9. FIIL Digital Noise Cancelling Earbuds/Premium Sound Wireless Neckband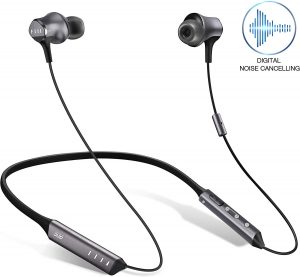 This might be an ideal pick for you, if you are looking for the noise cancelling earbuds/neckbands that are compatible for both sports activities and noise control at the same time. Why did I say that? Well, as you can see, this active noise control earbuds come with a neckband, making it excellent especially for outdoor activities. Moreover, there are wire attachments for both sides of the earbuds along with the magnet to secure them together when you stop using them. On top of that, the earbuds has the latest active noise control system that gives you peace in mind when enjoying your songs or podcasts. Wen you are doing sports activities, on a flight or in a library, the Fill Digital noise cancelling earbuds can greatly save you from noise bothering in your ears as well.
This Fill Digital earbuds model is wireless and can withstand up to 10 hours of performance. There is a monitoring system included in this device for you to select and control it whenever you want to. This active noise control earbuds are available in 4 sizes of silicone tips for you to fit in well inside your ears in whatever sizes. The earbuds works with most bluetooth devices.
8. Bose QuietComfort 20 Acoustic Noise Cancelling Earbuds/Earphones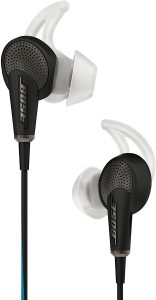 Moving on to another product, which is also one of the most popular brands so far that has been launched the market is Bose Noise Cancelling Earbuds. Bose has come up with a segmented idea of dividing their earbuds into 2 different sections, Bose Earbuds for iOS devices and Bose Earbuds for Android devices. Moreover, it comes with a really compact design that provides a soft and advanced ear tips for the users to fit them it their ears easily. This model doesn't come with a wireless system as it aims for those who are getting annoyed of recharging their earbuds over and over again. So, it comes with the connected wired so you still can enjoy the active noise control function in it.
On top of that, this noise cancelling earphones allows you to listen to favorite jams peacefully and there is another mode for you to select to reconnect with the external environment as well. There are various buttons for you to select, in adjusting volumes, skipping songs and answering calls too.
Also check out:
7. Bose Quiet Control 30 Noise Cancelling Neckband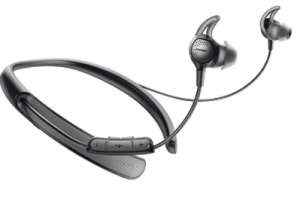 This is another model from Bose Noise Cancelling Earbuds Neckband which comes with various features that differs form the previous model. The first feature to differentiate this neckband is about the wireless system. This model is perfect for those who are seeking for a piece of high-quality earphones that has strong bass and clear sound. Moreover, the design of this is really similar to FIIL, since it comes with a neckband for you to especially enjoy using it in different sports activities, reading books in the library or on a road trip.
Best to the black color design that makes this Noise Cancelling Neckband by Bose a never-get-old look and style at all time. The device also has active noise controlling buttons to adjust various functions based on your preferences. On top of that, the microphone system features it to deliver clear and strong sound to your partners or mates during voice calls, voice messages or video calls. The massive battery life of this model can withstand up to 20 hours of listening and calling. Bose also offers over-the-dear headphones with active noise control in case you want to check them out.
6. Sony WF-1000XM3 Industry Leading Noise Canceling Wireless Earbuds

Sony is known as on of the world leading company which introduce a noise-cancelling headphones. Now, it also introduces the earbuds with active noise controlling system to provide earbuds fans with a new experience of non-bothering sound. If you are on the look for a piece of non-complex wire earbuds throughout your journey, this Sony noise cancelling earbuds are designed just for you. Sony WF-1000XM3 earbuds come with an elegant design that looks classic and modern at the same time with a carrying case and a pair of wireless earbuds just like AirPods Pro. However, from my perspective, I still think that Sony does a better job in designing their products as well as its high-quality. Moreover, it comes with a really long battery life up to 24 hours for you to enjoy your favorite musics during your trips. It is also fast charging of 10 minutes and playing time up to 90 minutes.
On top of that, Sony WF-1000XM3 active noise control earbuds has been equipped with a really fast Bluetooth connection and powerful noise cancellation system that allows you to enjoy your favorite musics and movies peacefully. There are also various features such as touch controls, hands free calls and auto on and off. If you are kind of in a low budget but love Sony brand, then you can go for the Sony Over the Ear Headphones which costs just under 100 bucks only!
5. Sony Premium Noise Cancelling Wireless Behind-Neck in Ear Headphones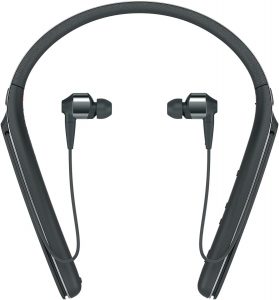 The mid-product of the review is another pair of wireless active noise control earbuds by Sony again. This is an ideal pick for you if you are looking for another model that has a neckband. This Sony noise cancelling neckbands come in 2 colors for you to choose; black or white, the choice is yours. Moreover, this neckband is compatible with Alexa, iOS and Android too. On top of that, there is also an ambient sound mode which you can adjust or let it sets automatically. Even though it is a noise cancelling neckbands, you can also turn it off if you want to hear the external noises. So flexible one right?
The neckbands also has a very fast Bluetooth recognition with a high-sensitivity that convenes the way of using this product easier. Lastly, Sony WI1000X/B is recognized as one of the greatest earbuds in noise cancellations, with battery up to 10 hours and strong bass as well as clear sounds.
4. TaoTronics Active Noise Cancelling Earphones (Upgraded)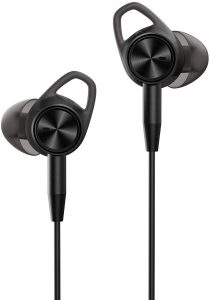 Are you looking for earbuds that comes with the noise cancelling feature but still don't want to break the bank? Well, not to worry this model is perfect for you, if you are considering that. TaoTronics has finally launched the market with an affordable price along with an upgraded version. Not to mention more, this model doesn't come with a wireless system but with these wires design, this model does a really great job in delivering clear and strong sounds.
Moreover, it is durable and tough with the aluminum design and there is a monitoring mode for them to adjust too. On top of that, there are more buttons for you to select, from the volume buttons up to thee answering calls button etc.
3. Amazon Introducing Echo Buds – Wireless Earbuds With Noise Cancelling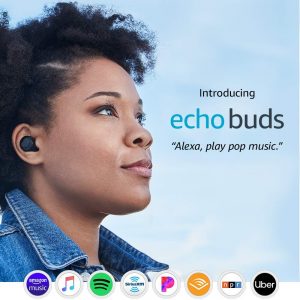 Moving on to the third product of the review, which is what you guys mostly know, noise cancelling earbuds that are made by Amazon. This is another pair of wireless earbuds that you can carry it to everywhere you want to. Amazon ensure that their customers receive a dynamic, clean and clear sound during their calls, songs as well as listening to various podcasts. Moreover, they are accessible with Alexa and it is compatible with both IOS and Android too. Not to mention that, this is one of the best noise cancelling earbuds that runs by Bose.
There is also a high-sensitivity touch for an easy control when you want to reconnect with the external environment and controls with your tracks too. Talking about the battery life, this model can perform up to 5 hours of non-stop playing and quick charge 2 hours performance in only 15 minutes. They are also enduring to sweats and waterproof too, by all means this is also great for sports activities.
2. TaoTronics Active Noise Cancelling Headphones Wireless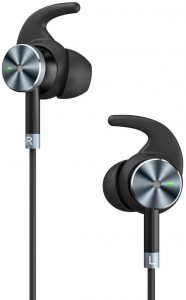 The top second product of the review is another model of TaoTronics that serves customers well with their affordable price and high-performance. Not to mention that, this guy has 2 different modes, that one that act as normal earbuds with no noise cancelling mode which you can activate it, if the battery runs out. The second mode is the noise cancelling mode that eliminates all of the background noise that you don't want to hear with the withstanding time 15 hours.
Moreover, it comes with a really compact design and durable material, which the touching surface is made out of metal. On top of that, this model ensures that customers receive clean, clear and powerful bass and mics as well as water resistance.
1. Phiaton BT 120BC Black Bluetooth Wireless Noise Cancelling Earbuds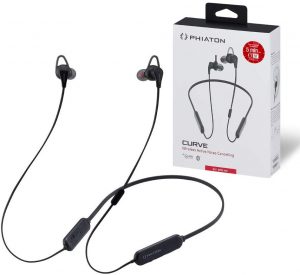 Last but not least, this is another neckband noise cancelling earphones that is made by Phiaton. Phiaton BT 120BC comes in 2 colors for you to choose; black and white. The best part about this model is that it is certified in an IPX4 that is enduring to water and sweat resistance. Moreover, Phiaton BT 120BC provides customers with a long battery life up to 8.5 hours. It provides a one-year warranty for higher maintenance too.
Key Factors to Consider before Buying Noise Cancelling Earbuds/Earphones
Before picking any earbuds, we have to check everything about the actual product ie.e the specs and features. Below is the basic factors you need to consider when buying earbuds or earphones:
Sweat and Water Resistance
It is a really good idea to find the ones that are enduring to water and sweats to avoid damaging your earphones. With the current fast growing technology world, it's not that hard to find the water resistance devices.
It is highly recommended to find the ones that can perform at least 5 hours of battery life. Some wireless earbuds aren't that enduring with the battery life and you can't really listen to any songs if the battery dies out so quickly.
It is great to find the one that has monitoring mode for you to easily adjust and connect with the external environment. This will give your more control on the earbuds.
We are living in the tech-device world led by two Operation Systems: Android and iOS. So, it's always a good idea to find the earbuds which work with both iOS and Android devices to give you more flexibility.
Well, it's not a bad idea at all to get a warranty from the seller when you buy an expensive products. So, ask the seller for a warranty for higher maintenance if there is an option. Technology is not perfect!
Conclusion
We've finally reached the end of the article. Just to wrap things up once again, it is a really good idea for you guys to have a pair of earbuds with you. Not only do they help you eliminate all of the background noises that you don't want to hear, but also, it makes you enjoy your favorite jams, while you are on a flight, trip or studying.
Moreover, it is easy to use, non-complex wires (mostly) to untie and easy to set up as well. The reviews above are the top 10 we are picking based on our experiences in using and their special features and I bet that you might find other choices that you've been searching for. However, I'm sure that getting one of those 10 won't be a disappointment for you.
Last update on 2023-11-30 / Affiliate links / Images from Amazon Product Advertising API