Are you a coffee lover? Yes? Then, I'm sure, this article is going to blow your mind because today we have come up with the complete list of the top 10 best stovetop espresso makers in 2020. With the help of these simple stovetop espresso makers, you can prepare your favorite flavored coffee just in minutes. Also known as the Moka pots, stovetop espresso makers are certainly a must-have kitchen appliance, particularly for the coffee lovers.  Here, check out the list of the best stovetop espresso makers in the market right now.
List of The 10 Best Stovetop Espresso Makers in 2020
10. Bialetti 6-cup stovetop espresso maker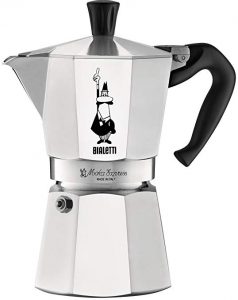 As the name suggests, you can prepare the 6-cup of coffee with Bialetti stovetop maker easily. It might not look fancy to you but when it comes to quality, it has wooed the worldwide users. It has aluminum polish all over, so you can rest assured about the durability of this stovetop espresso maker. Italian-made this stovetop espresso maker can easily be dissembled or assembled. To please the customers more, it offers 2-years full warranty.
9. Bellemain 6-cup stovetop espresso maker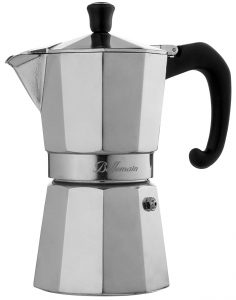 Bellemain stovetop espresso maker is almost similar to Bialetti stovetop espresso maker. However, it has some different features. It is particularly designed to heat quickly and evenly, so you can avoid the annoying moments of waiting. Just turn on the button and within seconds, it is ready to serve you the best coffee. The stay-cool handle enables a secure and firm grip and prevents the fingers from getting burnt.  It has an aluminum finish all over it which makes it more reliable.
8. Venus Induction capable espresso coffee maker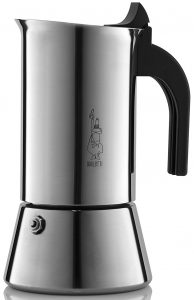 If you want to decorate your kitchen with a stylish espresso coffee maker, this coffer maker can be a great choice for you. It has the same functionalities as the other stovetop espresso makers but its design puts it apart from the others. Made of stainless-steel, this stovetop espresso maker offers more flexibility. It can be cleaned in minutes as it is dishwasher-safe. It is also a 6-cup coffee maker. Since the upper jar in bigger in size, you can prepare the large quantity of coffee with an ease.
7. Vremi Stovetop Espresso Maker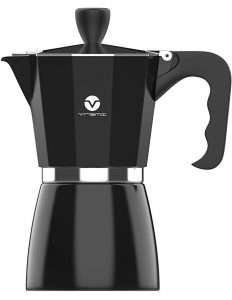 If you're looking for a low-budget stovetop coffee maker, your hunt will end at Vremi stovetop espresso maker. Seriously, this is the cheapest coffee maker on our list so far. You can get it even with your pocket money. Speaking of the features, it is a 6-cup coffee maker with a rubber handle. It is small in size, so it won't take up much space in your kitchen. With its classic design coupled with the seamless features, it has garnered a huge number of satisfied customers under its name.
6. Cuisinox Roma 6-cup stainless steel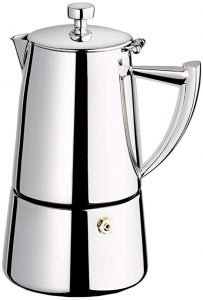 This one is for the rich guys. It costs nearly 8 times more than the previous stovetop maker. Though the price is higher, you can prepare only the 6 cups of coffee.  Then, why it is so costly? Well, it's the quality where it leaves the other brands behind. It serves you with a delicious coffee within 3-4 minutes. It will make a steaming sound when coffee is ready. It also includes an extra feature called 'reducer'. With the help of this reducer, you can reduce the capacity of this coffee maker.
5. Osaka Stovetop espresso maker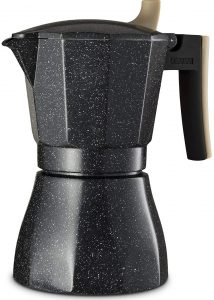 Another good stovetop espresso maker at a reasonable rate. The fancy-looking design of this coffee maker will surely allure you. It features a long-lasting aluminum body with an eye-catching marbleized finish and also a stay-cool handle. Unlike other stovetop espresso makers, the interior of this coffee maker is also marble-polished. Given the fact, it is extremely easy-to-clean. It offers really amazing coffee making experience. Overall, it is worth the price.
4. GROSCHE Milano Moka stovetop espresso coffee maker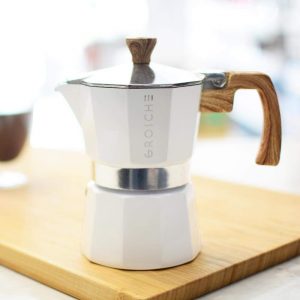 If you're alone or maybe, you're just two, buying this coffee maker would be the best fit for you because it is a 3-cup coffee maker. It is also extremely budget-friendly and small in size, so it will serve all your needs perfectly. The white-colored coffee maker has a rubber-touched solid handle which remains away from the body, so there is no chance of getting the fingers burnt. As it is small in size, it is easy to brew and pour the coffee.
3. Maggift Coffee stovetop espresso maker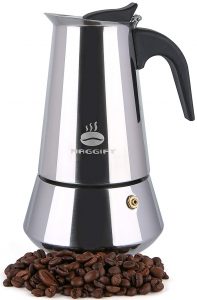 Whether you're a lover of Maggift brand or not but must try this coffee maker. No matter how long it serves, it will be worth the price as it costs exceptionally low. Made of stainless-steel, it has a wonderful design. The heat resistance handle is made of black nylon, so rest assured about the safety of your hands. Even after being a low-priced stovetop espresso maker, it offers a seamless experience. This is why it has managed to secure a third position on our list.
2. AMFOCUS stovetop espresso coffee maker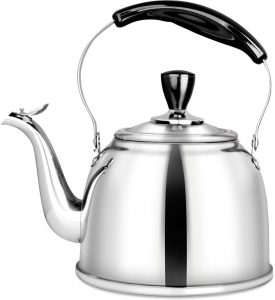 When you're buying a product, finding an unmatched fusion of attractive design and great quality is really hard and the same goes with the stovetop espresso makers. Well, with AMFOCUS stovetop coffee maker, you'll get this fusion together. With its elegant design and remarkable service, AMFOCUS coffee maker has impressed the people. Made of premium stainless-steel, it is more reliable and food-safe. Unlike the previous stovetop espresso coffee makers, it has a unique designed handle.
1. Bialetti Moka Express Aluminum stovetop espresso coffee maker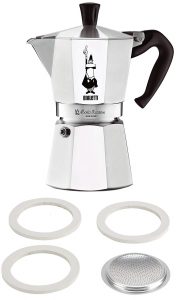 Bialetti moka stovetop espresso maker topped the list. It is affordable and offers some wonderful features. This is why, it is ranked first on our list. First of all, it comes with 3 gaskets and 1 filter. It will not only impress you with the qualities but also be a great addition to your kitchen as it looks classy. The best thing about this coffee maker is that it can serve you the same way for years. It is aluminum coated and has a wide handle.
Conclusion
Preparing a yummy cup of coffee has never been so easy. Get one of these stovetop espresso makers and take your coffee making experience to the next level. These are the top 10 best stovetop coffee makers in 2020.