Why manual coffee grinder? A beverage with a robust aroma and a bitterness in taste that strongly complements its flavors. The rush of caffeine or the elevation of taste, mix it with cream or milk, and you will have a delightful cup of coffee. Regardless of how you take your coffee, grinders play a vital role in determining the quality.
The authentic drink requires a traditional method. While the automatic coffee maker may ease up your work, it is manual grinders that offer a true taste of the coffee. Whether you like it raw, smooth, with a blend or simply classic, a good grinder will always offer you a perfect cup. Therefore, we are bringing you a list of the best manual coffee grinders to pick below.
List of the 10 Best Manual Grinders for Coffee in 2023
1. Best Compatibility: JavaPresse Manual Coffee Grinder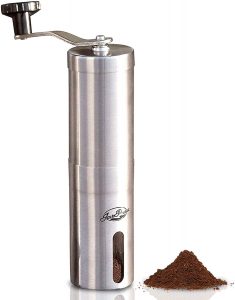 Brand: JavaPresse
Material: Stainless Steel
Colour: Metallic Steel
It is a known fact that freshly ground coffee is the best coffee. Not only does it taste heavenly, but the aroma that arises from it is worth loving. It is specifically a great choice for those who run on coffee more than anything else. If your veins contain more coffee than blood, then this manual coffee grinder helps you transform the passion about coffee into an extraordinary daily experience.
It is compact in its designs and is a robust construction of tested stainless steel. It is long-lasting and comes with an adjustable setting so that you have the perfect precision while grinding your coffee. This grounds the perfect coffee for Aeropress, Drip Coffee, Espresso, French Press, or Turkish Brew. And I'm sure you will need one of these Pour Over Coffee Makers to complete your set.
Key Features
Built-in adjustable grind selector
90 % less noise than electric grinders
Made of stainless steel
Ceramic burr assembly
Durable
Compact size, easy to store and carry
2. Best Runner Up: LHS Manual Coffee Grinder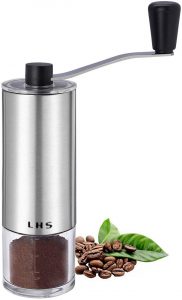 Brand: LHS
Material: Stainless steel
Colour: Metallic steel, metallic black
Coffee grinding is, in itself, a very meditative and therapeutic process. With the right grinder, this could prove to be just the right therapy that you would need early in the morning to start your day. LHS's coffee grinder seems like a good option for this experience. The best coffee beans grounded by the most efficient grinder are small steps in the journey that culminates in the perfect cup of coffee.
This grinder is designed keeping in mind the technicalities of coffee grinding. The heat produces due to friction will not damage the coffee beans and the coarseness with which the grinding happens, can be adjusted.
Key Features
User-friendly with easy to fill, clean and assemble
Durable and portable
Made of stainless steel and ceramic burr
Adjustable coarseness according to the desirability
Retains the fresh flavor of the coffee
3. Best Value for Money: AROMORY Manual Coffee Bean Grinder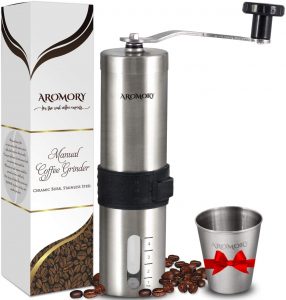 Brand: ARMORY
Material: Stainless steel
Colour: Metallic steel
AROMORY's coffee grinder comes with an adjustable mechanism that helps you achieve just the desired grain size from coarse to extra fine. It has a digital setting for adjusting the same. Its user-friendly structure and mechanism make it stand out on the list. Moreover, it is one of the pocket-friendly options. Apparently, the electric grinders rob the coffee of its original essence and aroma. The manual grinder prevents this from happening.
It is made of brushed stainless steel, and its compact size and structure make it easier for you to carry it with you wherever you go. This way, your cup of perfect coffee travels with you.
Key Features
Made of stainless steel
Adjustable mechanism for the desired size of a grain
Durable and long-lasting
Portable and can be carried anywhere
User-friendly
4. Best Material: Shanik Manual Coffee Grinder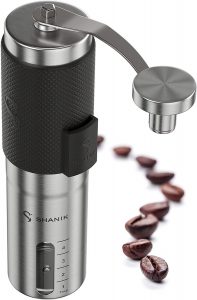 Brand: Shanik
Material: Stainless steel
Colour: Black
Shanik, as a brand name, has made its mark in the market, and that is not without reason. Its products are of premium quality with a trustworthy background. Their designs are very firm and convenient. This particular coffee grinder, for instance, is made of best quality stainless steel and comes with a silicone grip for better grinding.
A manual coffee grinder is a guarantee that you will always be just some minutes away from your cup of coffee when you crave it. Be it when you are at home or when you are traveling. With this product, the quality of the grind is never compromised. Furthermore, you get the addition of the most stylish and practical grinders.
Key Features
Portable, light, and travel-friendly
Easy to use with practical design
Quite a stylish structure
Adjustable grinding
Best quality stainless steel and silicone
5. Most Aesthetic: Khaw-Fee HG1B Manual Coffee Grinder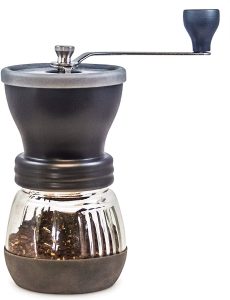 Brand: Khaw-Fee
Material: Glass and stainless steel
Colour: Black
The entire aesthetic of this product is very appealing. It looks like something that you would proudly display in your kitchen. However, the best thing is that this does not end there. Along with its visual appeal, the function of the coffee grinder is just impressive. It comes with a glass jar with the top made with stainless steel. It can be adjusted according to the type of coffee you desire and the size of the grounded beans required.
Although made of a glass jar, the product is extremely sturdy and built to last. Moreover, it is quite portable and can be carried along with your other essentials from place to place. This is a good option for your freshly ground coffee beans ready to be made into your perfect cup of coffee.
Key Features
Adjustable grinder for the desired size
Stylishly designed to go with every aesthetic
Sturdy and portable
Trusted and with a guarantee
Stainless steel body with glass jar
6. Cheapest Among All: KONA Manual Coffee Grinder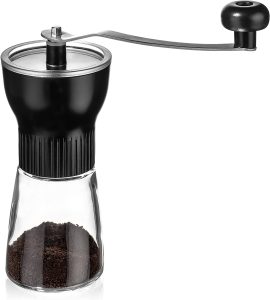 Brand: Kona
Material: Glass and Silicone
Colour: Black
This product will be every student's best friend because this has all the standard features of a coffee grinder, but it is way cheaper than the rest. This comes with a built-in stabilizer and an adjustable coarse-grinder. Using this, you can grind the beans according to your needs. You could either have coarse powder, fine grind, or anything in between. An added advantage of this product is that the clear glass case helps you to see clearly and grind according to your needs.
This grinder can also be given as a gift to your family or friends. You can take it anywhere because its size is compact, and the structure is durable.
Key Features
Eliminates noise produced by electrical grinders
Made of glass and silicone
Clear glass jar helps you to see contents
100 % money-back guarantee
Adjustable grinder
You may also check: Top 15 Best Coffee Tables with Storage in 2023
7. Best Under $20: TRIPLE TREE Manual Coffee Grinder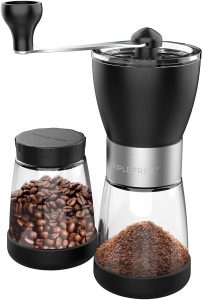 Brand: TRIPLE TREE
Material: Glass and Stainless Steel
Colour: Black
While making coffee, it becomes extremely necessary to maintain the original coffee flavor; otherwise, the entire point is lost. Electric grinders tend to fail to do so. Also, there are only a few manual grinders that maintain the original coffee flavor. This is one of them. Due to its glass jar, the coffee is as far away from any chemicals as it gets. In fact, the two glass jars in the grinder make it easy for you to use it and maintain the taste.
This grinder can also be used for the purpose of decorating your kitchen because of its beautiful, vintage design. The two jars also make it easier to clean. Moreover, it is pocket-friendly and is a good pick for low budget customers.
Key Features
Comes with two glass jars
Maintains the original taste of the coffee
Easy to clean and use
Pocket-friendly
Beautiful design
8. Most Practical: TRIPLE TREE MANUAL COFFEE GRINDER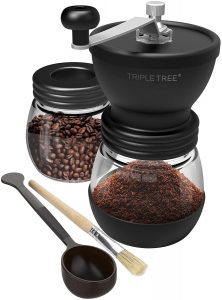 Brand: TRIPLE TREE
Material: Glass and stainless steel
Colour: Black
This is another pretty looking manual coffee grinder that comes with two glass jars. Its design is very practical as it comes with two glass jars, lengthened stainless steel handle and silicone lid. This can disintegrate into several smaller parts and is therefore very convenient for travel purposes. It is easy to clean, fill, and refill and use. It is adjustable, and the brand can be ground to the desired size. The glass jars can also be used for the storage of coffee.
TRIPLE TREE brand is quite famous when it comes to manual grinders for coffee, and it has always ensured that its users get the freshest and most delicious cup of to begin or spend their day.
Key Features
Easy to clean and use
Convenient to carry and store while traveling
Fairly decorative design
Best quality material
Maintains the original taste of hand-ground coffee
9. Best for Travel: T-mark Manual Coffee Grinder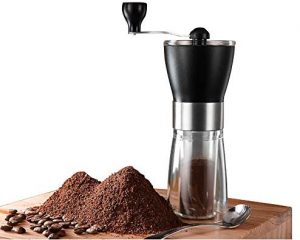 Brand: T-mark
Material: Stainless steel and glass
Colour: Black
This extremely cheap yet very useful manual coffee grinder is made of silicone, glass, and stainless steel. The size is extremely compact and therefore saves a lot of space. This product is perfect for traveling purposes, be it an outdoor party, a vacation, or an adventure sport. Wherever you go, with this, you can always begin your day with your favorite cup of coffee, or you can take time out for relaxing with your coffee and reflecting upon the day's best moments.
The clear glass jar helps you see the status of your grinding, and therefore you do not have to look at it again and again. This saves time and effort. You can also gift this to a friend who loves coffee.
Key Features
Pocket-friendly
Made of glass, silicone and stainless steel
Eliminates 90% of the noise produced by the electric grinder
Built-in adjustable grind selector
Retains coffee essential oils for your favorite coffee taste
10. Best Among All: Secura Manual Coffee Grinder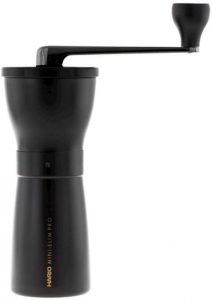 Brand: Secura
Warranty: Stainless Steel and glass
Colour: Stainless Steel
Secura's manual coffee grinder is possibly every coffee lover's dream come true. It has all the desired features in a coffee grinder and still is unbelievably cheap. Along with the adjustable grinder, this also comes with markings on its transparent glass jar for measurement. You will also get the accessories to this perfect manual coffee grinder set. This includes 16 decorative printing stencils, a cleaning brush, a coffee scoop, and a travel cloth bag.
This is easy and convenient to use and travel with and does justice to your choice and your cup of coffee. This extremely efficient and hence perfect set of manual coffee grinder is a great gift for your near and dear ones.
Key Features
Adjustable coarseness and grinding
Clear glass jar with markings
Extremely portable with a travel cloth bag
Easy to clean with clean brushes
Pocket-friendly
FAQs (Frequently Asked Questions)
Ques 1: Is the coffee grinder easy to clean?
Ans: There are several coffee grinders with several unique designs. The ones that are detachable can be cleaned very easily. With some others, it is a little difficult. However, it can be rinsed with water whenever you can. Make sure to always clean the container before putting coffee in it.
Ques 2: Is stainless steel the best material for manual coffee grinders?
Ans: Stainless steel is very widely used in most kitchenware because of its sturdiness and its anti-rust capability. But all the materials have their advantages and disadvantages. A lot of grinders also use glass as a material because it is clear, good for storage, and measurement can be made sure of from outside itself. Stainless steel is light and therefore is a good five when going on a trip.
Ques 3: What is the difference between electrical coffee grinders and manual ones?
Ans: Electric coffee grinders are mainly used for bulk production. Manual coffee grinding, however, is more specific and personalized. When being electrically ground, the coffee seems to have lost its oils, and it loses its original taste. Hand-ground coffee retains the original flavor and produces an aroma worth dying g for.
Conclusion
There is something very special about the taste and fragrance of freshly hand-ground coffee. To get the perfect aroma with the perfect taste in your cup of coffee is nothing less than a dream. This list brings you manual coffee grinders that would assist you in achieving this perfect cup of coffee. It has options from various price ranges and with a variety of features. All of them try and bring out the authentic taste in your coffee using the traditional method of manual grinding of coffee beans. Their slightly different features are what makes one better than the other. This list will assist you in finding your best coffee grinder.
Last update on 2023-10-03 / Affiliate links / Images from Amazon Product Advertising API