A door hinge is one of those items that are necessary for the functioning of doors. Although it is not very noticeable, a poorly designed or placed door hinge looks unattractive. Modern furniture and doors have switched to hidden hinges, which increase the versatility of the door. Instead of mounting on the sides, these are attached to the top and bottom of the doors. Here are the ten best hidden door hinges which help you not only secure your home but also nice decor to your house.
List of the Best Quality Hidden Door Hinges in 2023
Reviews
1. Best Overall: Sydien Stainless Steel 270 Rotation Hidden Door Pivot Hinges

Brand: Sydien.
Material: Stainless Steel.
Size: 100*25*4mm.
Sydien is a famous brand and has repeatedly set new benchmarks for door hinges. This hidden door hinge, in particular, is built using high-quality stainless steel, which is scratch and corrosion-resistant. The material is exceptionally durable and has excellent longevity. It is available in 3 size configurations: 75*18*3mm, 100*25*4mm, and 150*30*4mm.
This hinge can be used for wooden cabinet, aluminum, and other alloy doors. Its 18mm axis diameter allows the door to rotate up to an angle of 270 degrees. The steel used is quite thick while the bearings provide for a smooth rotation of the doors. It has a weight limit of 110lbs, which is pretty good compared to that of the conventional hinges.
Key Features 
High-quality material.
Wide range of applications.
Rotates at 270 degrees smoothly.
Scratch and corrosion-resistant.
High weight limit.
Easy to install.
2. BEST Runner-up: Alise 2 Pcs 6-Inch Length 360 Degree Offset-Axes Rotation Hidden Door Pivot Hinge

Brand: Alise
Material: Stainless Steel.
Size: 6 inches.
These hidden door hinges from Alise feature an offset axis design, which makes them more premium, and suitable for a broader range of application. The material used is Stainless Steel and is provided with a brushed nickel finish. This ensures that the quality is excellent, and the hinges are durable. Also, Alise has made these hinges to be scratch, tarnish, and corrosion-resistant.
They are available in two sizes; 4 inches and 6 inches. 4 and 6 are the plate lengths. The hinge thickness is 4mm, while the mounting hole diameter is 5mm. It requires a total of 6 screws to fix a single hinge. The packaging consists of a set of these hinges to be fixed on the top and bottom of the door.
Key Features 
Corrosion, scratch, and tarnish resistant.
Premium surface finish.
It can be used on wood, metal, and alloys.
The offset axis makes it more premium.
Heavy duty and smooth bearing.
3. Best Under $50: SOSS 208US26D Mortise Mount Invisible Hinge with 4 Holes

Brand: Soss.
Material: Zinc, Steel, Nylon.
Size: #8 x 1-¼.
Mortise Mount is an invisible hinge which is wholly concealed from all sides when the door is closed. It has a rotation arc of 180 degrees on one side. There is a non-removal riveted hinge pin, to ensure safety. It can be used with wooden and metal doors and cabinets.
It comes along with four holes with a screw size of ¼ inch. The installation is pretty simple, and you can get help from Soss if you are having trouble. There is no need for adjustments once it has been installed. It has a chrome aluminum finish and comes with a three-year warranty on any manufacturing defect.
Key Features 
Good build quality.
180degrees of smooth rotation.
Riveted hinge-pin.
It can be used with both metal and wood.
Easy to install.
Invisible from either side, when closed.
4. Value For Money: SOSS Invisible Hinge Model 218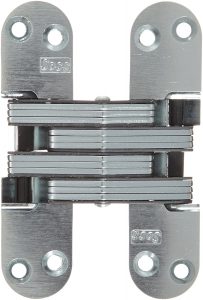 Brand: Soss.
Material: Zinc.
Size: #10 x 1-½".
This hinge is available in Satin Chrome finish. It is fully mortised, making it invisible from either side when closed. The material used is Zinc and is of superior build quality. It can be used for material having a thickness up to 2 inches. Hinges are made of Nylon, which makes the rotation smooth and quiet.
The hinge pin is riveted to avoid any mishap. Its installment is easy, and the SOSS team is always ready to help in case you face an issue. Overall the hinge is very compact and appears to be very premium. It has exceptional longevity, credit to the high-quality material used. There is a three-year warranty for any material defects.
Key Features 
It is fully mortised.
Extremely durable.
Works on both wood and metals.
Offers 6 screw holes.
It is compact.
5. Cheapest Amongst All: Ranbo Hidden gate Hinge Stainless Steel Invisible Door Hinges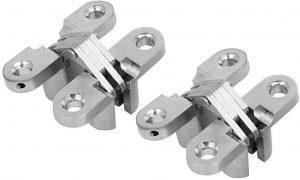 Brand: Ranbo
Material: Stainless Steel.
Size: 1-¾" inches.
Ranbo's hidden gate hinges are built of 100% authentic Stainless steel. They are durable and look appealing with a Satin finish. Even the mounting screws are also constructed of the same steel as the hinge. Two of these hinges can hold a load of 10kgs and can fit a door thickness of over 25mm.
These hinges can be used with both wood and metals, and perform alike. It rotates a full arc of 180 degrees, without any jerk. Its dimensions are also smaller than most other hinges, making it a suitable choice for cramped spaces. In case you are not satisfied with the quality of these hinges, Ranbo provides a full refund or replacement as per your requirement.
Key Features 
Compact.
Corrosion and Scratch-resistant.
It can hold a load of 10kgs.
Fit a 25mm thick surface.
Free replacement or refund.
6. Best For Heavy Duty Usage: CHHQ Hidden Door Pivot Hinges Heavy Duty Hinges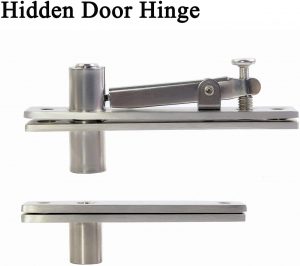 Brand: CHHQ
Material: Stainless steel
Size: 130mm
This is heavy-duty, and a futuristic door hinge that can hold a weight of 250lbs whereas most other door hinges can hold about 110 to 150 lbs. It has a bottom arm in place which supports the door and transfers a lot of the load to the floor. This keeps the frame intact, thereby improving longevity.
It pivots the door to the floor, unlike other hinges that rotate from the wall. Since it hinges from the floor, it provides a 360degree rotation arc. Floor hinges provide a smoother rotation of the door. It is made of stainless steel and is amongst the most durable hinges available on the market.
Key Features 
360degree rotation arc.
High durability and longevity.
Hinges from the floor.
High load holding capacity.
An additional bottom arm to support the door.
7. Easiest To Install: InvisiDoor Hinge Hardware Kit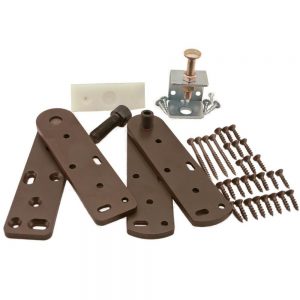 Brand: InvisiDoor
Material: Not mentioned
Size: Not mentioned
This is the easiest to install door hinge available on the market. It consists of separate parts and detailed instructions on its installation. It is incredibly durable and can be used for doors, cabinets, and even bookcases. This hinge kit can hold a lot more weight than most other hinges on the market. There are screws available in the packaging, and a few extra ones, in case you misplace any.
Its installation requires a small clearance at the top and the bottom. This reduces the height of the door from the floor. In case you need to remove the door for some repair or other purposes, you can easily do so, without any issue.
Key Features 
Easy to install.
High weight holding capacity.
Smooth operation.
It can be removed if needed.
8. Most Versatile: Alamic Concealed Door Hinges

Brand: Alamic.
Material: Stainless Steel.
Size: Not mentioned.
This is one of the best heavy-duty door hinges, making it equally suitable for residential as well as commercial purposes. They can be used for doors as thin as 35mm, and as thick as 850mm. The cover plates hide all screws, providing a better appearance. Two of these hinges are capable of supporting 88lbs and rotated in an arc of 180degrees.
The USP of this door hinge from Alamic is highly adjustable, along the three-axes. It can be adjusted up to ±3mm vertically, ±2mm horizontally, and ±1mm along the z-axis. All the tools required to mount and adjust these hinges are available in the packaging.
Key Features 
Adjustable along all three axes.
Suitable for residential and commercial purposes.
It can be used on a wide range of door thicknesses.
Easy to mount and adjust.
180degree rotation angle.
9. Best for heavy loads: TamBee Door Pivot Hinges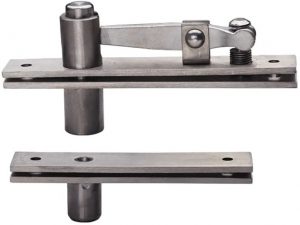 Brand: TamBee
Material: Stainless steel.
Size: Top 130*25mm, and Bottom 105*25mm.
TamBee is renowned for its excellent door hinges and other hardware products. This one in particular has excellent durability and a very premium looking surface. It is made of stainless steel, making it scratch, and corrosion resistant, with the ability to hold a door weighing up to 250lbs.
It provides you with the flexibility to convert your traditional door into a modernized one, with the hinges at the center of its rotation arc. Also, with the high weight capacity it has, you can use it for commercial purposes. Even office and mansion doors, which are heavy and involve a lot of glass construction, can also use these hinges.
Key Factors 
High weight capacity.
Scratch and corrosion-resistant.
Perfect for heavy usage.
It can be used for new as well as traditional doors.
Lightweight.
10. Most Compact WANLIAN Hidden Door Hinges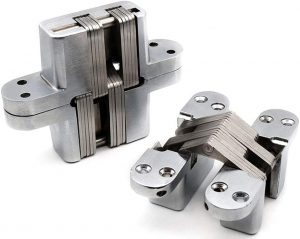 Brand: Wanlian
Material: Zinc alloy.
Size: 2.9 inches.
Manufactured by Wanlian, this hinge is widely used in clubs, resorts, hotels, and other commercial buildings. A significant aspect of these hinges is that Wanlian has given extra attention to increasing its durability. It features an internal roller track design, with smooth bearings. The Zinc alloy has a high yield point, and the ability to hold heavy loads. It is highly resistant to rust and corrosion.
Additionally, the increased thickness and reinforcement largely improves its stability. Its operation is smooth and can be rotated in a 180 degree arc. The 60mm plate length provides ample support to the door structure. You get to select from three colors: red copper, silver, and bronze.
Key Features 
It can be used for large doors and cabinets.
Durable and corrosion-resistant.
Use of premium quality material.
Smooth bearing.
Video: How to Set up Hidden Door Hinges
Verdict
Most of the hinges mentioned above have been in use for a long time. Customers seem to really appreciate the quality of these hinges, as is evident by their reviews. When looking to buy a door hinge, the most basic criteria is its durability, and size. Almost all of these are available in different sizes, and the high-quality material leads to high durability. All these hinges have screws to mount them onto the doors, floor, and wall. While some of these require specialized people to assemble them, most can be easily done by reading the instruction manual.
Frequently Asked Questions
How Much Weight Capacity Door Hinge Should I Buy?
Measure the weight of your door. Suppose it weights 110lbs, then you need to buy a hinge which has the capacity of more than that. Make sure to have a slightly higher capacity hinge, just as a precautionary measure.
How Much Space Is Required Between The Door And The Upper Wall To Mount These?
This depends on the hinge you are buying. Some of the hinges are thicker than others. Thicker the hinge, more the space needed on top and bottom of the door. Usually, the bottom hinges are thicker and require slightly more space.
Can I Mount These On My Own?
You can mount these hinges on your own, as there are guides, and user manuals available along with the packaging. However, some of these hinges might be slightly tricky to mount, as you might not have the required tools in possession. You can ask for a technician who will fix the hinge for you.
Last update on 2023-11-30 / Affiliate links / Images from Amazon Product Advertising API