Seeing the robbery and breaches all around, the security of houses has become a big concern today. You can certainly install a home security camera to keep an eye on all things happening in your home when you're away, but you should also have an unbreakable door while you are inside. For that, you would need to buy a door barricade bar or a door security bar, which does not only prevent the unwanted entry of people in your home but also ensures your safety.
The barricade bar or barricade door security bar helps safeguard your door by jamming it against the floor or door frame, subsequently protect yourself, your family members and your belongings from the intruders. They will definitely provide you reliable security, but you need to make sure you buy the high-quality ones. To help you with that, our team has compiled a list of the best barricade door security bars with the detailed reviews for your pick below.
List of the Most Recommended Door Barricade Bars & Door Security Bars in 2023
Door Barricade Bars & Door Security Bars Reviews
18. Doorricade Door Bar | Steel Door Security Bar
When it comes to top-notch door barricade bar, steel-made bars are always the first choice of users. Door Bar Pro security bar is no exception. Its sturdy steel construction with a white powder-coated enamel-like finish makes sure to withstand the breaches effectively. Speaking of size, it ideally fits with the in-swing doors of 24" to 48" wide. To make the installation easier for you, it comes with mounting hardware. Given the fact, you can set it up in just minutes. Above all, it offers a lifetime warranty.
While thinking of the security of your door, don't forget about the spread of virus and germs from the door handle to your hand and then body. During current widespread of the Coronavirus or Covid-19, you might consider one of these Hands Free Door Openers, if possible, to avoid touching your door with bare hand. That's also to protect yourself, your family members and friends from spreading and contaminating.
Video: See How Strong the Door Security Bar is!
17. Securityman 2-In-1 Patio Door Security Bar | Door Brace Bar

Another 2-in-1 security bar which can be used as a barricade bar as well as a sliding door jammer. Its interchangeable caps make it easy for the users to use it for hinged doors, sliding door handles, and windows. In addition to that, it is designed with a rubberized bottom, which doesn't only provide a strong grip and full contact against the floor but also prevents the ground scratching. Made of sturdy iron, it has a huge pressure-holding capacity of 350 pounds. To achieve the perfect fit, adjust the height of this door barricade bar according to your door size.
16. Brinks 675-83001 Commercial Door Security Bar

When it comes to reliable security against breaches, Brinks 675-83001 commercial door security bar is a product that you can rely on. Made of 20-gauge premium steel, this security barricade bar never fails to do its jobs. Its swivel base makes it compatible with all types of floors and doorknobs without causing any problem. In addition to that, its height is adjustable too. To ensure a perfect fit, it is designed with a non-marring top yoke, a pivoting, and padded foot.
This commercial security bar for door is easy to set up. Being a dual function door brace bar, it enables you the flexibility to use it in hinged as well as sliding doors. When it comes to reliability, you can't only rely on its top-notch security but also on long durability. The reason being, it is made of solid steel and has a swivel base.
15. South Main Hardware Door Brace Bar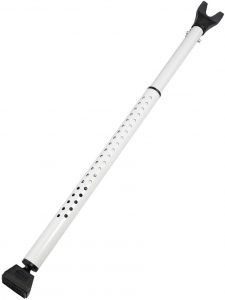 South Main Hardware door security is a budget-friendly yet reliable door jammer. Its sturdy steel construction with rotating foot and rubberized bottom ensures top-level security making the intruders give in. Thus, it prevents the unwanted forced entries and keeps your valuables safe and secured all the time. The length of this security bar is also adjustable. You can set it between 29" to 45". To make the installation easier and smother on sliding doors, it is designed with a removable head.
14. LineBacker High Strength Door Security Lock Bar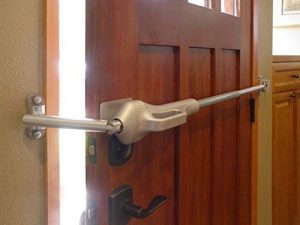 If you have installed LineBAcker high strength security bar on your door, you don't need to worry about your home security anymore. Constructed of sturdy steel with aluminum brackets, it provides ultimate protection against all types of breaches. Given the fact, it can resist huge pressure effectively. What puts it apart from others is its patented design, which truly ensures an extra layer of security. The remarkable thing about this bar on door is that it is extremely easy to install.
13. Heavy Duty Security Door Bar | Door stopper security bar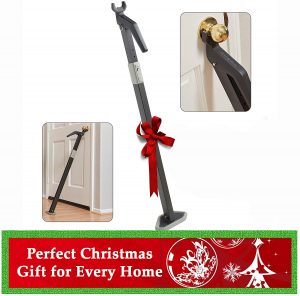 If you don't want to compromise with your home security, get this pricey and top-notch door stopper bar and take the home safety measures to a whole new level. With a pressure-resisting capacity of over 1 ton, it is nearly 5 times stronger than other door barricade bars. Furthermore, it also has a robust construction of premium aluminum alloy and thermoplastic elastomer. Moreover, it is also designed with a yoke handle ensuring you easy accessibility. Not to forget, its length is adjustable too.
12. Buddybar Door Jammer Home Security Door Bar

Don't look at its price. Just go for it if you want the highest level of home security. Made of robust steel, it can withstand the huge force up to 2560 lbs. Given the fact, there are no chances of breaches and infringes. The height is adjustable too that you can set according to your needs from 36" to 51". Moreover, it is inbuilt with a user-friendly footplate that works smoothly on any type of floorings from carpet to tile and wood to vinyl without causing any scratches.
Buddybar door jammer is indeed your true buddy when it comes to home security. Unlike many other door bars, it is almost impossible for burglars to intrude in your home. The bar alone weighs nearly 8.2lbs. No wonder how it manages to hold up such a strong force. Finely powder coated with steel, Buddybar bar for door is compatible with all types of floorboards.
11. Defender Security Door Reinforcement Lock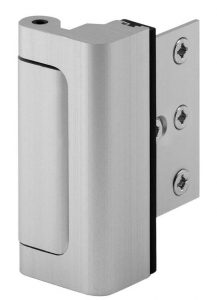 True to its name, Defender Security Door Reinforcement Lock is a defender of your home. This security door bar is particularly designed to hold up relatively more weight. Given the fact, it can withstand 800 lbs of force. No matter how much one kicks from outside, it will never let your security get affected. In fact, it even protects your doors from lock picking and bumping. To add more, this security door bar works the best for swing-in doors.
10. Master Lock Door Jammer Bar

Master Lock door jammer is indeed a master when it comes to top-class door security. With its amazing services, it has already become a loved choice in the market. This door brace is meant for hinged and sliding doors. The best thing about this door security is that its set up process is a breeze. You can adjust its size according to the size of your door. Additionally, its padded foot ensures a solid grip and no stretch in the floor.
9. Addalock- 1 Piece Portable Door Lock by Rishon Enterprises Inc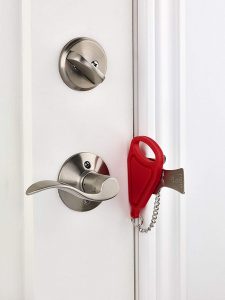 What makes Addalock unique from others is its portability. It is not only a door lock but also a universal lock, which can be used anywhere. You can use it even as a secure lock for your bags when traveling. Given its portability, this door jammer suits the best for the people who often shift from one place to other. Though it is small in size, it is sturdy enough to prevent any forced entry. The installation process is also hassle-free.
8. Ideal Security SK110 Patio Steel Door Security Bar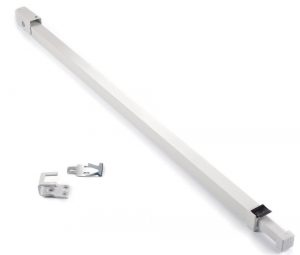 You can't find a better bar on door, this one is an advanced sliding security bar for door that is at an affordable rate. From adjustable size to easy accessibility, it has everything. Other than the basic features, it is designed with the childproof anti-lift lock, which keeps it out of reach of children. Unlike other security barricade bars, it is screwed into the frame of the door. Thus, it ensures infallible protection.
7. FEENM Upgraded Door Stop Alarm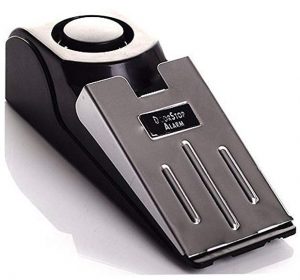 This one is a completely different security door lock than the others. To be more specific, it is actually a security door bar cum doorstopper. Interestingly, you can get this awesome combo in just for a few bucks. It is designed with an alarm, which beeps shrilly and alerts you when somebody comes close to it. There are 3 sensitivity levels, which you can adjust as per your needs. The best thing about this security door bar is that it is free from any installation process. Just put where you want and it will start doing its work.
6. Security Door Bar by Fox Valley Traders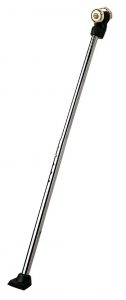 Simplicity mixed a high-quality beats everything. Isn't it? If you don't agree with us, look at this door security bar by Fox Valley Traders. Though it is simple in design, it is unbeatable when it comes to quality and reliability. Since it is made of robust metal, it is one of the strongest bar for door. The plastic tubes in head and foot add further stability to the security bar. Overall, it is worth the money. We can vouch that you won't regret your purchase.
5. U.S. Patrol Alarm Security Bar Extends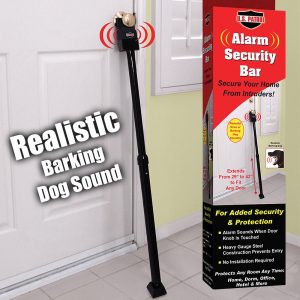 U.S. Patrol barricade bar topped the list and it has certain reasons for that. To start with, it is a combo of a door security bar and a loud alarm. You can't find this unique combo in any other security door bars of this list. It is made of solid steel. Given the fact, it ensures top-notch security and long durability. When someone touches the doorknob, the alarm rings loudly. Thus, it adds an extra layer of security and protects your home from intruders in every possible way.
4. DoorJammer Portable Door Lock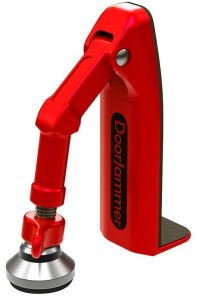 If Addalock's portable door security lock couldn't meet your needs perfectly, give it a try to DoorJammer portable door lock. It weighs only 8oz and works smoothly with almost all types of floorings. You can carry and use it anywhere. The smaller it is in size, the easier it is in installation. You don't need any special tools to work with this security door lock. Just place it where you want and press a bit. That's it. Above all, it provides a one-year long warranty.
3. Securityman 2-In-1 Security Bar Door Stopper With Alarm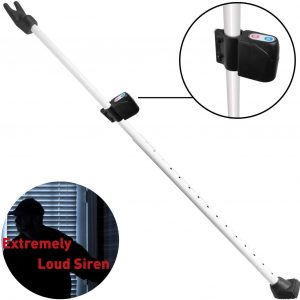 This Securityman 2-in-1door barricade bar will take your security to the next level with its remarkable features. Unlike many other door security bars, it is designed with a sensitive vibration sensor and a loud alarm of 120db. Given the fact, it will alarm you even if you're 1000ft away when an intruder attempts to breach your door or window.  Made of high-grade iron with rubberized bottom, it can withstand a huge pressure up to 350 pounds. You just need to install it under your doorknob.
2. Securityman 2-In-1 Door Security Bar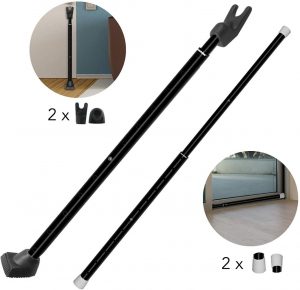 As the name suggests, Securityman is a 2-in-1 security bar. You can use it either as a door stopper security bar or a sliding door lock bar. To protect your floor from unwanted scratching, it is designed with rubber caps on both sides. In addition to that, it is adjustable in size and can be customized between 18.25" to 47.50". Don't worry about its durability either as it is made of high-grade iron, which makes it capable enough to withstand the huge pressure of 400 pounds.
1. Securityman 2-In-1 Door Security Bar, Black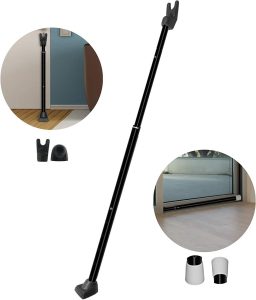 This Securityman 2-in-1 door security bar is truly your security man. It is made of robust iron and can withstand the pressure of 400 pounds. Being a 2-in-1 door barricade bar, it can be used as a door stopper security bar as well as a sliding door lock bar. Its interchangeable caps also make it compatible with hinged doors, sliding doors, and windows. Moreover, its rubberized bottom ensures a strong grip and withstanding pressure against the floor without causing any scratches.
Key factors to consider when buying a door barricade bar
It's about your home security. So, just don't go out and get a random bar without any prior research and knowledge. First, be clear with your needs in your mind and then consider these below-mentioned factors and then make the purchase.
Construction materials
Needless to say, construction material is the first thing you should look into. A door's barricade bar is meant to withstand a heavy force, so it has to be made of sturdy materials. Generally, iron or steel-made ones are considered the best because they don't only resist the force effectively but also ensure long durability without getting rusted or damaged. Given the fact, look into this factor carefully and make the purchase only if your desired bar is sturdy-made.
Force-resisting capacity
Intruders won't tell you how much force they would put on your door to infringe. So if you really want to be on the safe side, buy such a door's barricade bar that can withstand a huge force flawlessly. In general, a good and budget-friendly door jammer can bear 350pounds force at a minimum. Given the fact, your prospective barricade bar should be capable enough to resist at least this much force. Nevertheless, if you can invest a good amount of money, don't pull your hands back because a pricey one has a high force-resisting capacity always.
Installation
You can't ignore this factor while buying a barricade bar for your door. You'll place your bar every time whenever you'll go out or stay inside. This is why the installation has to be hassle-free and convenient. All door barricade bars have different installation process. Some can be pressure-mounted in a minute simply by connecting one side to the bar and another side on the floor, while some need specific hardware to mount them. The latter ones are time-consuming and effort-taking but ensure more security. Now, consider this factor carefully and buy the one that suits your needs the best.
Compatibility with different types of doors and floors
Generally, people overlook this factor but you shouldn't. Else, you'll end up with a barricade bar or jammer that is not actually made for your door. The reason being, some barricade bars are designed only for hinged doors, while some can be used with hinged as well as patio sliding doors. Moreover, their compatibility is varied in terms of floorings too. So, make sure to buy the one that is made for your type of door and flooring.  Or, simply buy an all-compatible tool. It might be pricey, though.
Conclusion
An unsecured door is literally an invitation to intruders and robbers. So, buy one of these reliable door security barricade bars and keep the burglars away from your valuables. Believe us, these door jammers are one of the most recommended tools to secure your home, make it almost impossible for burglars or robbers to breach your door security. For your convenience, you can check out where to buy the security bar here.
---
FAQs about Door Security Bars
1. How do door security bars work?
Normally, a door security bar works as the second layer door lock to double security of your home front door or office door. You use this security bar to jam your door from inside by placing it between the two hinges of your door frame. For door brace bar, it works by hooking the doorknob or door handing again the floor, making the door jam from outside pushing. With its padded foot grip, the door can't be pushed in by the outsider who attempt to break the door and enter the house.
2. Do door security bars work on carpet?
No. If your house has a carpet, you better use a barricade bar as your door security because this type of door jammer works by attaching its both ends to the hinges of your door frame, not against the floor. You can see it the picture below of how the barricade bar is used to secure your door.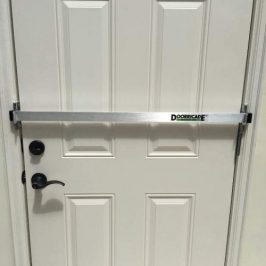 Last update on 2023-11-30 / Affiliate links / Images from Amazon Product Advertising API