Hands free door opener is a life saving and best sanitary door opener for every household, public bathroom and restaurant. You know objects like door handles do contain a lot of germs and touching them directly with your hands means all those germs will transmit into you in a second. This isn't only unhygienic but also extremely unhealthy. This becomes more important especially in the cases when the environment is not so healthy. This is why you should avoid touching your door handle more often. But then, how you would you open your door? Well, you can get this job effectively done with the help of a hands free door opener such as foot operated door opener, toe door opener and step n pull option.
These door opening tools will allow you to open the door even without touching the door's handle with your bare hand. So, invest in this awesome tool and keep the germs at bay. We have already put together the top 10 best hands free door openers for you. Grab one as you need!
List of the Best Hands Free Door Openers & Foot Operated Door Openers in 2023
HANDS FREE DOOR OPENER REVIEWS
1. FootPull FP03 hands free door opener | Use Your Foot to Open a Door to avoid germs!

As the name suggests, this FootPull door opener lets you open the door by pulling it with your feet. There is no need to touch the door handle with your bare hand. To get this door opener functional, all you need to do is install it at the bottom of your door. Don't worry about how you'll install it, as it comes with all required mounting hardware and installation instructions. Speaking of the construction materials, it is made of 356-aluminum and has a powder coated finish. Given the fact, it is sturdy, durable, and rust-resistant.
The best thing about this door foot opener is that it toe operated, meaning that you just use the tip of your toe to get the door open for you. It also comes with a foam padding on inside that doesn't only prevent the unnecessary scratches on your expensive shoes but also makes the device sit securely on the door. Ideally, this toe door opener is meant for both wooden or metal doors of your house, bathroom and more.
Key features
Aluminum construction
Power-coated finish
Meant for wooden and metal doors
Foam-padded inners
Comes with mounting hardware
2- StepNpull hands free door opener, 4 pieces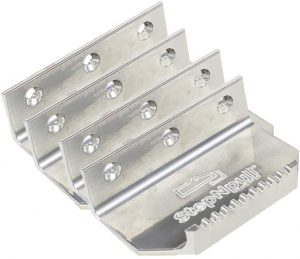 True to its name, StepNpull is a foot door opener which is designed as a 'step and pull' system. You don't need your hands to pull it. Instead, it is foot-operated and you simply need to pull it with your any of your foot. That's it, then your door is open. This way, it doesn't only prevent the transmission of germs of the door handle but also lessens the chances of cross contamination. Coming to its construction materials, the step n pull opener is made of aluminum, which enables it to bear the weight of your foot. However, you don't need to pull it with much power. A light pull is enough to open the your bathroom door or home door.
The great thing about this awesome foot pull door opener is that it has an easy installation process. You can install it just within minutes without any specific tools or instructions or use a screw gun if you have one. StepNpull is available in a set of 2, 4, 10 and 20 so that you can use on various doors in your house such as front door, bathroom door, and bed room doors. How it works? You just step on the opener and pull the door to open. That's it.
Key features
Prevent cross contamination
Aluminum construction
Foot-operated
DIY installation
The set includes 4 pieces
3. StepNpull hands free door opener, black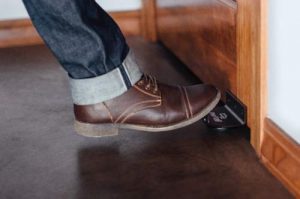 Another foot-operated door opener by StepNpull on this list is a single black. Unlike the one we have just talked about, this set includes only one door opener which is a perfect choice if you just need one tool. The color of the device is black. Given the fact, it looks elegant too. Speaking of features, this food door handle is operated by stepping your foot on it and then pull it to open. Since you don't need to touch it with your hands in order to open the door handle, it prevents your hands coming into the touch of germs and also avoids the cross contamination.
Made of sturdy aluminum, this sanitary door opener is robust, wear-resistant, as well as highly durable. You don't need to worry about its installation either. The tool is designed with DIY installation and it won't take you more than 5 minutes to mount it. The door opening tool is also made of 70% recycled aluminum material and fully complied with American Disability Act (ADA) Compliant.
Key features:
Aluminum construction
DIY installation
Easy operation
No chances of cross contamination
Prevent the germs coming into skin touch
4. Kooty Key Germ Utility Tool for Door Opening – Avoid Touching Bacteria Ridden Surfaces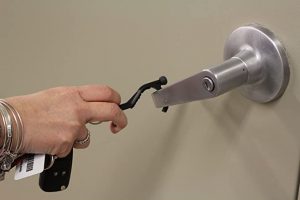 If you need to travel around and not sure if every door you will open has a foot pull door opening option or not, get this door opening hook for yourself. The tool is portable and easy to carry along. You can use this hook to open office door, bathroom door and any other Interconnect Door Lock which has handle. Without having a close contact with the door's handle, you can just use the hook to drag it to open. That will help preventing you from using the door with your bare hand in case the door has no foot operated system. This door opener is very cheap and comes with various colors for you to choose from.
You can use this Kooty Key Hook for:
Household's door handles
Mailbox door handles
Toilet door handle
Slot machine door and more.
Video: Germ Free Utility Tool
5. TheDoorWay Sanitary Door Openers | hands free door handle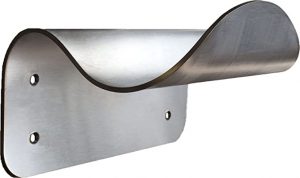 If you want a stylish hands free door opener that can even accentuate the elegance of your door, TheDoorWay deserves your attention. Unlike others that are simple is design, it has a wave-like deign that looks really elegant. Owing to its design, this food door handle is so easy to use that you open it even with the sole of your shoe, toe of the shoe, or any other part of the shoes you wear. Ensuring you a hands-free operation, the door opener makes sure to keep your hands germs free and completely hygienic.
Speaking of the construction materials, this hands free door handle is made of sturdy steel. Given the fact, it is durable, rust-resistant, and easily cleanable. The installation is also hassle-free and convenient. You can install it in a few minutes. It is suitable for using as a sanitary door opener for public restrooms as well.
Manufacturer's statement
"You washed your hands but did they? The DoorWave by Functional Form is a patented hands free door pull that was designed to enable a user to open an unlatched door with their foot. The wave like design is not only attractive but can be used in various ways to make it easy to exit without touching the door handle…..Premium high grade stainless steel construction is ADA compliant, easy to clean, durable, and beautiful. You have spent the money on hands free toilets, hands free sinks, hands free soap dispensers, now complete the sanitary bathroom with TheDoorWave hands free door pull."
Key features
Unique wave-like design
Steel construction
Hassle-free operation
Easy installation
Prevents the germs
6. Door opener for pull-out door by HandyCT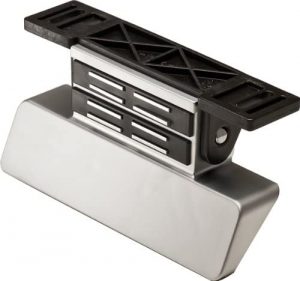 HandyCT door opener is a unique-designed tool that can be installed on any type of the door. From kitchen to bathroom, you can install this door opener anywhere. Just pull it out with your legs and the door will be opened. You don't need to touch the door handle with your hands. Thus, it keeps your hands clean, hygienic, and germ-free.
With the fact that it has a unique design as compared to other hands free door openers, it is sits firmly on the door and provides long durability. Speaking of the construction materials, it is made of recycled items that make it robust, sturdy, and long-lasting. Above all, this versatile door opener is worth the money. However, while some customers are happy with the product, some has complained that the plastic part of the opener is not in good quality. It's broken within 2 years. So, if you expect for along lasting, get the StepNpull one as it's all made of metal.
Key features
Versatile
Solid-made
Easy operation
Convenient mounting
Unique design
7. Touchless Hands Free Foot Door Pull Opener Bracket | 1/8" Thick Metal Office Business Bathroom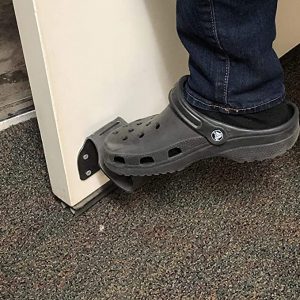 This touchless door opener is a hands free bathroom door opener which is designed to get your hand out of the door handle. Made of thick steel, this sanitary door opening tool is suitable for installing in the door of your office bathroom, home bathroom and public restrooms. It's is also easy to install with just a screw gun or a handheld tool. It's an ideal foot door handle for use for both household and offices. How it works? Just similar to other tools, step one of your foot on the handle, and pull it to open. That's all.
Key features:
Easy to install
Made of thick steel and durable
Easy to use
Ideal for bathroom sanitary door
8. Smart WiFi Garage Door Opener Remote Controller works with Alexa, Google Assistant and IFTTT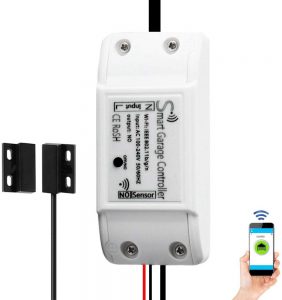 If you are a high-tech person, this automatic door opener is the smartest choice for you. This smart door opener is not really designed for bathroom or house, but for garage and restaurant door instead. With the installation of this hands free smart door opener, you can open or close your garage door with just a command from the app in your smartphone. What's more special about this smart door opening tool is that it works with Alexa and Google Assistant, allowing you to use voice rather than your foot or hand. However, you need to download its Smart Life app for operation.
The installation is not that difficult as well. It is suitable for more garage door models. However, it is recommended that you check the compatibility of the tool with the image #6 & #7. If your model is not seen in the list, then make sure to test compatibility before ordering to avoid any dissatisfaction.
Key features:
Compatible with Alexa and Google Assistant for voice command
Just tap on your smartphone to open and close the door
Hands free and secure door system
Convenient to use after installation
Key factors to consider while buying a hands free door opener
Before buying it, make sure to keep the significant factors in mind so that you don't spend money on a wrong one. Here, we have discussed those factors in detail.
Materials use
Normally, a hand free door opener is made of either steel or a combination of metal and plastic. For long lasting reason, we would recommend you to get the one which is completely made of metal or stainless steel. The reason? the plastic is usually last for around 2 years only based on the customer's feedback and user experience.
Compatibility
Make sure that choose the one which is compatible with your door, either a wood door or metal door. Some door opener is designed for only bathroom while some is for both restroom and front door. So, make sure you choose it right to serve your purpose.
Installation
Get the one with easy installation process. During this period, don't get a complicated one as it is hard to find someone to help you with the installation. However, the list of the products above are easy to install. So, you can count on.
Conclusion
Healthy and safety are the main priority for ourselves and family members. So, it is a great ideal to get the tool such as hands free door opener equipped with every door to protect not only ourselves but people around us. Let's stop spreading the virus and gems and stay safe to all of you.
Last update on 2023-11-30 / Affiliate links / Images from Amazon Product Advertising API