Door sweeps are necessary. They not only provide a solid seal but also render a fancy look. If you'll go out to buy a door sweep for your front gate, you'll get a lot of variations. But, when it comes to buying a shower door sweeps, your options are limited. From the perfect size to ideal shape and form solid materials to fancy look, finding your desired shower door sweep is difficult at times. But, don't worry. Here, we have made your easier by listing down the top 10 best shower door sweeps in the market right now. Have a look at the list.
List of the Best Shower Door Sweeps in 2023
Shower Door Sweep Reviews
10. Prime-Line M6258 Frameless Shower Door Sweep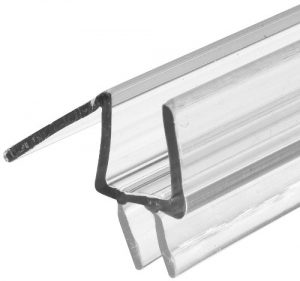 Prime-Line M6258 Frameless shower is a large-sized door sweep which fits precisely in 3/8 inch thick glass. In case, it is not fitting in your glass door, you can easily cut it off to adjust the size. It is made of vinyl materials. Given the fact, it is not only flexible but also long-lasting. You can use this shower door sweep even with the swinging doors. It is designed with strong water and stain resistance capacity, so there are no chances of even minor leakage.
9. Shower Door Sweep, Frameless Glass Shower by MAGZO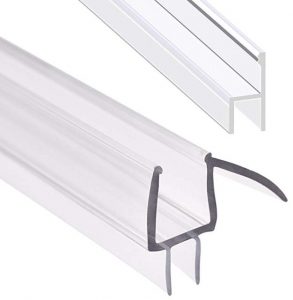 If you have a frameless shower door, this shower door sweep by MAGZO is the perfect choice for you. Made of pure vinyl materials, it is a solid shower door sweep measuring 36 inches. The best thing about this shower door sweep is that it is acid-proof which is extremely necessary for a shower door. Though it is large in size and made of really heavy materials, it is incredibly easy to install.
8. 38COBS36 Frameless Shower Door Sweep by Showerdoordirect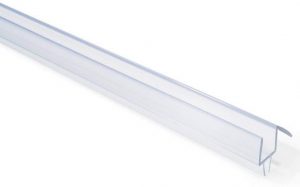 If you're running on a low budget but your old shower door sweep needs an urgent replacement, turn to this one. 38COBS36 shower door sweep is one of cheapest door sweeps in the market.  Just because it costs low, don't assume it won't provide a reliable service. Rather, it has built a huge following for its credibility. This 36 inches long door sweep is made of polycarbonate and resists well against the water. In fact, it is designed with the double scraper on the bottom.
Related: Top 10 Best High Pressure Handheld Shower Heads in 2023
7. Clear Vinyl Framed Shower Door Drip Sweep by Shower Enclosures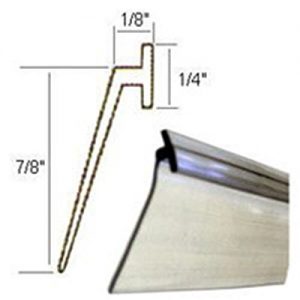 So far, we have talked about the frameless shower door sweep. Here, comes the first framed shower door sweep on this list. This door sweep is designed to slide into a channel which makes relatively stickier. With that said, you don't need any adhesive to hold the door in a place. If you're thinking about its water-resistance capacity, you actually shouldn't because it makes sure to prevent water leakages.  Interestingly, this amazing shower door sweep can be bought only for a few bucks.
6. Shower Door Sweep by MAGZO, M+H type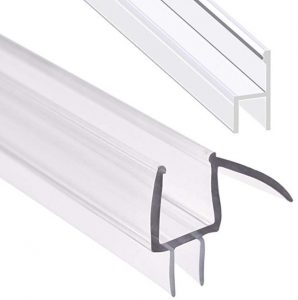 If you're looking for a high-quality and solid-made shower door sweep, this is for you. With its 36 inches length and 72 inches height, it fits well in 3/8" thick glass. It is made of vinyl and PVC materials, so you can rest assured about its flexibility and durability. Even in an extremely damp environment, it can last for years. Another good thing about this shower door sweep is that it makes no noise when sliding the door. The reason being, it is designed with the silicon seal at the bottom.
5. 14COBS36 Frameless Shower Door Bottom Sweep, Shower Door Sweep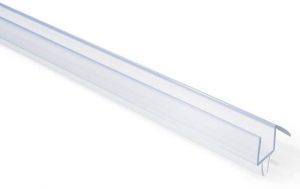 Want a shower door sweep for a relatively thinner glass door? Well, turn to this one. This shower door sweep is designed to fit in a ¼" thick and 36 inches long glass. Unlike other shower door sweeps, it is made of polycarbonate. The double-layered seal at bottom not only provides a smooth sliding but also saves the floor from scratching. This shower door sweep is easy to install. You can set it up in minutes even without any guide.
4. Chrome Framed Shower Door with Vinyl Sweep by GordonGlass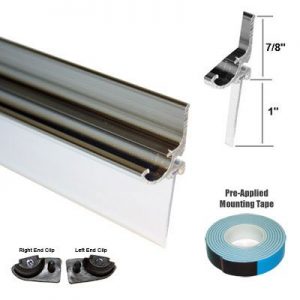 Chrome Framed Shower door sweep is different from other in many ways. Its 32 inches length makes it a perfect fit for the medium-sized doors. This shower door sweep is particularly designed for the swing doors featuring high bond mounting tapes. The mounting tapes are very strong, so you don't need to worry once it is correctly installed. The bright chrome finish not only ensures a long durability but also renders a fancy look.
3. 12COBS36 Frameless Shower Door Bottom Sweep by Showerdoordirect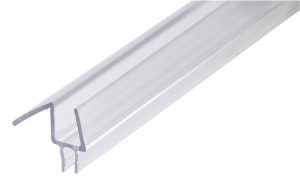 Showerdoordirect.com is the leading the brand in this industry. You can see this even here as it is dominating the list. Speaking of 12COBS36 shower door sweep, it is a reliable and budget-friendly shower door sweep. It is so solid-made that it can hold up well. There is no chance of spilling and leakage. It fits well in 1/2" thick glass. The thick silicon at the bottom ensures to hold back all the water and no spilling on other side.  
2. CRL Angled Translucent Vinyl Edge 'T' Wipe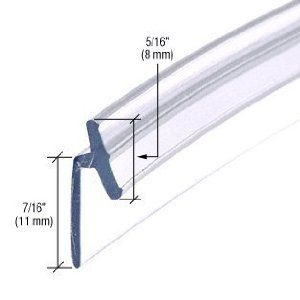 Here comes the cheapest shower door sweep on our list. Though it is incredibly low in price, it is still ranked 2nd on the list. With the fact, you can assume the credibility and reliability of this shower door sweep. The drip rail at the bottom makes the water remain inside the shower only. One thing you need to remember with this shower door sweep that you can use it only in a framed glass door.  Certainly a good bet for the money!
1. CRL Co-Extruded Clear Bottom Wipe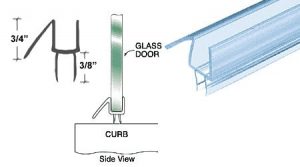 CRL CO-Extruded clear bottom wipe has amassed a plenty of happy customers under its name. No wonder why it is ranked top on the list. From affordable price to impressive service, it is completely designed keeping the user's need on the mind. It is made to fit 3/8" glass doors but you can adjust the size anytime. It is amazingly flexible to cut down. The drip rail does its work with an ease. You don't even need any adhesive to make it sticky on the floor.
Video: How to replace shower glass door sweep
by Legacy Handyman
Conclusion
So, your quest for a reliable shower door sweep ends here with this list. If you're still finding it hard to select the one, just go through the list again. You'll definitely find your suitable shower door sweep.  
Last update on 2023-10-04 / Affiliate links / Images from Amazon Product Advertising API