It is never too early to instill positive attributes in your kids, be it etiquettes or habits. And above all, it is necessary to make them understand the need for such things. One of the essential habits your kids must develop is helmet use, irrespective of the bike they are riding. Safety is the utmost priority, and at the tender age up to 10 years, the kids learn to do different stuff. Learning something new causes injuries. Cycling is one such activity, and every kid aspires to take part in it. Wearing a helmet and other safety gear is as important as learning to ride a bike. Hence, here are 10 of the best bike helmets for kids available in the market.
List of the 10 Best Bike Helmets for Toddler in 2023
1. Best Overall: Joovy Noodle Helmet for toddler and kid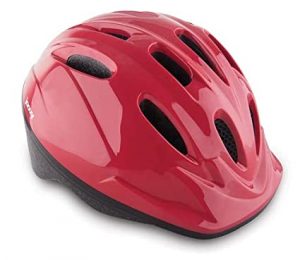 Brand: Joovy
Color: Blue, Blueberry, Pink, Orange, Green, & Red.
Size: X-small/small & small/medium.
Joovy has produced several kids riding gear, and this toddler bike helmet is one of them. It features an excellent modern design, with 14 integrated air vents. There is a mesh placed at the front vent to prevent any bug from entering the helmet. The air vents work well and prevent sweat from accumulating. There are nylon straps available and a pinch strap near the chin area.
Depending on your child's head size, there is an adjustable dial at the rear to tighten or loosen the helmet. This makes it suitable for children from 1 to 9 years old. Before buying, measure the head of your child using a strip and tape, to know the proper size you need to buy.
Key Features
Adjustable dial.
14 air vents.
Bug mesh.
Nylon strap with pinch strap.
Good build quality.
2. Cheapest Of All: Schwinn Kids Bike Helmet Classic Design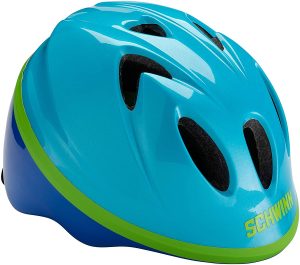 Brand: Schwinn
Color: Blue, Classic Owl, Dragon, & Teal.
Size: Infant.
This helmet is specially designed for infants to keep them safe during their cycling adventures. Featuring an integrated visor to protect your kid from the harmful UV rays, this helmet is suitable for kids between 0 to 3 years of age. The 360degree comfort dial allows you to fit the helmet to your kid's head size, while the lower molded shell adds durability and stability.
During the summers, the air vents at the top help maintain the airflow towards the head to prevent excessive sweating and suffocation. However, it is to be noted that the head sizes of children are different, and helmets must be bought based on the head size, and not according to the age.
Key Features
Durable.
Excellent comfort.
Adjustable inner circumference.
Integrated visor.
Air vents.
3. Best Runner-Up: Paw Patrol Toddler and Kids Bike Helmet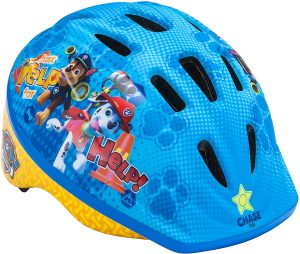 Brand: Licensed
Color: Skye Purple, All paws blue, & Skye Blue.
Size: Toddler.
This is a helmet toddlers love to have, as it features an appealing design and some lovely vinyl. Suitable for kids between the age of 3 and 5, this helmet provides a 360degree dial fit. This allows you to tighten or loosen the helmet according to your kid's head. The top and front vents keep the heads fresh, and sweat-free, while thick inner padding makes it comfortable when wearing.
The excellent build quality means it protects your kid's head when he falls. The lower molded shell provides this durability and also the stability when riding. The outer circumference of the helmet is pretty large to prevent your kid's face if he falls.
Key Features
Adjustable helmet circumference.
Thick inner padding.
Appealing graphics.
Durable.
Vented design.
You may also check: Top 10 Best Toddler Bicycles In The Market in 2023
4. Best Value For Money: LERUJIFL Kids Helmet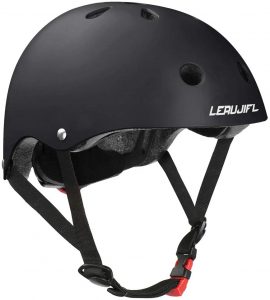 Brand: Lerujiful.
Color: Blue Pink, Yellow, Purple, Orange, & Dark Pink.
Size: Not mentioned.
Featuring a traditional design, this helmet from Lerujiful is amongst the most versatile helmets in the market. It provides excellent levels of protection when your kid is cycling, skating, or even skiing. It can be adjusted to fit your kid's head, using the wheel ratchet at the back of the helmet. The inner padding is quite thick and provides excellent cushioning. Usually, this helmet is suitable for kids between the age of 3 and 8 years.
Construction is pretty solid and uses high-quality materials. In case you are not satisfied with the helmet, you can opt for a complete refund. All these features make this the best value for money helmet in the market.
Key Features
Traditional design with air vents.
Wheel ratchet for easy adjustment.
Comfortable.
Excellent build quality.
100% refund option available.
5. Most Durable: OUWOER Kids Bike Helmet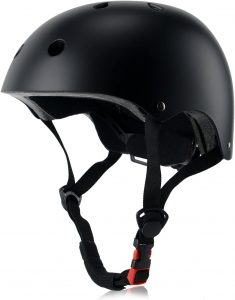 Brand: OUWOER.
Color: Black, Blue Gray, Orange, Pink Red, & Yellow-Green.
Size: Small, Medium, & Large.
Another traditional helmet design, with solid color options, featuring 11 top and side vents to maintain airflow to the head. It is pretty safe and durable, as it complies with the CPSC and EN 1078 standards. The shell is made of ABS, which is profoundly impact-resistant, while the inner cushioning avoid any scratches or bruises to the head. You also get two sets of pads with varying thickness.
There are two chin straps, adjustable to provide a better fit, making it suitable for a more extensive range of sports like cycling skating, boarding and so on. The different size options are ideal for different ages. For toddlers, Small size is better suited.
Key Features
Easily adjustable.
Complies with safety standards.
Vented design.
Exciting color options are available.
ABS shell.
You should also check: Top 15 Best Toddler Chairs for Your Kids in 2023
6. Best Design: KIDS Bike Helmet – Adjustable from Toddler to Youth Size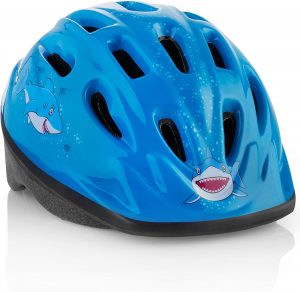 Brand: Team Obsidian.
Color: Blue Shark, Pink Octopus, Gray Dragon, & Purple Unicorn.
Size: Not Mentioned.
A CPSC certified helmet featuring an Expanded Polystyrene Shell to prevent your kid from getting injured due to substantial impact. The design is very modern, along with 14 integrated air vents, and appealing graphics. The pre-installed inner padding is 3mm thick, which is best suited for toddlers, while an additional 5 mm padding is for kids between 5 to 8 years of age. There is strap available as well, with an easy-release mechanism to remove the helmet with ease. The chin strap covers the locking mechanism to prevent it any scratches or discomfort near the chin.
It is highly advised that this helmet must not be used by kids above eight years of age, as it is designed for toddlers and smaller kids.
Key Features
CPSC certified.
Inner EPS shell.
Two inner paddings are available.
Quick-release mechanism.
7. Most Good Looking: Schwinn Kids Bike Helmet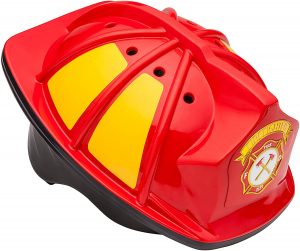 Brand: Schwinn
Color: Sweet Heart, & Panda Bear.
Size: Toddler.
Ever happened that your kid looks at something, and insists you to get that for him? This is one such helmet. The 3-D feature makes it appealing for the kids. The Panda Bear version especially looks very realistic. In terms of safety, it is as good as any other helmet in the market. The air vents on top provide the much-needed air circulation to the head, while the lower molded frame makes it durable and stable.
It is suitable for toddlers, and its size can be adjusted using the dial fit at the back of the helmet to provide a better fitting. However, do ensure that you buy the helmet based on the head size of you kid, and not on the basis of age or adjustability.
Key Features
Exceptional design.
Air vent design.
Good build quality.
Dial fit.
8. Most Lightweight: Kids Toddler Bike Helmets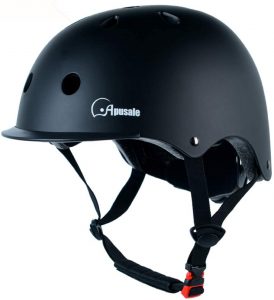 Brand: Apusale.
Color: Matte Black, Light Blue, Orange, Red, & Yellow.
Size: 48-54cms.
Another CPSC certified helmet that features an old-school look is still very desirable for the kids. The material used for the outer shell is ABS, which is shock-absorbing, while the inner material prevents the head's impact. It is ideally suited for toddlers and young teenagers alike. Sports like cycling, BMX, skating, MTB, and other such sports are well suited for using this helmet.
The helmet is light in weight and comes with an adjustable dial to vary the size according to the growing head of your child. There is an additional helmet brim which can be removed with ease.
Key Features
CPSC certification.
Impact-resistant.
Hemet brim.
Easy to clean and maintain.
Lightweight.
Also check out these: Top 10 Best Outdoor Toddler Swings in 2023
9. Best Suited For Girls: BeBeFun Pink Girl Toddler and Kids Multi-Sport Bike Super Lightweight Helmet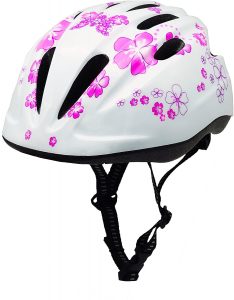 Brand: BeBeFun
Color: Angel
Size: 20.5-21.65inches.
A lovely helmet with air vents on top which is suitable for both boys and girls. However, the Angel color appeals to the girls more than boys. The safety standards of this helmet are pretty high and it is very durable. It is designed to prevent impact due to collision, and dissipate the impact strength before it reaches your kid's head. The strap is also of premium quality and does not make the rider uncomfortable.
It is suitable for children around the age of 3-7 years. However, do measure your kid's head before buying this helmet. Although the inner circumference is adjustable, it would be better if you measure the head size beforehand.
Key Features
Excellent design.
High safety standards.
Durable.
Impact-resistant.
Good quality strap.
10. Best Under $25: M Merkapa Kids Bike Helmet Adjustable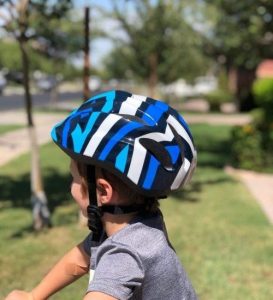 Brand: M Merkapa.
Color: Blue, Pink, & Green.
Size: 48-52cm.
M Merkapa is a reputed brand, known for its premium design, and amazing features. This helmet provides excellent safety to the head from all sides, and the extruded front protects the face. The CPSC and CE certification justify its excellent build-quality and impact strength. The outer shell is made of PVC and the inner using EPS. It is incredibly lightweight to prevent the kids from getting a neck pain.
It can be used for other sports apart from cycling as well, because of its durability, and design. If the helmet does not live up to your expectations, you can simply return it for a full refund.
Key Features
Premium design.
High impact-strength.
PVC shell.
Lightweight.
Full refund.
Verdict
It is obvious for kids to fall when they are learning to ride a bike. However, as a parent, it is your responsibility to keep them prepared for such an event. Wearing a helmet is a habit that should be developed in every kid, starting from the earliest level. Our head is an essential part of the body, and a severe injury can have drastic long-lasting effects. Therefore, go ahead and get your kid a helmet they can show-off to their friends, and wear it when they go biking or skating.
Frequently Asked Questions
What Size Helmet Would Be Fit For A 4-Year-Old?
The helmet size chart does not depend on age. Head size is something that can drastically vary from one kid to another. You need to measure the circumference of your kid's head, and then buy the helmet based on this size. Simply wrap the measuring tape around your kid's head to know the exact size.
What Is The Use Of Air Vents?
When you wear a helmet for a long time, the head becomes full of sweat and often causes suffocation. The air vents allow air to reach the head and keep it cool. Also, ensure that the helmet is locked at the bottom near the chin, but not too tight. Otherwise, the air vents would not be very effective.
Where Do I Adjust The Helmet Size From?
You will find a circular clip when you look at the rear side of the helmet towards the inner cushion. Rotating this clip will adjust the size of the helmet. Usually, this is the method of adjustment. However, a few new helmets are coming with a ratchet to adjust it.
Last update on 2023-11-30 / Affiliate links / Images from Amazon Product Advertising API