Self-closing hinges are the door pivots that have an in-built spring in them. This spring causes resistance when you try to open it. However, as you close the door, you have to apply a small amount of force on the door, and then the spring takes over. You must have come across self-closing doors in shopping malls, offices, and even garages. They are very versatile and can be used with a wide range of doors. Metal, wood and even glass doors use these hinges.
List of the 10 Best Self Closing Door Hinges in 2023
Product Reviews
1. Best Overall: Ideal Security SK50P2S Hinge Pin Automatic Closer for Interior Doors

Brand: Ideal Security, Inc.
Load: Capacity: 30lbs.
Color/Finish Available: Satin Silver, Oil-rubbed Bronze and Polished Brass.
Ideal Security Inc is a security system manufacturing company, which is well-versed in manufacturing secure door locks and other items. The SK50P2S is a very well-designed door hinge, which can be used on doors up to 30lbs. The hinge can be used on any interior door, to convert it into a self-closing one. There are several color options available. You can choose the color according to the background in case of a glass door.
SK50 can be easily installed, as it requires basic skills and some simple hand tools. The spring tension is adjustable, allowing you to adjust the closing of the door. However, you need 1/2inch of the distance between your door trim and the center of the hinge.
Key Features 
Adjustable spring.
Can be used in all kinds of doors.
Multiple hinges can be used for heavy doors.
Easy to install.
Wide range of color options.
2. Best Runner-up: Residential Spring Hinge Door Hinge – Reversible – 4 Inch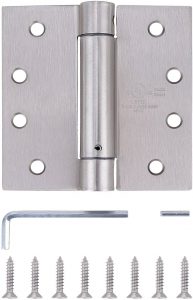 Brand: Dependable Direct.
Size: 4 by 4 inch.
Color/ Finish: Satin Nickel Finish.
This is a pack of three self-closing hinges from Dependable Direct. These hinges are available in Satin Nickel finish, which makes them tolerant of scratches, and improves their appearance. They are made of steel, and machined to perfection, providing exceptional durability.
Each of these hinges is a square of 4inch and has a total of 8 holes, four each for the door trim and the wall. It is designed to make it suitable for both left and right-sided doors. The packaging includes three hinges, a wrench, and the screws required for mounting. Also, if you are not satisfied with the build quality, or the finish, you can return it for a full refund.
Key Features 
Reversible.
Good Finish.
Lightweight.
Durable.
Smooth and quiet operation.
3. Most Lightweight: Hager Satin Nickel 3.5 Inch X 3.5 Inch Spring Door Hinges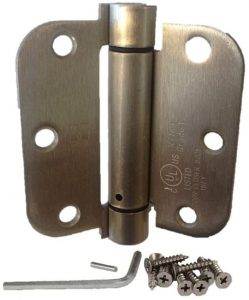 Brand: Hager
Size: 3.5 by 3.5 inch
Color/ Finish: Satin Nickel
This is a square hinge manufactured by Hager and weighs 1.3pounds. Its corners are not edgy and have been rounded at a radius of 5/8 inch. There is another option available with an edge radius of ¼ "radius; however, it is slightly costly. It is fully mortised and has a smooth satin nickel finish.
Since it is a pack of two hinges, it comes with two hinges, screws finished in Satin Nickel, and spring adjustment tool. The spring adjustment tool can be used to alter the tension in the spring to vary the speed and torsion in the spring.
Key Features 
Round edges.
Appealing finish.
Lightweight.
Adjustable Spring.
4. Most Appealing: Oil-Rubbed Bronze 4 X 4 with 5/8 Radius Spring Door Hinges

Brand: Hager
Size: 4×4 inch.
Color/ Finish: Oil-rubbed Bronze.
This pack of two self-closing hinges consists of a pair of 4inch x 4inch hinges, which are finished with a layer of high-quality oil-rubbed Bronze. These are the best-looking hinges available on this list. Even the screws provided with the hinges are finished in oil-rubbed Bronze.
The corners on this hinge have a fillet radius of 5/8inches. There are eight screw holes, four on either side of the self-closing spring. You can adjust this spring on your own using the tool provided in the packaging. The tension on the spring can be reduced for a slower closing, and vice versa.
Key Factors 
Appealing finish.
Good build quality.
Matching screws for the color of the hinges.
Adjustable spring.
Easy to install.
5. Most Compact: Deltana DSH35R515 Single Action Steel 3 1/2″ x 3 1/2″ x 5/8″ Spring Hinge

Brand: Deltana
Size: 3.5inch x 3.5 inch.
Color/ Finish: Brass, Nickel, Bronze & Chrome.
Originating from China, these hinges are amongst the most compact self-closing pivots available in the market. They are manufactured using steel, in a square shape of 3.5inch side. These hinges are available in an array of unique finishes. Each one of these hinges weighs about 0.8lbs and has six mounting holes on them.
In the packaging you will find the hinges, along with it there are screws, tension hex wrench, straight wrench, steel screw, and locking pin. These tools are enough for you to install them onto the door and adjust the spring characteristics. Deltana provides a three-year manufacturer, and one year Finish warranty.
Key Features 
Available in a wide variety of finishes.
It offers a lot of tools to fix the spring.
Compact and lightweight.
A lengthy warranty period.
6. Most Smooth: Hager Satin Nickel 4 X 4 Spring Door Hinges

Brand: Hager.
Size: 4inch x 4inch.
Color/ Finish: Satin Nickel.
This self-closing closing door hinge is offered by Hager, with numerous mortise applications. The package consists of 2 four by four-inch hinges, with a ¼inch radius fillet on all corners. There are a total of eight mounting screw holes, four on either side, providing high levels of rigidity. Screws required for mounting this hinge are also offered in the packaging and are in the same satin nickel finish. You also get a spring adjustment tool along with the product.
These hinges are manufactured to enhance durability and longevity. It operates in a very smooth and quiet manner.
Key Features 
Looks premium.
Full mortised application.
Smooth operation, and finish.
Rigid.
7. Best Build Quality: AmazonBasics Self-Closing Door Hinge

Brand: AmazonBasics.
Size: 3.5 by 3.5 inches.
Color/ Finish: Matte Black.
Manufactured by AmazonBasics, this is a very compact and probably the most appealing hinge available in the market. These hinges are available in a variety of finishes, including Matte Black, Bronze, Brass, and Satin Nickel. It is incredibly durable because of the high-grade steel used for manufacturing. Overall, it features the best combination of style and function.
All required mounting screws are available in the packaging. Although they weigh slightly more, the rigidity on offer is worth the compromise. It is easy to assemble them, and it can be done using a few essential tools. Also, there is a user manual, with step-by-step guidelines for the installation.
Key Features 
Compact.
Durable.
Wide range of finishes to choose from.
Easy to install.
Good build quality.
8. Cheapest Among All: Cauldham (2 Pack) Heavy-Duty 4″ Self-Closing Spring Door Hinge

Brand: Cauldham.
Size: 4inch by 4inch.
Color/ Finish: Satin Nickel, Oil-rubbed Bronze, and Brass.
This adjustable self-closing door hinges can be used with heavy-weight, fiberglass, wood, and metal doors. It meets all the safety standards, making it one of the safest hinges in the market. Due to the high quality of material used, it is incredibly durable and offers better stability.
The packaging includes the 1inch screws required for mounting, with matching finish. There is a user manual also available providing specific instructions for its mounting. The edges are filleted with a 5/8inch radius, while the spring adjustment tool can be used to change the tension in the spring. It is advisable to use multiple door hinges, for better longevity, and ensured safety.
Key Features 
Meets the safety standards.
Adjustable spring.
Highly durable.
Smooth operation.
9. Best Value For Money: Berlin Modisch 4″ x 4″ Mortise Spring Hinge

Brand: Berlin Modisch.
Size: 4 by 4inches.
Color/ Finish: Brushed Nickel.
This is a pack of four self-closing hinges from Berlin Modisch. They are 2.7mm thick and can be used on doors having thickness up to 4inches. The thickness makes them very durable, and the Brushed Nickel finish prevents the regular scratches. There are wood and metal screws available in the packaging. You can choose between them depending on the material of the door.
The packaging also includes a heavy-duty rubber wedge door stopper, which is useful if you do not want the door to close all the way. The thickness increases the weight of the hinges, on the other hand, it also increases the rigidity and strength.
Key Features 
High Stability.
Wood and metal screws provided.
Additional rubber door stoppers.
Good surface finish.
10. Best Performance: Cauldham (2 Pack) Heavy-Duty 3-1/2″ Self-Closing Spring Door Hinge

Brand: Cauldham.
Size: 3.5 by 3.5 inch.
Color/ Finish: Satin Nickel.
This hinge pack from Cauldham is suitable for both new constructions as well as renovation. It is compact, lightweight, and provides high levels of performance. Cauldham is a trusted brand. They use genuine, high-quality steel for manufacturing these hinges, as safety is their utmost priority. These hinges can be used for fire-rated doors, and are approved by the ANSI/BHMA safety standards. They feature a corrosion-resistant finish, which also resists a number of daily scratches.
Offering a 270degree rotation arc, the spring in the hinge can be adjusted using the adjusting wrench available in the package. There are screws and user manual required for the installation of these hinges.
Key Features 
Use of high-quality steel.
Excellent performance.
Corrosion Resistant finish.
270degrees rotation arc.
Meet the ANSI/BHMA standards.
Video: How to Install Self Closing Door Hinge
by DIYTechnician
Verdict
As you enter a room or an office, the first thing you come across is the door. Most of the commercial places use self-closing doors. Recently, a number of residential apartments are also fitted with these kinds of doors. They sure are appealing, and you can make your traditional door into a self-closing one, by simply changing the hinges. The above-mentioned list has a hinge for all types of construction materials such as wood, metal and fiberglass. Lastly, the premium finish and mortise characteristics make your door look cleaner and feel more premium when using.
Frequently Asked Questions
Can I Convert My Traditional Door Into A Self-Closing One?
Yes, you can simply remove the existing hinges on the side of the door, and place these self-closing hinges in place. Now, make sure that you use multiple hinges, and their tension is kept the same.
How Much Load Capacity Does A Self-Closing Hinge Have?
Usually, the capacity of a self-closing door is around 30 to 50lbs. However, it is highly suggested that you use multiple hinges on your door, to prevent one hinge from taking all the load. If you put a heavy door on a single hinge, it would lead to the spring losing all its tension.
My Door Has Become Very Loose, And It Closes Very Slowly. How Do I Repair It?
The reason that your door has become loose is that the tension in the spring has reduced. Reduced tension in the spring causes it to take a longer time to reach its default position. To fix this, you can use the wrench provided along with the packaging. Place it in the hinge knuckle, and rotate it until you get the desired tension in the spring.
Last update on 2023-11-30 / Affiliate links / Images from Amazon Product Advertising API