Ever heard of the Zinus bed brand? When you'll go out to buy a bed frame, you'll have unnumbered choices in front of you. You'll get luxurious ones at high prices and simple ones at low prices. But, if you want a combo of affordable price and high quality, turn to Zinus bed frames, which are known for their amazing services and impressive user-friendliness. The bed frames from Zinus are selected for reviews among our household products category due to its good reputation and quality among its peers in the furniture industry. If you already feel to get one at home, check out our team's compiling list of the best Zinus bed frames in 2020 along with our reviews below.
List of the 10 Best Zinus Bed Frames in 2020
Zinus Bed Frame Reviews
10. Zinus Bed Frame Lorelei 14 inches Platform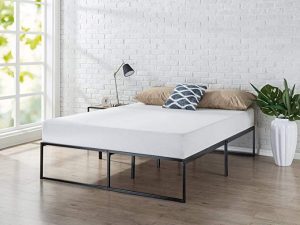 Zinus Bed Frame Lorelei 14 inches is a simple, affordable, yet sturdy bed frame option for you. Though the frame looks thin, it is robust enough to support memory foam, spring and hybrid mattresses. The reason for its robustness is its steel-made construction, which keeps the bed balanced in every position. To add further support, the slats are made of wood and designed with non-slip tape. Given the fact, the mattress can hardly slip away. 
9- Zinus Bed Frame Dachelle Upholstered Premium Platform Bed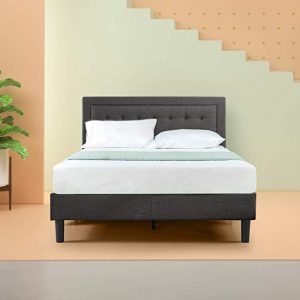 If you're looking for a classic Zinus bed frame, turn to this one. It is a steel-made frame with wooden slats. Featuring 7 legs, several slats, and a big headboard, this bed frame is made to last for years. If you're concerned about its holding capacity, it can hold up really a good amount of weight as there are less than 3 inches of slat spacing. To ensure a comfortable sleeping experience and a sleek look, the bed frame is designed with soft and button-tufted gray-colored upholstery. 
 

8- Zinus Wen 12 inches Wood Platform Bed Frames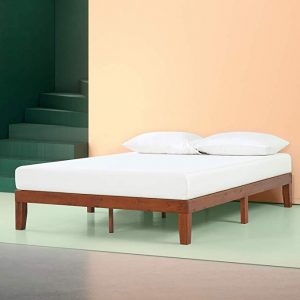 If you want to avoid the bulkiness of a headboard and a footboard in a Zinus bed frame, turn to this one. It features neither of them. The frame is designed with 9 well-built wooden legs and a number of slats, which are designed with non-slip tape in order to keep the mattress stable in its place. Since it is 12 inches high, it provides significant under bed storage too. To your surprise, the frame comes with a 5-year full warranty. Don't you think it's awesome?
7- Lottie Upholstered Square Stitched Platform Bed by Zinus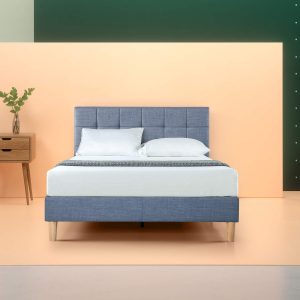 If you want a Zinus bed frame with classic design coupled with a solid construction, this is the frame to be. The frame is made of steel and has wooden slats. Given the fact, you can rely on its sturdiness. To render an elegant look, it is covered with a soft-padded blue upholstery from headboard to the basement. Furthermore, a foam-packed tape is added on the bedsides and legs in order to avoid wanted noise and floor scratching. 
6- Paul Metal and Wood Platform Bed by Zinus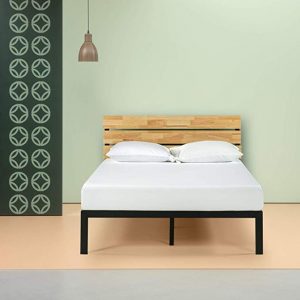 This Zinus bed frame looks simple with thin legs but it is sturdy enough to hold a huge weight of 500 pounds. The reason for its such a massive weight capacity is its incredible blend of steel and wooden construction. The headboard and slats are made of pinewood, whereas the legs and frame are made of steel. Given its firm construction, this Zinus bed frame never fails to keep its words. Its rustic design with the eye-catching colors makes it unique too.
5- Mia Modern Studio 14 inches Platform Bed of Zinus Brand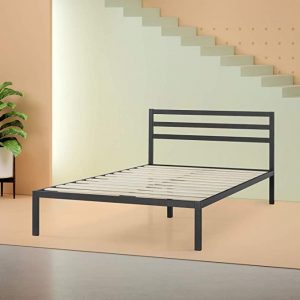 Another simple, sturdy, and affordable Zinus bed frame on this list. The frame is made of steel and coated with a black finish all through. Given the fact, you don't need to worry about rust and corrosion. It features 5 legs, a mid beam, and a 38-inch high headboard. To provide support on the basement, it is designed with 10 thick slats with the non-slip tapes, which don't only prevent the mattress from sagging but also increase its life. If the Zinus seems not your type of bed frame that suits your need, you can skip the list from here and have a look at these bed frames from Ikea. Ikea bed frame is a worldwide recognized products you might want to rely on.
4- Zinus Omkaram Upholstered Platform Bed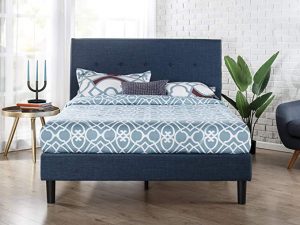 Get this stylish Zinus bed frame and highlight the décor of your room. Featuring steel-made frame and wooden slats, Zinus Omkaram platform bed is no behind when it comes to the solid construction. Its foam-padded headboard is upholstered with a navy-colored fabric. With the fact, it offers you a good sleeping experience as well as an alluring look. Though the bed is stylish and complex in design, it is extremely easy to put together. In fact, you can assemble it without any specific tools. 
3- Zinus Casey 18 inch Premium SmartBase Mattress Foundation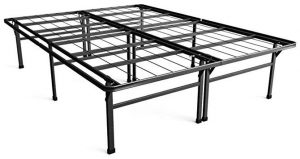 If you want some more functionalities in a Zinus bed frame other than just the basic ones, buy Zinus Casey Premium SmartBase mattress foundation. Unlike other Zinus bed frames, this one is foldable. Given the fact, you can easily move it around and can also fold when not in use. Featuring 12 legs and numerous slats, the frame is completely made of steel and supported by thick wires on the basement. Another remarkable thing about this bed frame is that it offers a huge under bed storage of 17 inches. 
2- Zinus Lorelei 12 inches Platform Bed Frame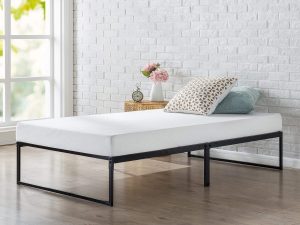 If you're looking for a decently good Zinus bed frame at an amazingly low price, no other frame can be better than Zinus Lorelei 12inches platform bed frame. Even after its simple design, it is robustly constructed. It features 6 legs and 2 poles that sit on the ground adding more support to the bed when the frame is on. To add further, the slats are distributed at regular space, which doesn't only prevent the mattress from moving but also eliminates the need for box spring. 
1- Zinus Eden 30 inches wide Day Bed Frame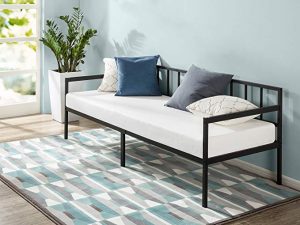 Zinus Eden 30 inches bed frame is unique in its own way. Unlike other bed frames, this one is not made for twin-size beds. Instead, it is meant for a cot-size bed. However, it works well with narrow twin sized mattresses too. With steel-made slats and legs, this Zinus bed frame is designed to be used in a congested area. Other than its solid construction and space-saving design, what makes it unique is its cozy and high-density foam that never fails to offer you a good and snug sleep.
Conclusion 
If an expensive price is your biggest concern while buying a bed frame, get one of these top-notch Zinus bed frames and find the balance between your budget and your comfort. Because a bed frame is as essential as the bed itself if you want a healthy and comfortable sleep.