Pop up tent is a greatest shelter for all camping lovers, friends or families who want to reenergize their relationship outdoor away from home. Now, the winter season is about to come to a close and spring is ushering in sooner than we think. What better way to take advantage of the warmth and better weather than to go out and enjoy nature to its fullest with good old fashioned camping. In order to get your camping adventure started, you will need to buy tents and that is where we and this article come in to help you.
With the help of our leading team of experts and myself, we have come up with a list of the best pop up camping tents available on the market to help you level up your camping game to the next level. These popup tents are very portable, easy to setup and bring along with you. We also put up a buying guide at the end for you to check out as well. Let's have a look.
List of the Best Pop-up Camping Tents in 2023
Pop-up Camping Tent Reviews
10. Coleman Sundome Pop up Camping Tent | Available Size for 2 to 6 peoples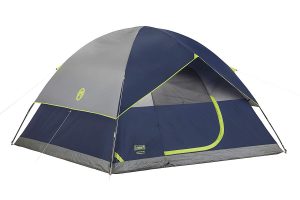 Made and imported directly from the USA, Coleman pop-up camping tent is one of the most popular brand and well recognized outdoor shelter among campers. The tent has a unique design, and it is easy to set up quickly; take approximately 10mn only. This Sundome camping pop up tent is made of sturdy frame which can withstand up to 35+ mph wind speed. It is convenient for backpacker and also for families campers as it's available for various sizes to choose from: size for 2 persons, 4 persons and 6 persons.
What makes this Coleman pop-up tent the winner in its kind are its special key features such as WeatherTech system, Enhanced Ventilation, Storage Pockets and E-Port. The tent's WeatherTech system is the feature designed to connect the tent's cover and corner tight together, making it the waterproof to keep you dry from rain and morning dew. There is also a very nice ventilation system which helps push warm air up and out so you stay nice and cool throughout the night.
Inside the interior of the tent itself, there are also these mesh pockets for extra storage in which you can store different stuff such as glasses, phones, gadgets, and more. So, if you are looking for a camping pop up tent which is light and easy to setup, grab this Coleman pop-up camping tent. In this tent, you can either sleep directly on the ground using sleeping bag or camping cot. The tent is available in two colors and three sizes as below.
9. Coleman Instant Pop up Camping Tent | Cabin Camping Tent for 4 Persons, 6 Persons & 8 Persons

The Coleman Cabin camping tent is certified ready for any camping adventures. It is made out of 150D polyester and 150D taped seams to which can reflect water and keep away rain if need be. Due to the ease of the way its been instructed, it can be set up in just 1 minute and is large enough to fit a queen bed inside. The welded floors also have keep away water and keep you dry even if the ground you're sleeping on is slightly wet.
Also check: Best Foldable Camping Chairs and Camping Tables for Your Pick in 2023
The fabric is double in thickness to standard tents which means it is extra durable and is long lasting. The fabric is also crafted with dark room technology which ensures that 90% of light is blocked when inside the tent and thus helps reduce temperature as well – perfect for sleeping and chilling in even during the day.
The Coleman Cabin Tent is available in 3 sizes: 4 persons, 6 persons and 8 persons.
8. Eureka Copper Canyon Pop Up Camping Tent for 4 Persons, 6 Persons, 8 Persons & 12 Persons Tents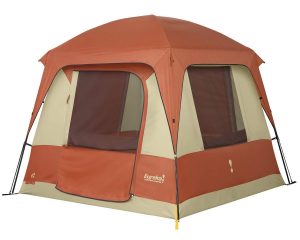 This 4 person tent made by Eureka will not disappoint you as it brings the comfort of your own home to the outdoors. It is a cabin style tent reinforced with 9 different poles as well as a sturdy fiberglass frame that can all be assembled in an easy ring/pin assembly system. There is even a zippered power port in which you could run an outside electric cable right into the tent as well. On top of this, there is an extra overhead space for storage of your belongings. This tent is seriously packed full of features.
7. The Original Standing Room Family Tents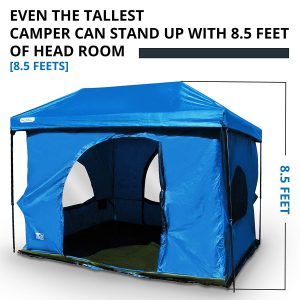 This is definitely one of the larger tents to be features on this list as it features an incredible 8.5 feet of head room meaning that you will be able to stand and stretch within the tent itself very easily. This is essentially an entire hotel room made out of tent. The fabric of the tent is also waterproof keeping the rain and other liquids out during your camping adventures.
There are 2 large doors on each side and 2 zippered windows as well, allowing for easy access on both sides of the tent. It is a 10 by 10 foot sized tent that can fit up to two different queen sized mattress – perfect for any family outings. If you plan for camping in winter, it's the warmest idea to buy along with one of these sleeping bag for winter camping.
6. Core Equipment Instant Dome Tent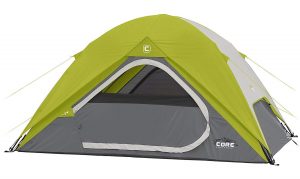 This 4 person instant dome tent made by core is a reliable and quick way to go camping as it eliminates the hassle of setting your tent up. The setup process is just a mere 30 seconds due to the convenient assembly system. It is large enough to fit a queen mattress inside the tent which may sleep up to 4 people. There is a gear loft inside which you can hook your lantern on so you will always have a source of light to illuminate the entire tent at night.
There are pockets stitched to the sides of tents as well to help you keep your belongings off of the ground. Just as the rest of tents featured before, the fabric is also waterproof ensuring that no rain will leak in. On top of this, the tent's fabric is seamlessly sealed within a tight enclosure so no bugs or critters can get inside.
5. ALPS Mountaineering Camp Creek Tent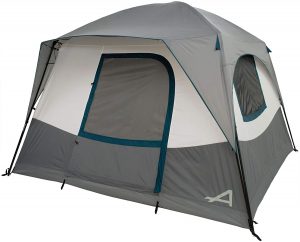 This sleek charcoal blue tent made by ALPS Mountaineering has a very unique design as it has a really tall centre allowing for enough headroom for an individual to stand upright even inside the tent. Despite this, the tent still has a fairly sized dimension, well fitted for travelling and putting it in the back of your car with ease.
It has a very easy and fast set up mechanism as the poles quickly snap over the fibreglass tent poles forming the framework for the tent. It features mesh windows which allows for extra ventilation and cools down the temperature of the interior of the tent during the summer months.
4. ZOMAKE Pop Up Tent 4 Person | Beach Tent Sun Shelter for Baby with UV Protection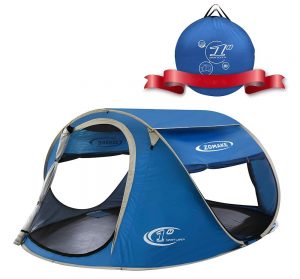 This tent features a more unique and inventive design that will not only work as a clear weather tent but it can also double as your children's playhouse. The best thing about this tent is that is incredibly easy to set up as you just have to unfold the fabric out of itself and it will just pop up into a tent by itself without needing any assembly. Therefore, this can be extremely fun for your children to have during their sleepovers or camping somewhere moderately safe like your backyard.
However, we definitely do not recommend that you use this particularly tent for any serious camping adventures as it is not only quite small but it is also not waterproof or sealed tight. Therefore, if there is rain or bugs, they will surely get inside and make for quite an uncomfortable experience.
3. Pop Up Tent – Automatic Instant Tent | Portable Cabana Beach Tent | Fits 2 People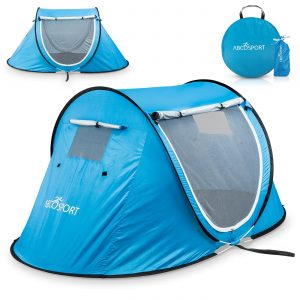 This is another tent that uses the pop up mechanism and when folded in fits in a just a small diameter of space and so it is extremely portable as well. It essentially does not require you to set up at all so you will not have to worry about finding the instructions or knowing how to set up a tent. It is larger than most other pop up tents and it features two large doors on either sides for easier access. There are also two mesh windows on the doors which provides ventilation.
On top of these windows, you can also roll down a flap that can cover the mesh if it is too cold outside helping you keep the warmth inside your tent. This pop up tent carries all the convenience of a pop up tent while still providing all the features that many pop up tents are missing.
2. Gazelle T4 Pop-Up Portable Camping Hub Overlanding Tent | Easy Instant Set Up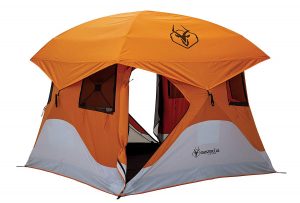 This pop up tent made by Gazelle is truly a wonderful tent as not only does it provide the ease of a pop up tent meaning that you will not have to set it up yourself, but it also is very high quality and sturdy due to the frame it uses. The all-metal hubs and fibreglass poles help give the tent a very stable and durable structure that will be able to handle all kinds of weather conditions.
It even uses high quality zippers to seamlessly shut the tent tight when you are sleeping inside ensuring that no bugs can get inside and they have been tested to be able to handle a lot of uses. On top of this, unlike other tents on this list, the floor of the tent can even be removed so you can easily shake out and clean any dirt you bring inside.
1. Bravindew Tent for Camping Instant Fast Pitch Pop Up Tent with Skywindow

Super quick and stress free, this convenient pop up tent made by Bravindew is top of the line amongst other pop up tents. There are mesh windows on either side of the tent providing great and cool ventilation during your camping experience. There are pockets on either sides of the tent as well for storage as well as a hanging loop on the roof so you can hang your lantern for some lights.
Additionally, the tent is large enough to fit about 6 people and is designed with comfort and durability in mind. Buy this tent and you will not regret your choice once you take it out for camping.
Also check: The 10 Best Inflatable Bubble Tents To Have in 2023
What to Consider before Buying a Pop-up Tent
Some of the tents have different features that are more valuable to some but not others. With this buying guide, we hope to highlight some of these aspects to help you make a more informed decision when buying a new pop up tent.
Assembly/Setup
Most pop up tent does not require any assembly or set up as they will just automatically turn into the shape and tent without any interference. However, some tents do in fact require a bit of attachment here and there so make sure that you know what you are getting yourself into and if you are capable of setting it up when getting the tent.
Materials and Fabrics
If you are planning on going camping somewhere quite remote, you will definitely want to have the highest quality fabric to ensure that they are waterproof and can endure different types of weather as well as keeping away small bugs.
Extra Features
Look out for tents that may have an outlet for running in a power cord, pockets for storing unit and a hanging loop for your lamps. These are all fairly small features but can certainly make a difference to your camping experience as they may make it more convenient.
Size
This entirely depends on how many people are going to camp with you, but some tents offers the ability to expand its size by connecting two different ones together. While others may just come straight up really large but those tend to require a lot more assembly.
Conclusions
Camping is certainly a unique and fun experience that can not be replicated anywhere else but the outdoors. Having the right equipment and tent will definitely determine how well the experience goes so choosing the right tent is definitely something you should look into before going camping. It will help you prepare better and ensure that everyone can have a fun and comfortable experience while staying within nature and forests.
Last update on 2023-10-04 / Affiliate links / Images from Amazon Product Advertising API