The best camping cot is a portable and collapsible sleeping bed for campers who do not want to lay down directly on the ground. Camping has always been a great way to escape from busy cities and life. When you go camping, your purpose is to rest your self and soul with nature. That's why some people like sleeping in a popup tent, some like to have a bed tents in their truck and some like swaying in camping hammock.
Besides, you as a camper can also rest comfortably by having good camping cots with you. A good camping cot will keep you off from rocks and bumpy ground. Today, out team has spent long hours looking into this product category and we have come up with the top 10 best camping cots that you may want to have for your next camping trip. Not only do they have great design, safe, and comfortable construction, they also come with an affordable price and convenient installation.
List of the 10 Best Camping Cots | Portable Camping Beds in 2023
Best Camping Cots & Portable Camping Beds Reviews
10. Coleman ComfortSmart Cot | Coleman Camping Cot for Camper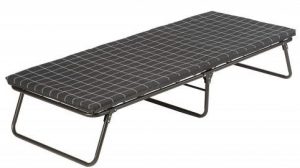 When it comes to camping materials, you can always trust Coleman company. Here, it is a Coleman camping cot that is constructed from durable steel frame. This way, it extends lifespan and users safety during usage. It also comes together with sleeping pad that is soft and comfortable when you are on. The pad can be easily removed for convenient washing.
Other than that, it is also a foldable product that you can fold it down into 2 and fit it into most car's trunk. More importantly, this camping cot can support weight up to 300 lbs which means it is suitable for both kids and adults. For winter camping, you can get additional warming sleeping bag for the comfort of your kids of yourself.
9. Alpcour Folding Camping Cot | Deluxe Collapsible Single Person Bed in a Bag with Pillow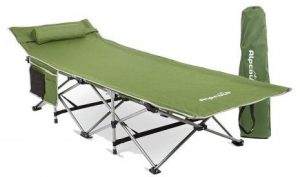 Keeping yourself comfortable and away from the ground during camping with this Alpcour camping cot is always a great idea. This product arrives with collapsible design which makes it easy to put inside your car. If you ever worry about it not fitting in, you should not. The manufacturer has made it with the size that can fit perfectly into your car or its trunk. Moreover, the product is super duper lightweight which allows it users to conveniently lift it to the field.
Regardless of the item's weight, its weight capacity is brilliant. This camping cot is able to support up to 300 lbs of weight which is good for 1 to 2 persons. It is durable and strong because it is constructed from durable steel tube. Together with breathable and comfy fabric, you can now sleep on it comfortably while enjoying the outdoors.
8. REDCAMP Folding Camping Cots for Adults Heavy Duty | Extra Wide Sturdy Portable Sleeping Cot for Camper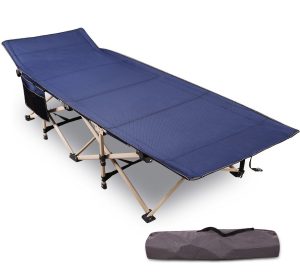 REDCAMP is a camping cot that supports up to 500 lbs of weight. This means that it is great for 1 or 2 people to sleep on. The product comes with the stand that is made of durable and sturdy elliptical tubes which is good at supporting heavy weight. Furthermore, the sleeping area is covered with 600D Polyester Oxford fabric and doubled with PVC coating to make it tough and long lasting.
It is also made with silent friction which does not make noise when you move around on the fabric. This camping bed produce high strength as it is attached with locking system. What is more, it also has non slip feet to keep the whole construction stable.
7. OSAGE RIVER Folding Camping Cot with Carry Bag | Portable and Lightweight Bed for Adults or Kids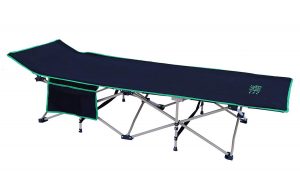 OSAGE RIVER is another great camping cot to get if you like to keep contact with nature in comfort. This product comes in a very lightweight feature that is designed for easy lifting. It has a folding mechanism which users can fold it down into multiple fold to fit in the car. It is constructed from tubular carbon steel with crossing design which is good at supporting heavy weight. Thus, this bed can handle up to 300 lbs of weight.
The cot's stands are also attached with flat plastic feet to anti slipping and soft soil sinking. In addition, the sleeping area is the product of 600D PVC coated polyester which is long lasting and easy to wash. There is also a storage organizer included for using to store their belongings during the camping too.
6. TETON Sports Outfitter XXL Camping Cot | Camping Cots for Adults | Folding Cot Bed
If you are a tall and big person, having this camping cot provides XXL space for comfortable sleeping. The product is constructed from pivot arm technology which features an integrated lever for ease of folding up and down. Built with S-leg reinforced steel frame, the item offers strength and stability during usage. This TETON Sports camping cot is even bigger than twin bed and can support up to 272kg of weight. This means that it accommodates up to 2 people.
On top of that, the bed is made of high quality fabric that is totally safe for your stay. It is also breathable, so you do not have to feel stuffy during your sleep. It also comes together with storage bag which you can pack the cot and store it at 11.8kg only.
5. HITORHIKE Camping Cot | Compact Folding Cot Bed for Outdoor | Backpacking Camping Cot Bed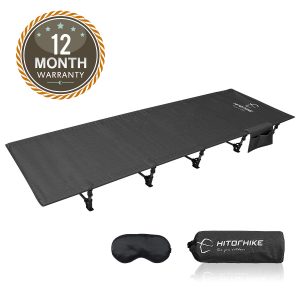 HITORHIKE is another recommended camping cot that is made of aluminium steel tube. Therefore, the item tends to be more lightweight compared to other products. More than this, it can be folded and packed into a very small size to fit into your backpack. The product weighs only 4.8 lbs of weight. However, it is able to hold up to 280 lbs of weight. The sleeping area is made of waterproof nylon fabric which is perfect for outdoor.
HITORHIKE camping cot is very easy and quick to assemble which you can refer to the installation guide provided. This item also features support bar to support your head while sleeping, and a storage bag for you to keep your belongings.
4. Portable & Foldable Outdoor Bed with Carry Bag for Adults Kids | Heavy Duty Cot for Traveling Gear Supplier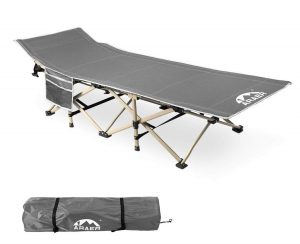 ARAER supports up to 450 lbs of weight at max. Thus, this means that it can
accommodate up to 2 people. It is a portable folding camping bed that you may need for any types of camping. It is constructed from thick steel tube which is as thick as 25mm. That way, it tends to extend in durability and strength. The item's weight is nothing more than 15.8 lbs of weight, yet you can see that it is capable of supporting heavy weight.
Besides, the sleeping area is the product of 600D Oxford fabric that is sewn is double layer to increase strength support. The fabric is also breathable which keep you comfortable all night long. It is also quick to dry which is good for washing or when it gets wet from the rain.
3. Magshion Portable Military Fold Up Camping Bed Cot

If you have been looking for a simple camping cot, you should at least look at this one from Magshion. Coming with very simple design and installation, it offers hassle free assembly, storage, and usage. It features a folding mechanism which can be done in less than 30 seconds. The sleeping cloth is made of tough Oxford fabric which is durable, breathable, and washable.
Additionally, it has U-shape legs which offers a good weight distribution during usage. Magshion is also highly resistant to water which is perfect for both indoor and outdoor use. It weighs less than 10 pounds, but it is able to hold up to 195 pounds of weight.
2. Alpcour Folding Camping Cot – Extra Strong Single Person | Small-Collapsing Bed in a Bag with Pillow for Indoor & Outdoor Use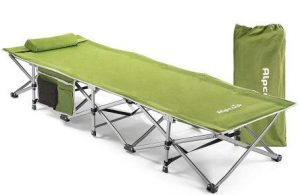 Buy on Amazon.com
Here is a product from Alpcour. This is also a high rated camping cots that comes with head support cushion and side storage bag to assist your camp sleeping. The product is designed to fit both indoor and outdoor use. The thing that users mostly like about this item is its portability and folding mechanism. Since it is lightweight, it is very easy for traveling long distances.
This portable sleeping bed can also be folded up and down within only 10 seconds which is stress free. Plus, it requires no assembly at all. It is able to accommodate people of all ages because its weight capacity is up to 440 lbs. Alpcour always remains with its durability and sturdiness thanks to its solid steel tube and firm joint construction.
1. DESERT WALKER Camping cots | Outdoor Bed Ultra Lightweight Bed Portable cot Free Storage Bag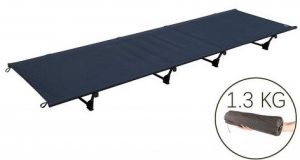 Surround yourself with the outdoor while keeping yourself off the ground with this DESERT WALKER Camping Cot. This product will let you rest comfortable even when you are with nature. Constructed from aviation aluminium rod and premium Oxford fabric, it maximizes both durability and comfort which is important for your usage safety.
Weighing only 2.8 pounds, DESERT WALKER has an ability to support up to 440 pounds of weight. This means that it is suitable for both youth and adult. It also comes with a lot of color options which you can choose between black, blue, grey, green, and camouflage.
Buying Guide of Camping Cots
Used Materials
To ensure your safety, you should first look at the used materials that each product carries. Most of camping cots are good as they are built with durable steel tube which is thick enough. When the tube is sick, this means it produces greater strength that can support even heavier weight. That is not enough, you should also examine the sleeping area. It is better to look for the one that is made of good quality fabric that can keep comfort during your sleep.
Weight Capacity
The heavier it can bear, the better. That is why you should look for the one that comes with heavy weight capacity. Most of the products we showcases can support from 220 lbs up. Some of them can even support up to 450 lbs of weight which means you can use it for two.
Design
when it comes to design, you should better look for the one who is easy to
install, easy to use, and can also bring comfort and convenience. Getting the good fabric for sleeping area is not enough. It should add on a soft head support cushion, sup holder, or even side storage zipper for you to keep your belongings nearby.
Conclusion
All in all, you next camping can bring a greater experience if you have a good
camping cot with you. With all of the products we recommend above, you can have a real resting both physically and mentally.
Last update on 2023-10-04 / Affiliate links / Images from Amazon Product Advertising API