If you have to shift from one place to another frequently with all your pieces of luggage but you find it difficult to carry your hefty bed along with you, turn to rollaway beds, which are sturdy, portable, and lightweight. You can easily collapse them and carry wherever you want. When you need, you can assemble it again in minutes. So, get a rollaway bed and make your work easier. If you have no idea where to look for that, here we have listed down the top 10 best rollaway beds in 2020.
List of the 10 Best Rollaway Beds for Your Pick in 2020
Rollaway Beds Reviews
10- Zinus Rollaway folding guest bed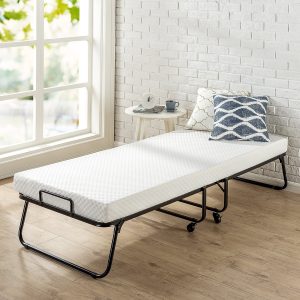 When it comes to the best quality beds, Zinus is a leading brand in the market. Given the fact, you can go for this Zenus rollaway bed even without a second thought. From comfort to sturdiness, it won't let you down in any aspect. It comes with a 4-inches thick mattress, which seamlessly sits on this 12-inches high bed. The frame is wholly made of steel, which is powder-coated all through in order to avoid rust and corrosion. It also features 4 legs and 2 little handles.
9- Zinus Rollaway Smart guest bed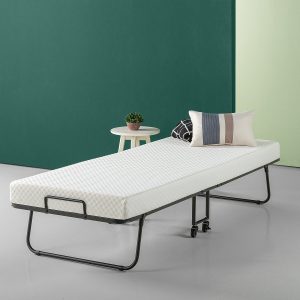 If you want a well-constructed and ultra stylish rollaway bed, Zinus roll away smart guest bed is a perfect choice for you. Its 12-inches high frame is made of steel and designed with 4 supporting legs and 4 wheels in the center. To ensure utmost comfort, it is equipped with a layered mattress including 1 inch of comfort foam, 1 inch of high-density foam, and 2 inches of Viscolatex foam. Given the fact, its mattress is durable, solid, and snug.
8- Inofia Foldable folding bed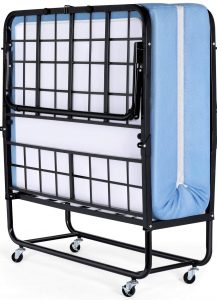 Inofia foldable folding bed is a space saving and ultra-portable folding bed for you. Unlike other foldable beds, this can be folded even with the mattress and can be stored in a corner. Speaking of construction, it is made of solid metal and coated with a paint, which does not only make it rust-free but also increases the life of the frame. Still, if you get it damaged accidentally, worry not because it offers 5-year full warranty. 
7- LUCID Rollaway folding Guest bed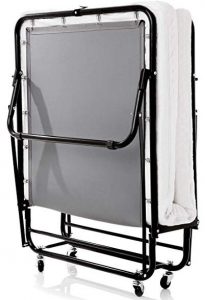 Another super portable folding bed on this list. Made of heavy-duty metal, LUCID rollaway bed is robustly constructed and amazingly comfortable. The reason for its coziness is its 4-inches thick foam. Unlike other rollaway beds, it has a spring-supported deck, which doesn't only provide reliable support to the mattress but also holds up the weight of user remarkably. For easy portability, it features 4 casters that are ultra flexible and can be moved around without any hassle. 
6-Linon Home Dcor 352ST-01-AS-UPS folding bed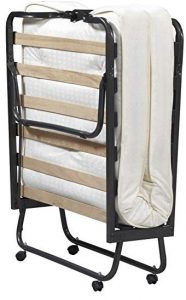 If you're looking for a budget-friendly option, Linon home dcor folding bed is made for you. Though it costs lesser, it doesn't stand any behind than other rollaway bed when it comes to quality. The frame is made of solid steel and the mattress is made of soft polyester foam. Given the fact, it offers you amazing service without any fail. If you're concerned about its mobility, you shouldn't be because it features 4 wheels in the center legs of the bed. 
5- Milliard Diplomat folding bed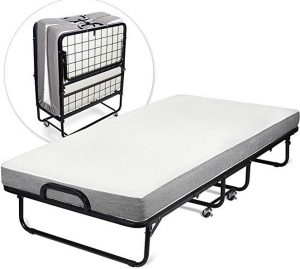 To sum it up in a word, Milliard Diplomat folding bed is just a masterpiece. Made of premium quality metal, it features 4 extra legs, which offer more support as well as a firm stabilization. Not only this, the base of the bed is made of unyielding wire in a lattice form. Given the fact, there is no chance of mattress sagging. The bed also features a big and adjustable buckle that helps you secure the mattress when you fold up the bed. 
4- Linon Verona Cot-size folding bed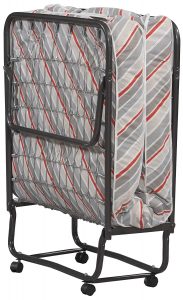 If you want to buy a rollaway bed for your kid or maybe for yourself only, Linon Verona cot-size folding bed is a great and budget-friendly option for you. Made of sturdy metal, it is simple in design. Means, you can assemble it in minutes. After folding up, the bed is so compact that you can store it even in a closet. Furthermore, it features flexible wheels, which do their job seamlessly in every position. And, the mattress is snug too. 
3- Coleman Comfort Smart Cot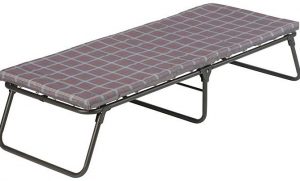 If you're running in a low budget but urgently need a rollaway bed, look no further than Coleman ComfortSmart cot. Seriously, this bed offers impressive features at an amazingly low price. From ultra comfort to solid support, classy design to long durability, and from hassle-free portability to effort-less assembly, Coleman ComfortSmart offers you everything. Made of sturdy steel, this bed can easily hold up a heavyweight of 275 pounds and a person of 5-7 feet tall. 
2- Best Choice Products folding portable twin mattress bed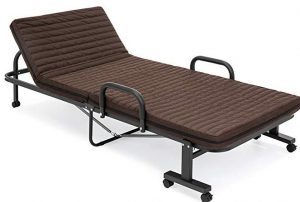 Hands down, Best Choice Products folding bed is one of the most luxurious, cozy, robust, and portable rollaway beds on this list. The unique feature about this rollaway bed is that it can be adjusted in 5 different positions ranging from sleeping to lounging. Speaking of construction, it is made of premium steel. Given the fact, it is durable, robust, and free from any atmospheric damage. To add further, it features 7 legs, 4 on the foot side and 3 on the head side. 
1-  Zenus roll away folding bed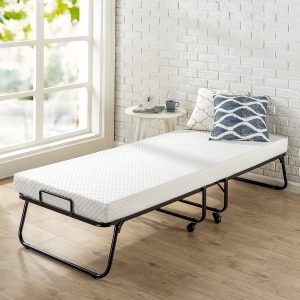 Zenus brand has beautifully perfected the blend of comfort and sturdiness. And, you experience it in this Zenus folding bed. With a solid steel frame, it ensures a robust construction. Its 4-inch snug mattress also never fails to give you a pleasant sleeping experience. Adding more to its construction, it features 4 wheels, which make it easy to carry the bed anywhere after folding it up. The frame also features 2 small handles, one on top and one on the bottom. With the help of them, you can move the bed when it is folded out.
Conclusion 
No more hassle of putting all your strength to drag your hefty bed.  Get one of these top-notch rollaway beds and get rid of those heavy and space-consuming beds. Rollaway beds are as robust as the general beds. What makes them unique is their ease of portability and smoothness of accessibility.