IKEA bed frame is a unique and ultra-stylish product. As a Swedish-founded multinational company, IKEA designs, produces and sells various types of furniture for office and accessories for home. There are many types of well-designed products from the company. However, today I would like to introduce you to the best IKEA bed frames which are simply nice and classy for a healthy living.
The bed frames at IKEA are unique in every way, and also designed to provide you with a high level of customization and flexibility. In this setting, you can buy the one that brings life to your room as well as to your bed. Ready to explore? Check out below the top 10 best IKEA bed frames in 2023 for your purchase.
List of the 10 Best IKEA Bed Frames in 2023
10. Hemnes Full Bed Frame White Wood by IKEA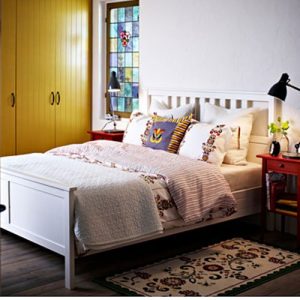 The Hemnes IKEA full bed frame is simple but classy, indeed. Coming in white color, this IKEA bed frame is made of pinewood and full size. It has sturdy legs and frame, making it capable enough to hold up the heavyweight of two or three humans efficiently. The bed frame t is also designed with a thick mid beam and a number of slats for further bed supports, while the slated base of the frame also helps eliminate the need for box spring. The last important thing, this awesome bed frame costs reasonable.
Key specifications:
The bed frame's dimensions are 79 1/8″ in length and 58 5/8″ in width
The height of the footboard is 26 3/4″
The height of the headboard is 48″
Mattress size support is 74 3/8″ in length and 53″ in width
The bed frame's mid beam is included.
Good to know:
The bed frame does not include a slatted base, mattresses and bed linens. You need to buy separately.
Additional slatted base is needed if your mattress doesn't have box spring.
9. IKEA's Hemnes Full Bed Frame Black-brown Wood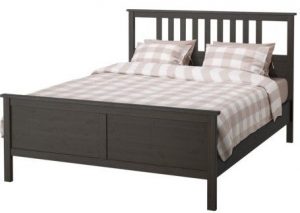 This IKEA's bed frame is actually the same as the above one, but it is made of black-brown wood. For a further description of the fame, it is right for you if you're looking to buy a classic bed frame offering top-notch user flexibility and reliable sturdiness. It is for people who love browny furniture. Unlike many other bed frames, you can adjust the bedsides in this frame and can use the mattresses of different thicknesses efficiently. Other than this flexibility, it also offers long durability. The reason being, it is made of solid natural wood, which doesn't only make it robust but also renders a sleek look. 
8. Tarva Full-size Bed Frame of IKEA Made of Solid Pine Wood Brown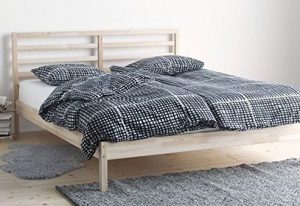 If you are looking for a king-size bed frame, turn to this IKEA Tarva full-size bed frame because it is particularly designed in favor of those who need huge space in their bed. If you're concerned about its construction and sturdiness, worry not. It is made of solid pinewood, so it won't break down easily even when you'll put a bit heavier weight than its estimated weight capacity. To ensure further support, it also features a mid beam and a slated headboard. 
Key specifications:
Bed frame's dimension: 77 1/2″ by 56 3/4″
Height of footboard: 12 5/8″
Height of headboard: 37 3/8″
Supported mattress size: 74 3/8″ by 53 1/8″
Good to know:
The bed frame does not include a slatted bed base, mattress, and bedclothes. You need to buy them separately if you want.
You need to buy additional slatted base if your mattress doesn't have box spring.
Now you have already gone through the three 3 top bed frames at IKEA in the list. If you don't feel like it's the brand of your interest, then I would recommend you to check out the selection of the best bed frames from Zinus brand or other wood bed frames instead. Otherwise, keep scrolling further to find your favorite one in the rest of the list.
7. IKEA Daybed Frame with 3 Drawers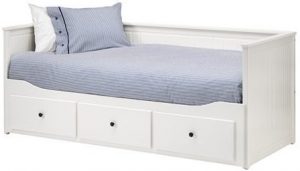 You can't get a more versatile IKEA bed frame than this one. Seriously, it is a two-in-one product. Given its versatility, you can use it as a daybed frame or double bed frame. Owing to its design, it can easily be transformed according to your needs. The frame also features 3 drawers, where you store little stuff. To add further, it comes with a slatted base, so you don't need box spring to keep the mattress stable in a place. It will work seamlessly without box spring too. 
6. Full-size Metal Country Style Bed Frame IKEA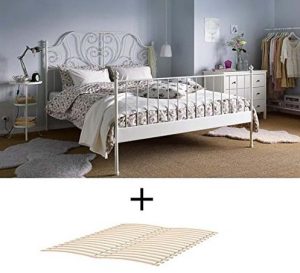 If you want an ultra-stylish bed frame from IKEA, get this one. Seriously, it will take the décor level of your room to the next level. Made of metal, it offers remarkable robustness and long durability. It is free from rust and corrosion too. Speaking of its construction, it features 16 layer-glued slats, which not only create a firm basement but also allow you the freedom to adjust your body weight comfortably. To provide further support, it is designed with a stylish headboard and a well-built footboard.
5. Queen Size Storage Bed Frame by IKEA in Black-Brown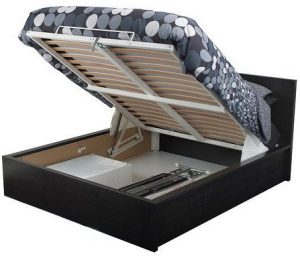 IKEA Queen Size storage bed is the combo of a bed frame and a storage unit. Just flip up the base of the frame and a big storage unit is in front of your eyes. Here, you can store your extra pillows, cushions, and out-of-season clothes. Speaking of the designed materials, the frame is made of solid wood and added with other natural materials. The base features a number of slats, which don't only ensure firm support but also eliminate the need for box spring. 
4. Full-Size Bed Frame IKEA in White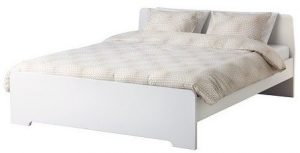 If the quality and productivity of a product are your priority and the design doesn't matter you much, this IKEA full-size bed frame is made for you. Featuring 26 layer-glued slats, the frame ensures strong sturdiness in a simple design. Furthermore, it is designed with adjustable bedsides, which enables you to use the mattresses of different thicknesses in the same frame. What to say more, you can even adjust your body weight in this bed frame in order to get a cozy sleeping experience. 
3. IKEA Bed Frame Luroy Full Size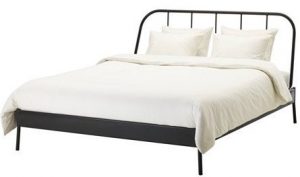 If you want a simple, budget-friendly, yet robust IKEA bed frame, this is a perfect fit for you. It is completely made of metal and features 4 sturdy legs. To add further support, it is equipped with 16 layer-glued slats. The frame has a pigmented powder coating all through, which makes it more durable and sustainable. To offer you a relaxing sleeping experience, it is designed with a slated headboard too. Given its simple design and straightforward construction, its assembly is hassle-free.
2. IKEA Bed Frame, Birch, Luroy, Queen Size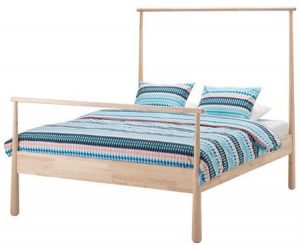 Another simple IKEA bed frame that has swept the users off their feet with its amazing services. Unlike other bed frames, it features a high board and a low board. You can use any of them as a headboard and a footboard according to your needs.  In addition to that, the frame features 17 layer-glued slats, which help you increase the suppleness of the mattress. The bedsides are also adjustable, so you can use different types of mattresses too without any worries. You can also check our these wood canopy beds for more options. 
1. Queen Size High Bed Frame by IKEA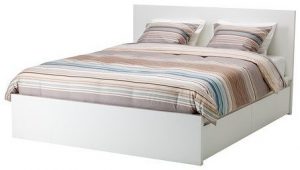 IKEA queen size high bed frame is really a masterpiece of IKEA brand. From classy design to alluring colors and from easy accessibility to long durability, this bed frame won't let you down in any aspect. Featuring a huge number of 45 slats, it allows you the freedom to adjust it in 5 comfort zones. Other than the basic features, it is equipped with 4 large drawers under the bed. Thus, it provides you a lot of extra storage to store extra clothes and other such stuff without creating any mess. 
Conclusion
The best thing about IKEA bed frames is that they all are solidly made and have a modish design. So, get one of these IKEA bed frames and add this unmatched combo to your bed. To convince you further, IKEA bed frames also go smoother with the mattresses increasing their suppleness. Enjoy!
For your consideration, I have also done a thorough review specifically on the best metal bed frames and wood bed frames from various brands. Go and explore them in the hyperlinks to find your favorite one or visit our Furniture review page.