Sleeping beauty happens when you have a comfortable bed to sleep in; meaning the big bed which contains the right mattress, best bed cover, blankets and pillows, just to mention a few. However, you might forget that having a bed that is not stable will bothers your sleep a lot. Therefore, if you think you are currently having such an unstable bed, I believe it's time for you to reinforce it with extra support and comfortable experience. So, today let me introduce you to the best metal bed frames, which will not only add firm support to your bed but also render a sleek look. Most importantly, you will get in and out of the bed easier every day and night. Why not check them out now?
List of the Top 10 Best Metal Bed Frames in 2020
10- PrimaSleep 18" Ultimate Strength High Profile Heavy-duty Steel Slat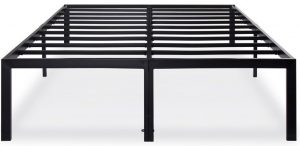 Let's start the list with PrimaSleep metal bed frame. Made of premium steel, it is sturdy enough to hold even Deluxe mattresses efficiently. With 8 solid legs, it is robustly constructed.  Given the fact, it offers long durability and there is no chance of breaking it down. Other than its sturdiness, it also provides ample under bed storage, where you can keep anything without creating a mess in your room. Given its amazing features, this metal bed frame is undoubtedly worth the price.
9- Green Forest Queen Bed Frame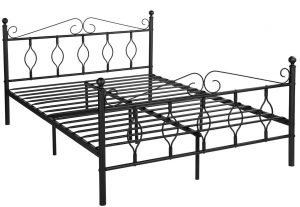 If you want a stylish and elegant metal bed frame, look at this Green Forest queen metal bed frame. It is designed with an alluring headboard and footboard, which will surely blend in with the décor of your room. Since it is a queen size metal bed frame, it fits in with almost all types of mattresses. With the fact that it is equipped with 9 legs and 16 pieces of slats, it is extremely sturdy and provides a strong foundation for the mattress.
8- TRIBECCA Home Wrought Iron Bed Frame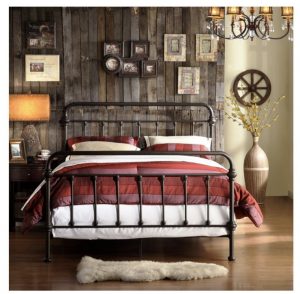 Get this metal bed frame and take the décor of your room to the next level. Unlike other metal bed frames, it is designed with 7 spindles in the headboard as well as footboard. To render a sleek look, these spindles are elegantly crafted at each point. Since it is reinforced with 3 solid metal slats, you can rely on its sturdiness. To avoid floor scratching, the legs are designed with a flat bottom. To add further, this metal bed frame is compatible with even queen-size mattresses.
7- PrimaSleep 18-inch Ultimate Strength High Profile Steel Slat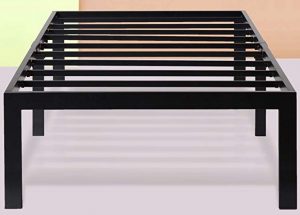 If you are looking for a simple, small-sized yet strudy metal bed frame, this PrimaSleep metal bed frame is a perfect fit for you. Its solid legs and robust metal slats can endure even heavy mattresses. The remarkable feature of this metal bed frame is that it is designed with a noise-free construction. Since the bed frame is 18 inches tall, it provides a large under bed storage. You can keep your extra mattresses, bed sheets, and cushions here safely.
6- DUMEE Metal Bed Frame Queen Size Platform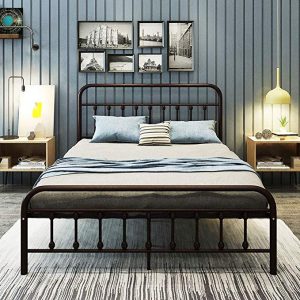 DUMEE Metal Bed Frame is a darling among the users and it has a set of reasons for its huge fan base. To begin with, it comes with the powder painted finish, which does not only allow an alluring look but also prevents metal scratching and unwanted noise. The frame features 9 robust spindles in headboard and footboard. Given the fact, you can't doubt its sturdiness and durability. Just make sure to keep the weight load under its maximum holding capacity of 550-660 lbs.
5- Zinus Van 16 inch Metal Platform Bed Frame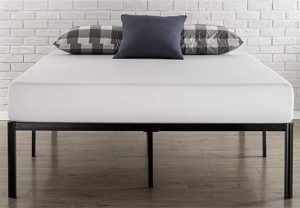 If you're looking for a sleek and modish metal bed frame, turn to Zinus Van metal platform bed frame. Since there is no headboard and footboard in this frame, it looks really classy. However, it is of top-notch when it comes to robustness and reliability. The frame is reinforced by metal slats evenly, which doesn't only provide reliable support but also increases the life of your mattress by preventing it from sagging and falling apart. On top of all, it comes with a 5-year full warranty.
4- Zinus Michelle Compack Adjustable Steel Bed Frame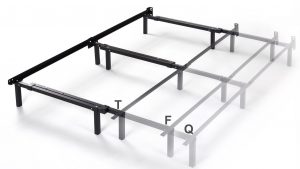 First metal bed frame on this list, which allows you the freedom to adjust it according to your needs. You can transform this frame into three formats for twin, full-size and queen-size beds respectively. To make the frame stable on a particular position, it is designed with a locking system. The frame features 9 legs and 3 center bars, which hold up the estimated weight without any problem. Furthermore, its recessed legs ensure reliable safety even after they are small in size.
3- Simple Houseware 14-inch Twin Size Bed Frame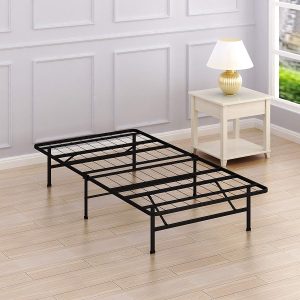 As the name suggests, Simple Houseware 14-inch twin-size bed frame is a simple, affordable, and robust metal bed frame. Featuring 8 legs and a number of metal slats, this bed frame is an ideal for average weight people Since the metal slats are at a regular distance, you don't need box spring. You can directly put the mattress on the top of the frame. In addition to that, its14-inch height ensures a large under bed storage. Given its simple design, it is also extremely easy to assemble.
2- Zinus Shawn 14 inch SmartBase Mattress Bed Frae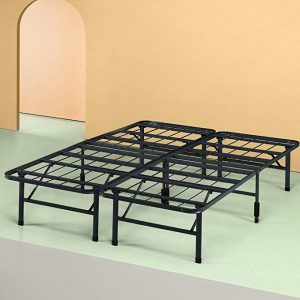 Another simple yet sturdy metal bed frame that has garnered a huge fan following under its name. Supported by 6 legs and several steel-made slats, it is a perfect fit for average weight people. Owing to its dense distribution of supporting slats, it also eliminates the need for box spring. Since it is 14 inches high, it makes plenty of under bed storage, which you can use to store anything. Ideally, i is a flat frame, but if you want to attach a headboard, you can do it by using SmartBase headboard brackets.
1- Classics Brands Hercules Heavy-duty Metal Bed Frame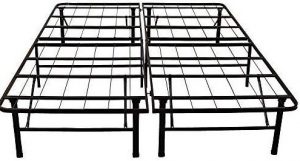 True to its name, Classics Brands Hercules bed frame is a classy metal bed frame. In fact, it is an all-in-one product. From simplicity to modern design, from robust sturdiness to reliable service, from easy accessibility to trouble-free portability, and from hassle-free assembly to universal compatibility, Classics Brands Hercules metal bed frame is just one of a kind. To add further, the metal frame is foldable and needs no box spring. Moreover, it is also designed with capped legs in order to prevent floor scratching.
Conclusion
These are the top best metal bed frames, which are meant to provide optimized support and stability to your bed. So, get the best one that suits your needs and enhance the sturdiness of your bed as well as the décor of your room.