Do you want to gift your baby something more than just a basic gift on its birthday or any other special occasion? Well, then what about a musical snow globe, which will not only blow the mind of your baby but also accentuate your home décor. From your living room to the office, you can place snow globes almost anywhere to add a quirky decoration to your space. Plus, the colorful lights, mild music, and the snowflake showering of the snow globe will captivate your baby and offer it a fun time. If you're already impressed and looking for a music-playing snow globe, let us help you get the best one. Here, we have compiled a list of the top 10 best musical snow globes for you. Take a peek around the list and get the one.
List of the Best Musical Snow Globes in 2023
Reviews
10- XXMANX 80 MM Christmas snow globe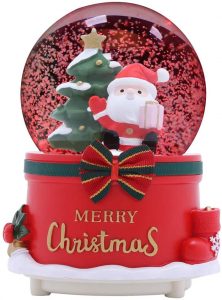 Having a 'Merry Christmas' print, this snow globe is the best fit for a Christmas gift. From its design to incredible features, it is truly unbeatable and will surely make the Christmas special for the person who will receive it as a Christmas gift. Designed with 8 music playback tracks and 4-colored lighting patterns, the snow globe creates a spellbinding aura, which will make not just your kids but even you admire it. Once the globe is on, it looks ethereal, especially in the night.
If you wonder what is its energy source, let us tell you it is battery-powered and requires 3AAA batteries. Speaking of its construction materials, the globe is made of premium-quality resin and natural stone powder. Given the fact, it is sturdy, wear-resistant, as well as sleek. To ensure reliable stability, it is designed with a wide base.
Key features
Battery-powered
Requires 3AAA batteries
Features 8 music and 4 lighting effects
Size: 4.33×5.9 inches
Resin and natural stone construction
9- Musical unicorn snow globe for kids by KASU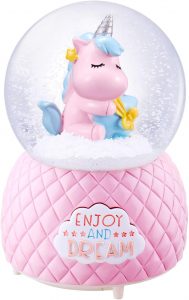 Your baby can't definitely resist the allure of this fascinating musical snow globe. Engraved with 'Enjoy and Dream', this snow globe will truly take your baby to a wonderland where only dreams and enjoyment exist. The ball of the snow globe features a sleeping doll that looks too cute from outside when lights illuminate and music starts playing in the background.
Furthermore, the snow globe has a textured design that further spices up the charm of the globe. It is not only its design that makes it desirable, but the globe has a sturdy construction too. It is made of 100mm resin and can't be broken easily. On top of everything, operating this toy globe is super easy, as it features an on/off switch at the bottom of the base.
Key features
Resin construction
Battery-powered
3AAAbattery required
Different colors of lighting patterns
Features an on/off switch
Also check: Top 12 Best Snowfall LED Lights in 2023 – Update
8- Precious Moments resin musical snow globe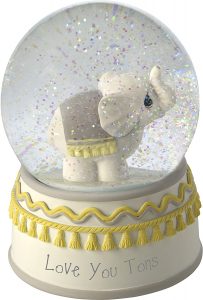 Make your happy and precious moments more enjoyable with this Precious Moments musical snow globe. Its elegant design and classic white color put it apart from the crowd. Unlike others, the snowball of this globe features a white elephant with a riding blanket that has sculpted fringes.
When you'll turn the globe on, it will start sparkling and the giant-looking elephant will sing 'Brahms Lullaby' for your little baby. Besides that, the base of the globe is also designed with sculpted golden-colored fringes that intensify its charm million times more. Just below the fringes, there is a note reading 'Love You Tons', which keeps reminding the kids that they are being loved. As for its construction, the glittery snow globe is made of high-end resin and has a shiny finish.
Key features
Elephant-designed ball
Resin construction
Size: approx: 6 inches
Features sculpted fringes
Wide base
7- Precious Moments owl musical glass snow globe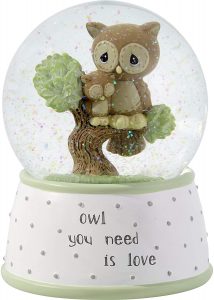 Another Precious Moments musical glass snow globe to add some more precious moments in your life. Whether you want the soul-stirring decoration for a romantic date or the soothing ornamentation to spend some calm moments with your family, this musical snow globe is all you need.  What makes this snow globe so beautiful is its design. Unlike others, it is designed with an owl, who is sitting with its sleeping baby in a tree. The parent owl is crafted awake, while the baby owl is shown sleeping. The beauty of the globe doesn't end here. It actually comes at its all glory when you turn the globe on. As soon as you'll turn it on, the tree will sway and start singing 'Brahms Lullaby' for your baby.
Key features
Owl-equipped snow globe
Resin construction
Glass made snowball
5.75 inches size
Captivating music effects
You may also check: Top 10 Best Fiber Optic Lights in 2023
6- DELIWAY Eiffel Tower musical snow globe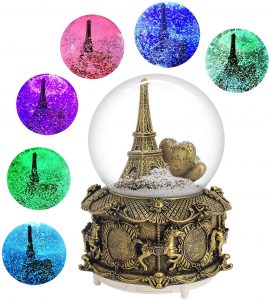 With a vintage design with modern lighting patterns, DELIWAY Eiffel Tower music snow globe is a perfect fusion of sophistication and classiness. The theme of this snow globe is the Eiffel Tower that is located in the center of the globe. Just beside that, you can see two beautifully crafted hearts, which are glorified with constant snowflakes.
Built in with multi-colored LED lights, the globe illuminates vibrantly and makes this Eiffel Tower a tower of vivid lights. That's not all. To add further, this globe is designed with soothing music effects too that incorporate with the lighting patterns very well and provide the globe a magnetic charm. To witness it at its all glory, all you need to do is to press the switch. That's it.
Key features
Battery-powered
Required 3AAA batteries
One-touch functionality
Vintage Eiffel Tower design
Multiple lighting and music patterns
5- Precious Moments Disney showcase collection snow globe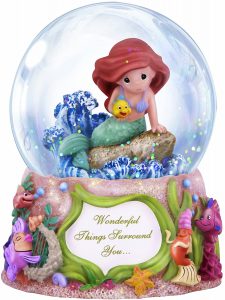 Is your baby crazy for Disney characters? Yes? Then, it will surely love this Disney snow globe. Featuring the Disney character Ariel holding a 'happy' smiley on her hands, this Precious Moments snow globe will take your baby to the dreamland and will slowly make it fall into the cozy embrace of sleep. Not only in the snowball, but the Disney cartoon characters are crafted all over the snow globe. Owing to its childish design, this musical snow globe is a perfect gift for the kids.
Furthermore, it is also designed with a good note that reads 'Wonderful things surround you'. Speaking of its construction, the globe is made of high-quality resin and has a glittery finish. Having a wide base, the globe makes sure to remain stable in its place.
Key features
Alluring design featuring Disney character
Resin construction
Approx 5.75 inches high
Enchanting musical effects
Beautifully crafted
4- Things Remembered personalized carousel musical snow globe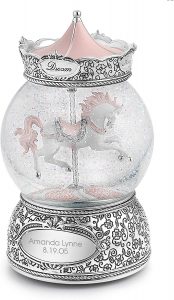 The charm of this vintage designed snow globe is just irresistible. Even you can't resist yourself adoring it. Let alone be your little baby. Seriously, no other musical snow globes can match the classiness of this globe. Having an elegant design with the floral-accented base and captivating interior of a pale-pink horse in all action, this snow globe renders an inimitable charm to your room décor.
Furthermore, it is crowned by an oval marquee that really looks like a crown and boosts the beauty of the globe a hundred times more. The base of the globe is also beautifully crafted in floral design and features a staple, where you can get your favorite words engraved. When you turn this amazing globe on, its carousel horse starts singing the tunes of 'Carousel Waltz'.
Key features 
7.8 inches tall
Battery-powered
Required 2 AA batteries
Vintage design
Polyurethane and metal construction materials
3- The San Francisco music box company owl snow globe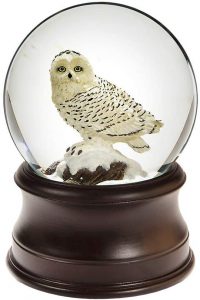 As the name suggests, this snow globe has an owl design. After looking at this amazing music snow globe, you would wonder whether the owl is real or artificial. Seriously, it is so beautifully crafted that it imitates the real owls. This white owl is shown sitting atop a snowy rock inside the snowball staring at you with its big eyes.
From its sparkling eyes to the furry feathers, every single detail of the owl is like a real one. Apart from the eye-catching design of the snowball, the globe features a robust resin base, which has a shiny finish of Faux wood. Adding further to its awesomeness, the globe features a built-in media player that plays the soulful tunes of 'Let it Snow' and creates a romantic aura for you.
Key features
Snowy owl design
Resin construction
Faux wood finish
Plays 'Let it Snow' tunes
4 inches wide base
2- Christmas Nativity 120 mm musical snow globe by Roman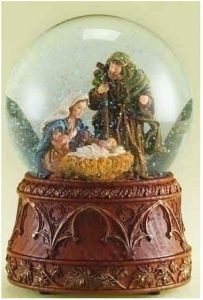 Get this roman snow globe and bring some retro vibes to your home. Featuring some characters from ancient roman history, this glittery globe is very appealing. The globe ball is made of glass and filled with water, while the base is made of solid wood. In addition, the base has a wide design, which enables you to keep the globe anywhere from tabletop to atop mantel.
The overall size of the globe is also not much large. It is just 6.75×4.75×4.75 inches. Speaking of the musical effects, the globe is built in with the soulful music tune 'O' Holy Night'. Given its alluring design and easy functionality, it is the best gift for the kids. They can easily operate it.
Key features
Vintage roman history-themed design
6.75×4.75×4.75 inches size
O' Holy Night music tune
Wooden base
Can be placed anywhere
1- Precious Moments overflowing with Love Noah's Ark musical snow globe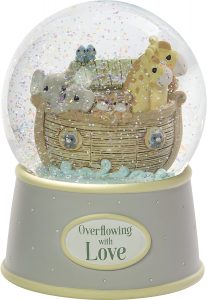 The colorful childish design of this musical snow globe will make your baby fall in love with it. Unlike others, it features a number of creatures including Noah and his ark. These all creatures are multicolored and create an engaging atmosphere for the kids. The musical tune of the snow globe is 'Jesus Loves Me', which captivates little kids and acts as a reminder for kids that they are being loved by God.
Moving on to the construction materials, the globe ball is made of sturdy glass, while the base is constructed of glittery resin. On top of all, operating the globe is super easy. At the bottom of the base, it features a switch. Just turn it on and it will start doing its job.
Key features
Features a note reading ' Overflowing with love'
The musical tune 'Jesus Loves Me'
Resin construction
Approx 5 inches high
Overflowing with colorful creatures
Key factors to consider while buying a musical snow globe
Even if you're buying a musical snow globe as a toy for your baby, you should keep certain factors in mind while making the purchase if you want to make it worthwhile. Below are those significant factors.
Size
Start off with the size. Since you're buying it for a little baby, make sure the size of the globe isn't bulky. It should be this much large that your baby can hold it properly without any risk of dropping it on the ground. Usually, 4-5 inches high snow globes are the best fit for the kids.
Construction materials
Once the size is done, move on and check the construction materials of the globe. In any case, your snow globe must be wear-resistant and sturdy. In general, the music snow globes with resin basement and glass ball are considered the best, as they are robust as well as stylish.
Featuring characters
This is something that needs your special attention. In the market, you can get snow globes featuring different types of characters including historical, Disney, animal, as well as human. They all are beautiful in their own way. So, look into this carefully and go for the favorite one of your baby.
Lighting and musical effects
Last but certainly not least, check the lighting and musical effects of your prospective snow globe. Usually, the lighting and music pattern of a snow globe is designed according to the theme character of the globe. Like, if the theme character is a horse, the music and the lights will be associated with the horse. So, check it cautiously and pick the one that your baby likes.
You may explore more products for Christmas and other celebrations here!
Conclusion
Get one of these stylish and creative musical snow globes and immerse the playroom of your baby with the fascinating charm, alluring décor, artistic creativity, and a bundle of fun. Their soothing music tunes matched perfectly with eye-catching lighting patterns and snowfall effects never fail to enthrall the kids.
Last update on 2023-10-04 / Affiliate links / Images from Amazon Product Advertising API