If you think a coffee table is just another table, let me tell you have got the wrong idea. Because, it is one that masterpiece of furniture, which doesn't only hold several mugs of coffee together but also enhance the overall décor of your room by hiding the clutter inside it. Don't believe me? Okay, you yourself buy the one and see how versatile it is. To help you to get the best one, here I have listed down the top 10 best coffee tables with storage in 2020. 
List of The 10 Best Coffee Tables with Storage in 2020
Product Reviews
10- Sauder 420275 North Avenue Coffee table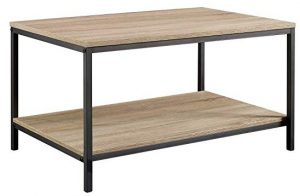 Let's start off with a simple, solid, and durable coffee table with storage, which is multi-functional. Designed with open shelves, the shelves provide additional space and a clear display. The table has wood construction with oak finish and it features a large black-painted metal frame. Given the fact, it is durable and can hold up a significant amount of weight easily. Since it is simple in design, its assembly is hassle-free.
9- Furinno 11158X/BR coffee table with bins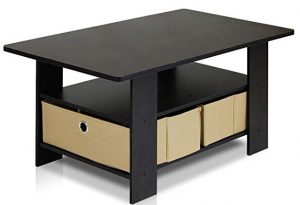 If you want a stylish coffee table with storage at an affordable rate, look at this Furinno coffee table. With its ergonomic design, mind-blowing versatility, and decent rate, it will surely blow your mind. Beneath the top surface, it features 2 small bins and 1 large drawer, where you can store anything without creating a mess in your room. The table is designed with rounded edges, which prevent any possible damage to the table. Its black color adds further allure to its chic design. 
8- Tribesigns lift top coffee table with storage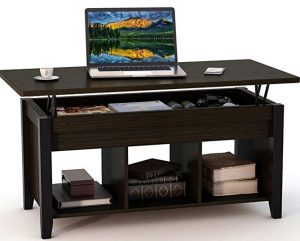 If you want a big coffee table with a huge storage, Tribesigns lift top coffee table is made for you. Given its big size, it can even fulfill the need for a dining table or a working table in emergencies. Just below the top surface, it features a hidden compartment, where you can store the stuff that you don't want to come in public eyes. At the bottom, it features 3 open shelves, which provide some additional space. It also allows you the freedom to adjust the height of top surface. 
7- Yaheetech lift-up coffee table with storage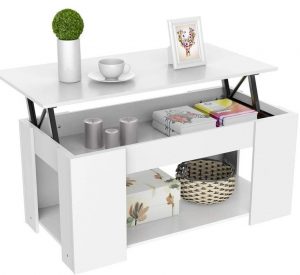 Versatility and awesomeness packed together in this coffee table. The table is designed in such a way that it creates a perfect work surface. You can place your laptop over it and work smoothly. It can be even used as a dining table or a writing desk. To ensure the best experience, it is inbuilt with 'lift-up design'. With the help of that, you can adjust the height of top surface. It is made of heavy-duty metal and can withstand nearly 68kg seamlessly. 
6- Furinno 11158EX/BR coffee table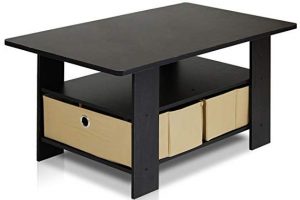 The thing that makes Furinno brand different from others is that it offers stylish coffee table with storage at a reasonably low price. Given the fact, Furrino 11158EX/BR is an elegant yet affordable coffee table. It is a bit small in size, so can be perfectly fit in even in the congested area. Made of particleboard, the table features 4 sturdy legs. It is also equipped with 1 large and 2 small bins, where you can keep the stuff without worries.
5- CosmoLiving Sapphire Modern Storage ottoman coffee table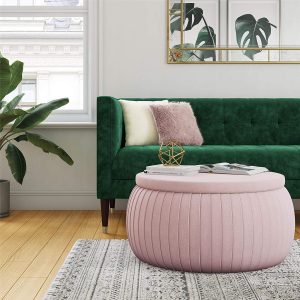 CosmoLiving coffee table with storage is quite different from other coffee tables in design. It is actually a round-shaped ottoman made of soft, fluffy, and ultra-comfortable velvet fabric. To render an alluring look, the table is beautified with a pleated pattern design. Designed with a removable top, the table offers you the flexibility to remove the top whenever you want to store something inside it. Since it is cozy and snug, you can use it as a footrest too. 
4- Keter 230897 natural wood style storage table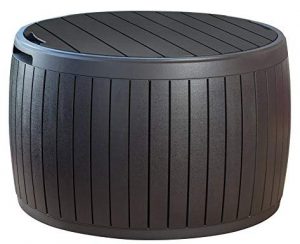 Another round-shaped coffee table with storage on this list. Unlike other coffee tables, it has a huge internal storage capacity of 37 gallons. So, you can store things as much as you want. If you're concerned about portability, it features 2 built-in handles. With the help of them, you can move it around easily even when it is full of stuff inside it. Its contemporary design is coupled with a wood-look pattern, which will surely complement the décor of your room. 
Also read: Top 10 Best Electric Coffee Makers in 2020
3- 'lift-top table' coffee table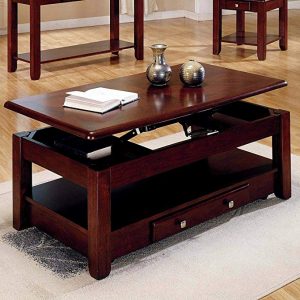 As the name suggests, lift-top table coffee table is mainly designed with the purpose to lift the top surface of table smoothly. So, if you have to lift up or pull down the top surface of the table in order to meet your needs, go for this coffee table even without a second thought. At the bottom, it features an open shelf, where you store things like books, toys, and magazines. There is also a drawer in the bottom sheet, which is meant to keep the important stuff. Above all, its rich cherry finish makes it really alluring. 
2- Green Forest Coffee table round industrial design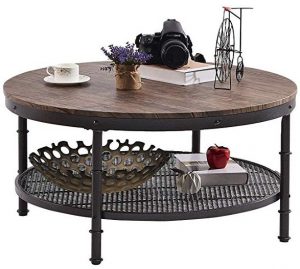 None can beat this coffee table when it comes to storage, convenience, and design. Given the fact, it will surely be an addition to your room. Designed in industrial style, it is a true example of classical design. It features 4 metal legs, which can withstand the weight up to 350lbs. The top surface of the table is made of sturdy and eco-friendly particleboard. With the fact, it is durable and wear-resistant. It also features an open shelf at the bottom. 
1-  2L Lifestyle Westfield coffee table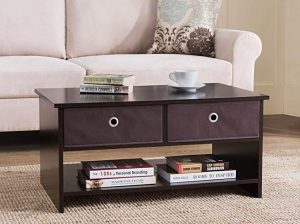 Elegant and versatile- these two words sum up the long description of this 2L Lifestyle Westfield coffee table with storage. Its classical design coupled with chic cherry finish makes it elegant. And, it is versatile because it features 4 fabric drawers and one large open shelf. Given the fact, it offers you lots of additional space to keep the things organized. Since it is small in size, it is space-saving and easily portable. Its particleboard construction makes it durable and reliable too. 
Conclusion
Get one of these top-quality coffee tables with storage and add an elegance accessory as well as an additional space to your living room. They all are solidly constructed, beautifully designed, and remarkably versatile. What else you can ask for?