Tea has a long history as the best companion for human being. People drink it either for the reunion or after the long hectic hours or just to replace normal water. But, sometimes preparing a cup of tea seems so time-consuming and effort-taking that you end up killing your craving for it if you are very thirsty. Isn't it? Well, in this case, an electric tea maker can help you prepare a hot cup of tea as well as kill your tiredness instantly. This is why investing in a good electric tea maker and take your tea experience to the next level is awesome. Before going for the purchase, check out our list of top 10 best electric tea makers in 2020 below. It will help you to get the best one.
List of the 10 Best Electric Tea Makers in 2020
10- Electric Tea Maker and Kettle By FEBOTE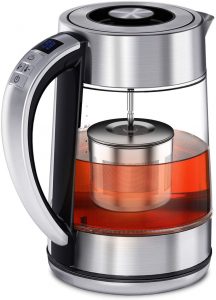 FEBOTE electric tea kettle is a 2-in-1 tea maker that can help you to prepare any type of tea.  The tea maker is designed with a steel-made plunging infuser, which allows you the freedom to adjust the tea strainer and get your desired flavor. Moreover, the handle features the temperature control panel. With the help of that, you can adjust the temperature too. Its 1500W motor can boil water in just 5-6 minutes. Besides, it is inbuilt with keep-warm function, which keeps your tea warm for long hours.
9- Sapphire Home 3 Pieces Tea Maker and Coffee Maker Electric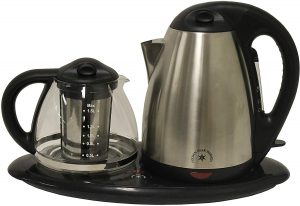 If you need a stylish electric tea maker with big storage, Sapphire Home electric coffee tea maker is a perfect choice for you. Its glass pot can easily hold the water up to 1.7L. Furthermore, its tight lid makes sure to lock the jar securely. The set includes 1.7L cordless kettle, 1.2L glass pot, and a keep-warm plate. To keep the brewing at the right temperature, it is designed with overheat protection. Moreover, its heat-resistant body and cool-touch handles also allow easy accessibility too.
8- KitchenAid Electric Glass Tea Kettle and Tea Maker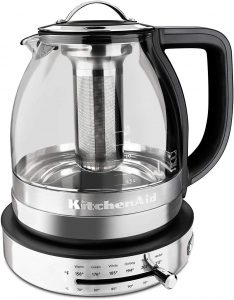 KitchenAid 605516-KEK1322SS is a perfect blend of sturdiness and style. The jar is made of Duran glass while all other parts are made of stainless steel. Moreover, the top lid features a little handle, which helps you open the kettle without any hassle. With this electric tea maker, you can prepare tea at 5 different temperatures. Its removable steel tea steeper further allows you the freedom to boil the water for other uses too. To keep your tea warm for long hours, you can set it in keep-warm mode.
7- Saki Electric Kettle Tea Maker and Teapot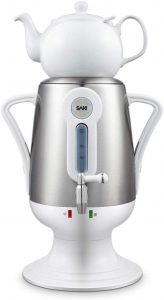 Get Saki electric kettle and prepare a hot cup of tea filled with rich aroma and flavors in minutes. It is actually a 2-in-1 electric tea maker set, which can be used either as a water kettle or a teapot. Made of premium stainless steel, it is capable enough to withstand even the extreme temperature. To make the accessibility easier and more comfortable, the infuser is designed with 2 little handles from both sides. Its inbuilt strainer also makes sure to extract all the unnecessary stuff.
Also check: Here are the 10 Best Electric Coffee Makers You Should Consider in 2020
6- ICOOKPOT Multi-Use Electric Kettle and Tea Maker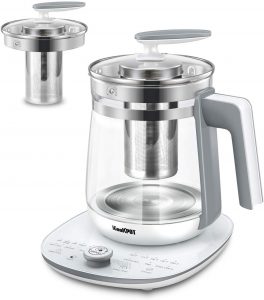 If you often prepare different types of tea in your home, ICOOKPOT multi-use electric kettle is made for you. Unlike many other electric tea makers, it can help you prepare green tea, black tea, coffee, and many more. Not only this, but it can also help you to cook noodles, soups, and eggs. The reason for its such a remarkable versatility is its 16 smart built-in programs, which provide you many advanced features and make the boiling time 30% faster as compared to other electric tea makers.
5- Saki Tea Maker and Electric Kettle With Tea Infuser Teapot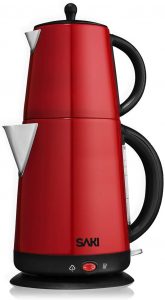 Saki tea maker simplifies the process of tea brewing incredibly. This electric tea maker gets operated in just a press of a button. Moreover, it is also designed with keep-warm function, overheat protection, removable and washable infuser, temperature indicator, and water level measurement. Speaking of construction, the electric tea maker is made of high-quality steel and features an easy-grip handle. To avoid the mess while pouring out the tea, it is also built with a smooth sprout.
Check here:  Why you should own one of these 10 Best Electric Kettles at home or office
4- Breville BTM800XL One-Torch Tea Maker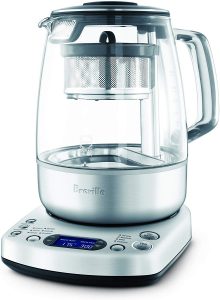 Breville offers you one of the most stylish and high-functional electric tea makers. Unlike many other electric tea makers, it is designed with an 'auto start' feature. So, just set the timer and wake up with a hot cup of tea in your bed itself. You can even set your desired flavor ranging from mild, medium, or strong. The jar has a holding capacity of 51 oz. Given the fact, it can help you prepare tea instantly for a number of people.
3- AmazonBasics Stainless Steel Portable Electric Hot Water Kettle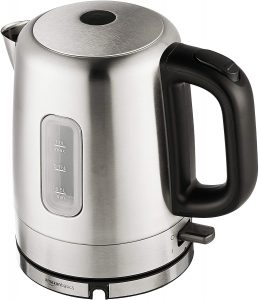 If you want a simple but high-quality electric tea maker at an affordable rate, AmazonBasics electric hot water kettle is made for you. Made of sturdy steel material, it is not only durable and robust but also completely health-friendly. It is designed with a powerful motor of 1500watt and has a water holding capacity of 1 ltr. In addition to that, it also features an auto shut-off feature, which turns the tea maker off itself when the tea is ready.
2- Electric Kettle Glass Tea Kettle by AICOK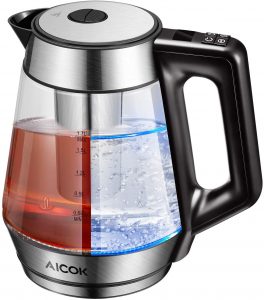 Electric kettle glass tea kettle by AICOK is a remarkable and quality-packed electric tea maker at a low price. Given its price, it offers really impressive features. The jar is made of premium glass. Given the fact, it offers you pure, healthy-friendly, and non-contaminate tea in minutes. To make your tea extra flavorful, you can adjust the temperature as per your needs. Moreover, you can keep your tea warm for at least 2 hours. There is also an LED display, which helps you control the overall functions of this tea maker.
1- AICOOK Cordless Tea Pot Kettle and Teapot Electric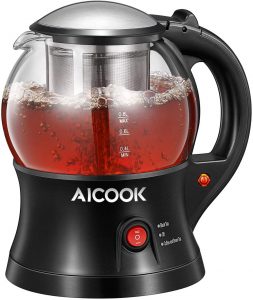 AICOOK electric tea maker is probably the lowest priced tea maker on the list but it topped the list. The reason being, it is quality-packed, sturdy-made, and cordless, and extremely user-friendly. Unlike its competitors, it can flawlessly be used either to boil the water or prepare the tea. In fact, it is designed with 2 modes and you can select any of them as per your needs.  With a water holding capacity of 0.8ltr and a fast heating system, it does its job seamlessly.
Conclusion
There are different types of electric tea makers available in the market with different features and prices. The above ones are the best ones. So, get the most suitable one for you and brew your drink in a fraction of the moment.