Almost everyone enjoys a delicious cup of coffee, mostly in the mornings. Coffee prepares us for the challenging day that lies ahead. However, to enjoy the actual richness and taste of coffee beans, you need to have a pour-over coffee maker. Loved by all caffeine fanatics, pour-over coffee provides a robust, rich taste that is better than any other coffee maker. Though it is the process that requires your time and patience, the wait is always worth it. First, they work by placing medium-fine ground beans into the filter and then pouring boiled water over them to get coffee directly into a cup or carafe. There are a lot of pour-over coffee makers available out there, and we have taken the task of listing some of the best ones for you.
List of the 10 Pour Over Coffee Makers in 2023
1. Best Overall: Bodum 11571-109 Pour Over Coffee Maker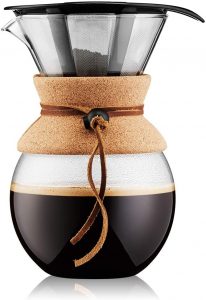 Material: Glass, cork
Capacity: 1 liters
Item Weight: 1.42 pounds
The first on our list is Bodum pour-over coffee maker that exhibits amazing features and a well-sturdy design. The coffee carafe is made from borosilicate glass with Cork Band that is both durable as well as heat resistant. You can pour the coffee easily as the band provides a solid grip as well as keep your hand cool. Plus, there is a stainless steel filter, which is dishwasher safe and much better than the paper one that comes with the maker. It keeps the aromatic flavor and the oils carefully alive while making coffee. Another good thing about this pour-over is that it allows making eight cups of caffeine quite easily. Made in Europe, this coffee maker has set a new standard and is highly appreciated by its users.
Key Features:
All parts are dishwasher safe
Well-sturdy and heat resistant
Quite easy to make coffee
Maintains the richness and flavor of beans
It comes with a stainless steel filter
Features a silicone or cork band
How to Brew Coffee Video by Legitimate Questions Coffee Channel
2. Best Runner Up: COSORI Pour Over Coffee Maker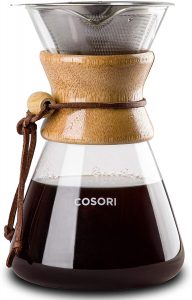 Material: 304 stainless steel, Borosilicate glass
Capacity: 8 cups
Item Weight: 1.65 pounds
Cosori pour-over coffee maker comes with a large capacity and thus allows you to serve a lot of people. It ensures that you can personalize your brew as per your own choice. Further, the carafe is made from high borosilicate glass that is heat-resistant, and therefore you can use it even on the stove. Stainless steel dual filter allows you to keep the oil from the ground beans to infuse them into your coffee to create a rich, delicious cup of caffeine. Plus, both the glass carafe and stainless steel filter is dishwasher safe. If you are new to pour-over coffee, then there is nothing to frown about as this maker comes with a guide that helps you get started. Isn't it simply amazing?
Key Features:
Carafe is heat-resistant
Stainless steel dual filter
Dishwasher safe
Well-sturdy
Maintains the taste of beans
It comes with a guide
3. Best Value For Money: Melitta Coffee Maker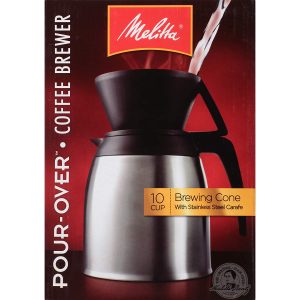 Material: Steel carafe
Capacity: 10 cups
Item Weight: 2.65 pounds
Melitta has been known to provide the ultimate coffee experience to coffee lovers. This brilliant technology was invented by Melitta Benz a century ago. This coffee maker by Melitta is no exception and lives up to the company's brand name, and allows you to drink caffeine on the go. It features a medium-sized drip hole that provides an even brew and removes bitterness. Plus, there are two viewing holes that prevent runoff or overflow. When it comes to design, it is made of simply elegant superior quality porcelain with a finish of a white gloss. The pack comes with a plastic cup, brewing cone, and start-up Melitta four cone filters.
Key Features:
Prevents overflow and runoff while pouring
Elegantly designed
Consistent brew
Ideal for use at office and home
Apt for traveling
It comes with a stainless steel carafe
4. Best Under$ 20: OXO Brew Pour-Over Coffee Maker with Water Tank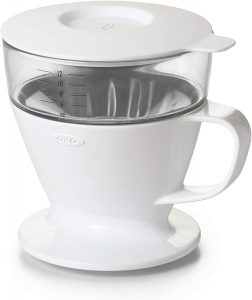 Material: Plastic
Capacity: 12 ounces
Item Weight: 7.7 ounces
Another great pour-over coffee maker within the budget is the OXO brew maker that creates a consistent, delicious cup of coffee with minimal effort. It features a water tank that allows you to balance brew by controlling hot water flow. There are simple steps that you need to follow to get your desired cup of coffee. Add your favorite ground beans with 12 oz water and let the magic begin. There is a secure lid that retains the heat while your beans are brewing and the cone filter is working. Plus, the two different sizes of the hole allows you to distribute water evenly for a perfect brew.
Key Features:
Easy to use
Features a secure lid
Proper distribution of water
Easy to clean
Maintains the flavor of the beans
Compact size
5. Cheapest Of All: LHS Pour Over Coffee Dripper Stainless Steel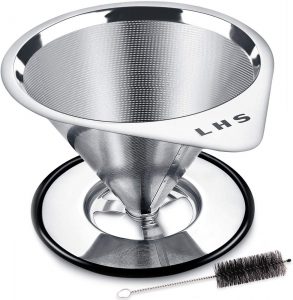 Material: Stainless steel
Capacity: 1-2 cups
Item Weight: 5 ounces
One of the cheapest on our list is the LHS pour-over coffee maker that works well to give you the desired results. In terms of coffee, it won't disappoint you, and the quality of the maker is also topmost. The coffee filter is made from a stainless steel filter and features an extra-fine mesh wire that won't allow the coffee beans to end up on your cup. Besides, the maker is simple to use as well as easy to clean. You can either wipe it or put it into the dishwasher as per your wish. The maker is further compact and works well at home or office, plus while traveling or camping. You may also need a coffee grinder with you.
Key Features:
Simple to clean and use
Don't let the beans fall into coffee
Dishwasher safe
Made from stainless steel
Compact in size
Ideal for traveling
6. Most Sturdy: Cafellissimo Pour Over Coffee Dripper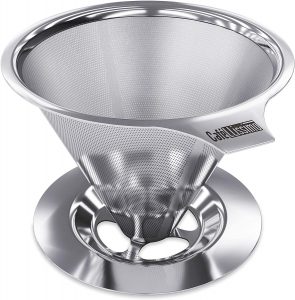 Material: Stainless steel
Capacity: 6 fluid ounces
Weight: 0.634 ounces
One of the most sturdy coffee makers out there, Cafellissimo's unique design allows you to infuse the oil and fragrance of beans into your coffee to make it tasteful. This maker fits securely on the top of most cups, and it is reusable. Plus, the lightweight and compact size make it ideal for travel. You need to put two tablespoons of ground beans with a 6oz cup of water to get a delicious cup. It is convenient to use, and you can easily put the parts inside the dishwasher for cleaning. On the whole, this pour-over allows you to create a coffee just like the professional barista.
Key Features:
Most sturdy
Keeps the oils and fragrance of beans alive
Lightweight and compact
Convenient to use
Dishwasher safe
Professional cup of coffee
7. Best Full Set: ParkBrew Pour Over Coffee Maker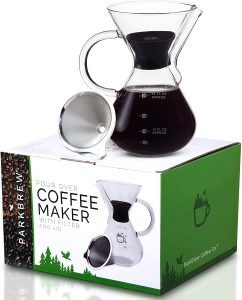 Material: Silicone
Capacity:
Item Weight: 1.94 pounds
This pour coffee maker comes as a full set, including a coffee maker, carafe lid, and stainless steel filter. It is perfect for beginners as it comes with detailed instructions to help you brew a perfect cup of caffeine every time. Plus, they offer a measurement guide, so there is no need to buy a scale. Made from borosilicate glass and featuring a wider base, this maker is durable and long-lasting. You also have a comfortable handle to pour down the coffee easily. Altogether, it is a great coffee maker with a smart design that makes it perfect to be gifted to coffee lovers.
Key Features:
Perfect for beginners
Detailed instructions
Made from borosilicate glass
Durable and long-lasting
Easy to pour coffee
Smart design
8. Best In Terms Of Quality: Bean Envy Pour Over Coffee Maker

Material: Stainless steel
Capacity: 20 Oz
Item Weight: 1.59 pounds
Bean Envy pour-over coffee maker is considered best in terms of quality and offers perfect taste every time. It is simple to use and has an ergonomic design. There is a rust-resistant stainless steel filter with borosilicate glass and a non-slip base. By using this coffee maker, you will get a professional cup of caffeine. Plus, the design of the pour-over is also good and will look perfectly well on your kitchen slab. One of the unique things about this maker is that it offers a worry-free purchase; that is, if you are not satisfied with the product, then you can contact the seller.
Key Features:
Practical and straightforward to use
Premium quality
Stainless steel filter
Non-slip base
Professional cup of coffee
Ergonomic design
9. Best In Terms Of Design: Aquach Pour Over Coffee Maker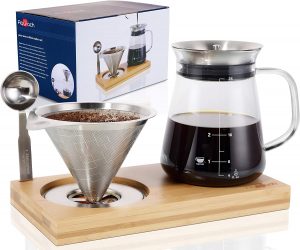 Material: Borosilicate Glass
Capacity: 28 oz
Item Weight: 3.01 pounds
Second last, on our list is the sophisticated pour-coffee maker set. One of the amazing things about this product is that it comes with a stainless steel filter, a glass carafe, a spoon, and a bamboo stand. The glass carafe features a large handle and lid with a filter hole, while the filter is paperless and works well on all containers. Plus, both the items are rustproof and long-lasting. It will look good in your home as well as your office and won't disappoint you in terms of brew. All components are dishwasher safe, and thus you can effortlessly clean them.
Key Features:
Sophisticated design
It comes as a full set
Both carafe and filter are rust-free
Durable and long-lasting
Dishwasher safe
Extra-large stainless steel filter
10. Best With Paper Filter: CHEMEX Pour-Over Glass Coffeemaker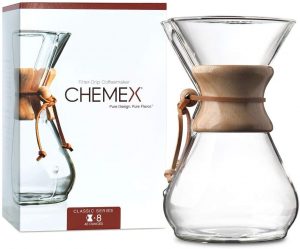 Material: Glass
Capacity: 8 cups
Item Weight: 1.3 pounds
Last on our list is the CHEMEX pour-over glass coffee maker with a paper filter that works extremely well to deliver the best results. It is made from the best quality borosilicate glass that does not absorb odor and keeps your coffee warm for plenty of time. You can also cover it and refrigerate it for reheating, and still, the flavor won't go away. It is quite simple to use and brews like all other pour-over coffee makers. You can either hand wash it with warm water or put it carefully inside the dishwasher. Overall, the coffee maker comes in a sleek, beautiful design with a robust paper filter.
Key Features:
Carafe keeps coffee warm for long-time
Simple to use
Dishwasher safe
Sleek, beautiful design
Elegant design
Tasteful coffee
Verdict
All the above listed pour-over coffee makers are simply efficient in their task of delivering a fresh, tasteful cup of coffee. They all are straightforward to use and dishwasher safe. These coffee makers come with a glass carafe and paper or stainless steel filter, which are durable and long-lasting. All of them while brewing preserves the oil and fragrance of the beans and infuses them into your coffee. Further, they all are nicely designed and made from premium quality materials. So, if your planning to invest in a pour-over coffee maker, all the above-mentioned products are the right choice.
FAQs
What Is The Best Type Of Coffee For Pour-Over Coffee Maker?
The best thing about a pour-over coffee maker is its ability to highlight the coffee flavors as compared to other makers. The extraction process will enable the water to draw the richness and taste of the coffee beans, which are then captured in the filter and transferred into your cup of coffee. The best type of coffee to use with this coffee maker is the single-origin bean.
What Are The Different Types Of Pour-Over Coffee Maker?
Flat-bottomed: It has the most user-friendly shape – flat bottomed, which leads to a consistent and even saturation of ground beans.
Cone: This type of maker requires more precision as the water drains from a single point. Plus, it can also take some time to make coffee by using a cone.
Wedge: It pours over coffee pretty fast and is similar to both flat bottom and cone.
Can I Make A Strong Cup Of Coffee With Pour-Over Coffee Maker?
Well, yes, you can make a strong cup of coffee using a pour-over coffee maker. The two things you need to do is first increase the brew ratio (more coffee beans but less water) or try a single-origin coffee bean.
Last update on 2023-10-04 / Affiliate links / Images from Amazon Product Advertising API