In the modern technology era, Wi-Fi is mandatory for the completion of all types of tasks. From school assignments to company project plans, the presence of wifi is irreplaceable. However, the Wi-Fi coverage sometimes can be a problem, and therefore, a router is necessary to extend the Wi-Fi coverage. More importantly, with dual band router, users can change the frequency between 2.4GHz and 5GHz to prevent any possible traffic.
After a detailed research, our team has come up with this article to provide the reviews for the top 10 best dual band routers in the market for users to preview. At the end, you will see a little buying guide section which demonstrates the criteria that determines the best product.
List of the Best Band Routers for Home and Office in 2023
Top 3 Best Selling Dual Band Routers on Amazon
10 Most Recommended Dual Band Routers
10. Linksys EA7500 Dual-Band Wi-Fi Router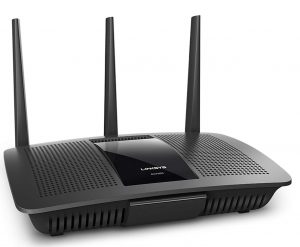 If you want a larger area of the Wi-Fi coverage, you should consider Linksys EA7500 router because it allows users in the area maximum at 1500 square feet to connect their device to the Wi-Fi. The router works well with modem with easy installation via Linksys app. With this router, users can spend their spare time with 4K and HD streaming without worrying about the traffic.
Its speeds measure high with both frequencies, at 600Mbps and 1300Mbps respectively. This router also includes multiple input and output at the same time without any reduction to the Wi-Fi speed.
9. Asus AC1900 Dual Band Gigabit Wi-Fi Router

The router comes with the latest technology, which is the AC 3×3 system, enabling the combination of the speed up to 1900 Mbps. It is equipped with dual core CPU at 1GHz which allows many users to multi-task via different lanes. Users can set it up quickly with ASUSWRT web interface. Also, users can monitor the router through their mobile phone or device. In terms of the protection against sensitive data, the router is supported by Trend Micro which offers great protection to secure all the important documents.
8. TP-LINK Archer C7 AC1750 Dual Band Router

Its ports are capable of gigabit Ethernet, and therefore, it is designed to match perfectly with any types of internet plan. By using this router, users can enjoy the 4k streaming on many devices without any buffering because it can support up to 1700Mbps. It also allows access via USB to let users to share documents via wireless.
It can cooperate well with all types of Wi-Fi devices. Users can simply set up the router via TP Link app and manage the network from a distance via mobiles. With a 2 years warranty, users can enjoy the peace of mind with maximum entertainment provided by this router.
7. NETGEAR Nighthawk Smart Wi-Fi Router (R6700)

It enables users to enjoy the wireless connection within 1500 square feet of the router. The speed combination is seen to be up to 1750Mbps with this router. Its capacity is known to support up to 25 devices. It includes all types of entertainment performed, such as video streaming, video games and smart TV program. It comes with a dual core processor, which are 1Gz, and amplified antennas as well. A storage drive is also shared to have a private cloud storage which can be accessed from anywhere.
There are also many smart controls, including history site records, websites filter and time limit schedules. The armor system is there to offer protection against any threats from the internet. Therefore, users can enjoy the Wi-Fi coverage with peace of mind.
6. NETGEAR WiFi Router (R6080)

Compared to the previous model, this dual band router from NETGEAR provides a small area of Wi-Fi coverage, at only 1000 square feet. However, it works well within an apartment. The speed is measured at 1000Mbps with 300 plus 700Mbps. It can support up to 15 devices at the same time, enabling users to watch videos and play computer games.
The ports are for computers, streaming players and other device with 4 x 10/100 ethernet ports. Users can control the router using their mobile phone with the nighthawk app. It allows user to filter websites in order to secure the devices against any sensitive information or threats from the internet.
5. WISE TIGER Wireless Router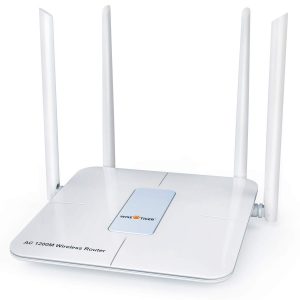 At an affordable price, the router provides a large coverage area for the use in home and office. It allows 3 points for guest access without required passwords. Although the speed is based on the internet plan registered by the owner, this router is highly recommended if the maximum speed is below 100Mbps. The dual band router combines 300Mbps and 866Mbps to provide the greatest speed for users to enjoy the video streaming.
Moreover, the router can also work as Wi-Fi Repeater if users apply the WISP mode. It also allows 3 spots for guest access without any passwords required by the router. Last but not least, users can set it up within minutes and enjoy the warranty up to 24 months.
4. MOTOROLA MG7540 16×4 Cable Modem Plus AC1600

The dual band router comes with the built-in AC1600 to generate 4 GigE Ethernet ports. It is highly recommended if the users are using cable internet system with the maximum speed of 375Mbps. The equipment enables internet access for all types of devices, including smartphones, tablets and TVs. It allows connection s to all Windows and Macs. Compared to other routers, it is compatible with Wi-Fi DFS frequencies.
It helps create a dependable connection that decreases any unwieldy wiring at the same time as desk space as conserved. With 2 years of warranty, users can support their devices with peace of mind.
You may like: Top 10 Best Office File Cabinets For Office and Home Office in 2023
3. ASUS AC2900 WiFi Dual-Band Gigabit Router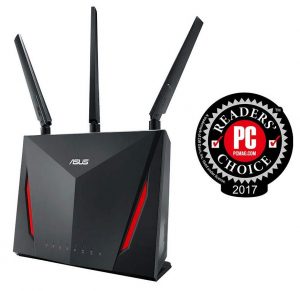 The router is equipped with advanced MU-MIMO technology. The router can provide the speed up to 2900Mbps. it is optimized with 32-bit dual core. It is designed to provide users with great experience with online games and streaming. The router is supported by Trend Micro which protects the users from all types of threats at 24/7.
The input is 19V, while the output is 110v and 240v. Users can manage the router with the ASUS app for router, which is designed to set up, manage the data and operate parental controls. If there is any essential network-based information, users will get notified immediately.
2. NETGEAR N600 Dual Band Wi-Fi Router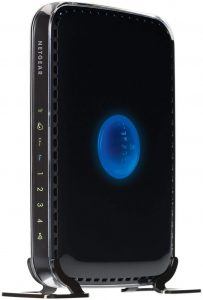 The router aims to deliver fast Wi-Fi speed with the maximum of 600Mbps. The router aims to provide perfect wifi systems for all sizes of homes. Most systems can work well with this router. These include Windows, Mac OS, Firefox, Safari and Chrome. The dual band system makes less interference to enable a smoother and a more stable connection to the user. The router is designed to be easily installed at home by the users themselves.
1. Motorola MG7700 24×8 Plus AC1900

The dual band router is equipped with 3.0 cable modem to provide AC1900 for users to speed up to 1000Mbps. It comes with Wifi amplifiers as well as firewall security to ensure the stability of network usage. With this router, users can save up to $156 every year from paying for the rental fees for cable modem. It provides network access for all types of devices, including smartphones and tablets. There is also LAN ports to offer connections via wire to the computers.
This dual router band also comes with power boost to bring high range and speed to users to boost the performance. Last but not least it comes with a vertical design which suits ideally in any room or office. With 2 years of warranty, users can enjoy the ideal internet speed with peace of mind.
---
Top 10 New Released Dual Ban Routers for Your Consideration in 2023
---
What is the best dual band router?
Wi-Fi is essential, and as a result, a great dual band router is even more essential to guarantee the stability of network connections while doing the work as well as streaming online. If you do not want any unpleasant interruptions or traffic, you need to get the right internet router that serve you best. Based on our research, the best one is defined based on the the following key factors:
Router's speed
The maximum speed of this router should be at least 600Mbps to ensure a stable network connection of the wireless device. Some people might not need that fast speed while some need even more. So, choose the one that fit your need best.
Router's coverage capacity
The router aims to provide a larger coverage area, and therefore, a good one may offer the wifi coverage area of more than 1000 square meters. This is not always the case though, but it's a necessity if you need it to cover a larger working environment.
Mobile Controls
This is to enable parental control, which means the controller shall get notifications about any important events on the network base. Also, users can filter the websites to guarantee the safety of network use.
Protection system
It is good to invest a dual band router which has a protection system in this sensitive world. This is to prevent any sensitive content or threats to the computer system.
Conclusion
After reading this article, readers should gain an insight about the current top ten best dual band routers. Also, users can make their valuable decisions with confidence after going through the main features of this product to purchase the best product. A high quality one will be a valuable asset to the luxury home because it is responsible for all the entertainment for every member of the family.
Last update on 2023-10-04 / Affiliate links / Images from Amazon Product Advertising API