Looking for the perfect laptop backpack for women? You've come to the right place. We've gathered some of the best options on the market, so you can find the perfect bag for your needs. Whether you're looking for a small backpack that can carry your laptop and a few essentials, or a larger option that can hold everything you need for a day out, we have something to suit your needs. So read on to find out more about our top picks!
List of The 10 Best Laptop Backpacks For Women in 2023
You may also need one of these types of bags and backpacks such as:The Best Laptop Backpacks For Women, the Best Laptop Backpack for Men, Anti-Theft Backpacks, External Frame Hiking Backpacks, & Disc Golf Bags
1- Best Overall: Matein Laptop Backpack for Women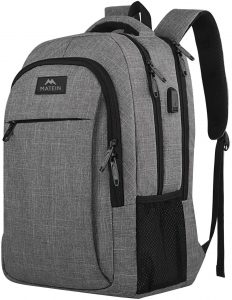 Carrying a laptop backpack usually gives you an air of professionalism. Matein's laptop bag is made of durable polyester fabric and is built for professionals specifically. The material is water-resistant and has lockable zippers made of metal. It comes with an anti-theft pocket at the back and has strong padding; you can carry it around without any hassle.
There's a separate compartment inside the main chain for your laptop. It can fit in a laptop under or of the size 15.6 inches. The main compartment is big enough to store your paperwork, charger, cell phone, and a power bank. It also comes with an in-built USB port charger that allows you to charge your mobile on the go.
Key Features
Durable polyester fabric
Can fit in a 15.6 inches laptop
Lockable metal zippers
In-built USB port mobile charger
Water-resistant material
2- Best Runner-Up: Kenneth Cole Chelsea Quilted Female Laptop Backpack/Bag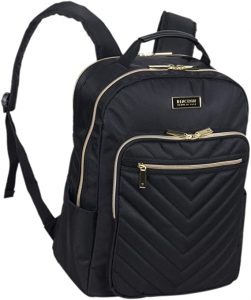 Sophisticated and chic, this Kenneth Cole quilted laptop bag is for all the boss girls out there. It comes in four different colors; black, burgundy, olive, and navy. All laptops with a 15-inch screen can fit into the compartment. It has four compartments giving you a lot of storage room.
The main chain has a separate compartment for your laptop, so it's safe for commutes. If you are looking for a professional bag but don't want to give up style, then check this out. Even after you put your laptop and iPad, you still get a lot of space. The golden zippers also give it a dressy vibe.
Key Features
Lightweight with padded straps
Perfect for those looking for something peppy
Has four compartments
Nylon fabric for strength
Can fit in a 15-inch laptop
3- Best Under 30 Dollars: Lovevook Grey Travel Laptop Backpack for Women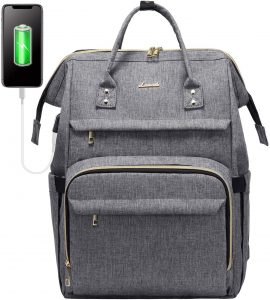 What sets Lovevook's travel laptop backpack/bag apart is its durable straps and affordability. It has 4 main compartments; three in front and one at the back. On the inside, it has two lined cup-holders! So in total, it has six compartments. There's a handle provided so you can just slide it on your trolley or suitcase handle while traveling.
It can hold a laptop of 15 inches easily and has a USB charging port. No matter how much packed it is, the padded straps will cushion all the pressure. It's also available in Black! If you travel a lot with your laptop bag, then this is perfect for you.
Key Features
Heavily padded straps
Has a lot of compartments
Affordable and comes in two colors
USB charging port
Built to endure all pressure
Also check one of these Top 10 Best Laptop Coolers in 2023
4- Best Value For Money: Kenneth Cole Sophie Female Bag for Laptop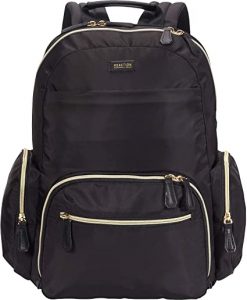 Kenneth Cole Reaction is known for its strong laptop bags that come with a lot of compartments! If your work requires you to travel a lot, then this bag can help you. The padding is durable and will not cause you any pain. If you are used to carrying a lot of stuff, then this bag's compartments will hold all of them. It has space for a tablet or iPad as well.
The exterior is made of tear-resistant nylon and has gold-plated zippers. What makes it unique is that it has Radio Frequency Identification Technology, which will block radio waves that are transmitted from some of the US passports and debit cards. So all in all, this bag is organized, affordable, and safe.
Key Features
RFID shielding fabric padding
Has lots of compartments
Tear-resistant exterior
Back and straps are fully padded
Has an additional compartment for tablet
5- Cheapest Among All: Soldierknife Water-proof Bag for women and girls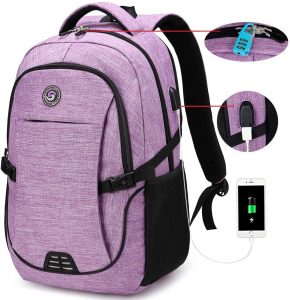 This is a fairly diverse bag; can be used by students, workers, and freelancers. It has an additional compartment for a tablet and has a Velcro strap to make sure it stays in place. The laptop compartment can store a 15.6-inch laptop without any trouble.
It comes in six different colors; grey, black, purple, red, royal blue, and sky blue. With a USB port, you can charge your mobile on the go. It also has a combination locking system, which is removable. If you are a student and want something lightweight but durable, then you should check out this bag.
Key Features
Durable material, water-resistant
Lots of inside pockets
Bottom padding ensures your device doesn't touch the ground
USB port charging
Affordable and has a lot of color variations
6- Most Stylish One: Vsnoon Printed Laptop Backpack for Women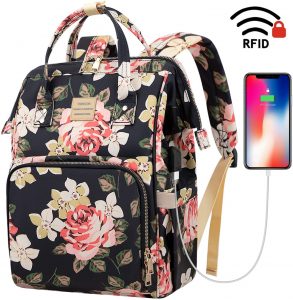 If you like prints and floral patterns and want your laptop bag to exude your vibe, then this is the perfect bag for you. The floral prints and snap belt opening style make it a steal deal. It can fit your 15.6-inch laptop with an inch to spare. The compartments are roomy enough to carry your lunch box, journals, work records, and stationery.
This bag is fairly diverse; you can use it as a travel bag or even a mom bag! There's a portable USB port, so you don't have to hold your charger while commuting. If you are looking for something organized but fashionable, then this is perfect. It even has six other color combinations.
Key Features
Stylish, chic and affordable
USB port for your charger
Has a lot of room inside it
Lightweight, snap belt opening style
Water-resistant exterior
 7- Best For Commutes: Kroser Laptop Bag For Women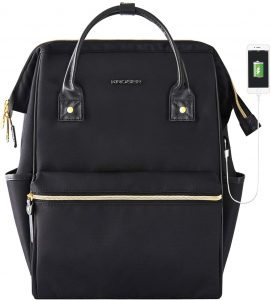 If you are tired of carrying your bulky backpack around, then this bag is for you. It is arguably the lightest laptop back in the market. It weighs only 0.65lbs, and the compartment can take a 15-inch laptop easily. This is great for students and workers alike.
The padding is strong and can take anything you want to store in it. Bag straps tend to get torn if you use them too much, but that won't be a problem with this one. It keeps your thing organized and is water-repellent. The USB port comes in handy when you leave home in a rush and forget to charge your phone. You can also use it as a travel bag or mom bag.
Key Features
Lightweight and heavily padded
USB port for your charger
Water-repellent exterior
Lots of compartments and pockets
Can take 15.6inch laptops in a snug fit
You may also check one of these trunk bags for bicycle if you are the daily bike riders!
8- Most Functional One: Lekesky Laptop Bag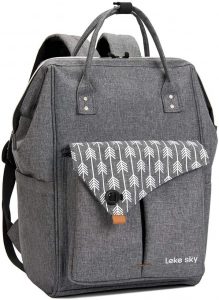 Are you looking for a bag that seems professional yet stylish? Perhaps a bag that can also be used as a college or travel bag? Your search ends here! This bag is stylish and has exquisite print on the opening strap for the small pocket at the front. It comes with a 180 days guarantee. If the product turns out to have defects,  you'll get a full refund or a replacement if reported within 30 days.
It has a document area, laptop compartment, two side pockets for umbrella and water bottle, and many pockets inside it for your notebook, paper, etc. The heavy-duty polyester is non-fraying and water-repellent. This particular bag is known to last years without any strain. The bottom padding is fairly thick so that your laptop doesn't touch the ground when the bag is kept on the floor.
Key Features
Thick bottom padding
Fits all laptops of 15.6 inch
Non-fraying stitches
Water-repellent and lightweight
Has a hook for your sunglasses
9- Best For College: Mancio Slim Vintage Laptop Bag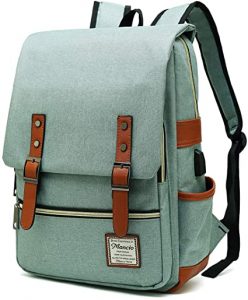 Most college students usually don't feel comfortable with using heavy-looking professional bags for college. This bag is especially for them; it looks great; it isn't too heavy and affordable. The oxford nylon or faux leather gives it an elegant look. It can fit in a laptop of up to 15.6 inches.
The main compartment can store all your books, notebooks, laptop cooler and even a mouse. It has a snap-belt which is magnetic and has an in-built USB port. There are five compartments that can store everything neatly. You won't struggle with finding your pens or phone. It's cleverly designed just for students. You can also use it as a travel bag!
Key Features
Can be used as a travel bag
Magnetized snap belt
In-built USB port
Five compartments for storage
Oxford nylon is water-repellent
10- Best For Heavy-duty: Kroser Large Laptop Backpack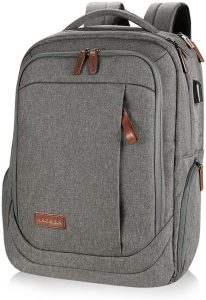 This Kroser laptop bag can fit in a laptop of 17.3 inches, probably the largest you will find at this price! The environment-friendly, poly material is water-resistant and can survive light drizzle. If you have to carry a lot of things with you daily, then this is perfect for you.
It's not small by any standards; this bag is big and is heavy-duty. The back and shoulder straps are heavily padded to help you carry it around. If you want something durable without spending a lot of money, then you should check this out. This comes with a USB port, 4 main compartments and two side pockets for a water bottle and umbrella.
Key Features
USB port for charging
4 compartments and 2 side pockets
Large but not bulky
Can fit in up to 17.3 inches of laptop
Material is water-resistant
Verdict
Ladies, gone are the days when we had to carry a bland briefcase bag for our laptops! Now you can get a bag which suits you the most. We, as women, like to be ready for any kind of situation while we are out. That means we end up carrying a lot of things on us. With these bags, you no longer have to carry multiple purses, either. They have enough room to store anything you need, even besides the laptop and charger. Another advantage is that they aren't just for working women. The stylish, chic designs make them usable by students too. They will add an air of confidence to your usually tiresome college attire. So go and grab the bag with the best storage facilities.
FAQs (Frequently Asked Questions)
Ques.1 How Do I Know If My Laptop Will Fit Inside The Bag?
Ans- The majority of the bags are available in different sizes and colors. You can check the descriptions to find out about the capacity. If you own a laptop that is less than 15 inches, then all of these bags can hold it. If it's larger than that, then some of them can hold a device as large as 17 inches. You will be able to find your fit.
Ques.2 Can It Hold My Tablet As Well As My Laptop?
Ans- Some of these bags don't have a separate sleeve for a tablet, but the others do have tablet sleeves. So yes, some of them can hold your tablet and laptop separately. Check the description to be sure if they have a separate sleeve for a tablet or iPad or not.
Ques. 3 Will It Affect My Laptop If I Put My Bag Hard On The Ground Or If It Falls Down?
Ans- The bottom part is padded for the majority of these products, so in such cases,  won't touch the ground. The backside is padded for all the bags; if it falls on its back, then it won't cause any damage. The sleeve is padded as well to make sure the laptop or tablet stays safe.
Last update on 2023-10-04 / Affiliate links / Images from Amazon Product Advertising API