Disc golf is a new sport, which is gaining massive popularity in the US and other countries. Earlier it was considered as a hobby for kids or something to do on a beach day. However, today there are professional courses, tournaments, and events in disc golf. Now for those who are disc golfing enthusiasts, there is a downside to it as there are very few practical ways to carry a large number of discs. However, we have made a compilation of the best disc golf bags currently available in the market for you.
List of the Best Disc Golf Bags in 2023
You may also need one of these types of bags and backpacks such as: the Best Laptop Backpacks For Women, the Best Laptop Backpack for Men, Anti-Theft Backpacks & External Frame Hiking Backpacks in 2023
1. Best Overall: Dynamic Discs Trooper Disc Golf Backpack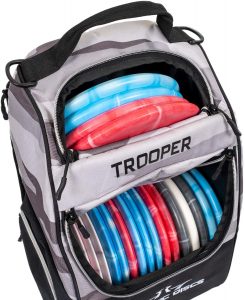 Manufacturer: Dynamic Disc.
Disc Capacity: 18+.
Strap: Double Strap, reinforced, and cushioned.
Dynamic discs initially started as an internet platform to sell these discs. However, they provided excellent customer service, which went a long way in increasing its popularity. Later on, Dynamic Disc struck a deal with a couple of other companies to manufacture discs and disc bags. Today Dynamic Discs make probably the best drives and disc bags available in the market.
The Trooper Disc Golf backpack is a marvel in itself. It is lightweight, doesn't bend over when empty, has a large capacity of storing more than 18 discs, and is sturdy. The dynamic disc has given exceptional detailing to the aesthetics and ergonomics, making it the best overall option in this category.
Key Features
It doesn't bend when empty.
Separate compartments for all accessories.
Padded straps.
Separate compartment for a water bottle.
Lightweight
2. Best Runner-up: Innova Adventure Pack Backpack Disc Golf Bag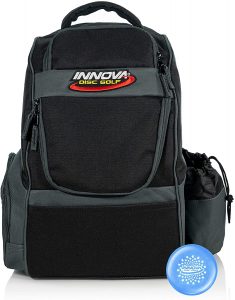 Manufacturer: Innova Disc.
Capacity: 25 Discs.
Strap: Double Strap, cushioned.
Innova Disc is a sports product manufacturer that specializes in making engineered products for sportspersons. Innova disc has a knack of manufacturing long-lasting and functional products.
One such useful product is the Adventure Pack Backpack. Although the material used can be argued to be quite rough, it only adds to the improved durability. It is a smart combination of rigidity and comfort. The bag is so spacious that it can stuff 25 discs, a raincoat, and accessories like gloves, a watch, a wallet, and a water bottle.
Key Features
Rigid.
Inner Structure.
Water Resistant.
Lightweight.
All-purpose backpack.
3. Best Value For Money: Athletico Disc Golf Bag – Tote Bag for Frisbee Golf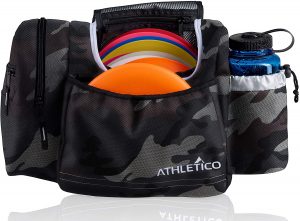 Manufacturer: Athletico
Disc Capacity: 10-14.
Strap: Single Strap
This Disc Golf bag is manufactured by Athletico, which is amongst the most trusted brands for Disc Golf players. The Tote Bag from Athletico is not the most spacious in terms of disc storage. However, what it lacks in disc storage, it covers in compartments for disc gears and other accessories.
The bag is designed to be swung around the shoulder, instead of the usual two-strap configuration. There are compartments for your gear, water bottle, wrist-watch, and other accessories. You can adjust the length of the bag to suit your needs. The strap is padded and offers enough cushion so that your shoulders don't feel any kind of strain.
Key Features:
Single Strap.
Padded Strap.
Dedicated space for accessories.
Good build quality.
Comparatively Cheaper.
Also check: Top 10 Best Bicycle Trunk Bags in 2023
4. Best For Beginners: Disc Living Disc Golf Bag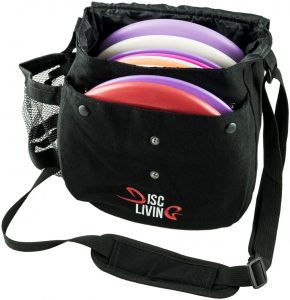 Manufacturer: Disc Living.
Disc Capacity: 10.
Strap: Single Strap.
This disc golf bag is lightweight and easy to maneuver around, making it the best option to carry your frisbees around. There are times when you would play around wearing the bag, and this one is perfect for such outings. You might complain about a lack of space, but the purpose of the backpack is to provide agility while wearing it. Storage of 10 discs is ample for most people who are starting with Disc Golf. The best part about the bag is that it is durable and will last you a long time. It comes with a shoulder strap, belt strap, separate compartments, and a water bottle compartment.
Key Feature
Compact and functional.
Aesthetics.
Decent Ergonomics.
Extremely well built.
Standout design.
5. Light Weight And Durable: Dynamic Discs Cadet Disc Golf Bag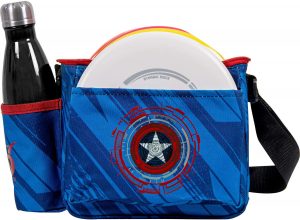 Manufacturer: D-D Dynamic Discs.
Disc Capacity: 8-10.
Strap: Single Strap.
A funky looking bag, which offers a lot for the beginners. The design is extremely appealing and is equally ergonomic. There are no double shoulder straps, and you have to sling it around your neck. The straps are cushioned and provide excellent comfort. Being a beginner-friendly bag, its capacity of 8-10 discs is decent, and the water bottle holder is useful. The small size of the bag means that you do not need to worry about the weight and take it anywhere you go.
Key Features
Ergonomic and Lightweight.
Well Built.
Durable.
Mesh Pocket for valuables.
Cushioned shoulder strap.
6. Cheapest Among All: Discraft Weekender Disc Golf Bag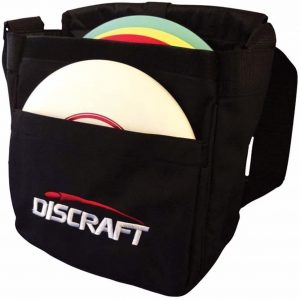 Manufacturer: Discraft.
Disc Capacity: 6-8.
Strap: Single Strap.
Discraft claims to have designed this bag for carrying a limited number of discs without any hassle. The bag is very versatile with separate compartments, including one for a water bottle. Going to play frisbee might not be the only purpose you could use the bag for, as it can be used for several other purposes. There is a sling strap that is reinforced and cushioned to make it reliable and comfortable. There is also a zippered and velcroed rain cover as protection during the rainy season.
Key Features
Easy to carry.
Multipurpose usage.
Separate compartments.
Water-bottle storage pouch.
Rain-cover.
7. Best Under 35 Dollars: Prodigy Disc Practice Bag V2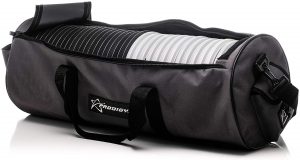 Manufacturer: Prodigy Disc.
Disc Capacity: 35-40.
Strap: Single Strap, reinforced.
Considered amongst the bags with most space, Prodigy Disc's Practice Bag V2 is the best when it comes to storage capacity. It can hold at least 35 discs at a time, and if you fit in smartly, it can store 40 discs also. It is built to be swung around your chest, and not on both your shoulders. The straps are pretty strong and cushioned to avoid any neck injury. You can use this bag for your frisbee tournament, your gym sessions, as well as your travel excursions, making it the most versatile kits in the market right now.
Key Features
Massive storage of 35-40 discs.
Easy to access.
Bottle holder and accessory pocket.
Multi-purpose.
Rigid Inserts.
8. Best Entry-Level Backpack: Dynamic Discs Sniper Disc Golf Backpack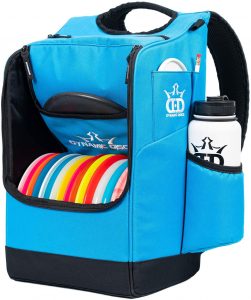 Manufacturer: Dynamic Discs.
Disc Capacity: 16.
Strap: Double Strap, cushioned.
Considered amongst the best entry-level backpacks, Sniper by Dynamic Discs is a very versatile backpack, which fulfills several purposes. The design is slightly minimalistic, making it a lot more comfortable to access. The main compartment has a deep pocket that can be used to store the discs and other significant items. There is a bottle holder on either side and numerous pockets for other stuff. You can keep your wallets, phones, jewelry, and watches in these pockets. The shoulder straps are also well built and reinforced to avoid any kind of damage. There is an ample amount of cushion and netted fabric to allow air to pass through the strap. This is also effective in avoiding specific injuries.
Key Features
Single deep pocket.
Zippered external pockets.
Reinforced and cushioned straps.
Decent storage space.
Two water bottle storage pockets.
9. A Fan-Favorite Among Beginner And Experienced Player: Dynamic Discs Cadet Disc Golf Backpack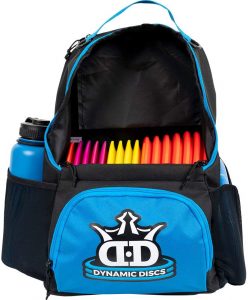 Manufacturer: Dynamic Discs.
Disc Capacity: 17+.
Strap: Double Strap, reinforced, and cushioned.
Dynamics Discs is amongst the most popular brands of disc golf gear in the market. Recently, the Cadet series of Backpacks from Dynamic Discs has become a favorite among the frisbee players. Initially, people opted to buy small bags to accommodate the lower number of discs. However, as the number of discs are increasing, there is a need for a bigger backpack. The reason for the popularity of Cadet backpack is that it is equally beneficial for both beginners and experienced players. The capacity is enough for you to begin with. While for experienced players, around 19 or 20 discs in a backpack facilitate decent storage.
Key Features
Multipurpose.
Maximum storage in a minimum footprint.
Two mesh pockets on either side.
D-ring attachments.
Numerous color options.
10. Best Engineered: Prodigy Disc BP-2 V2 Disc Golf Backpack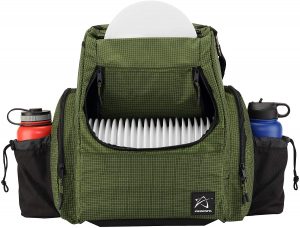 Manufacturer: Prodigy Disc.
Disc Capacity: 26+.
Strap: Double Strap, cushioned.
Prodigy Discs is a sporting gear manufacturer, which brought about a substantial change in the dynamics of Backpack design. The BP-2 V2 backpack is a masterstroke, as it looks like a beginner bag, but has the capacity of around 30 discs. Additionally, there are pockets for water-bottle and other accessories. There are two separate compartments, which can be used to separate different types of discs. The front compartment is slightly smaller than the rear one. You also get umbrella sleeves at the sides. The material used for the manufacturing of this backpack is Nylon Ripstop Fabric. This makes it water and tear-resistant, and lightweight at the same time.
Key Features
Tear and Water resistant.
Lightweight.
Umbrella and water-bottle sleeves.
Deceivingly Spacious.
Large capacity for discs.
FAQs
1. Should I go for a small backpack initially and then shift to a bigger one?
Beginner backpacks have storage of about 10-12 discs. This is very less. While bigger bags can store up to 50 discs. Now initially, you need to get something with storage of around 25-30 discs. This will be easy to use and will serve for long before you need to switch to a bigger one.
2. Do I get the discs and water-bottles for free along with the bag?
No, in the advertisements, the discs are shown as a representation of size and storage. The drives are only to give a relative idea about the size of the bag. Bottles as well are not provided for free.
3. Which is better: single-strap or double-strap?
If you are going for a beginner-friendly bag, a single-strap is pretty good. It will offer you the freedom to move around wearing it and is lightweight. However, if you are going for a higher storage capacity bag, go for a double strap, because after storing around 40 discs, the bag becomes cumbersome, and a single strap bag can lead to an injury.
Verdict
Disc Golf is already experiencing a steep rise in its popularity, as more and more people are considering it more than a hobby or recreational activity. Several companies manufacture disc golf gears like backpacks and gloves. As a player, it helps if you have a decently laid out bag to segregate all your stuff. The packs mentioned above are all fantastic and fulfill their purposes.
Last update on 2023-10-03 / Affiliate links / Images from Amazon Product Advertising API