Looking for the best laptop brand? These days, there are many kinds of laptop or notebook available in the market. We all use this portable computer to handle our daily tasks, starting from study to professional work and to entertainments such as watching movie and playing game. For more than 10 years since I first touched a computer, I have experienced using laptops from various brands as I love exploring new technology devices. From this experience and personal interest on keeping an eye on the new products, today I decided to compile the top best laptop brands to share with you. You can have your pick if you are in need to have one.
Here are the 6 Best Performance Brand Laptops for Your Pick in 2023
Also check Ultra-Wide Gaming Monitors & Best Laptop Coolers in 2023
1. MSI GS65 Stealth Ultra Thin Gaming Laptop
The first best laptop brand in the list is from MSI. MSI is a world leading computer brand for for gaming and e-sports. Starting from design to hardware and software, MSI laptop has been built with a very strong and precise performance to satisfy the gamers around the world. There are various types of MSI gaming laptops that you can check out, but today I will pick one to share with you about its details i.e. MSI GS65 Stealth Ultra Thin Gaming Laptop. Most game might not like this thin design but I find it fits best for you if you want to use it for both professional work and gaming. The MSI GS65 Ultra Thin is built for this multipurpose. It looks mature but powerful inside.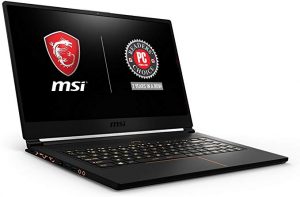 Let's go to detailed spec of this MSI GS65 Ultra Thin as follows:
It has a 15.6″ full HD display, 4.9mm Ultra Thin Bezel with Anti-Glare Wide View to protect your eyes
It is processed by new Intel Core i7 (6 cores) which make it very powerful
The Graphics card is NVIDIA GeForce GTX1060 6G GDDR5 which provides user with great graphic experience.
It is equipped with 16GB of Ram but you add up to 32GB if you want.
Memory is SSD and you can choose between 256GB to 1TB. It's the latest memory technology.
The adapter is AC 180W slim.
In a nutshell, this MSI Ultra Thin version is built for a person who want a mature look MSI laptop but powerful enough for both working and gaming. Yet, if you want an elegant look laptop to boost your gaming inspiration, I would recommend you to pick this MSI GT63 TITAN-052 instead as it's built for that purpose.
2. Alienware New M17 Gaming Laptop 17. 3″ FHD 144Hz Display, Intel 9th Gen
Here comes the competitor of MSI in gaming industry, Alienware gaming laptop. Alienware is a subsidiary of Dell computer which most of us know. It's also one of the leading computer brand in the world. Most people know Alienware for its powerful performance for gaming, but many programmers or computer geek love it too. Like the MSI brand, Alienware also produces various versions of gaming laptops. Here I will bring the Alienware M17 Gaming Laptop to share with you for its design purpose to fit both game lover and professionals. And I love it!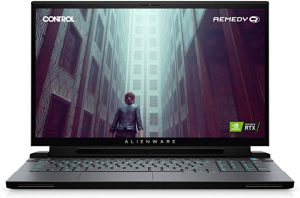 Let's go to its details hardware and specs:
It's built with 17.3 inch display screen size with 1920 x 1080 resolution.
Utilizes 4.5 GHz Core i7 processor which is very powerful.
Ram 16GB and 1TB SSD card memory.
Great graphic card performance.
Again, this is a professional version of Alienware. If you want a real Alien look, go for this Alienware AW17R4-7352SLV-PUS 17″ QHD Laptop.
3. Asus ROG Strix Hero III Gaming Laptop, 17.3" 144Hz IPS Type Full HD
Asus also present itself well in the world's computer market. Given that, it is the best laptop brand out there. Ranging from gaming laptop to daily use laptop, Asus is also dominating a big part of the market pie. As my purpose is to present the high performance one, I'll pick up the Asus ROG Strix Hero III to share with you here. It's among the most powerful gaming laptops but designed with a mature look for professional use as well. If you like the stylist and young appearance, then go for this Asus Hero below.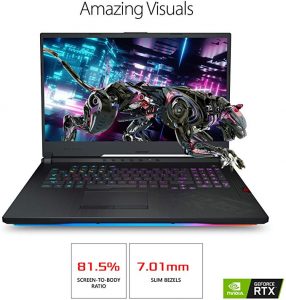 Key specifications:
Use the latest 9th generation of Intel Core i7 processor.
Ram 16GB, SSD 512GB and up to 1TB upgrade.
17.3″ screen size & 1920 x 1080 pixels resolution.
Equipped with all necessary gaming powers and graphic.
Also check here the Top 10 Best Laptop Backpack for Men & Women Laptop Bags in 2023
4. Apple's New MacBook Pro 16-inch, 16GB RAM, 512GB Storage
Here come the most premium branding computer Apple that everyone knows. Needless to say, it is the best laptop brand out there. Yet, I don't put it on top because I think it's not comparable with MSI and Alienware in term of performance and price. You actually can get an MSI and Alienware laptop with a greater performance and cheaper as well, except you are the big fan of Apple and want to feel premium. To me, I love that way that Apple successfully win the users' heard for its branding products. MacBook is actually best for professional use as well.
Apple offers various versions of Laptops such as MacBook Pro, MacBook Air and Mac Desktop. Here let's talk about the latest MacBook Pro as it can be in the range of other brands in this article. This latest MacBook Pro is designed with the purpose of serving all professional use including design and video editing. It's built with high performance hardware and software to serve that purpose. No doubt it is the best laptop brand out there. For Apple's fans, you can go with this one without thinking much. It is available in two colors: Space Gray and Silver. Let's go to its details below: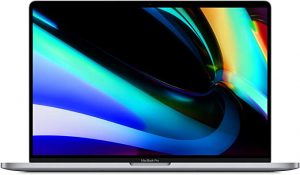 Key specifications:
Utilize 9th generation of 6-Core Intel Core i7 Processor
16-inch Retina Display and True Tone technology
Inbuilt with Touch Bar & Touch ID
Amd Radeon Pro 5300M Graphics with GDDR6 memory 512GB Ultrafast SSD
Equipped with 6 speaker system
4 thunderbolt 3 (USB-C) ports
Battery life up to 11 hours
5. Microsoft Surface New Laptop 3 – 15″ Touch-Screen
We know Microsoft for its Window operation system in most of our computer world. It is yet another best laptop brand in the market. The company is leading in operating system and software, but come late in term of hardware product. It's just the last few years that we have heard of Microsoft computer and smartphone. Yet, we can't underestimate its products. Come late but with new innovative. Microsoft releases its Surface laptop series with a fresh design and look. Even thought it doesn't dominate big computer market, but it's noticeable for me. For instance, this New Surface Laptop 3 is quite a powerful one. The design and performance capacity is almost comparable to the Apple MacBook Pro but more affordable. It's best for professional use and educational purpose. Let's go to its details spec below: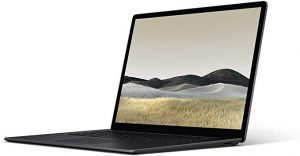 Key specifications:
It has a thin and elegant design at just 3. 4 pounds for easy to carry.
Available in four colors: Matte Black, Platinum, Cobalt Blue, and Sandstone.
Battery life up to 11. 5 hours.
13.5 inches screen size.
Ram 16GB, Intel Core i7 and 256 GB Flash Memory Solid State
6. Google Pixelbook Go i5 Chromebook 16GB
Similar to Microsoft, Google came a bit late in term of hardware products. Now, this giant search engine company also want to build its ecosystem surrounding hardware such as Google Nest, Google Pixel Phone, and Laptop. With that said, it is the best laptop brand out there. I'm not really a fan of Google ChromeBook as I already got my higher performance laptop from the above brands. However, it is a promising computer brand from such a leading giant tech company. If you want to be in Google's ecosystem, this Google Pixelbook Go i5 is the best option for you and you will also benefit a lot from other Google services. Also, if you are a fan of Google, it's always better to use all the devices from the same company so that its synchronize well with one another. Just like what people did with Apple product.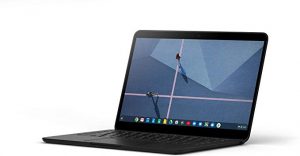 This Google Chromebook is not comparable with the high performance laptops above. If you are just a normal user, it's already the best performance laptop in this low budget. Ram 16GB is superb. You don't need to waste your money to get the expensive laptop brand if you don't need high capacity laptop for editing or gaming. This Google PixelBook is more than good enough to go.
Key specifications:
13.3″ screen size and 1920 x 1080 pixels resolution.
Core i5 and 16GB Ram and 128GB or 256GB SSD Memory
12-hour battery life.
These are the six best laptop brands I have keeps an eye on so far. I believe there are also other great performance laptop out there for you to explore. However, if you are not a tech geek who like to explore more products, then choose one among the six above are enough for your nee because these brands already leave their footprints in the world's tech market. I hope my article is of any help to you. Cheers!
Last update on 2023-06-02 / Affiliate links / Images from Amazon Product Advertising API