Looking for a laptop cooler? You're in luck. We've got the best laptop coolers reviewed right here. Whether you're looking for a cheap option or something more high-end, we've got you covered. Keep reading to learn more about the best laptop coolers on the market today.
List of the 10 Incredible Laptop Coolers in 2023
1- Best Overall: Havit Hv-F2056 laptop cooler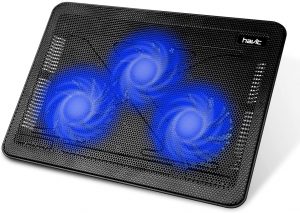 With three fans, meshed material, and a super stylish ergonomic design, this pad will not just keep off heat from your laptop but will also provide you an overall comfortable experience. Its lightweight and compatibility enable you to make use of it anywhere and is quite potable. The standard size of 15.6 inches to a maximum of 17 inches enables it to fit perfectly with your device. It also makes your life easy by having two extra USB ports, which can be used when it occupies the USB port of your laptop and thus help you connect better. The LED lights in it have a switch on and off mode, which enables you to work during the night, also since the fans are noise-free, this cooler will be super quiet for you!
Key Features
Slim, portable, and lightweight
3 Ultra-Quiet 110mm Fans
Two adjustable height settings
Extra USB Ports
Ultra-portable & travel friendly
Up to 1100 RPM speed
2- Best Under 80$: DEEP COOL N80 RGBZ laptop cooler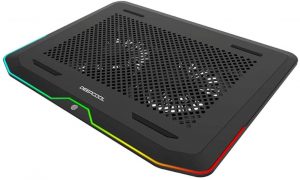 Deep Cool N80 comes with six illumination modes! It means that you will get a rainbow effect with the pad, which makes it captivating! With a two-fan system that is capable of providing a whisper-quiet surrounding, this cooler pad can easily be your work partner during the night. The ability to set up at two different adjustable angles is a plus point while using it. This pad does not let the heat accumulate in one area but allows it to spread evenly in a thin layer, thus providing a cooler effect. It has a sensitive touch that is quite responsive to you and thus makes you accommodate it well. It is fairly affordable.
Key Features
2 adjustable supporting angles
6 Illumination modes
1 extra US port (3.0)
Panel is made of SPCC metal
Sensitive touch key for switching lights
3- The Mr. Perfectionist: Iets Gt300 laptop cooler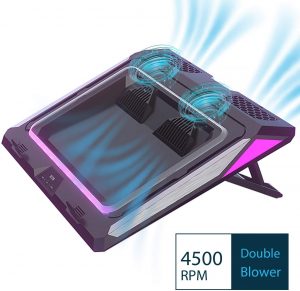 Sealed by a rubber ring, this pad has a niche in enhanced cooling and is perfect for gaming laptops. The major purpose that it holds is that it filters out air and removes dust particles from the periphery. The two filter cotton avoids dust accumulation and acts as a safeguard for a longer period of time. Its ergonomic design further makes it possible for you to use it from different angles without affecting its spine. While its high-speed gear has the perfect cooling effect, the lower speed gear is environmentally conscious. For partnership with your laptop, this pad requires cooling holes in the laptop that acts as a vent. Since it has an external power supply, it doesn't use up the USB port of the laptop. With 7 colors of lighting, this pad is aesthetically pleasing too!
Key Features
Sealing rubber ring for enhanced cooling
2 air filters
2 adjustable buckles for firm installation
7 color lighting
3 different gears
Compatible with 14 to 17-inch laptops
4- Best Runner Up: Havit HV-F2068 laptop cooler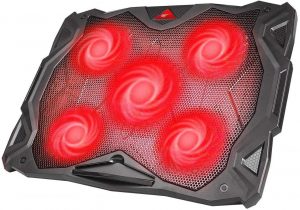 With 5 fans symmetrically placed, this cooling pad is not just visually pleasing but is aesthetically designed well enough to cater to all your needs. The lights in it do not just solve the purpose of illumination, but they also act as an indicator of the speed of the fans. They keep track of speed by increasing their brightness. It comes with two different USB ports, so there is no compromise over the power supply. Its super-slim figure and lightweight properties make it portable, and therefore you can carry it anywhere. Along with such favorable features, comes technical support for a brief period. This pad excels quantitatively as well as qualitatively concerning your requirements.
Key Features
5 Fans (1 x big fan: 110mm, 4 x small fans: 85mm)
Red LED light
Ergonomic Comfort & Adjustable height
High-quality metal mesh
Extra USB Ports
1 Year Manufacturer's Warranty & Free Lifetime Technical Support
5- Best Value For Money: Thermaltake laptop cooler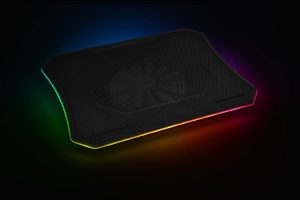 It has 5 different kinds of lighting modes (Wave, RGB, Spectrum, Pulse, Blink, and Full Lighted) that can be switched from one to the other, in accordance with your needs. This 256-color RGB LED-lit notebook cooler has a massive in-built 200mm fan that is highly adjustable and is capable of providing an ultra-cool environment. It's not only capable of providing optimum cooling but also maintains the airflow beneath the pad. For proper airflow, this pad has 19-inch support made up of mesh metal. The height settings have a variation providing 3°, 9°, and 13° angles, which allows it to be compatible with all your requirements. There's also space for placing your mouse conveniently. It's not overpriced and therefore justifies the cost of your gaming time.
Key Features
Set lights and fan speeds effortlessly
Supreme ventilation
3 adjustable height settings (3°/ 9° /13°) for the best viewing and typing angle
Large metal mesh surface to support up to 19 inches gaming laptops
6- Visual Pleaser: TECKNET Laptop Cooling Pad

The two whisper-quiet fans that rapidly dissipate heat from your device also create an additional mesmerizing cool effect by providing almost 42 cubic feet per minute of refreshing airflow. It doesn't use up the USB port of the laptop and has its own pass-through connector for the same. Its material is durable and allows you to position the screen at eye level, for a more relaxed reading position. Its anti-skid design with a polished surface is not just aesthetically pleasing but is also a cooler version amongst its competitors.
Key Features
Metal mesh surface provides excellent airflow
2 USB powered laptop cooler
1 extra USB port for an additional USB device
110mm fans with power switch design.
Slim, portable and lightweight, easy for you to carry around
LED indicator at the rear helps to confirm that the cooler is active.
Quiet and Ergonomic Comfort
Compatibility: Supports various laptop sizes from 12 to 16 inches
7- Compatible Enough: KLIM Wind laptop cooler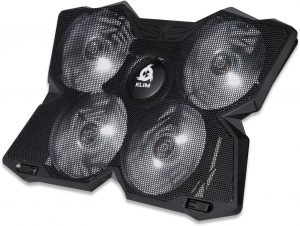 This pad comes in multiple sizes like 10″, 12″, 13″, 14″, 15″, and 16″. Its purchase is risk-free as it is compatible enough and will go through any lengths to extend over the edges for better support. One of the most popular pads in the market, its high capacity ventilated system, cools down your laptop within a minute and maintains a reasonable temperature. In terms of design and quality, it is multifunctional and provides 2 extra USB ports to compensate for the usage of the port available on the laptop. The LED lights attached beneath the fan is an add on to the aesthetics
Key Features
Maximizes the life expectancy of your laptop by reducing heat conduction
Covers the following sizes: 11 11,3 12 13 14 15 15,6 16.
Compatible with the following sizes: 17,3 18 and 19 inches
Ventilated support in terms of design and the quality of materials used.
2 USB ports that allow you a  free port.
8- Cheapest Amongst All: Aicheson S035 laptop cooler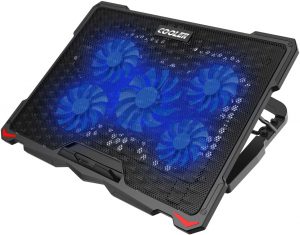 This cooler, along with 5 specially designed fans and 4 adjustable stand height settings, accommodates your device well. It has a flip-up silicone holder and a foam pad that make its job even easier and is a differentiating factor amongst its competitors. Its elevation mechanism involves stand heights, a metal bar with ergonomic design, and a high-quality silicone grip that prevents your laptop from sliding off. It's compact design allows you to place in your backpack and bring anywhere you want to.
Key Features
It is Ultra-portable
Ergonomic comfort
Designed for laptop carrying
Dual-USB ports
9- Aesthetically Sound: Notepal X-Slim laptop cooler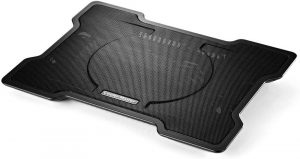 Literal to its name, this pad is an X shaped, flat cooler, fully meshed, and furnished. This cooler pad has tagged along with a silent 160 mm fan with it that generates 70 CFM of airflow to deliver cool air. With decent construction, it stands tall with 2 stage pegs and an ultra-slim figure that supports your laptop in the perfect sense. Due to its lightweight, it is also potable, and thus it makes it easier for you to carry it anywhere. The perforated mesh surface enables excellent airflow and combats all the heat chaos of your device. With a bare minimum noise, it covers almost every vent on your laptop.
Key Features
Slim, lightweight
Silent in-built fan
2 height setups for a better view
Mesh material for better airflow
10- Best Seller: Havit HV-2056 laptop cooler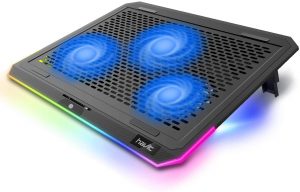 With its sturdy and stylish design, this cooling pad has made its mark in the industry.  With their MTBF counting at 10,000 hours, this cooler assures you relief while you are busy editing your new video. It's among the top sellers and has proven to have provided a pleasant experience to the users. Due to its meshed surface, the pad is capable of providing a long-lasting experience. The 2 USB cables enhance connectivity and allow you to attach extra cables. The fans in it are updraft, i.e., they suck up cold air from beneath the pad and throws it upwards at the bottom of the laptop. These fans operate on the power of the laptop, so if the laptop is switched off, then the pad will also automatically switch off and vice versa.
Key Features
Cooling pad with 15 kinds of RGB sidelight, one button to switch
Doubles as an ergonomic stand with two adjustable height settings.
FAQ (Frequently Asked Questions)
Will It Automatically Switch Off With The Laptop Switching Off?
It depends on the power supply. Some USB ports stop delivering power when the laptop or computer is switched off, whereas some continue charging.
Can A Cooler Be Used On The Bed In Any Position?
Yes, different laptop coolers come with different variations in their setups, but they all provide you the freedom to use your laptops in any position. You just need to make sure that there is no hindrance to the airflow. Also, it depends on the adjustable feature of the cooling pad.
Is There Any Gassing Around Cooler Pad?
Most of the time, they are odorless, but it may also depend on your device, and it's working. If your device has a smell, then the cooler may spread it.
Does It Have A Warranty?
Depending on the company and the value, there is a warranty for each and every product.
Verdict 
While you are using the device to its fullest, it is your responsibility to cool it off and keep it sane enough for future use. For a more viable experience, it's important to regulate the airflow to control the temperature. In the quest to make use of sleeker, lighter, and more powerful laptops, we often run into heat issues. It somehow accelerates the process and makes cooling faster and easier.
Therefore, it all depends on the laptop and what you're doing with it. Our top 10 recommendations have different expertise that provides you a clear picture and helps you make an informed decision.
Last update on 2023-11-30 / Affiliate links / Images from Amazon Product Advertising API