Backpacking- this is not just a word but a whole bundle of joy that can rejuvenate anybody inside out. If your life is tiresome at the moment, just pack your bag and head to your favorite destination. But wait, keep this generic bag aside and get an anti-theft backpack, which will not only allow you easy portability but also keep your belongings safe and secured. If your mind is already in your fancy world of traveling and you're unable to decide the best one for you, let us help you make the right choice with our tailor-made list of top 10 best anti-theft backpacks of 2023. Have a look at the list.
List of the 10 Best Anti-Theft Backpacks in 2023
You may also need one of these types of bags and backpacks such as: the Best Laptop Backpacks For Women, the Best Laptop Backpack for Men, External Frame Hiking Backpacks, & Disc Golf Bags
10- Oscaurt Anti-theft travel backpack
Let's start with Oscaurt anti-theft travel backpack that has been designed keeping your comfort in the mind. Made of high-elastic materials, the back of this backpack feels extremely comfortable. The interior of the bag is constructed of PVC polyester materials, which do not only make it durable and water-resistant but also sturdy enough to carry a huge weight up to 25 kg. Inbuilt with anti-theft technology, it features a reflective stripe that ensures added safety during the dark night. The zipper of the main pocket is completely hidden and minimizes the chances of theft.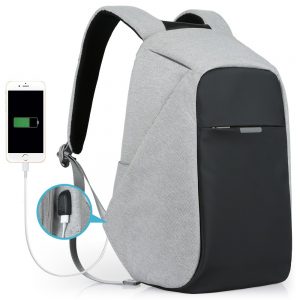 9- KOPACK waterproof anti-theft laptop bag
If the work commitments are not allowing you to leave your laptop behind at home even in your backpacking expedition, this anti-theft backpack is the best choice for you. Since it is purposely designed to carry the laptop, it features a shockproof and cushioned laptop compartment. The zippers of the bag are hardly noticeable, especially the main one is fully hidden. Furthermore, it features a couple of pockets here and there to keep the essential things like a water bottle and phone charger handy. There is also a secret pocket at the back of the bag.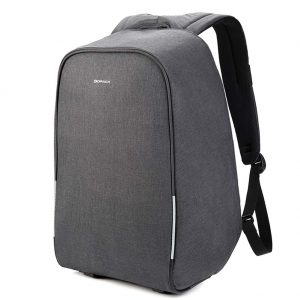 8- Travel laptop backpack by MATEIN
MATEIN travel laptop backpack is ideally made of the people who want an affordable anti-theft backpack with reliable safety. With the fact that it is a laptop bag, it features a separate compartment that can hold the laptops up to 15.6 inches. Even after carrying such a bulgy laptop, you can easily wear the bag without any discomfort. All thanks to its construction material of polyester fabric, metal zippers, and thick straps. To add more, it features a foam-padded top handle if you wish to carry it on hands.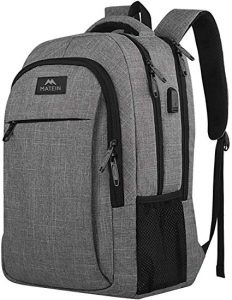 7- XD Design bobby original anti-theft laptop backpack
XD Design bobby anti-theft laptop backpack is a versatile bag that can be used flawlessly for backpacking, carrying laptop, or as a student bag. Made of thick polyester materials, it has a shockproof storage design featuring many pockets. Most of the zippers and pockets are hidden. The back of the bag has multi-panel ventilated padding, which offers cozy carrying experience ensuring you maximum back support. Furthermore, it features breathable and customizable shoulder straps that can be adjusted depending on your needs. The remarkable thing about this anti-theft backpack is that it is cut-resistant.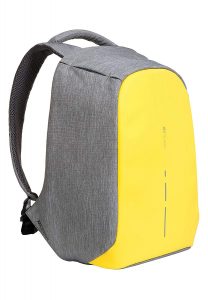 6- KAUKKO laptop outdoor backpack
KAUKKO laptop outdoor backpack is particularly designed for nomads. Made of premium 600D polyester fabric, it is not only ultra-soft but also incredibly durable. The back and the straps of the bag have cozy padding that ensures the maximum comfort in wearing. The thing that makes it stand apart from the crowd is that its main pocket is designed with a drawstring closure, which adds another layer of safety to this anti-theft backpack. Being a large-sized bag, it also features a laptop compartment and offers you enough space to keep your laptop up to 15.6 inches securely.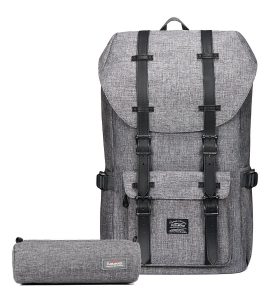 5- Markeyden anti-theft laptop backpack
From an anti-theft design to 90º-180º flexibility and high-quality construction material to remarkable user-friendliness, Markeyden laptop backpack is designed with every single feature that you can expect in a good-quality anti-theft backpack. To keep your things organized and handy at the same time, it is designed with multiple pockets with hidden zippers. There is also a separate large compartment for the laptop. Furthermore, it is designed with a removable USB port, which offers you the freedom to charge your phone even without taking out the power bank off the bag.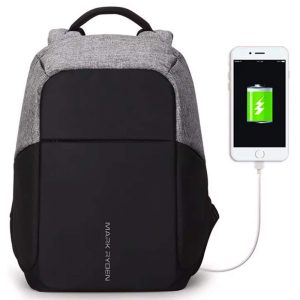 4- Laptop backpack by Sosoon
If you want a stylish, large capacity, and reliable anti-theft backpack at an affordable price, turn your head to this amazing Sosoon laptop backpack. The bag is large enough to hold at least 38 lbs. Given the fact, you can keep clothes, books, a laptop, and other little belongings altogether without any worries. Just make sure to use the pockets and compartments suitably. Like, keep the valuable things its back pocket and essential things in its quick-access front pockets. Other than back straps, the bag is also designed with an easy-to-hold top handle.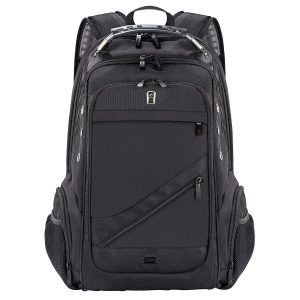 3- Anti-theft travel backpack by Pine
Pine anti-theft travel backpack is designed so stylishly that you can't resist but ask where are the zippers at the first the glance. The zippers are completely hidden in this bag. Only who uses it regularly can figure out where they are actually. To ensure further safety, it is inbuilt with soft foam pads that protect it from bumps and scratches. The shoulder straps are also padded that make sure to provide you maximum comfort while reducing the burden of shoulders. Made of nylon fabrics, it is also tear-resistant and waterproof.
You might also like: Top 10 Best External Frame Hiking Backpacks in 2023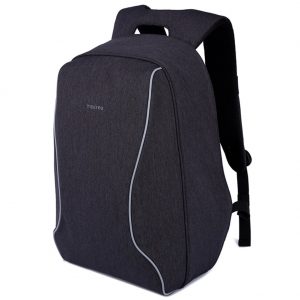 2- NOMATIC backpack anti-theft 20L laptop bag
If you need a large yet small anti-theft backpack, look at NOMATIC backpack. The bag can be expanded up to 34L making it a bulgy one or can be folded to a tiny size looking like a briefcase. Speaking of safety features, the zippers are designed with a lock function, which ensures reliable security. To keep the things handy yet protected, it features a hidden RFID-blocking pocket on the back. Other than numerous compartments and pockets, it also features 2 water bottle pockets on either side. Constructed of 500D tarpaulin fabric, it is also incredibly durable and water-resistant.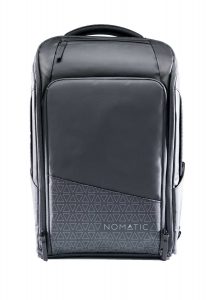 1- Mark Ryden anti-theft waterproof backpack
The mind-blowing features coupled with an ergonomic design put Mark Ryden anti-theft backpack apart from its competitors. To ensure top-notch safety, it is inbuilt with a smart lock system. Just set the password and keep your things completely safe. Furthermore, the zippers have a double-layer design that provides safety to a great extent even without locking the bag. Apart from several little pockets, the bag features a big compartment intended for the laptop. Moreover, the back of the bag is constructed of breathable cotton materials that feel good on the skin.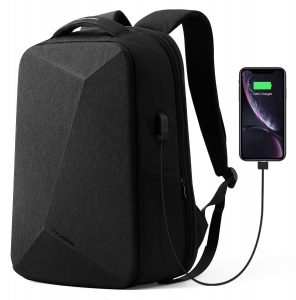 Key factors to consider while buying an anti-theft backpack
Just having the names of top-quality anti-theft backpacks is not enough to make the right purchase. You need to consider a whole lot of factors while buying the one. And the factors are:
Construction materials
Start by considering the construction materials. Investigating the made-up materials is vital because you'll be carrying a substantial weight in your bag, so it must be capable enough to hold the weight efficiently while offering you great comfort at the same time. The backpack will be able to provide you comfort only if it is made of soft and cozy fabric. Generally, these types of backpacks made of nylon fabric and featuring metal zippers are considered the best ones in terms of durability, holding capability, as well as comfort level.
Safety measure
You're buying an anti-theft backpack, so you're bound to look into its safety features. First of all, see whether it features hidden zippers or not. If it doesn't, just don't buy it because it's the hidden zippers only that minimize the chances of theft. Other than hidden zippers, the things that enhance the safety of such backpacks are the hidden pockets, the drawstring closure, slash-proof construction, and lockable straps.
RFID protection
If you're really concerned about your personal belongings and the hidden zippers are not enough to meet your needs, look for the one that is inbuilt with RFID protection, a high-tech technology that fully secures your important belongings such IDs, credit card, and passport blocking the scanners from reading your personal info. Though the anti-theft backpacks with RFID protection are generally high in price, they are totally worth it.
Comfort
Yet another significant factor that can't be missed considering while buying an anti-theft backpack. During traveling, you'll be carrying your backpack for the whole day or even more. Given the fact, it has to be ultra-comfortable.
Generally, good-quality ones are designed keeping this significant factor in mind. They are inbuilt with padded straps, padded back, air space ventilation, and a little carry handle. To keep the things organized and handy, they also feature a separate laptop compartment, water bottle pockets, and several other quick-access pockets. So, buy the one that is equipped with these comfort-ensuring features.
Conclusion
Keeping your valuable belongings safe from thieves while traveling or commuting is no more an issue. You can deal with this problem simply by using an anti-theft backpack. So, buy the one and stay safe. These backpacks are meant not only for backpacking but also for carrying your laptop or other everyday things.
Last update on 2023-10-04 / Affiliate links / Images from Amazon Product Advertising API